Galaxy Note 10+ vs iPhone XS Max - the benchmarks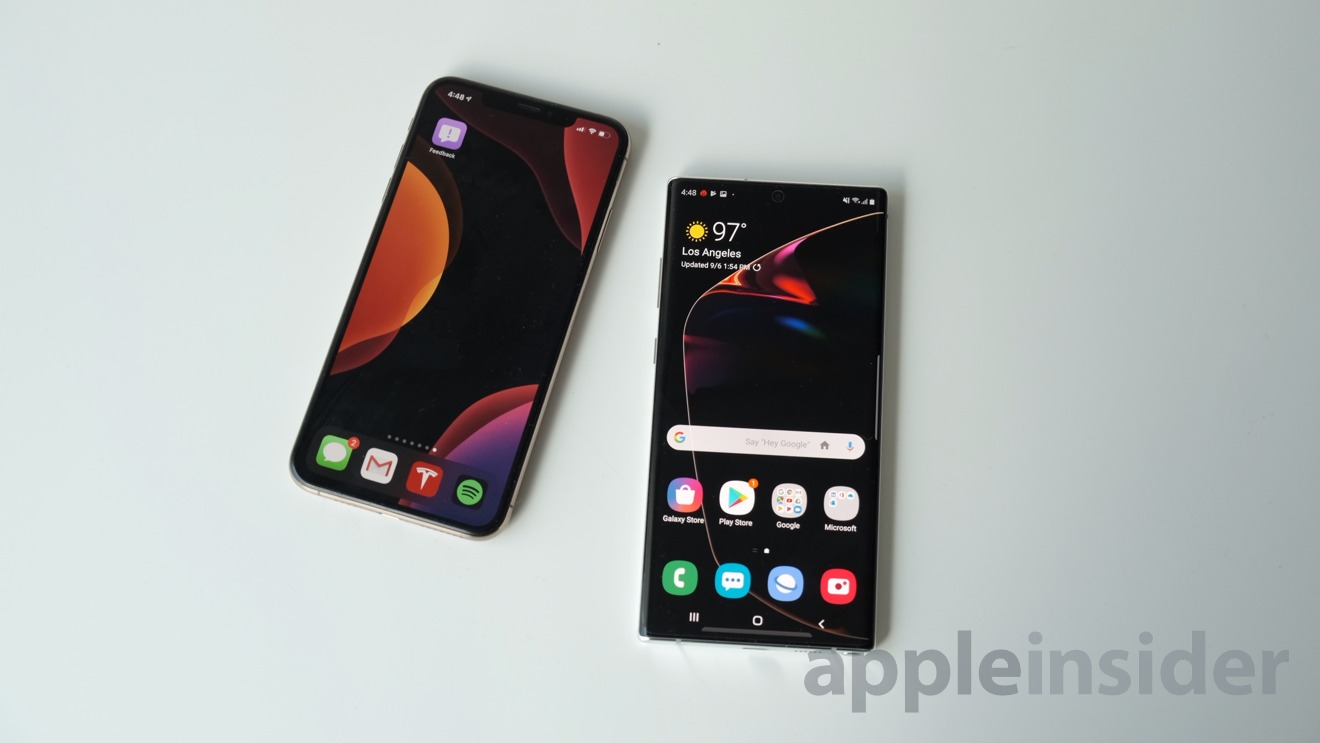 Samsung's latest and greatest Galaxy Note 10+ is on our test bench, so we put it against Apple's current flagship, the iPhone XS Max to see which phone takes the crown in our benchmarking showdown.
Apple's iPhone XS Max is almost a year old, but it still has impressive specs. Inside the iPhone XS Max is Apple's A12 Bionic processor and 4GB of RAM.
The Galaxy Note 10+ is using an eight-core Snapdragon 855 processor in the US, and is packing 8GB of RAM or 12GB of RAM if you opted in for the 512GB storage option.
We ran a slew of different benchmarking tests with both phones, designed to test everyday performance, the limits of the GPU, browser capabilities, and more.
The Tests
Starting off, we jumped into Geekbench 4 which runs a battery of tests to simulate real-world tasks. While Geekbench 5 is available, it has yet to ship for Android devices. We will repeat some of these tests following the release of the 2019 iPhone lineup that will be announced on September 10.
Apple's iPhone XS Max pulled well ahead in both single core and multi-core tests with 4790 and 11346. While the Note 10+ scored 3506 for its single core and 11247 for its multi-core.
For comparison, Samsung's Galaxy S10+ earned 3426 and 10466 on the single and multi-core tests respectively.
We then moved on to the AnTuTu benchmarking test. The iPhone XS Max was handily beaten by the Galaxy Note 10+ in total score, and all of the individual tests. The Galaxy Note 10+ earned a total score of 372002 against the iPhone XS Max's 330269.
Jumping into the browser, we ran the AnTuTu browser JavaScript benchmark gave the Galaxy Note 10+ a score of 41390 and the iPhone XS Max a score of 43912.
We then turned to the Octane 2.0 test. While Octane isn't being updated at present, it still gives a solid gauge of web performance. Here, the iPhone XS Max won easily with a score of 40682, significantly above the 24502 we saw from the Galaxy Note 10+.
Our last graphics test was the GFXBench benchmark which utilizes a variety of tests to strain the devices from a graphical processing perspective. Running the 1440p Manhattan test, the iPhone XS Max earned 3312.76 frames at 53.43 fps, against the Galaxy Note 10+ which pulled 2364 frames at 38 fps. It's a close one, but the iPhone XS Max won again here.
We tested wireless performance on our home network. Running on a 802.11ac network, our Galaxy Note 10+ pulled on average 160 Mbps down and 200 Mbps up where our iPhone XS Max earned around 100Mbps and 45 to 50 Mbps up. This will vary from setup to setup, and network to network, though.
A new king?
The results here are impressive for both handsets. Samsung's Note 10+ held its own against the year-old iPhone XS Max, winning two tests, while the iPhone XS Max won everything else. We'll be doing another comparison once we have Apple's new iPhone in the next few weeks, and have more Galaxy Note 10+ content coming soon.
Where to buy
The Samsung Galaxy Note 10 and Galaxy Note 10+ is available now from Samsung directly, as well as at Samsung authorized dealers, such as B&H Photo and Amazon.com, with prices starting at $999.
Meanwhile, the iPhone XS Max can be picked up from major wireless carriers with special offers on iPhones when you switch networks.
Spec Comparison
| | iPhone XS Max | Galaxy Note 10+ |
| --- | --- | --- |
| Processor | A12 Bionic | Qualcomm Snapdragon 855 |
| RAM | 4GB | 8GB / 12GB |
| Storage | 64GB, 256GB, 512GB | 256GB, 512GB |
| Ports | Lightning | USB-C |
| Operating System | iOS 12 | Android 9 Pie |
| Price | $1099, $1249, $1449 | $1099, $1199 |