First iPhone 11 Night mode photos demonstrate Apple's illuminating camera tech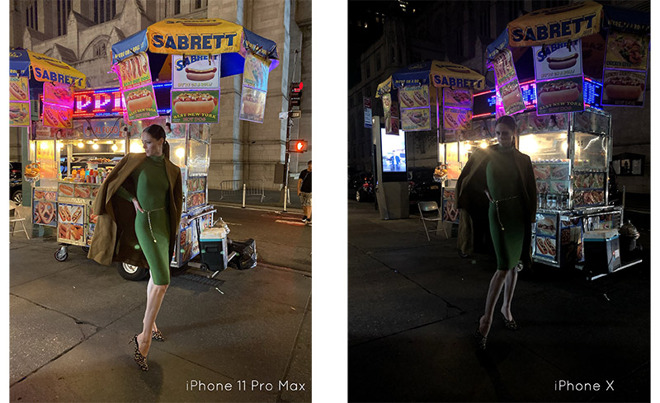 AppleInsider may earn an affiliate commission on purchases made through links on our site.
Apple's iPhone 11 is still more than a week away from release, but high-profile users seeded with early test units are already showing off the handset's capabilities, like Night mode.
Coco Rocha, international model and owner of Nomad Mgmt, managed to get some hands-on time with iPhone 11 Pro Max on Wednesday and captured a stunning image using what appears to be the handset's new Night mode.
"Don't ask me how but I got my hands on the new iPhone 11 tonight! Swipe through to see the difference between the 11 and the X in low light," Rocha said in a tweet. A subsequent post revealed Rocha was in New York celebrating the launch of Uniqlo's LifeWear Magazine.
Seen above, the pair of photos shared to Rocha's Twitter account pit iPhone 11 Pro Max against iPhone X in a nighttime photo head-to-head. While not a direct comparison against the Pro Max's direct predecessor, iPhone XS Max, the images go a long way toward illustrating the effectiveness of Apple's latest camera technology.
Taking a closer look at the sample shots, the image from the Pro Max is obviously brighter than a comparable photo taken by the iPhone X, with better color saturation, higher contrast and decent detail. There is a bit of smearing (likely due to aggressive noise reduction algorithms) and compression artifacts are more prominent, but Night mode is able to brighten the scene significantly without crushing blacks.
That said, the iPhone X is no slouch and reproduced the difficult scene with a fair amount of detail and accurate natural colors that lean toward the cooler end of the spectrum. Dynamic range suffered, as evidenced by blown out highlights in the hot dog stand and the video ad displayed on the car charging port.
Apple unveiled Night mode at a special media event on Tuesday. Limited to iPhone 11 and iPhone 11 Pro models, the new photography feature relies on a wide camera sensor that feeds image data to the A13 Bionic chip for automated analysis and rendering.
According to Apple, multiple images are taken in quick succession and sent to the A13 Bionic for processing. Images are aligned to correct for errant movements, algorithms detect and discard areas with blur, contrast is adjusted and colors are fine-tuned. A de-noising process is performed before unnamed "enhancements" are applied to arrive at a final image.
Night mode is activated automatically in low-light environments, though it is possible for users to manually defeat the feature if they so choose.
Another upcoming feature called Deep Fusion goes further by snapping eight frames, analyzing each and stitching together the best sections "pixel-by-pixel" in a process that takes about one second. Previewed on Tuesday, Deep Fusion is expected to hit iPhone 11 in a future software update.
Apple's iPhone 11 Pro and Pro Max go up for preorder on Friday at 5 a.m. Pacific, with purchases slated to arrive on Sept. 20.