Disney CEO Bob Iger resigns from Apple board as streaming wars heat up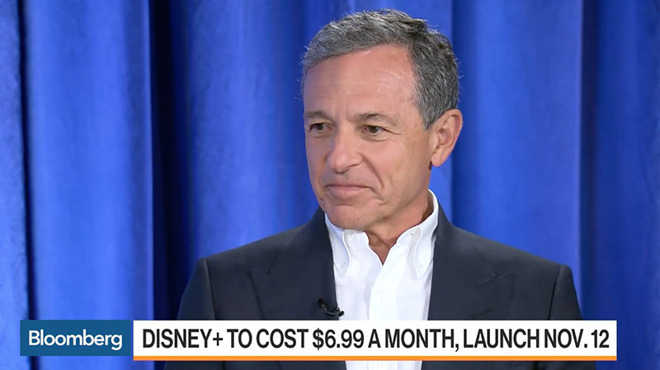 Disney Chairman and CEO Bob Iger on Friday announced his resignation from Apple's board of directors, a move that comes just two months before the two companies will go head-to-head in the highly competitive video streaming business.
Iger's exit was revealed in a U.S. Securities and Exchange Commission filing, which notes the media mogul resigned effective Sept. 10. Prior to his departure, Iger served as chair of Apple's corporate governance committee and participated on the company's compensation board.
Speculation that Iger would be forced off Apple's board surfaced in March shortly after the two companies finalized plans to launch competing streaming services. Apple is due to debut Apple TV+ with a slate of original content on Nov. 1, while Disney will make its Disney+ product available less than two weeks later on Nov. 12.
"It has been an extraordinary privilege to have served on the Apple board for 8 years, and I have the utmost respect for Tim Cook, his team at Apple, and for my fellow board members," Iger said in a statement, as reported by CNBC. "Apple is one of the world's most admired companies, known for the quality and integrity of its products and its people, and I am forever grateful to have served as a member of the company's board."
"Obviously I'm mindful of my fiduciary responsibility to Apple shareholders as a member of the board," Iger told Bloomberg at the time. "When the subject is discussed at Apple board meetings, I'm careful to recuse myself, and I'm in constant dialogue about making sure that I'm not doing anything that in any way would essentially cause me to be wouldn't be in keeping with what an Apple board member would do."
The situation has apparently changed.
Disney said it plans to make Disney+ available to owners of Apple hardware, including Apple TV set-top boxes, likely through a dedicated app that will launch alongside the service.
Iger joined Apple's board in 2011 and is credited with rebuilding relations between Disney and late Apple co-founder Steve Jobs' Pixar studio following unrest under former Disney CEO Michael Eisner. The current Disney chief was also pivotal in negotiating deals to sell content owned by Disney and its subsidiaries through the iTunes store.
Disney and Apple grew to be close allies in the years after Iger's installment to the board. Along with media distribution agreements, Apple has gone so far as to build special animated Apple Watch watch faces featuring Mickey and Minnie Mouse into its watchOS platform.
Iger is the second high-profile Apple board member to leave in the past decade due to potential conflicts of interest. Former Google CEO Eric Schmidt resigned from his duties at Apple in 2009 as the search giant unleashed its Android mobile operating system as a market competitor to iPhone.