Apple's iPhone 11, iPhone 11 Pro rely on Intel LTE modems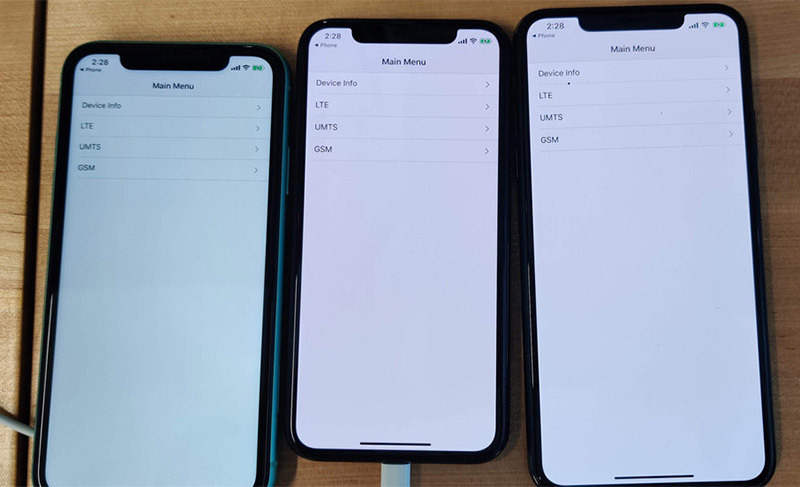 A report on Tuesday reconfirms expectations that Apple is relying on Intel as its sole LTE modem supplier for iPhone 11 and iPhone 11 Pro models, with 2019 marking the last year iPhone will use Intel's baseband technology before moving to Qualcomm's latest platform.
According to observations made by PCMag, Apple's new iPhone models, due to arrive in stores on Friday, share field test menus consistent with past products that use Intel modems. Qualcomm modems reveal a different test menu layout.
The iPhone menu fields, discoverable in iOS system settings, have not changed between iPhone 6S and iPhone XR, and those associated with Intel are once again present in U.S. versions of iPhone 11. As such, the publication concludes iPhone 11, 11 Pro and 11 Pro Max all utilize baseband chips manufactured by the now-former modem maker.
While Apple does not reveal which Intel chip is used in its current iPhone lineup, PCMag believes it to be the XMM 7660. Apple's public disclosures about iPhone's capabilities, such as Gigabit LTE, match specifications of Intel's most recent — and last — 4G chip.
Similar to previous reports, the publication expects a roughly 20% increase in performance from the XMM 7660 as compared to iPhone XR and XS. Early test results from cellular bandwidth monitoring service SpeedSmart appear to back up those assertions, as an impromptu evaluation last week showed a 13% improvement in connection speed from last year.
Real-world performance will vary from location to location, and carrier by carrier, but Intel's baseband technology should grant a moderate speed bump over Apple's outgoing models. That said, the iPhone 11, like its iPhone XR predecessor, will likely see slightly reduced performance compared to iPhone 11 Pro due to its reliance on 2x2 MIMO antennas. Apple's more expensive iPhone 11 Pro and 11 Pro Max models boast 4x4 MIMO setups, meaning increased throughput that translates to greater speeds.
This year's iPhone lineup represents Intel's swan song as a modem supplier. The chipmaker abandoned its mobile modem business in April on word that Apple settled its long-running legal dispute with Qualcomm, which opened the door for a multi-year partnership expected to bring Qualcomm back into the iPhone fold in 2020.