Apple sued over AirPods recharging & connectivity patents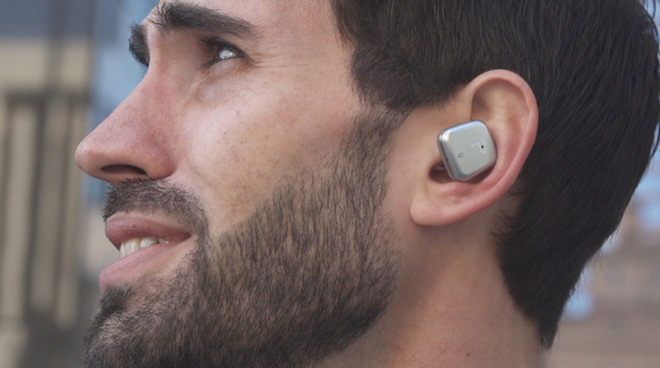 AppleInsider may earn an affiliate commission on purchases made through links on our site.
Handsfree headphone maker Pinn claims that AirPods knowingly infringe multiple patents do with operation, recharging in a case, use of a smart phone, and how they connect to a host device.
Pinn, a manufacturer of a clip-on wireless headphone unit, has filed a lawsuit against Apple in the US District Court Central District of California. It claims that Apple knowingly chose to infringe Pinn's patents with its Apple AirPods system. Pinn, Inc, seeks trial by jury, and an unspecified sum in compensation based on royalties.
The case centers on Pinn, Inc's US Patent No 9,807,491, referred to as the '491 Patent, while also including additional related patent claims.
"The '491 Patent describes a personal wireless media station that includes a main body and wireless earbud," says the filing.
"Generally speaking, the Asserted Patents claim methods, apparatuses, and systems relating to a personal wireless media station having a wireless earbud and main body," it continues, "wherein the wireless earbud is capable of pairing with a device, such as a smartphone, to receive and play audio data, and capable of connecting to an electric circuit in the main body, for wired communication with the main body when plugged into a connection hole of the main body."
Aside from the specifics of what is included in these patents, Pinn, Inc claims to have approached Apple with its technology prior to the development of the AirPods. The approach was made by who the document lists only as Mr Kim.
"In October 2016, on behalf of Pinn, Mr Kim contacted Apple by e-mail and provided information about Pinn, its technology, and the inventions claimed in the Patents in Suit," it says.
"In emails to Adrian Perica and Tim Cook, Mr. Kim provided details about Pinn, Inc, a link to Pinn's website, and documentation about the Pinn," it continues. "On October 22, 2017, Mr. Perica responded by stating, 'Thanks for reaching out, but this a pass for us.'"
Reportedly, Mr Kim gave Apple a list of its intellectual property assets, which included at least some details of what was then a pending application and subsequently became the '491 Patent.
Moreover, Pinn, Inc claims that Apple's own US Patent No 10,042,595, relating to the AirPods, cites the '491 Patent.
Pinn, Inc, seeks trial by jury, and unspecified sums consisting of costs, past royalties, and "an award of enhanced and/or treble damages."
One such patent, filed by Apple on June 5, 2015 — so approximately 16 months before Pinn, Inc emailed Perica and Cook — covers topics including wireless communication, use of a smartphone, and a charging case.