Camera comparison: iPhone 11 versus iPhone 11 Pro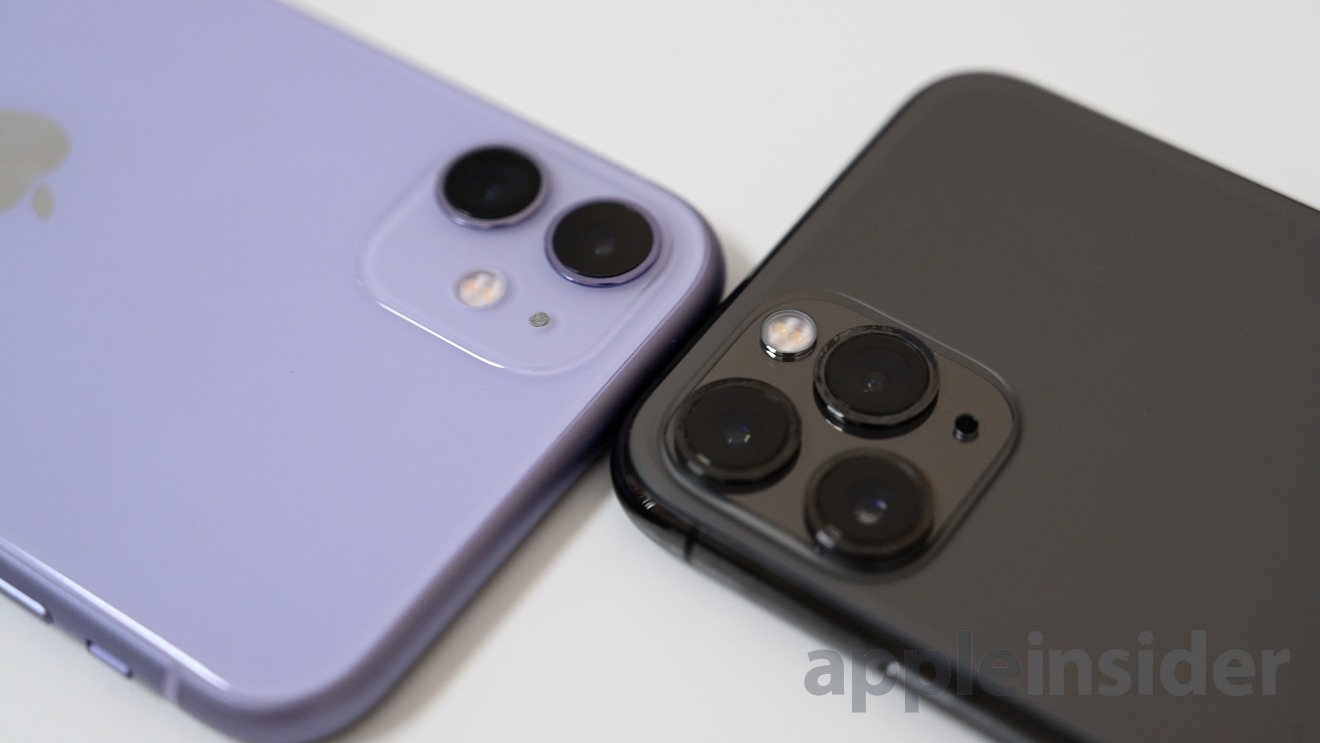 The differences between the iPhone 11 and iPhone 11 Pro's camera systems are less than we're used to in previous models, but there are still differences that are worth investigating. We took to a pair of iPhones out into the world to see how they really stack up against each other.
AppleInsider has been testing out every detail of both the iPhone 11 and the more expensive iPhone 11 Pro. Alongside the performance and value for money of the phones, though, we've also been concentrating on the differences that all users will see immediately — and that means carefully comparing the iPhone 11 and iPhone 11 Pro photography prowess.
This year's new iPhone range has a strong focus on about camera capability and the addition of that third lens system to the Pro models. There's no question that the iPhone 11 Pro and iPhone 11 Pro Max have more camera features, but there is a real question over what does and does not matter to most users.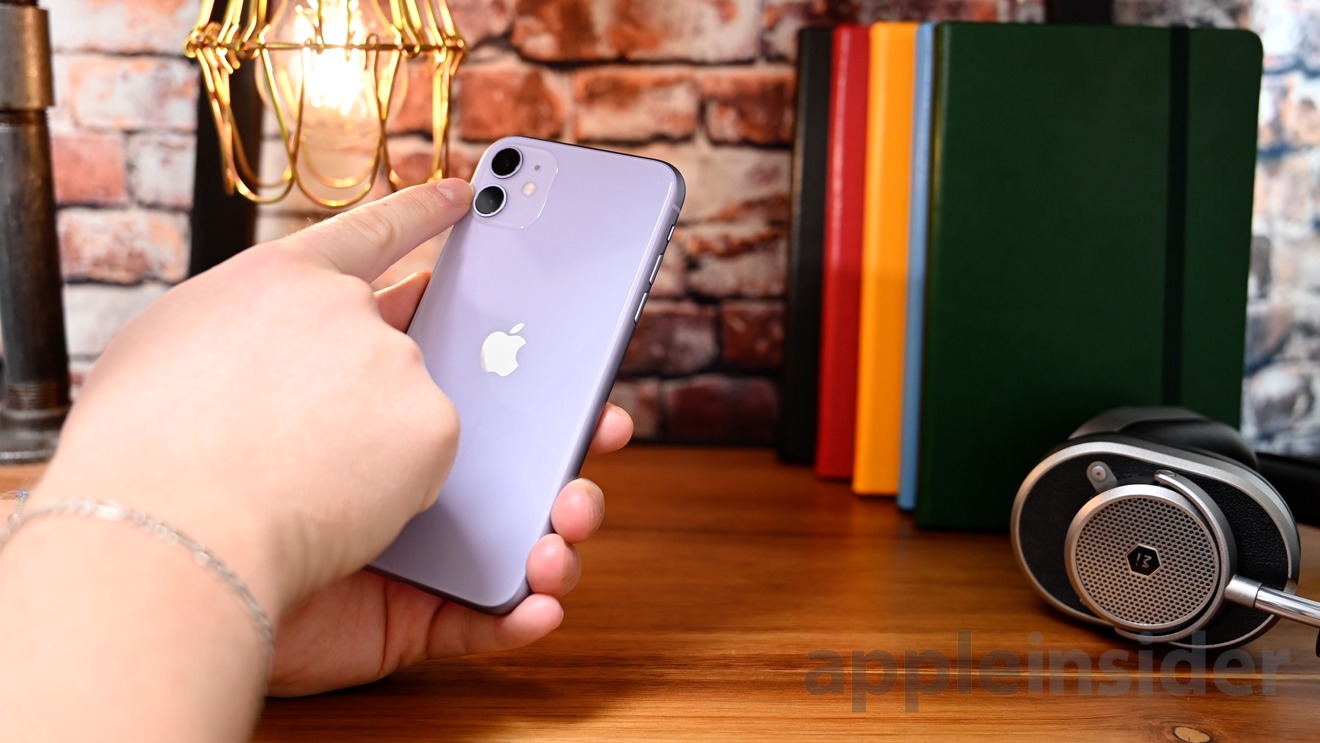 The new iPhone 11 — it is equipped with two lenses on the rear. That's an improvement on last year's equivalent model, the iPhone XR, which had only a single camera.
This new phone's pair consists of a new ultra wide lens — which is what photographers describe as a 13mm equivalent. This refers to the focal length of the lens, and the short version is that this camera is suited to taking 120-degree landscape or action photos.
Then there's also the more familiar standard wide lens which is a 26mm focal length equivalent, and is what we had last year.
The combination — with the addition of enhanced computational photography — matters, though. With those two cameras together, the iPhone 11 is able to capture stereoscopic Portrait mode images. That is unlike the iPhone XR which attempted the same job but had to do it purely using software.
Portraits taken using two lenses are always going to be better than with a single one, regardless of the computational power Apple included last year, but there is also a difference that even the most newbie amateur photographer will see and appreciate. With these two lenses, the iPhone 11 is able to take these Portrait-style shots of objects and pets as well as of the human faces that the iPhone XR software was attuned to.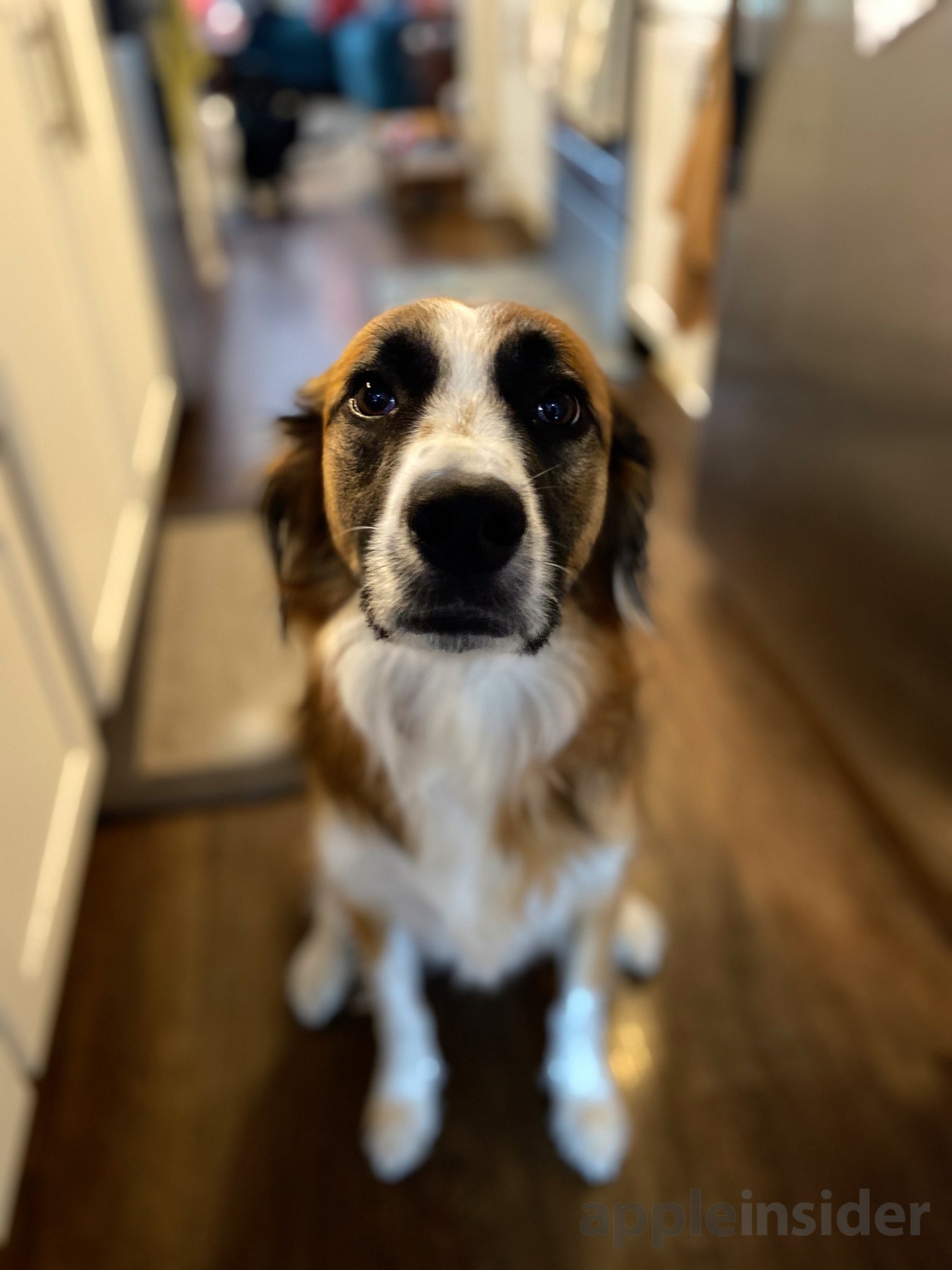 Here is a picture of a puppy, shot with the new cameras of the iPhone 11. Notice how Mosby's face is so clear that you automatically concentrate on it. This would not have been possible with the single camera on last year's iPhone XR.
In fact, it is solely that third extra camera that makes the difference between the entry-level iPhone 11 and its Pro siblings. Both the iPhone 11 Pro and the iPhone 11 Pro Max have the same cameras as the iPhone 11, they just also have a 52mm telephoto lens.
That telephoto lens gives the Pro phones a 2X optical zoom in, and even up to a 10X digital zoom in.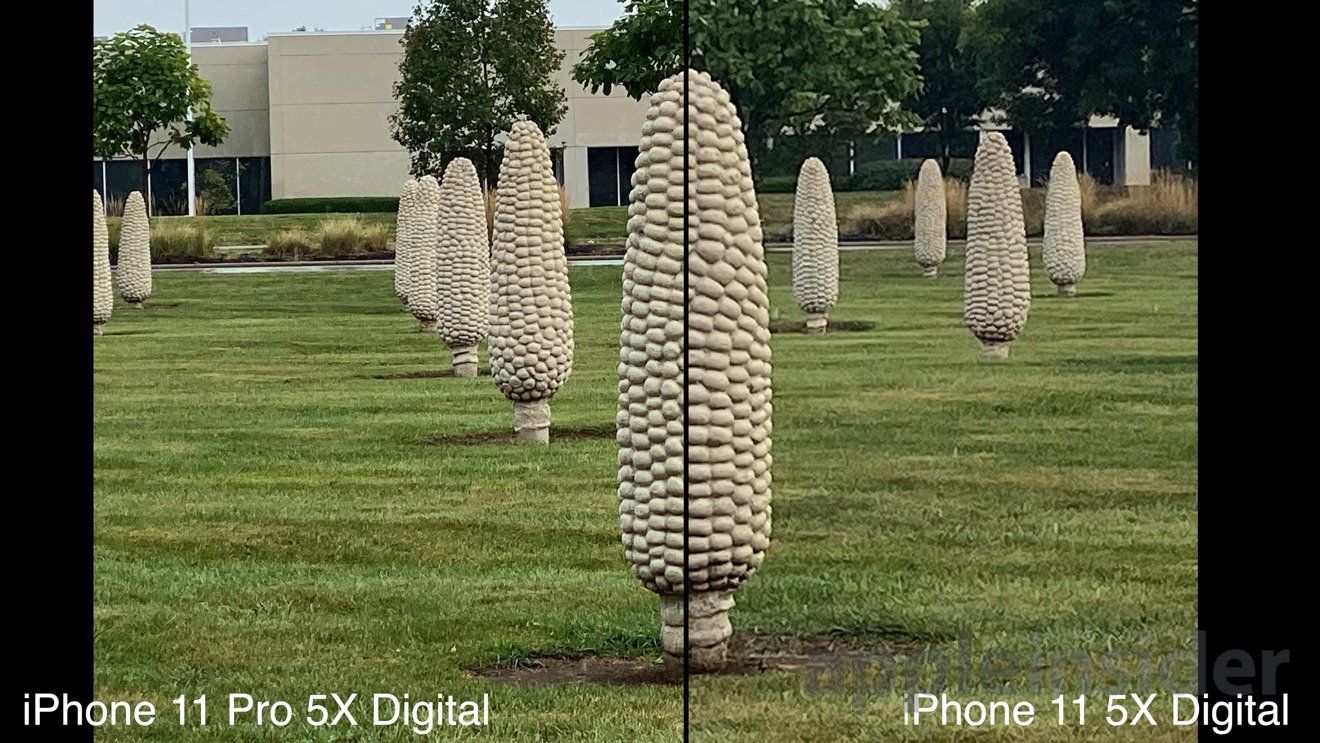 Without the tele lens, the iPhone 11 is limited to only 5X digital zoom and has no optical zoom in whatsoever.
Apple has brought a lot of features to the cameras in the new iPhones, but it's also brought one area of confusion. As the ultra wide angle camera can take a shot that makes it look as if you are further away from your subject, Apple has chosen to use the term "zoom out."
So when you see "zoom" mentioned, you have to be conscious that it no longer automatically refers to bringing things closer. It can, in this one case, be about making them seem further away.
Do also remember that an optical zoom is invariably better than a digital one. A digital zoom sounds great and appears to bring you much closer to the action, but it is a computed image, a software calculation rather than the same photo you'd get by going closer.
That means the iPhone 11's zoom features are more limited, in comparison to the more expensive iPhones, than it perhaps first seems.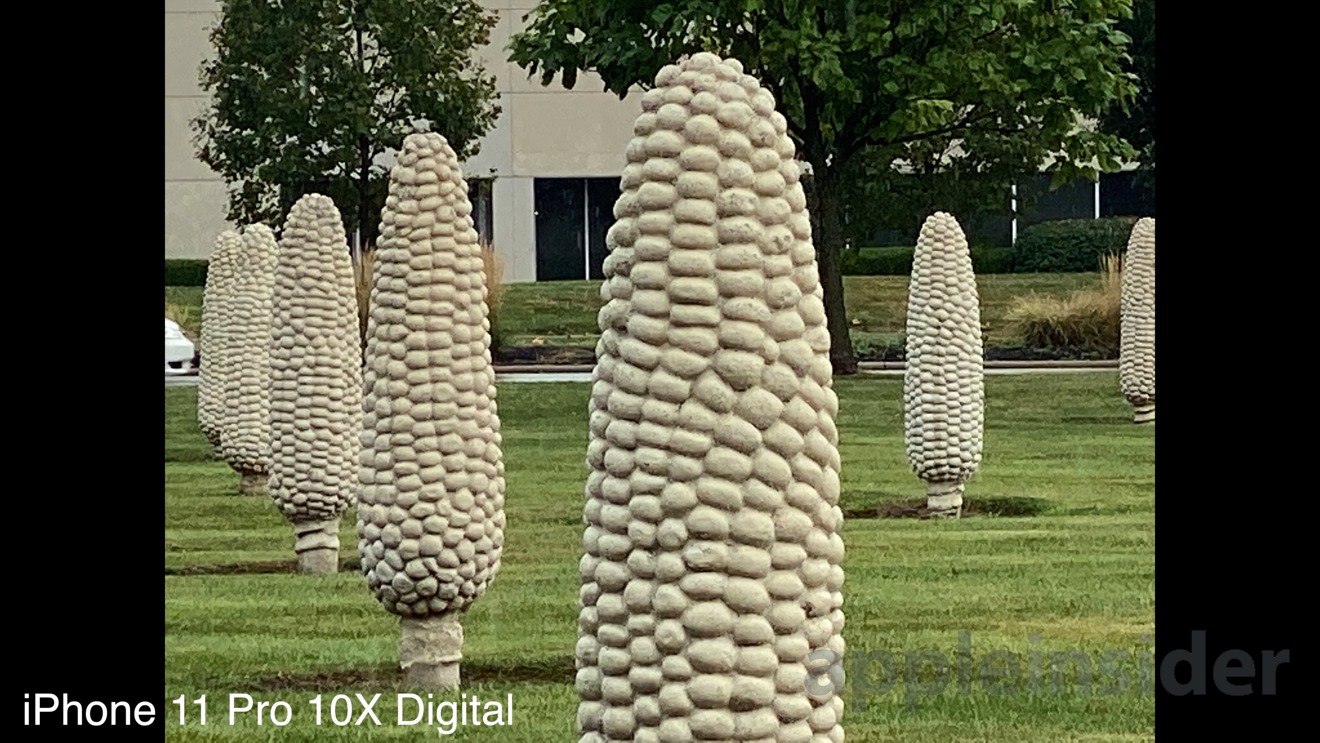 In terms of real photos, this means that when zooming in on the iPhone 11 Pro, the images are going to be much sharper than they are on the iPhone 11.
These new iPhones are all about the cameras, but they're really all about using those cameras in combination. So while both the iPhone 11 and the iPhone 11 Pro can now capture, stereoscopic Portrait images like the one of Mosby the puppy, the Pro models can do more.
Specifically, they can do this stereoscopic Portrait mode while using the zoom of that 2X optical lens.
This allows you can take stylistic portrait shots without having to be quite so close to the subject.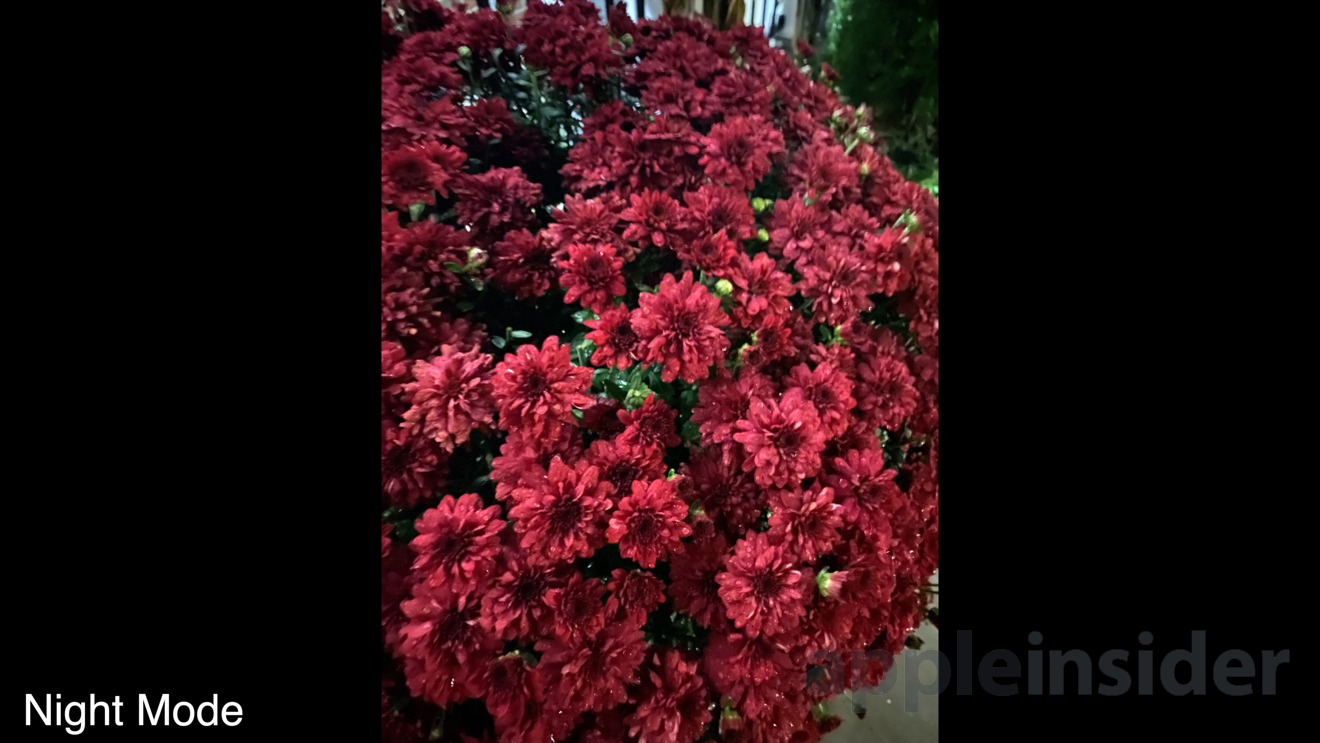 Maybe you're not planning to produce art photography with zoomed-in portrait images, but there is one thing you are definitely going to do which is now better with these phones.
You're going to take photos at night or in darkened rooms. We all do it, and so far we have all been disappointed with images that are either completely invisible or weirdly brown and shaky as the iPhone tried to capture very low light.
Now both the iPhone 11 and the iPhone 11 Pro come equipped with the next-generation Apple Smart HDR feature and the new Night Mode. This is Apple's low-light photo mode, and the results are spectacular.
They're spectacular in the sense that images taken in the low light of, say, an evening, are now just perfectly clear and viewable. The new Night Mode doesn't produce images that look arty or enhanced, they simply look as if they were taken when there was more light than there really was.
That is amazingly well done and it will change how, or perhaps when, you take still images.
There are differences when you're shooting video as well, though.
Video
Another area that separates out the iPhone 11 Pro from the iPhone 11 is during video recording.
These new iPhones can all capture the same frame rates and resolutions, but — again thanks to the telephoto lens — the iPhone 11 Pro can handle up to 6X digital zoom where the iPhone 11 is limited to 3X.
Then you know that images are better with an optical zoom, but when you do any zooming in at all using the iPhone 11 Pro or iPhone 11 Pro Max, they also provide better quality video.
The other camera
Everyone describes the iPhone 11 as having two cameras, and the iPhone 11 Pro or iPhone 11 Pro Max as having three, but it's not true.
All of these new phones actually have one more camera. It gets forgotten because it's the front-facing camera, the one you use for selfies or for FaceTime video conferences. That camera has always been lower quality than the main rear ones, so it tends to be seen as a necessary add-on, rather than as a significant lens in itself.
Not any more. The iPhone 11, iPhone 11 Pro, and iPhone 11 Pro Max all have the considerably better 12 megapixel True Depth front cameras.
The updated sensor is new for the 11 line and is higher resolution than the 8MP preceding it.

The difference a year makes
We're only a year on since the iPhone XR and iPhone XS models, but so much has changed.
Comparing the 2018 iPhones to each other, at least in terms of their cameras, was a much easier and more straightforward job than comparing the iPhone 11 to the iPhone 11 Pro.
The 2018 iPhone XR only had one lens, didn't support stereoscopic Portrait mode (which was limited to humans), and wasn't nearly as powerful a camera.
The difference between the iPhone XR and the iPhone XS or iPhone XS Max was clear. The cameras in the more expensive models were very different.
Now, though, that's changed. With the 2019 iPhones, what we've found in real-world use is that the iPhone 11 is far closer in performance to the iPhone 11 Pro. That makes a difference to your budget, too, and to which is the best iPhone for you.
The below gallery is all the images we used for this comparison. Click on an image for a higher resolution version of the sample shot.
iPhone 11 deals
Apple's new iPhone 11 and iPhone 11 Pro are already discounted at top wireless carriers. Highlighted below are current specials at press time, with additional details available in our iPhone deals roundup. Please note: terms and conditions apply to each offer; please see the corresponding retailer's site for additional details.
Need the device right now? For fast delivery from third-party sellers, be sure to check out eBay for listings with expedited shipping.