Ex-Workflow employee publishes library of 150 Siri Shortcuts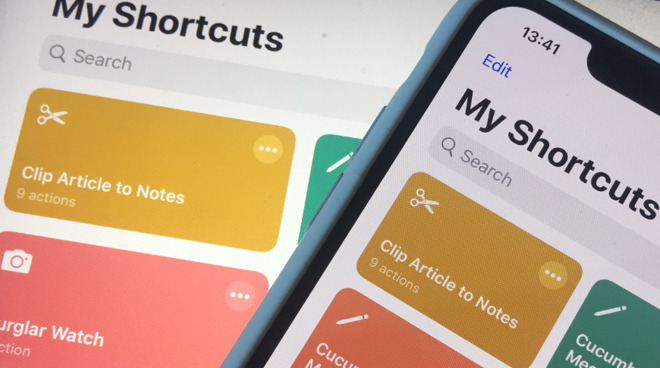 An employee of Siri Shortcuts progenitor Workflow has shared a collection of over 150 Siri Shortcuts for people to use, providing a way for iOS users to get more out of the virtual assistant's automation toolkit.
The library of Siri Shortcuts published by Workflow employee Matthew Cassinelli covers a wide variety of tasks in a number of areas, including the calendar, setting of routines, editing text, and surfing the web, among other productivity areas. Highlights include the ability to set up daily events for 31 days in a row in Calendar, setting up time tracking, performing Find & Replace on clipboard content, and replacing text in Safari with their emoji counterparts where possible.
The collection also includes a selection of entertainment tasks and more fun uses for the tool, such as saving the description from a YouTube video, saving content from Pocket or Overcast, combining photographs together into a GIF, and to turn off Wi-Fi and turn on Do Not Disturb for an hour for a quiet gaming session.
Cassinelli, previously worked for Workflow and added collections of shortcuts to that app's gallery up until March 2017, when Apple acquired the company. Apple has since incorporated the technology behind the app, which allowed users to create custom tasks that would run in various apps, into its own Siri Shortcuts, and has ceased updating the Workflow app entirely.
Cassinelli stayed with Workflow during the transition period after the acquisition was announced, but departed once it had completed.
His original goal in joining Workflow was to "help everyday users take advantage of the power of scripting on mobile devices," with Cassinelli writing in a blog post he could tell it was "cool, but also very complicated." After seeing the launch of Shortcuts, he restarted his mission with the same goal, to demonstrate how Shortcuts could be used in daily life with ease.
"While Apple and the team that I worked with have been and will continue to take Shortcuts to new heights," said Cassinelli, "I want to be there along the way showing you how a 'normal person' can use this tool too."