Apple acquires automation app Workflow, title to remain on App Store for free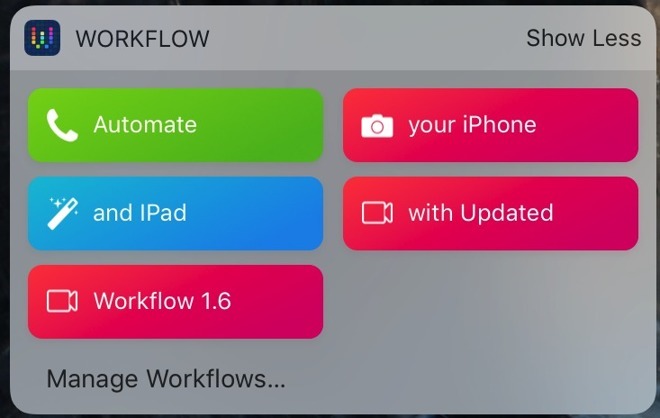 Apple on Wednesday finalized a deal to acquire popular automation app Workflow and its three-member development team for an undisclosed sum, and is for now leaving the title on the App Store where it will be free to download.
As part of the acquisition, Workflow's team of Ari Weinstein, Conrad Kramer and Nick Frey are headed to Apple to work on unspecified projects, reports TechCrunch.
"We are thrilled to be joining Apple," Weinstein said in a statement. "We've worked closely with Apple from the very beginning, from kickstarting our company as students attending WWDC to developing and launching Workflow and seeing its amazing success on the App Store. We can't wait to take our work to the next level at Apple and contribute to products that touch people across the world."
Interestingly, Apple will not only keep Workflow on the iOS App Store, but plans to make the title free to download later today, the report said. The company followed a similar course of action when it bought Siri in 2010. Siri the app remained on the App Store until it was officially integrated into iOS in 2011 as part of iOS 5.
Whether a similar fate is in store for Workflow is unknown, but Apple could easily roll out an Apple-branded version of the automation software or bake the technology into an existing product.
Confirming the Workflow deal, Apple said, "The Workflow app was selected for an Apple Design Award in 2015 because of its outstanding use of iOS accessibility features, in particular an outstanding implementation for VoiceOver with clearly labeled items, thoughtful hints, and drag/drop announcements, making the app usable and quickly accessible to those who are blind or low-vision."
Workflow accepted its Apple Design Award at WWDC 2015 alongside other big-name apps like Crossy Road, Shadowmatic and Vain Glory. Apple later threw a spotlight on the app by featuring it among a handful of titles that deeply integrate VoiceOver technology.
While the company did not comment on what the Workflow team will be doing in Cupertino, TechCrunch postulates Weinstein and company might be applied to Siri. The idea is bolstered by Workflow's existing set of macro creation tools.
As AppleInsider noted in November, Workflow allows users to cobble together powerful actions by tapping into backend integrations with other apps. The result are strings of commands, or workflows, accessible at the touch of a button.