Apple's TestFlight app updated with Dark Mode support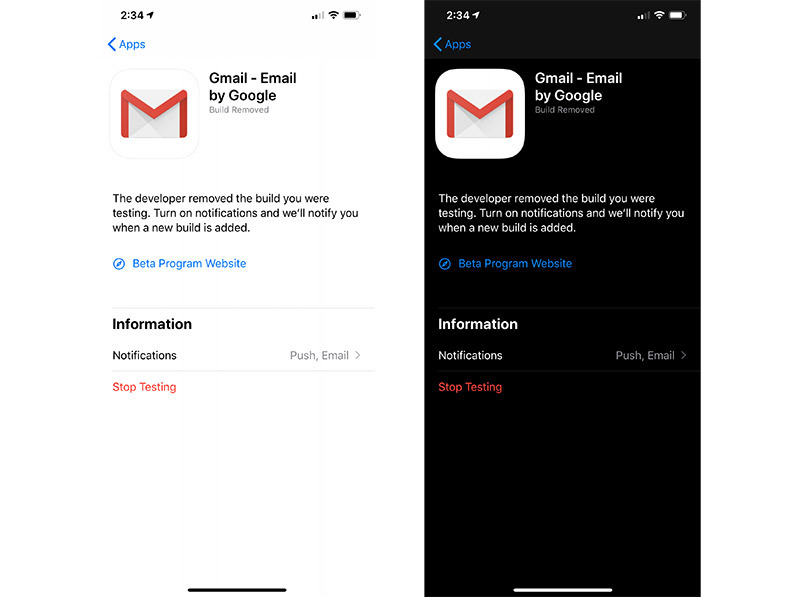 Following the release of iOS 13 last week, Apple on Monday updated its TestFlight beta testing app for iOS with support for Dark Mode, a minor feature addition that goes a long way toward providing a more integrated app experience.
TestFlight version 2.5.0 brings the beta testing software up to date with other first-party Apple titles that gained Dark Mode capabilities with the launch of iOS 13last Thursday. The new functionality is ideal for low-light environments, Apple says.
As its name suggests, Dark Mode is a new system-wide feature in that shifts UI elements in compatible apps from light to dark. The operating system intelligently identifies and excludes photos, video and other media from color inversion.
TestFlight's background, for example, is typically white, but in Dark Mode the element transitions to black and is overlaid by white text.
Like other apps, TestFlight adheres to universal iOS settings and does not incorporate standalone Dark Mode controls. Users can turn on the new feature in system settings or Control Center. Alternatively, Dark Mode can be set up to automatically activate and deactivate based on time of day.
The latest version of TestFlight also includes stability improvements and bug fixes.
TestFlight version 2.5.0 is available as a free download from the iOS App Store.