Apple Watch Series 5 teardown reveals bigger battery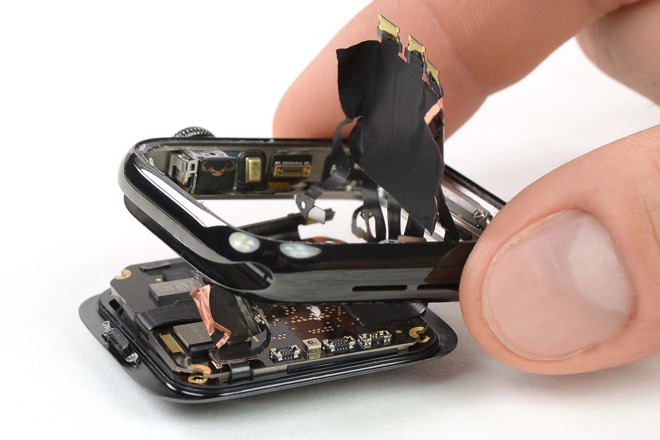 AppleInsider may earn an affiliate commission on purchases made through links on our site.
Repair mavens iFixit have torn apart the new Apple Watch Series 5, and have detailed not just a larger battery, but the teardown has also shown an improved ambient light sensor on an x-ray image of the device.
The battery is 1.4% larger than in the Apple Watch Series 4, giving just a bit more life in that regard. The battery has grown to 296 mAh versus the 291.8 mAh model in the Apple Watch Series 4. However, iFixit says that the extended battery life in the Apple Watch Series 5 has more to do with the LTPO screen than the increase in battery capacity.
The X-ray itself doesn't show much about the improved ambient light sensor. The same x-ray shows the improved power management chip, as well. Not immediately evident is any mechanism or sensor for the compass functionality.
Apple has slightly redesigned the layout of the watch, and has modified some connectors versus previous models. As a result, even though the S5 system-in-package chip in the Apple Watch Series 5 is the same other than the flash storage, parts are not interchangeable between generations.
The repair venue has given the Apple Watch Series 5 a reparability score of 6 out of 10, with 10 being the easiest fix.