Hands on with the 2019 10.2-inch seventh generation iPad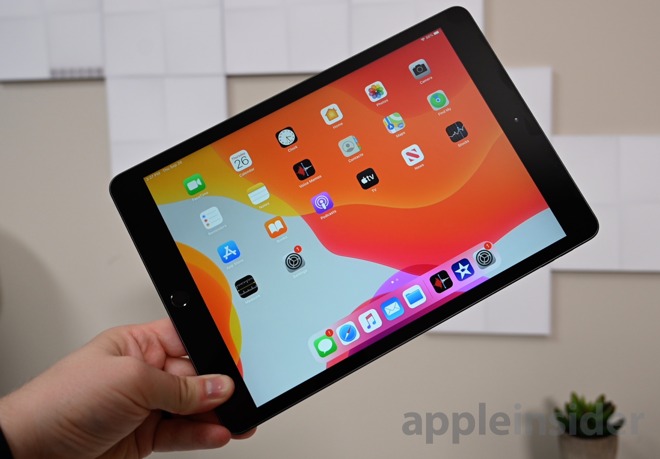 AppleInsider may earn an affiliate commission on purchases made through links on our site.
Apple's education-focused 2019 got only a few — but significant — changes year-over-year. AppleInsider picked up one of the refreshed models to see how meaningful those changes are.
Feature-wise, the 2019 seventh-generation iPad remains largely the same. It still packs many of the great features that made the 2018 model a great entry-level iPad.
Apple stuck with the A10 processor for a second iteration. Additionally, the seventh generation iPad still supports the first generation Apple Pencil, and of course, there is the TRRS headphone jack.
What is different with this incarnation, is the display. It has been updated to 10.2 inches, up from the 9.7-inches of its predecessor. It isn't just a bigger display — Apple has kept the same pixel density in the display, increasing the resolution.
While we were testing out the iPad, we noticed a difference in usability, induced by that added screen real estate. On the 9.7-inch sixth generation iPad, multitasking and multiple windows can feel constrained, but the extra area that the 10.2-inch iPad provides reduces that quite a bit.
Obviously, the seventh generation iPad isn't as large as the 11-inch or 12.9-inch iPad Pro line. But, it certainly is an improvement for a fraction of the price retained year-over-year.
As a side effect of the larger design, the seventh-generation iPad can now utilize a full-sized keyboard. The sixth-generation had to use a compressed keyboard, but the updated model now has proper spacing in between the keys.
If you're using this iPad day-in and day-out for taking notes or writing emails, the keyboard is quite important. On the surface, it sounds like a relatively minor change to have a slightly larger display and a bigger keyboard in the seventh generation 10.2-inch iPad. In actual use, that half-inch can be profound.
The new 2019 seventh-generation iPad is available now to order for $329 — or $299 for educational institutions.
Stay tuned for a full review of the updated entry-level iPad in the coming days.
Deals on Apple's new 10.2-inch iPad
Instant discounts on Apple's new 2019 iPad are already available, with Amazon leading the pack at press time with a $30 markdown on 128GB Wi-Fi models. For the latest deals and product availability, be sure to check out the AppleInsider 10.2-inch iPad Price Guide.
iPad (Fifth)
iPad (Sixth)
iPad (Seventh)
Screen size
9.7
9.7
10.2
Screen resolution (pixels)
2048x1536 at 264dpi
2048x1536 at 264dpi
2160x1620 at 264dpi
Screen brightness (nits)
500
500
500
Processor
A9
A10 Fusion
A10 Fusion
Apple Pencil
No
First Generation
First Generation
Smart Connector
No
No
Yes
Dimensions (inches)
9.4x6.6x0.29
9.4x6.6x0.29
9.8x6.8x0.29
Weight (lbs)
1.03
1.03
1.07
Battery (hours)
Up to 10
Up to 10
Up to 10
Rear Camera (megapixels)
8
8
8
Front Camera (megapixels)
1.2
1.2
1.2
Video
1080p
1080p
1080p
Biometric
Touch ID
Touch ID
Touch ID