10.2-inch iPad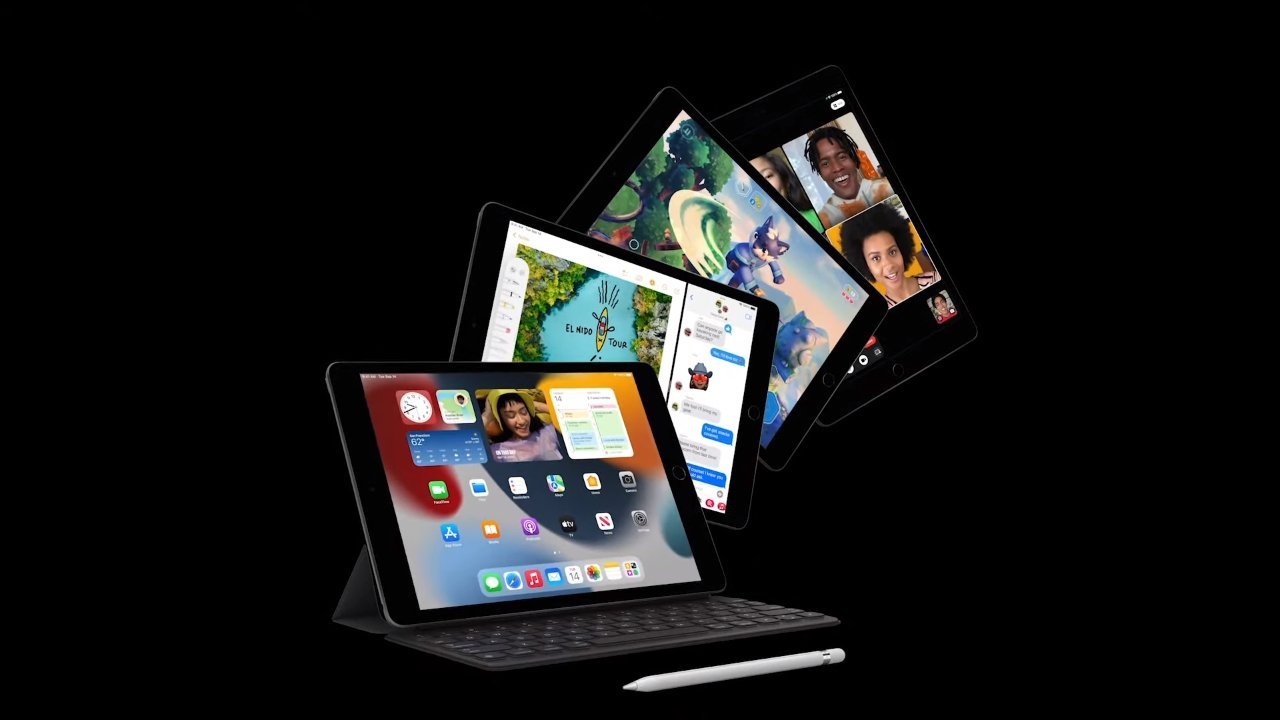 Apple's eighth-generation 10.2-inch iPad saw few upgrades over the previous seventh-generation iPad. The main update it received was an A12 Bionic processor for speedier performance, including Apple's Neural Engine.
● 10.2-inch display
● A12 Bionic processor
● Smart Connector for Apple Smart Keyboard
● Support for first-generation Apple Pencil
● iPadOS 14
● Starts at $329
---
The new eighth-generation 10.2-inch iPad was announced alongside the iPad Air 4, Apple Watch Series 6, and Apple Watch SE at Apple's "Time Flies" event in September 2020. It offers a faster A12 Bionic processor that makes it 40% faster than the previous model.
Acting as the budget-model iPad, this device is more about what is withheld to keep the price down than it is flashy features. Despite that, the 10.2-inch iPad still benefits from all the features of iPadOS. It can take advantage of the first generation Apple Pencil and Logitech Crayon.
Future iPad Rumors
The 10.2-inch iPad doesn't see many updates and changes year-over-year. Apple tends to add features as they become cheaper or get left behind by updated models. This is all done to keep the baseline iPad as cheap as possible to act as a budget and education entry point in the line.
Rumors suggest the ninth-generation iPad will look like the iPad Air 3 with thinner bezels. Not much else will change, but a processor bump is likely. It should still use the first-generation Apple Pencil if it still doesn't have a flat-sided design.
10.2-inch iPad Features
Apple designed the 10.2-inch iPad to be the most affordable iPad without sacrificing usefulness. Despite hardware compromises, the modern chipset, display, and security make this a desirable device for many users.
This iPad is targeted at students and younger users, though it is also a great entry point for budget-conscious artists and other users. You can purchase the 10.2-inch iPad and an Apple Pencil for less than the price of an iPad Air 4.
Display and Design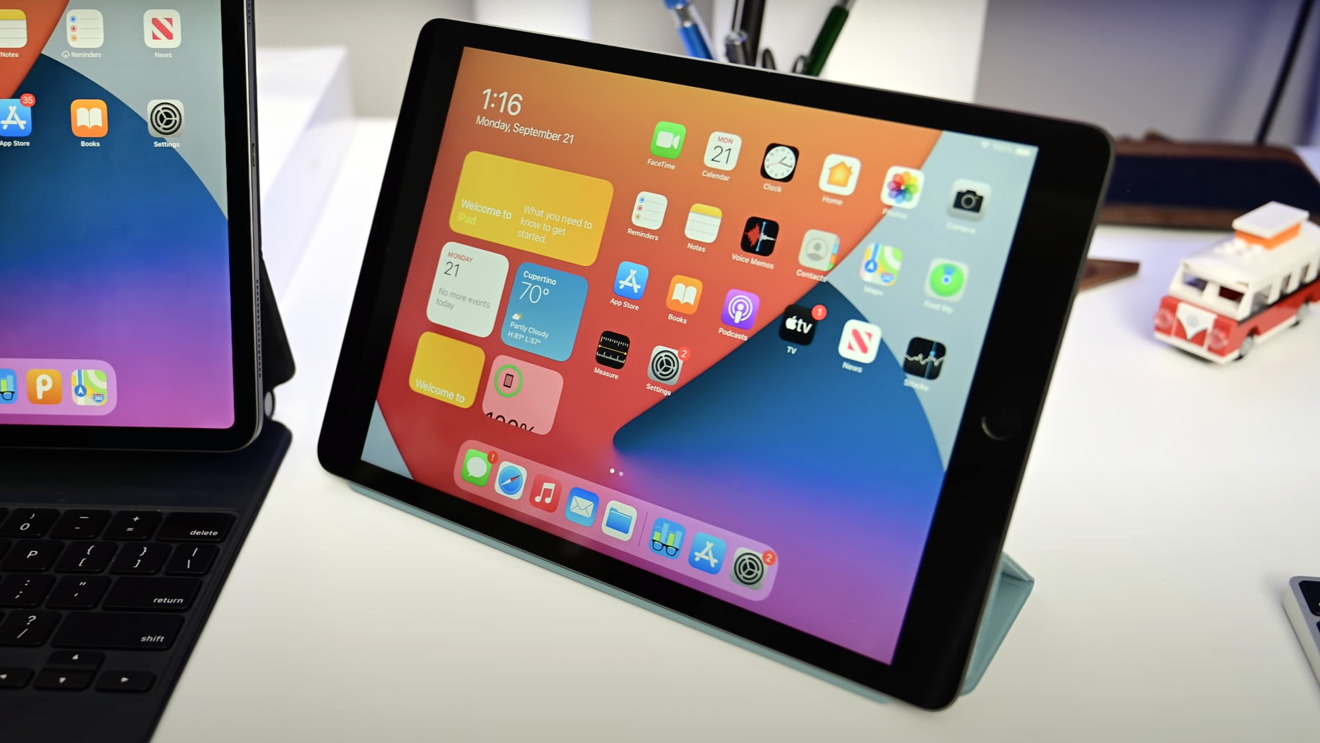 The eighth-generation iPad is configured with the same 10.2-inch screen size we saw in its predecessor.
The display has a 2160 x 1620 resolution at 264 pixels per inch. It has a fingerprint-resistant oleophobic coating but lacks features like P3 color gamut, True Tone, and anti-reflective coating found in more expensive iPads.
The tablet measures 250.6mm tall, 174.1mm wide, and 7.5mm thick. It weighs 490 grams for the WiFi model and 495 grams for the cellular variant. Size is identical to the previous generation, but the new model is a little heavier.
Processor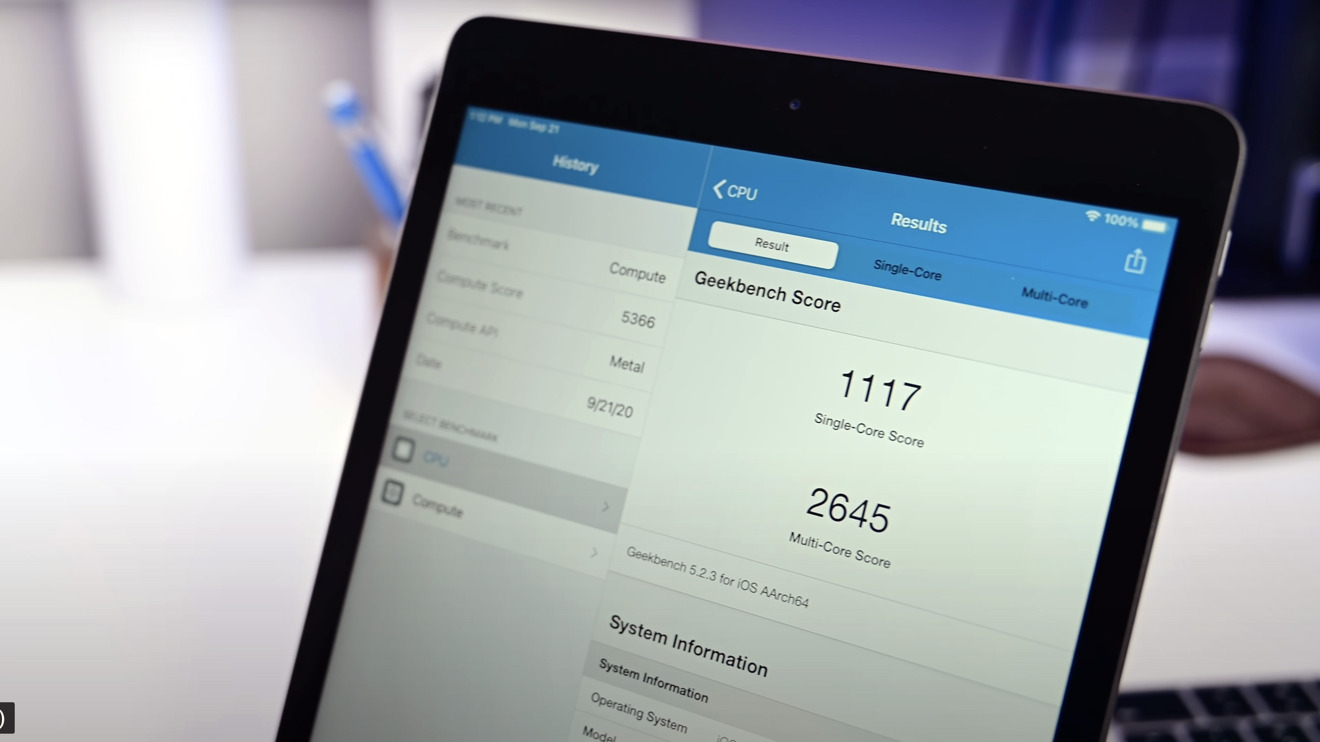 The most significant upgrade in the eighth-generation iPad is a leap to an A12 Bionic processor. The new silicon gives it a considerable performance boost over the A10 chip found in both the sixth-generation and seventh-generation iPads. Apple says it's up to 40% faster than the A10 chip in the seventh-generation iPad.
The A12 Bionic marks the first time Apple's Neural Engine arrives on the budget iPad. It offers powerful machine learning capabilities, including people occlusion and motion tracking in augmented reality (AR) apps, enhanced photo editing, and improved Siri performance.
Support for Apple Pencil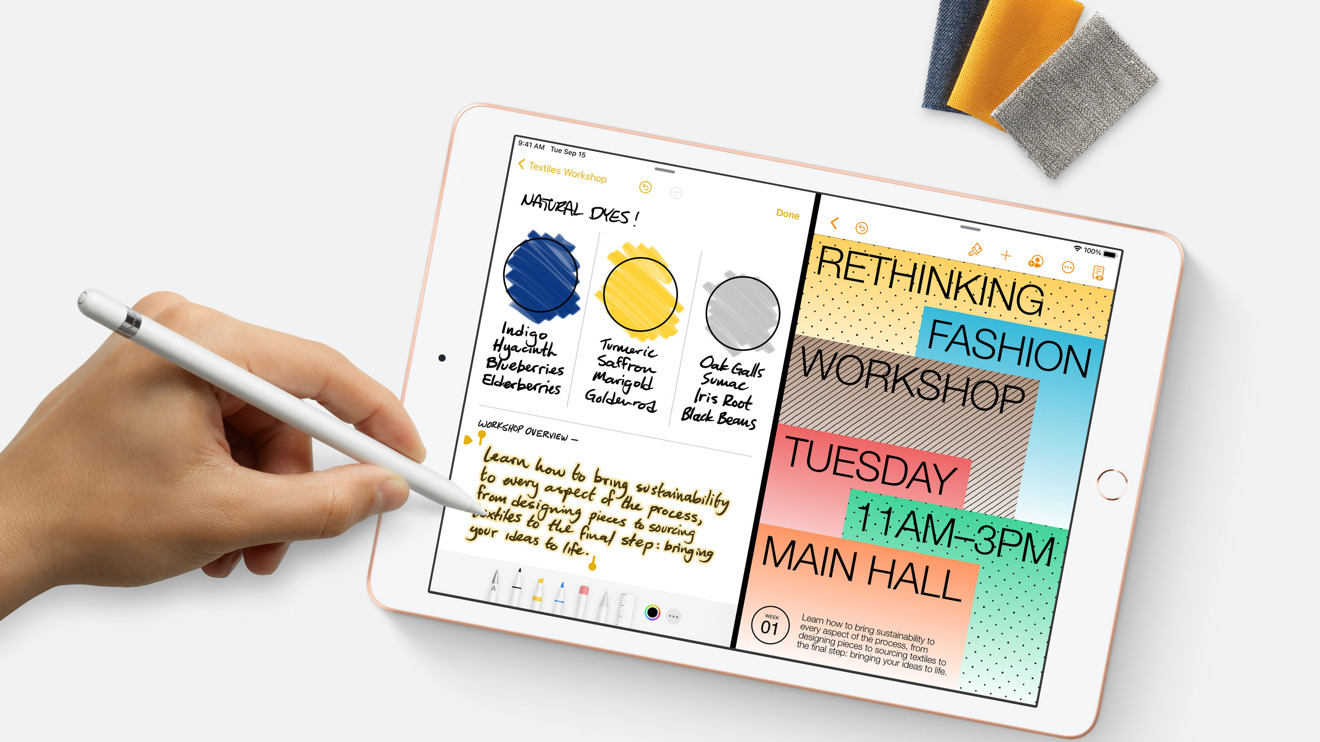 The 10.2-inch iPad supports the first-generation Apple Pencil. The responsiveness from the first-generation Apple Pencil on the eighth-generation iPad is roughly the same as it is on the original 12.9-inch iPad Pro. The 10.2-inch iPad does not support the second-generation Apple Pencil due to requiring the flat sides and conduction charging found in other iPads.
Apple Pencil support on Apple's budget iPad does mean that this is the cheapest way to get a powerful drawing tablet. While it lacks some higher-end technologies like P3 color or laminated display tech, this device is still a fantastic value for those who want the drawing functionality.
The new Scribble feature in iPadOS 14 allows users to write into any text field with the Apple Pencil making this tablet a versatile note taking machine.
Inclusion of the Smart Connector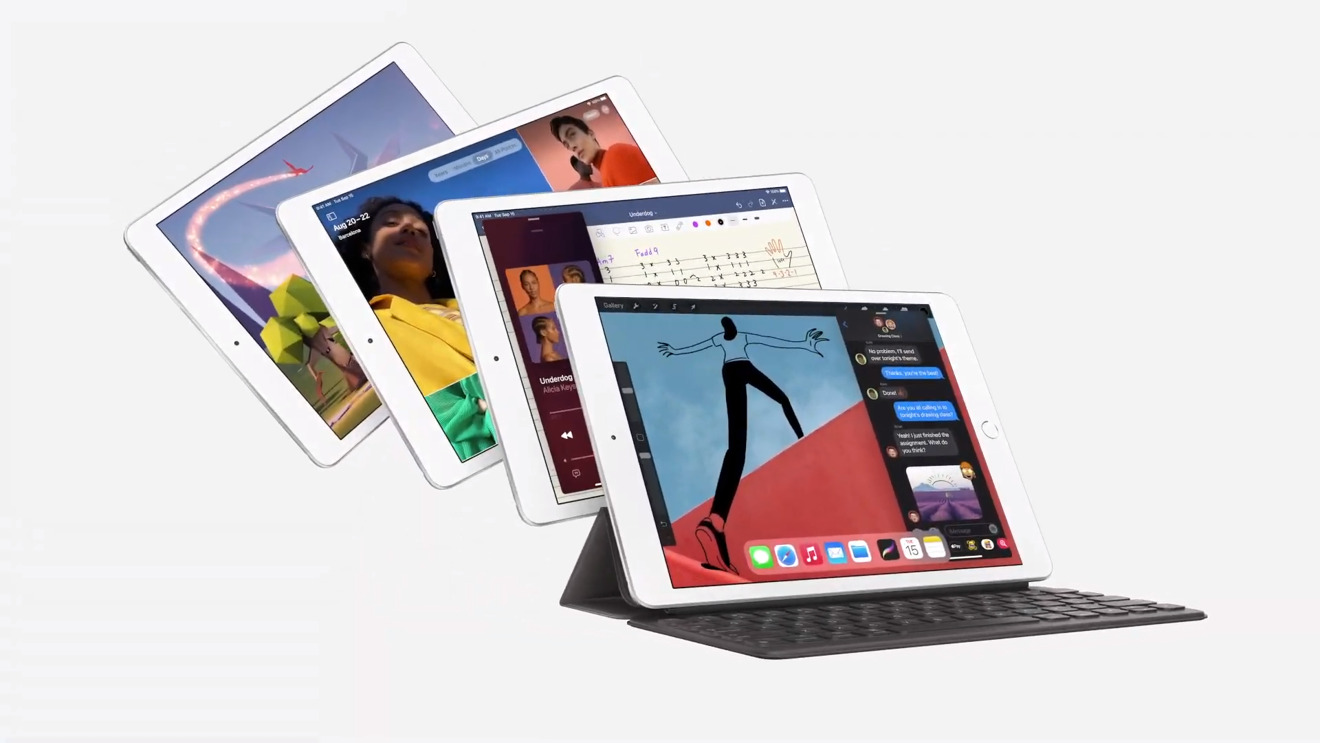 The eighth-generation 10.2-inch iPad is the second entry-level model to support the Smart Connector, enabling Apple's Smart Keyboard or any accessory that uses the connector. Very few third-party accessory makers utilize the smart connector, usually connecting their accessories via Bluetooth instead.
Other Features
The eighth-generation iPad ships in 32GB and 128GB storage tiers
Apple offers the tablet in silver, space gray, and gold color options
The iPad has an 8MP rear camera with f/2.4 aperture
On the front is a FaceTime HD camera that supports 720p video and 1.2MP photos with f/2.4 aperture
Seventh-generation iPad
This updated 10.2-inch iPad that Apple released in September 2020 replaces a seventh-generation model of the same screen size.
The previous (seventh-generation) iPad also had a 10.2-inch display and many other identical specs to its successor. The most significant difference is that it used a slower A10 processor.
It was the first budget iPad with a smart connector for Apple Smart Keyboard support. It also supported the first-generation Apple Pencil.
The seventh-generation iPad started at the same $329 for 32GB storage as the new model.
10.2-inch iPad Pricing
Interested parties can purchase this iPad with or without cellular support. Here is how pricing breaks down:
32GB with WiFi - $329
32GB with WiFi + cellular - $459
128GB with WiFi - $429
128GB with WiFi + cellular - $559
Common 10.2-inch iPad Questions
Is 10.2-inch iPad compatible with Apple Pencil?
Yes, but only the first-generation Apple Pencil.
Does 10.2-inch iPad have a headphone jack?
Yes, this model still has a 3.5mm headphone jack.
Does 10.2-inch iPad support wireless charging?
No, Apple hasn't added wireless-charging capabilities to any of its iPads.
How much does 10.2-inch iPad cost?