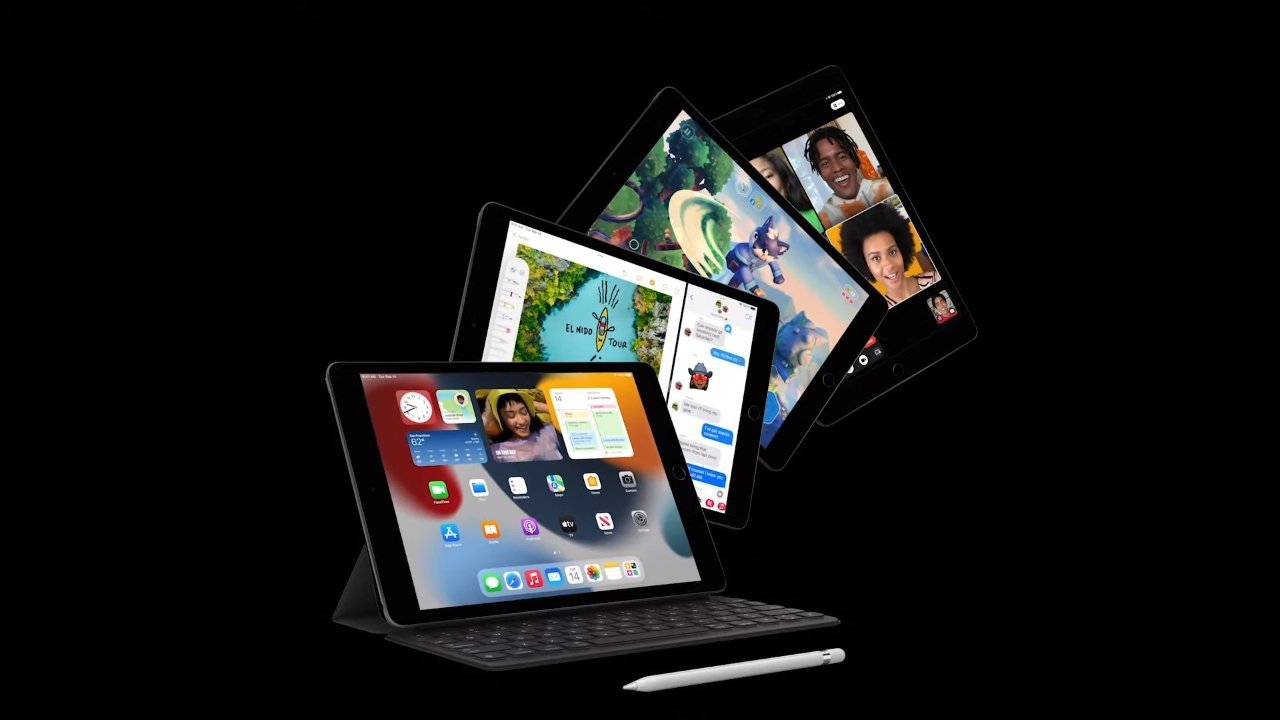 Summary
Apple's seventh-generation 10.2-inch iPad saw very few upgrades over the previous sixth-generation iPad. The updates it did receive were a larger screen, an A10 Fusion processor, and the addition of a Smart Connector.
Features
● Larger, 10.2-inch display
● Smart connector
● Support for first generation Apple Pencil
● A10 Fusion processor
● Available in 32 or 128 gigabyte storage capacities
---
The new seventh generation 10.2-inch iPad was announced at Apple's "by innovation only" event in September 2019. It received no major overhauls but offers a larger screen for users who may have held out on upgrading an older model.
Acting as the budget model of iPad, this device is more about what is withheld to keep the price down rather than flashy features. Despite that, the 10.2-inch iPad still benefits from all the features of iPadOS.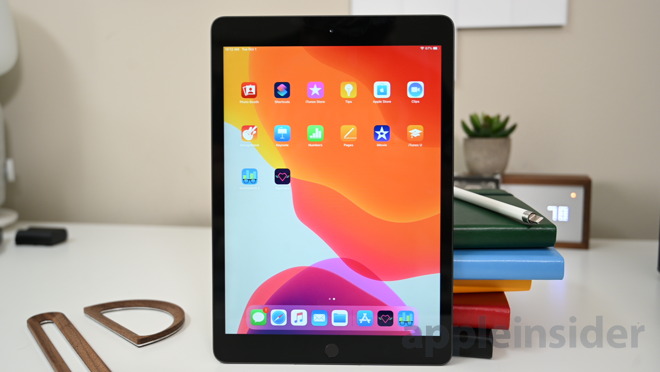 The new 10.2-inch iPad
AppleInsider reviewed the seventh generation iPad and gave it a 4 out of 5.
10.2-inch iPad dimensions
The 10.2-inch iPad comes in at 250.6mm tall, 174.1mm wide, and 7.5 mm thick. The Wi-Fi only version weighs 483 grams, and the LTE model weighs 493 grams.
For comparison, the 2018 iPad is 240mm tall, 169.5mm wide, has a thickness of 7.5mm, and weighs 469 grams with Wi-Fi and 478 grams with LTE. The original iPad was 242.8mm tall, 189.7mm wide, 13.4mm thick, and came in at 680 grams.
10.2-inch iPad Display
Apple chose to utilize a non-laminated display for the seventh generation iPad as it is a lower-end model. In addition to being cheaper to produce, if the glass breaks on an iPad with a non-laminated screen, it can cost less to replace. This makes non-laminated screens ideal for schools, facilities, and businesses that utilize the iPad as a point-of-service, as they will likely need to repair devices.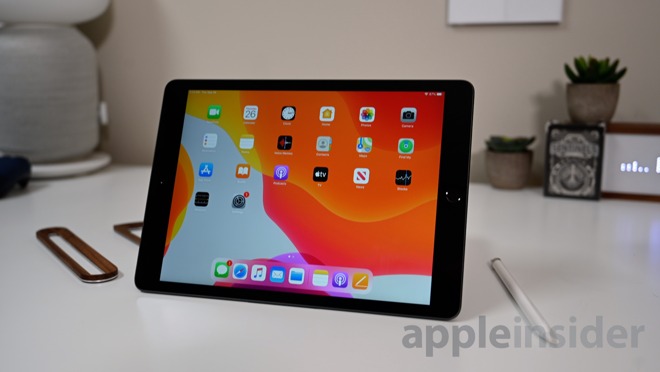 The 10.2-inch iPad still has a non-laminated display
Additionally, the display is not a Wide Color with True Tone display, and instead is reflective of the iPad's color fidelity prior to the 9.7-inch iPad Pro. The new display has a resolution of 2160x1620 pixels at 264 pixels per inch.
In our testing, we got a brightness of about 482 nits on the seventh generation unit, which is less than the current generation iPad Pro models that come in at 584 nits.
Processor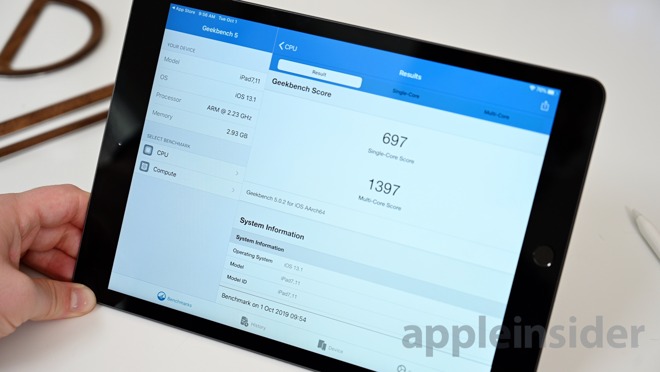 The 7th-gen iPad gets a 697 and 1397 in the Geekbench 5 test
Using the same A10 chip as the prior generation, the seventh generation iPad does not see a significant leap in performance versus the sixth generation iPad. According to AppleInsider's Geekbench 5.0 tests, the seventh generation iPad barely surpassed the sixth-generation iPad that came before it.
Support for Apple Pencil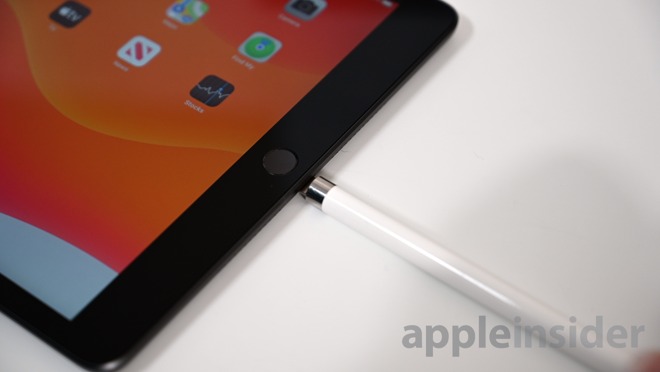 First-generation Apple Pencil support
The 10.2-inch iPad features support for the first generation Apple Pencil. Responsiveness from the first generation Apple Pencil on the seventh generation iPad is roughly the same as it is on the original 12.9-inch iPad Pro. The 10.2-inch iPad does not support the second generation iPad pencil.
Inclusion of the Smart Connector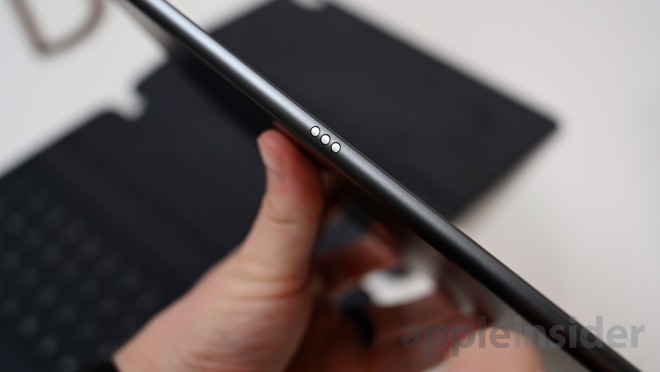 10.2-inch iPad Smart Connector
The seventh generation iPad is the first entry-level model to support the Smart Connector, which enables the use of Apple's Smart Keyboard Folio or any accessory that uses the connetor.
Audio and Video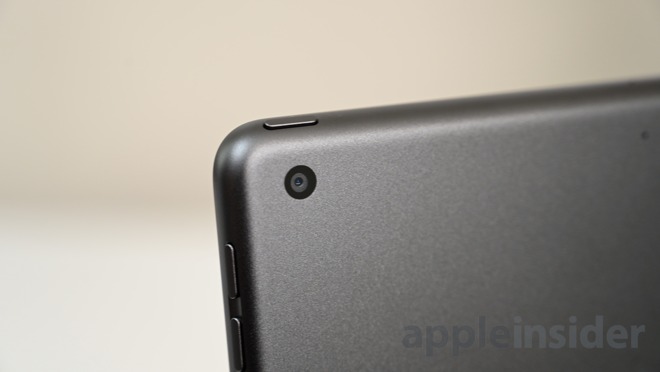 7th-gen iPad camera
Two stereo speakers sit at the bottom of this iPad and performed adequately, though not stellar. As iPads are small devices, it's not surprising that they don't tend to blow anyone away with their audio quality.
The cameras on the iPad function as expected. The rear camera is an 8-megapixel camera that is capable of taking Live, panoramic, and HDR photos. It can record 1080p HD video at 30 frames per second, supports slow-mo video and time-lapse video, and a 3x video zoom. The front camera is a standard FaceTime HD Camera capable of taking 1.2-megapixel photos and recording 720p HD video.
Much like other iPads, this iPad features dual microphones to capture audio for phone calls and audio and video recording.
Options and pricing
The 10.2-inch iPad can be purchased with or without support for cellular, and can be configured with either 32GB or 128GB of storage. It can be purchased in either a space gray, silver, or gold finish.
A 32GB wifi-only iPad costs $329, while a 32GB wifi and cellular model costs $459. The 128GB wifi-only model costs $429, with the upgraded cellular model coming in at $559. Deals can be found on every model in the 2019 iPad Price Guide.
Essential Reading