Apple Watch Series 7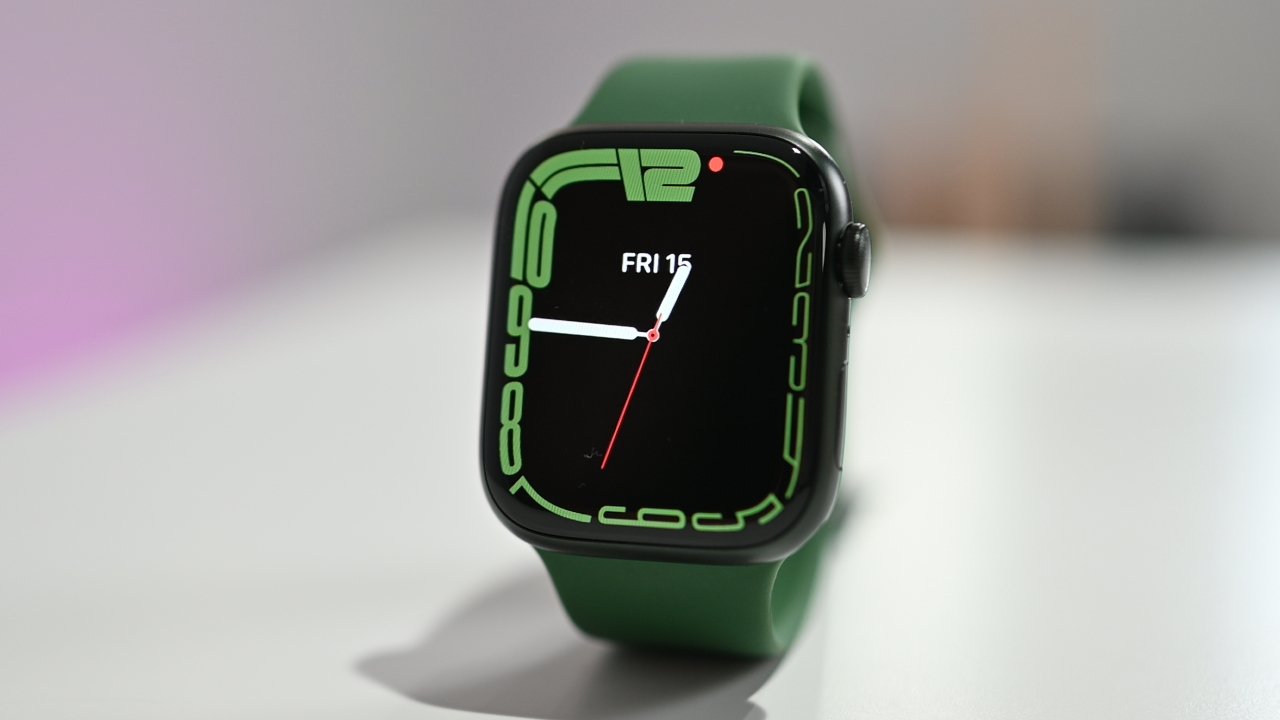 The Apple Watch Series 7 has a bigger, brighter, and tougher display that extends all the way to the edge of the device. There isn't any flashy new gimmick or headlining health feature in this model, but there are still a handful of changes worth exploring. New colors, faster charging, and exclusive edge-to-edge watch faces add up to an iterative, yet desirable upgrade.
● Five aluminum color options
● Stainless Steel and Titanium models
● Display is 20% bigger
● Brighter always-on display
● 33% faster charging
● Starts from $399
---
Get Apple News Directly in Your Inbox
AppleInsider is supported by its audience and may earn commission as an Amazon Associate and affiliate partner on qualifying purchases. These affiliate partnerships do not influence our editorial content.
---
The Apple Watch Series 7 retains the same design elements that have been present since its first iteration. Despite rumors of a flat-edged redesign, Apple doubled down on rounded sides and added a bigger, brighter display.
The Apple Watch has matured over the years into a health and fitness product, though Apple still pushes some social aspects. Each release has had some big feature attached to it, though this model is admittedly more iterative than Apple's previous generations.
Apple Watch Series 7 Features
Rather than add some gimmicky new feature or sensor, Apple positioned the Apple Watch Series 7 as the epitome of its wearable revolution. It acts as the absolute maximum representation of what can fit in a comfortable wrist computer.
A redesign is still possible in the future, but for now, Apple had to consider what changes it could make in an aging design without compromising existing features.
Notably, Apple has managed to introduce yet another Apple Watch that retains compatibility with all watch bands. Apple initially leaned heavily into the fashion aspects of the Apple Watch, which has persisted through the constantly changing band styles.
Display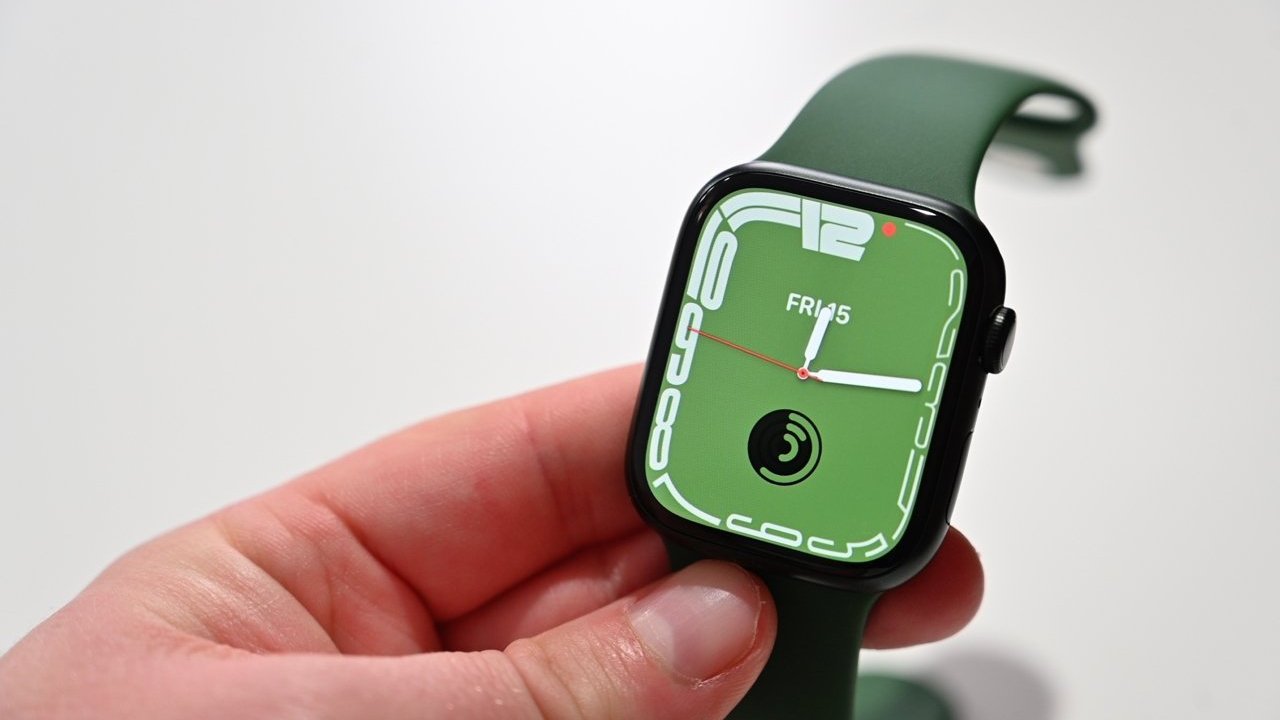 Apple pushed the display over the edge of the Apple Watch frame for 20% more screen real estate than its predecessor. Those upgrading from the Apple Watch Series 3 will see a 50% increase in display size while only increasing case size by 3mm.
The display is also 70% brighter when the always-on display is dimmed. This means information is more visible at a glance, even in a bright environment.
Many apps offered by Apple have been reconfigured for the larger display as well. For example, Calculator has bigger buttons, text messages show more content, and there is now a full-sized keyboard useful for swipe typing.
Apple says the display used on the Apple Watch Series 7 is the most durable one yet. The glass cover is thicker at its highest point, which makes it more resistant to cracks.
Health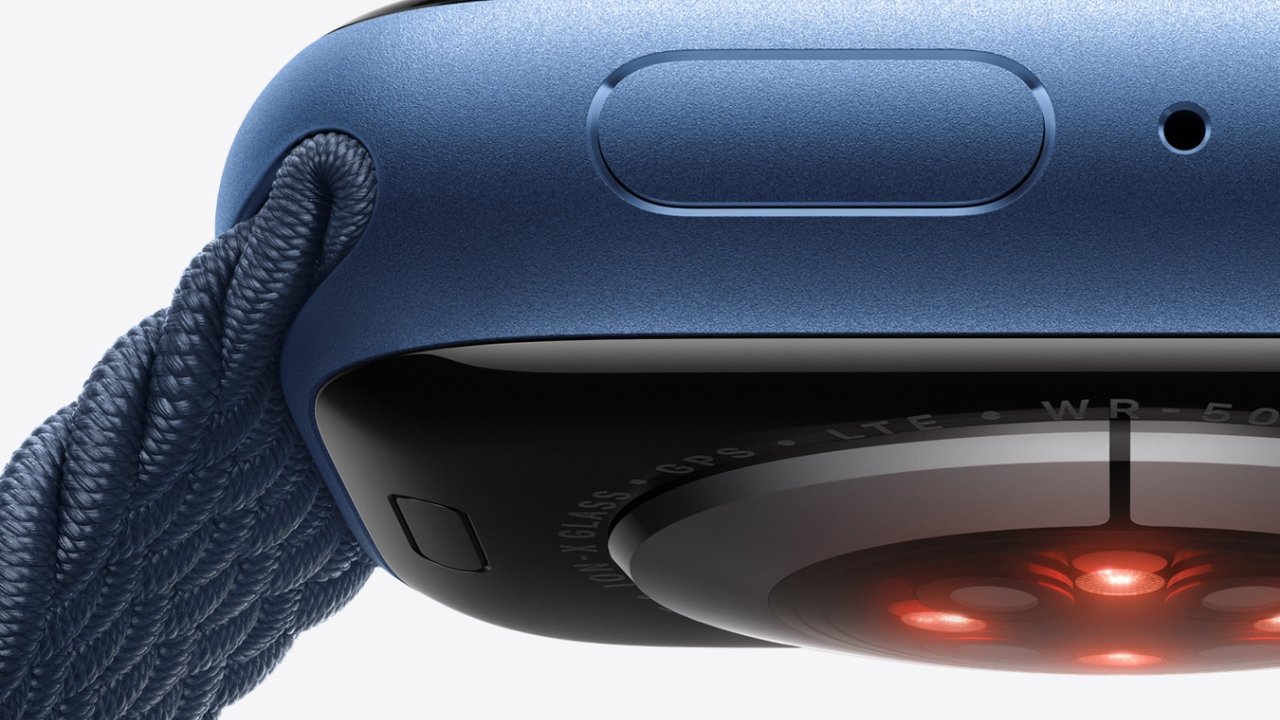 There are no new health features in Apple Watch Series 7. All of the health features found in the upgraded hardware exist in the Apple Watch Series 6, though that model will no longer be in Apple's lineup.
Heart
The primary health feature that ties to every health and fitness metric is heart rate. The infrared sensor on the back of the Apple Watch regularly measures heart rate and records its findings in the Health app.
Users can also take manual Electrocardiograms using the Digital Crown and heart rate sensor to complete an electrical circuit around their body. This measurement helps determine irregular heart rhythms and can help users decide whether they need to visit a doctor.
There is also a blood oxygen sensor built into the sensor stack. LEDs and photodiodes record oxygen content and warn users if it gets too low for a given elevation. This data can help diagnose issues with the lungs or sickness.
Fall detection
The accelerometers in Apple Watch can detect if its wearer has fallen or been involved in a collision. When enabled, the Apple Watch will ask if the user has fallen and if they need help.
If the user isn't moving around for about a minute, an alarm starts counting down. As long as the Apple Watch is connected to a cellular network or an iPhone, it will notify emergency services if you're unable to.
This feature is enabled by default for users over 55, though it can be manually toggled on for users 18 or older.
Other
The Apple Watch will record decibel levels in any environment, and if enabled, will warn the wearer of dangerously loud noise. A complication is also available so users can view the decibel level at a glance.
A twenty-second timer will start any time Apple Watch detects the user is washing their hands. The feature was added during the pandemic to encourage healthy habits.
The Apple Watch also tracks sleeping habits by default. So if you wear your Apple Watch to bed, it will measure the quality of sleep based on a combination of metrics gained from the health sensors.
Fitness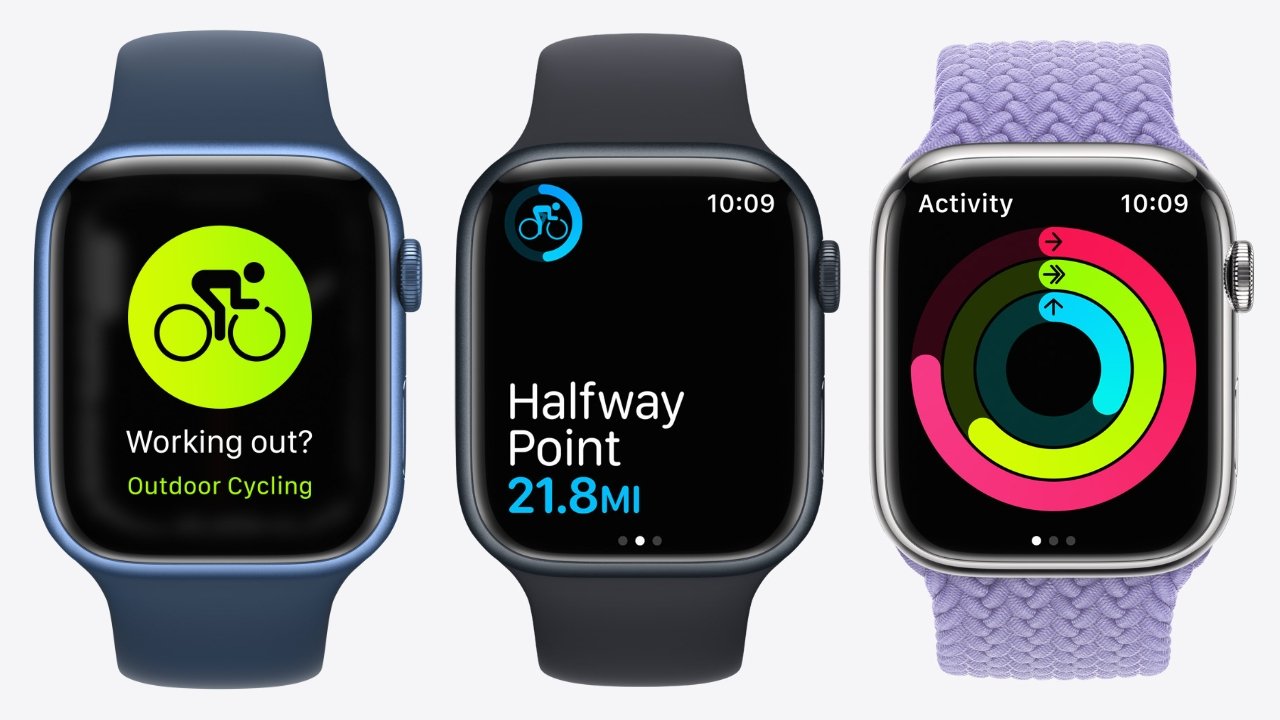 Fitness has become an important staple of the Apple Watch — Fitness+ was even built around it. Track your workouts, from walking to swimming, all with a simple tap.
Automatic workout detection has improved as Apple updates its algorithms in watchOS. With watchOS 8, users will be able to automatically start a cycling workout thanks to a combination of sensors detecting the activity.
The algorithms have also been tuned to measure calories accurately when using an e-bike. It can determine if pedal-assist is active or if the bike is moving on leg power alone.
There are many workouts users can initiate from the Fitness app on Apple Watch. They include cycling, swimming, core, HIT, and even hiking. New workouts coming in watchOS 8 include pilates and yoga.
Processor, Networking, Charging
Apple says the Apple Watch Series 7 has the same 18-hour battery life as its predecessor. However, the charging capabilities have been improved with much faster charge times.
When connected to sufficient power, the Apple Watch will charge 33% faster, translating to eight hours of sleep tracking with just eight minutes on a charger. Apple says the battery can reach 80% in just 45 minutes.
Apple didn't delve into the processor, but it is a new S7 SiP. The core processor remains the same as the S6, though there's more to the chip than just the processor. The expanded capabilities for the display, fall detection, and more could easily warrant a next-generation package, hence the S7.
There is still an LTE option available for Apple Watch. It requires a cellular plan from a carrier but will likely be included in your iPhone plan for a small monthly fee.
Materials and colors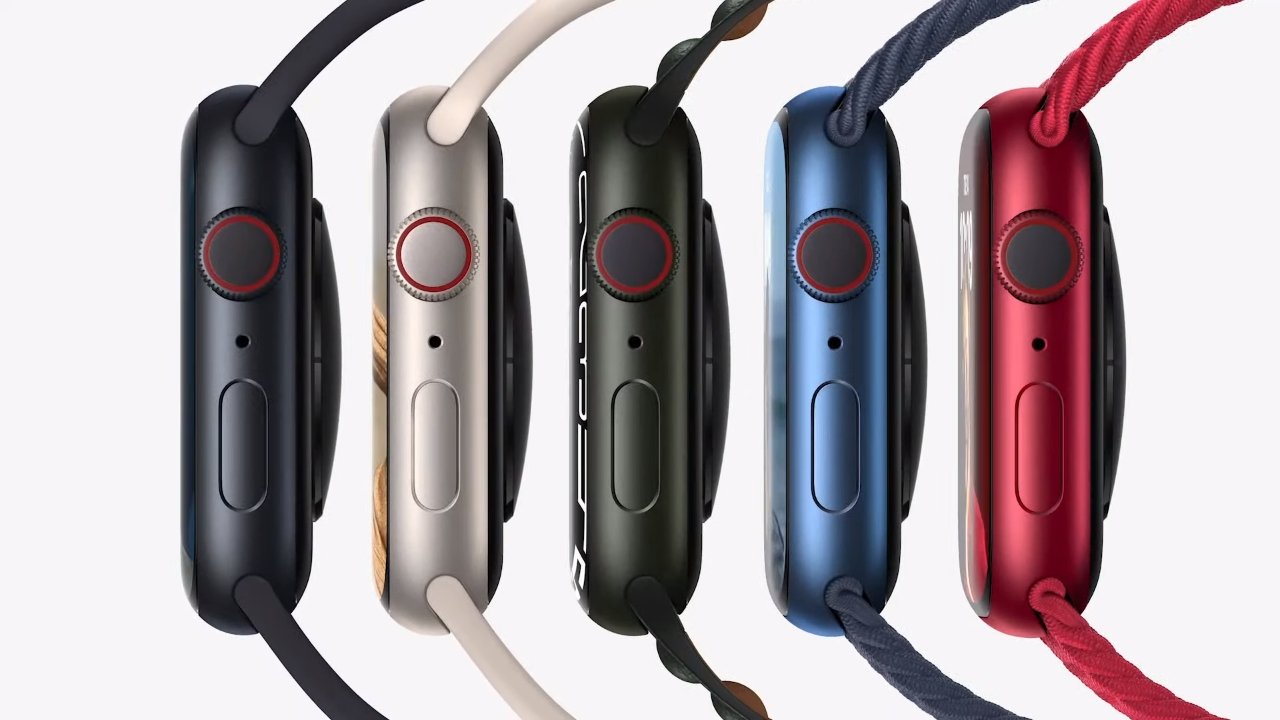 The Apple Watch Series 7 is available in aluminum, stainless steel, and titanium. The only model with new color options is the aluminum model.
The aluminum colors are midnight, starlight, green, blue, and (PRODUCT)RED. Stainless steel is available in silver, graphite, and gold. The titanium model retains its space black and standard titanium color.
What was rumored
The rumors leading up to the Apple event led many to believe a significant redesign was coming. Everything from a flat-sided watch to new types of bands was expected.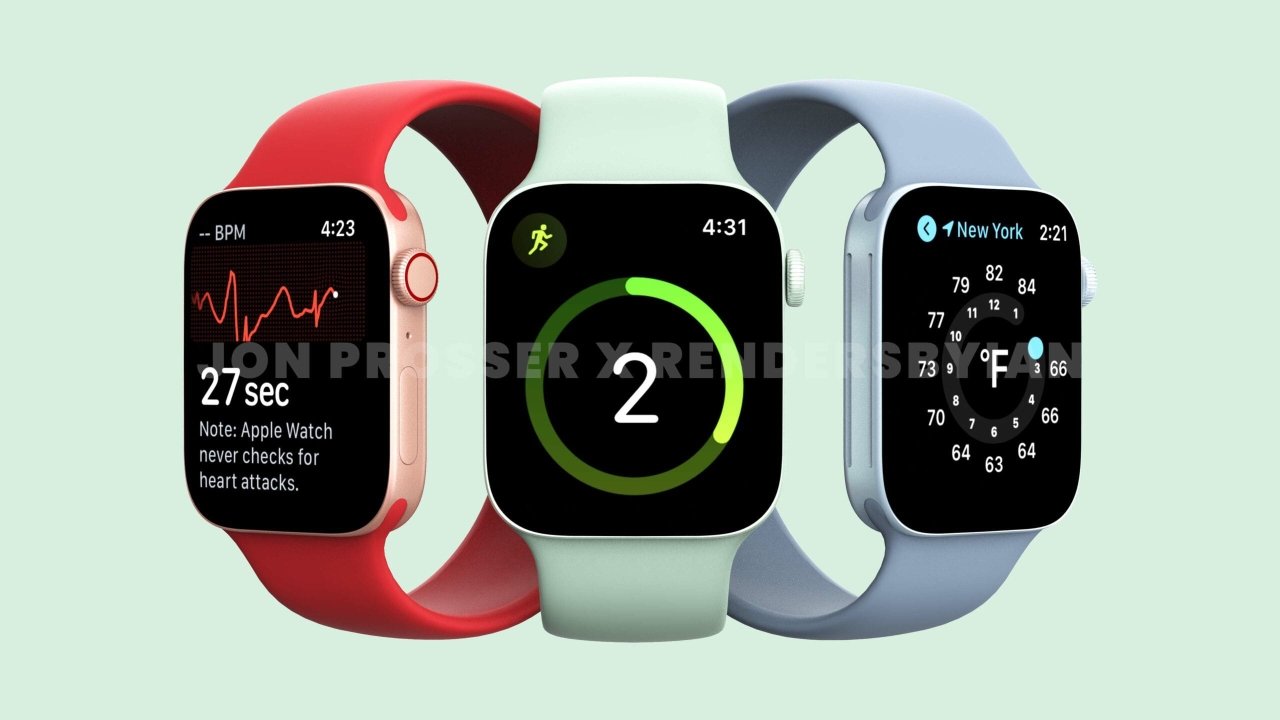 What Apple revealed is almost entirely the opposite of those rumors. Not only is the new Watch more curved, but it also uses the old band style and doesn't have any radical new features.
This trip up is one of the more public failures of the rumor mill. More than one source had been adamant about the new features, yet none of them arrived.
The verdict is still out, however, as some have doubled down. Now rumors indicate the flat-sided redesign is due for the Apple Watch Series 8 in 2022.
Pricing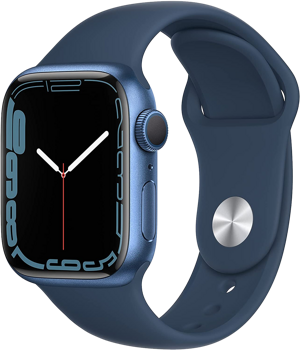 Apple Watch Series 7
---
The Apple Watch Series 7 has an Always-on Retina display with nearly 20% more screen area than the Series 6 and the most crack-resistant front crystal yet on an Apple Watch.
The Apple Watch Series 7 is priced identically to the Apple Watch Series 6. Some early orders shiped on October 15 with limited in-store availability. The 41mm watch with a sport band starts at $399. Customers can choose between aluminum, stainless steel, and titanium watch cases, a multitude of bands, and whether or not cellular is included.