watchOS 8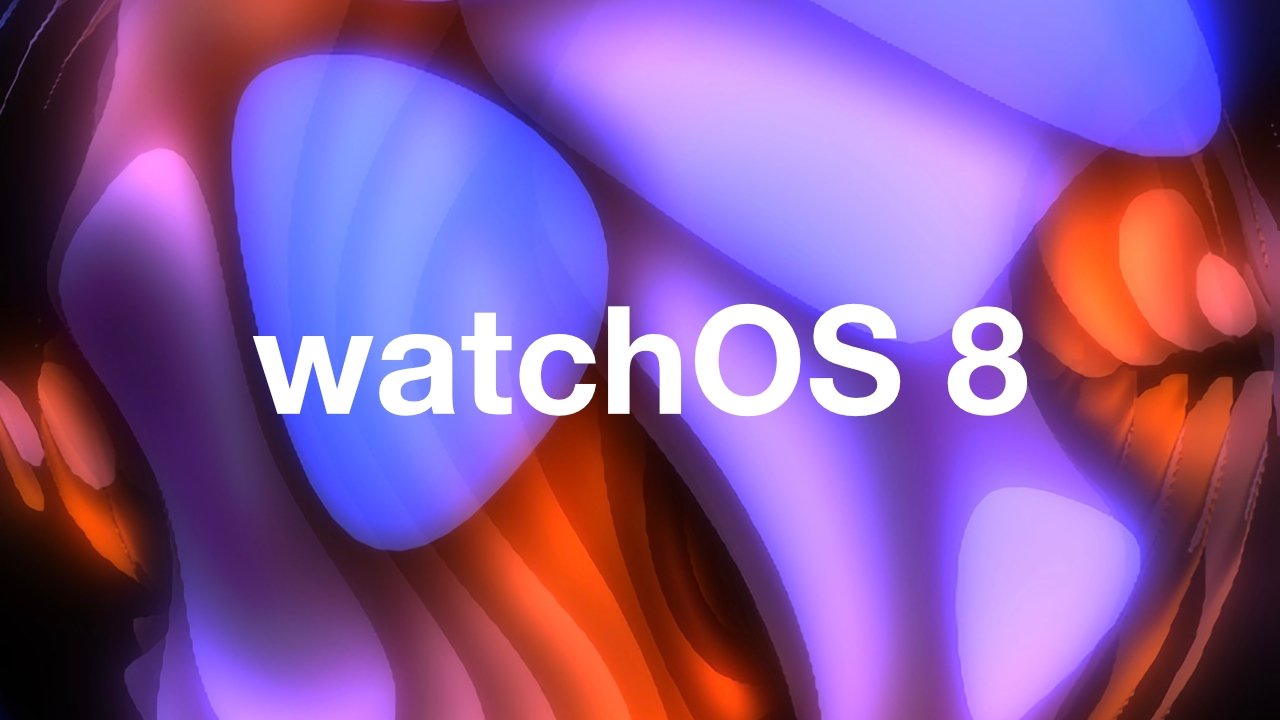 With the Apple Watch in its sixth year, watchOS 8 is a refinement of existing features rather than a dramatic redesign. Thanks to the pandemic, Apple's focus for its operating system updates is primarily social, and changes to watchOS make sharing and viewing information better on the tiny display. There are also new health-focused features like meditation and respiratory rate tracking.
● Portrait mode watch face
● New Home suggestions
● Place the text cursor with the Digital Crown
● Improved sharing options across the OS
● Use Focus to manage notifications
● Breath app is now Mindfulness
---
The Apple Watch was released in 2015 as Apple's first new product category since iPad. The first iterations of watchOS didn't immediately reflect what the Apple Watch would be used for, but Apple slowly honed in on what users found most important.
Rather than augment the iPhone, the Apple Watch can perform most operations independently thanks to powerful processors and a dedicated App Store. Recent updates to the operating system focus on quality-of-life changes as well as expanded functionality.
watchOS 8 Features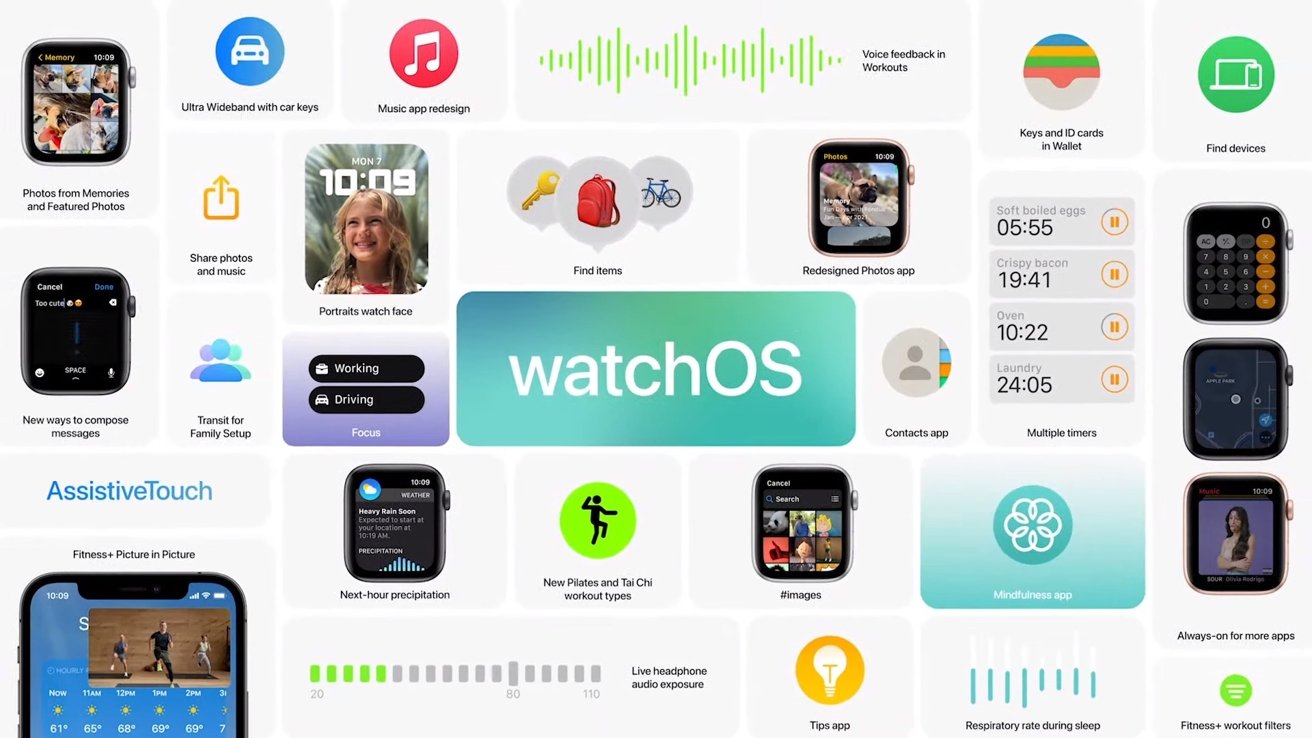 Apple only made a handful of changes with the watchOS 8 updates, but these changes expand upon the already mature operating system. Developers have more control over apps and complications, users have more control over notifications, and it is easier than ever to share content from your wrist.
Also, Apple's focus on health hasn't slowed. New workout types have been added, and sleep tracking is improved thanks to respiratory rate capture.
Message Composition and Sharing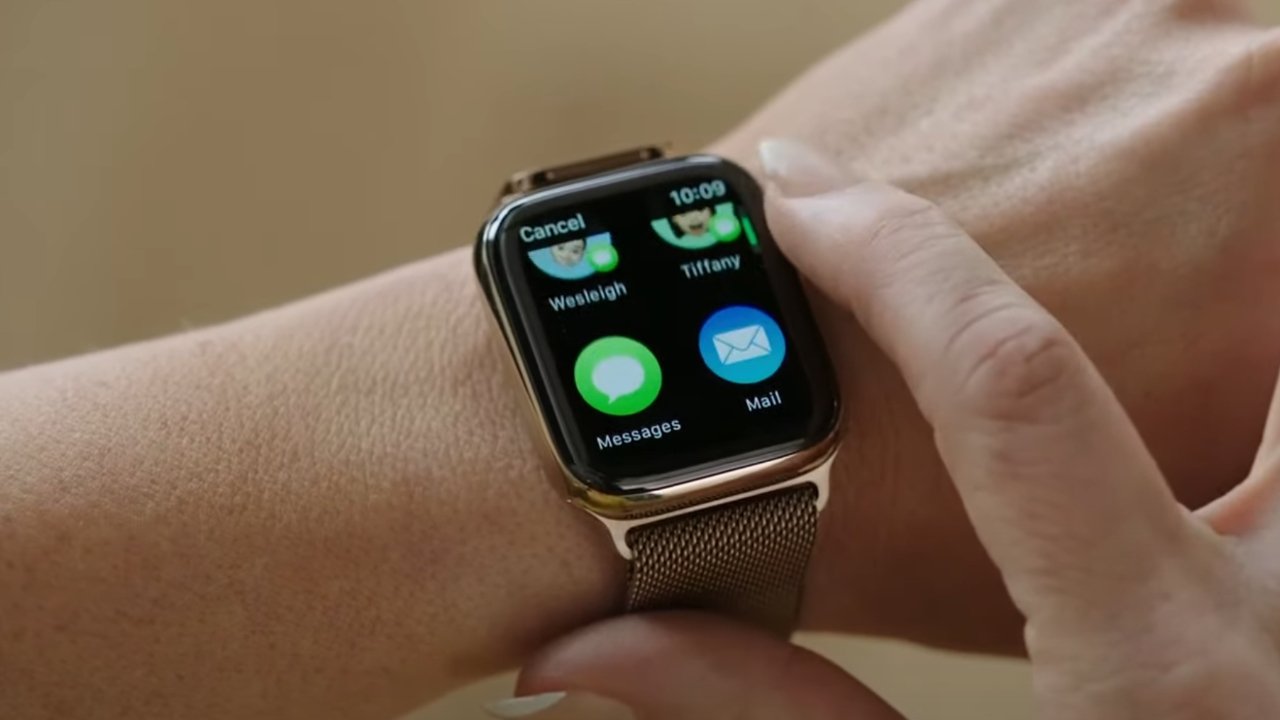 The Messages app on watchOS 8 will give users better control of text input. Rather than having to switch between text entry and emoji, the keyboard acts like the iPhone equivalent.
Swipe to type in letters, then use the Digital Crown to move the cursor for precise text placement. Add emoji using the emoji keyboard, or send a gif, all from the same text entry area.
The watchOS Share Sheet has been improved as well. When selecting content, like a photo in the photos apps, users will choose from recent message recipients or search for a message group or contact directly.
Other apps take advantage of the new Share Sheet as well. Apple Music, for example, lets users share songs, albums, or playlists directly from the app.
Apple also added the Contacts app to the Apple Watch. This enables users to create or modify their contacts directly from the wrist.
Find My on Apple Watch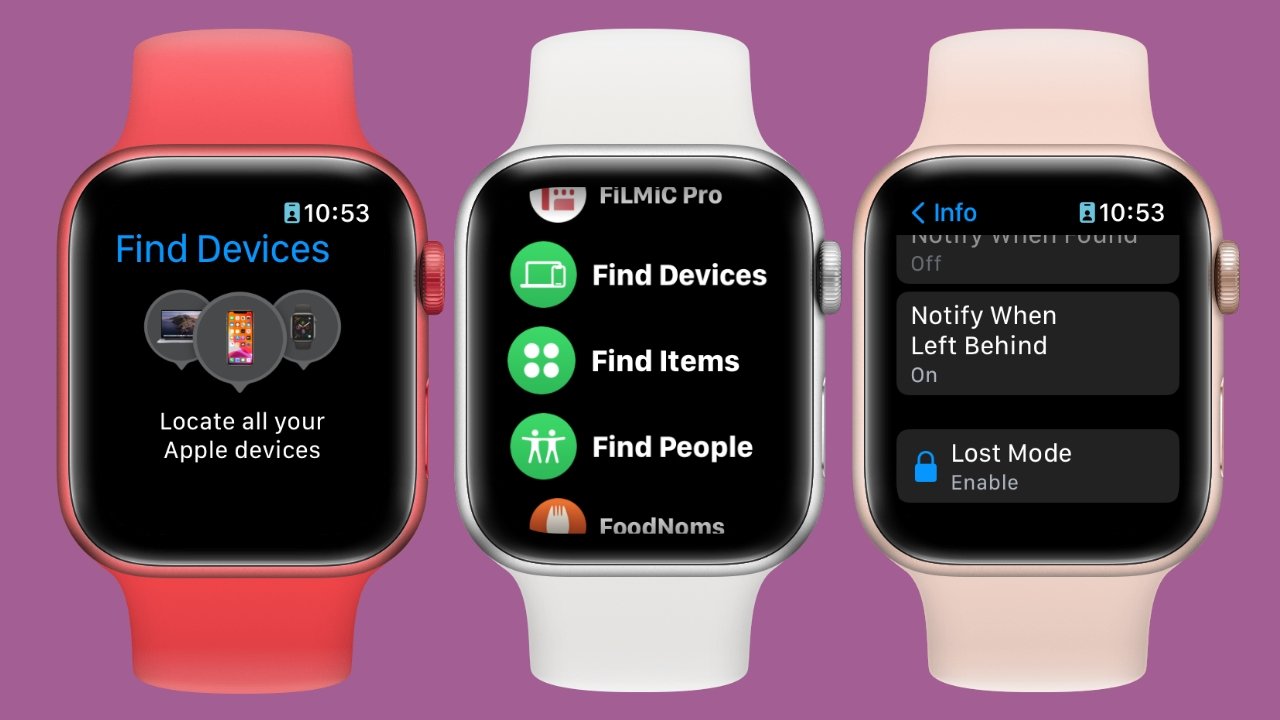 A long-requested feature has been introduced with watchOS 8 — "left behind" notifications. Now, users can make their Apple Watch notify them whenever they leave their iPhone behind or any Find My device.
Since the Apple Watch is a smaller device with limited interaction paradigms, Apple simplified the Find My app by splitting it into three parts. These are "Find Devices," "Find Items," and "Find People."
The Find Devices app is specifically for finding Apple products associated with the user's Apple ID. Play a sound, enter lost mode, or set up left behind alerts from this menu. With watchOS 8, users will be alerted by their watch when the iPhone is left behind in an untrusted location.
The Find Items app is built around AirTag and third-party Find My devices. Just as with the Find Devices app, control the lost mode and left behind notifications for Apple Watch here.
The Find People app is a bit more limited. You'll be able to see the people sharing location with you and control notifications to themselves, but little else.
Fitness additions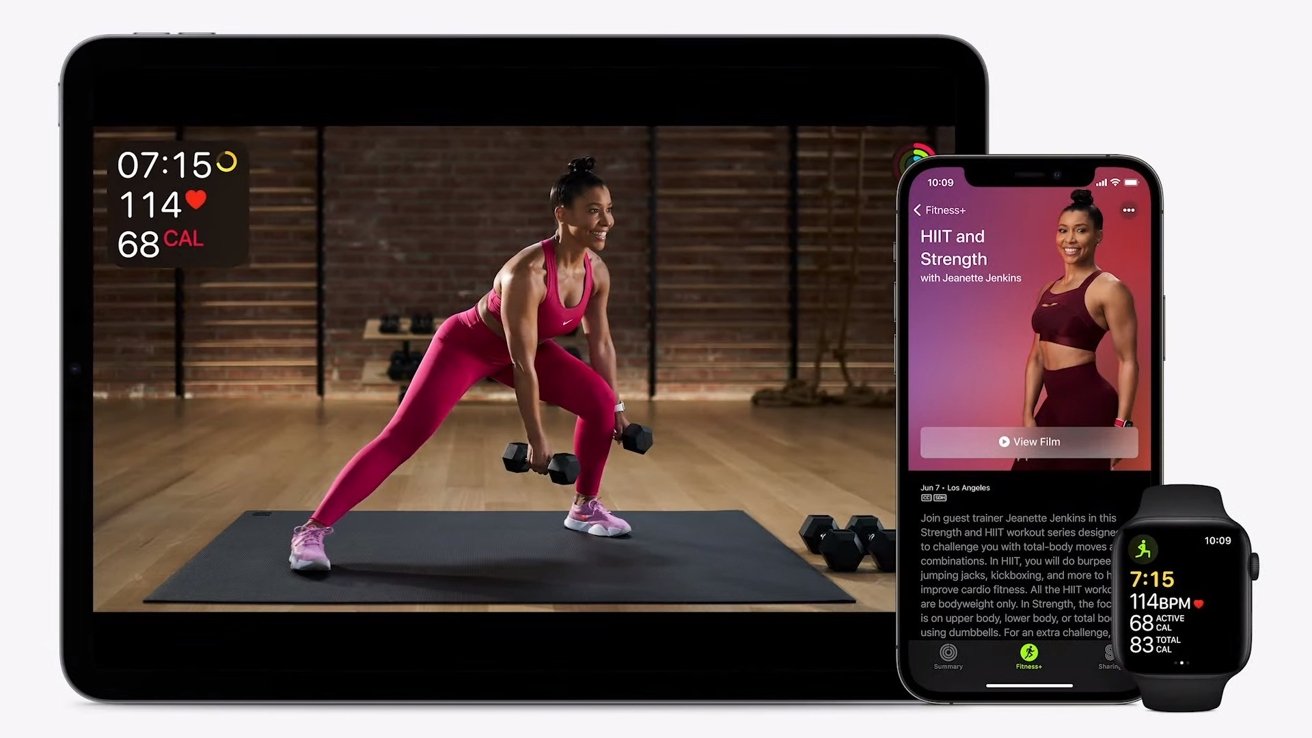 Users will be able to track Pilates and Tai Chi workouts with their Apple Watch. These workouts focus on flexibility, movement, and meditation while tracking essential metrics.
Apple discussed some of its Apple Fitness+ changes since it considers the service "built for Apple Watch." There is a new Artist Spotlight that groups workouts by playlists featuring single artists like Lady Gaga, Keith Urban, and more.
Meditation and Sleep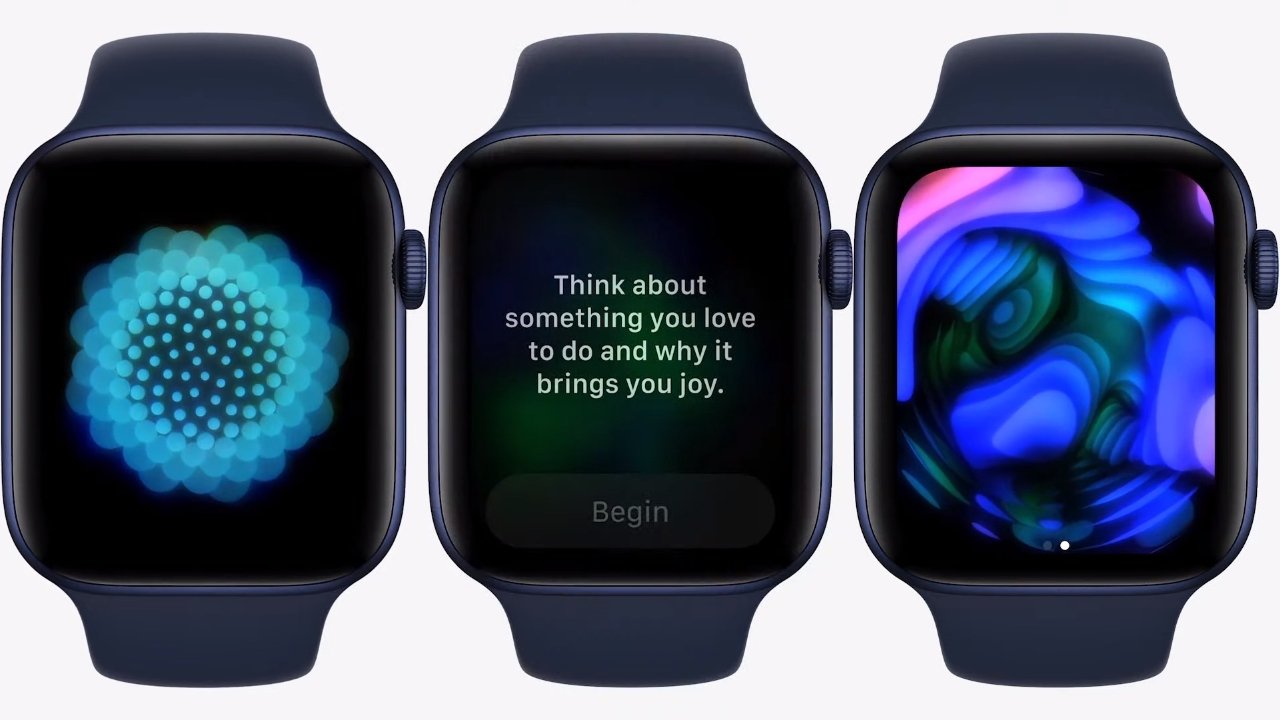 The Breathe app will become a part of a new app called Mindfulness. This app combines meditative practices and breathing with reflective prompts.
New visualizations accompany the app for both Reflect and Breathe. Reflect starts with a prompt then shows swirling colors, while Breathe shows animations mimicking breathing in and out.
Performing these short sessions contribute to your daily mindful minutes total. Apple says taking a moment to breathe or meditate throughout the day can lead to less stress and a better mind-body connection.
The sleep tracking built into the Apple Watch has also been updated. With this release, sleep tracking will automatically log respiratory rate for a better understanding of sleep quality.
Home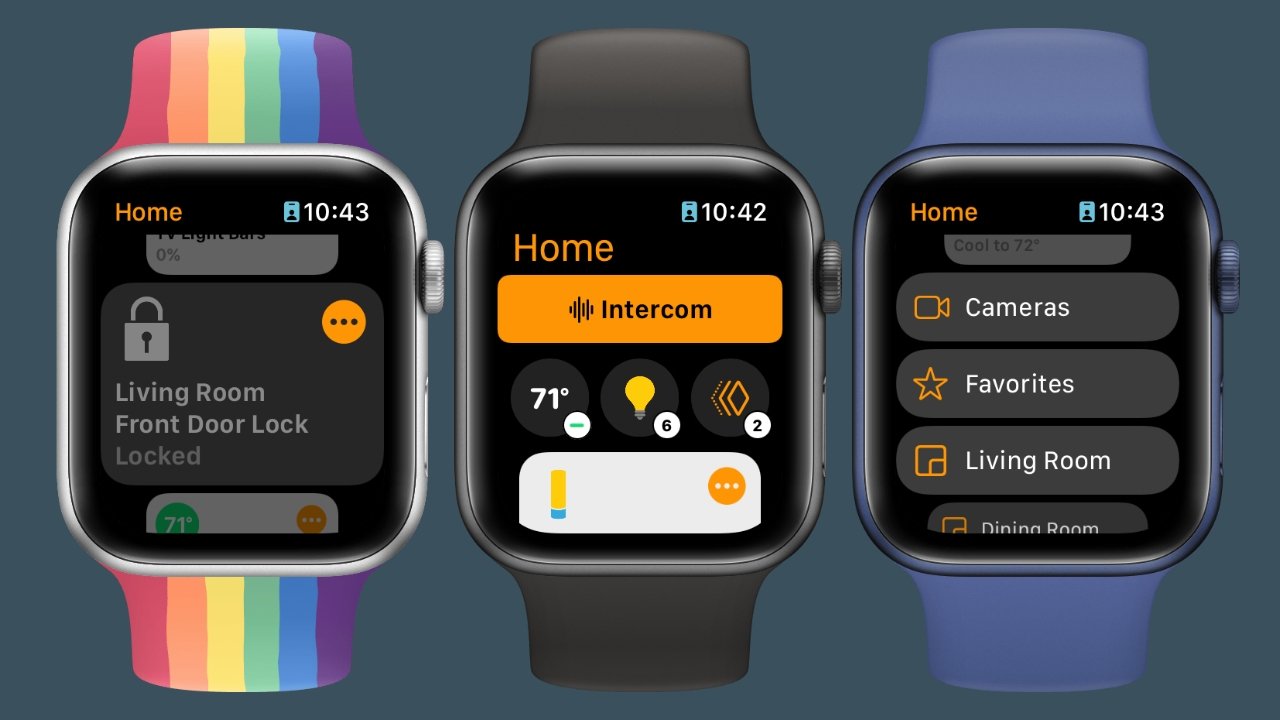 The Home app has been revamped to include more controls and intelligence across the app. Scenes and devices are suggested at the top of the app, and users can scroll down to see all their favorites and rooms.
A new camera room was added to house all the home's camera feeds in one place. Scroll through the cameras and select one to interact with the camera's speaker or unlock the front door.
The home status will be presented at the top of the app. Running lights or devices will be grouped with indicators showing their current operation or number of devices running.
Photos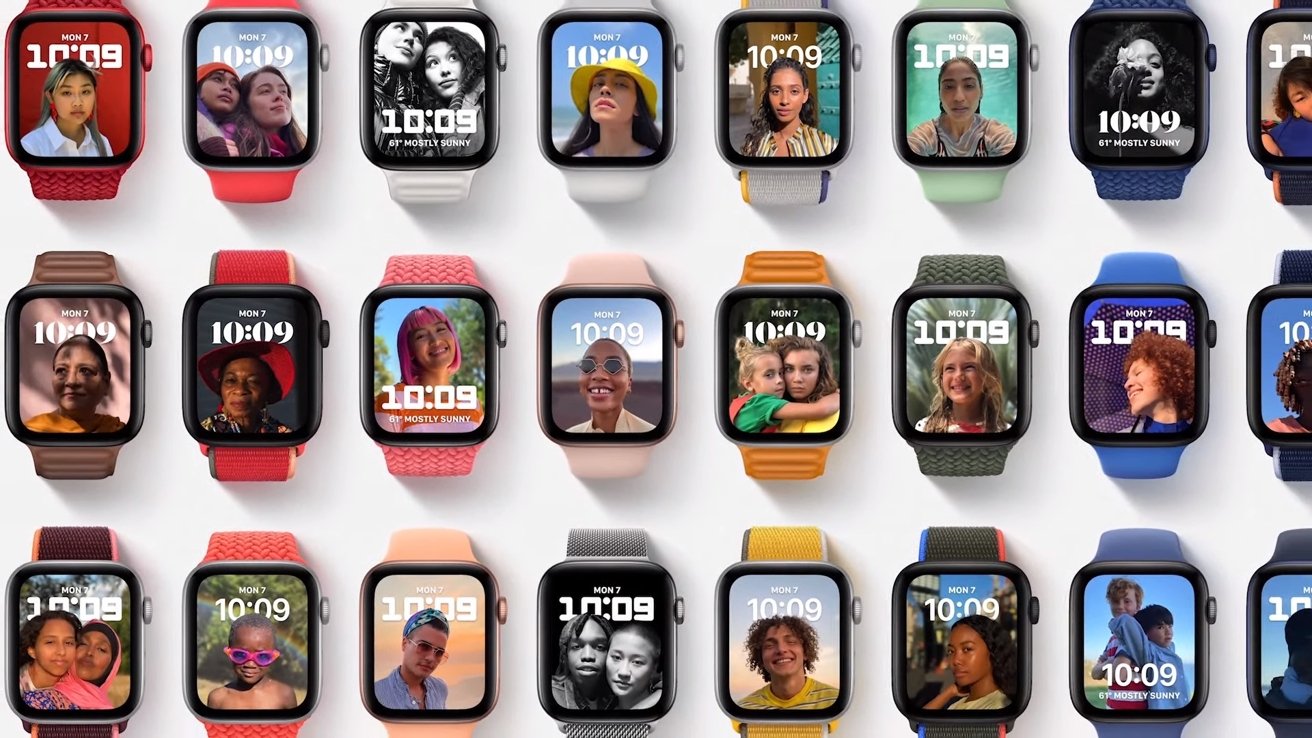 The Photos app will show more photos and albums from a selection screen. Select one of the memories to view a mosaic of all the photos and videos contained within.
New memories are synced automatically with the Apple Watch photos app every day. Users can also select specific albums to sync to the watch from settings.
The new Portrait mode watch face utilizes depth data to create layered effects. Subjects in photos are brought to the front with the clock in the background behind the portrait depth layer.
Focus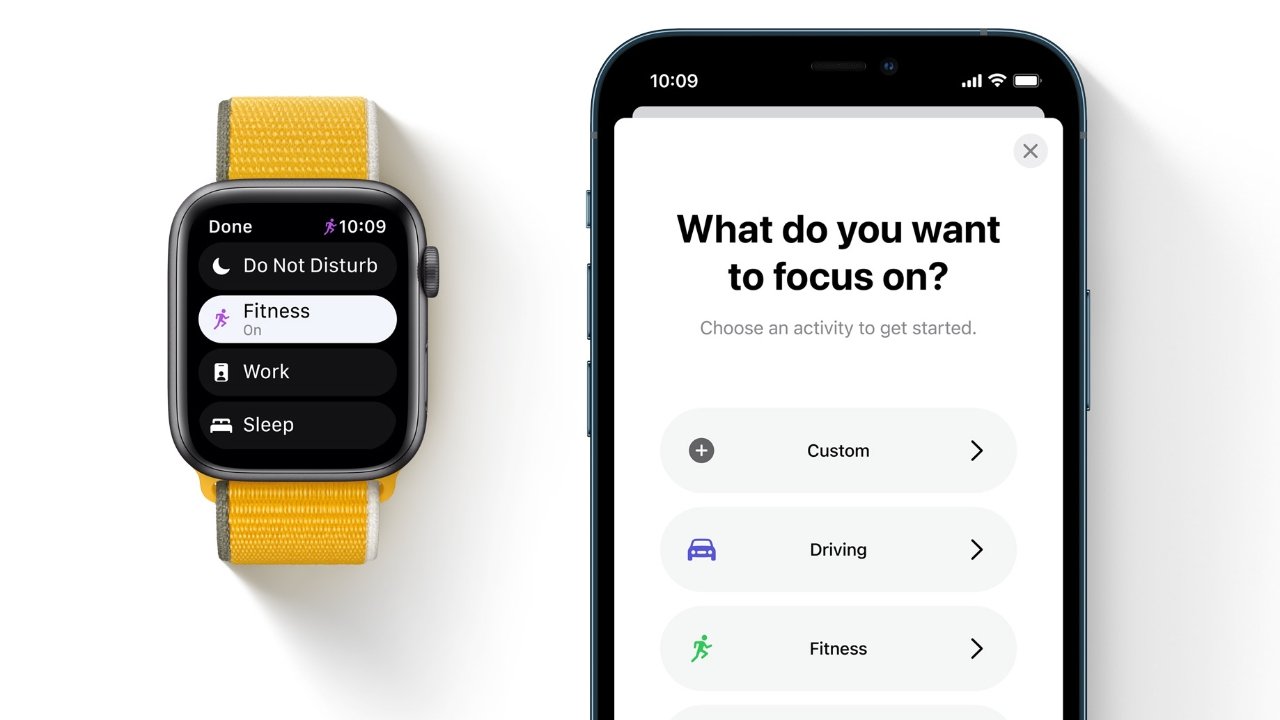 Apple's new Do Not Disturb feature is called Focus and works on the Apple Watch with watchOS 8. Rather than have a blanket Do Not Disturb button, users can configure multiple Focuses that allow specific notifications depending on the settings.
It's easy to set up a Focus for work that allows a user to receive Slack notifications, then set up another for personal time that allows YouTube notifications. Users can add and customize Focuses from the Settings app on iPhone.
The current Focus set on iPhone will sync to all devices the user has signed into, including the Apple Watch. Control which Focus is active via Control Center on the Apple Watch.
watchOS 8 Compatibility
Apple did not remove any devices from its compatibility list when it announced watchOS 8. All Apple Watches running watchOS 7 will be able to update automatically in the fall.