Spotify iOS beta gains ability to make Siri music requests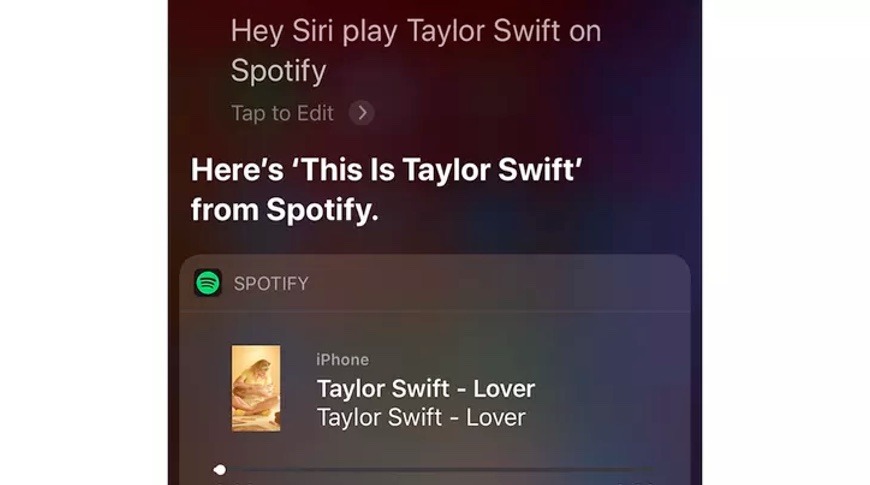 Subscribers of Spotify will soon be able to ask Siri to play music using the iOS app, with the music streaming service testing out the function in the beta version of its app ahead of a release to the public.
Apple Music and Spotify have been fierce rivals, but on iOS at least, Apple Music has the benefit of being accessible from Siri, with the digital assistant accepting requests for music playback only through Apple's streaming service, with no option to change the music provider. In an update to the beta Spotify app, the competitor is finally making a move to enable that functionality for its own usage.
The latest beta allows users to make requests to play songs and playlists by the verbal "Hey Siri" prompt, reports The Verge. For the moment, users also have to specify "on Spotify" for Siri to search that specific service, as otherwise Siri will keep searching Apple Music.
There also appears to be some issue with searching podcasts on Spotify, with it not quite working as well in requests as similar ones for the default Podcasts app. Requests via the Apple Watch also do not work, but they do via AirPods.
While only being tested in beta, it is thought Spotify may bring the feature to the public release within a few weeks.
The addition of Siri support to Spotify is likely to have stemmed from the addition of new functionality in SiriKit, introduced as part of iOS 13 and iPadOS. Siri intents to play media and control playback within apps was made available to developers to use, enabling third-party music and other audio services to use the facility.
A complaint with the European Commission by Spotify claiming Apple is being anti-competitive included third-party access to technologies like Siri, HomePod, and Apple Watch as evidence. By changing SiriKit to enable third-party music apps to use the digital assistant, it may help diffuse part of Spotify's regulatory complaint.