Icon for new noise cancelling AirPods found in iOS 13.2 beta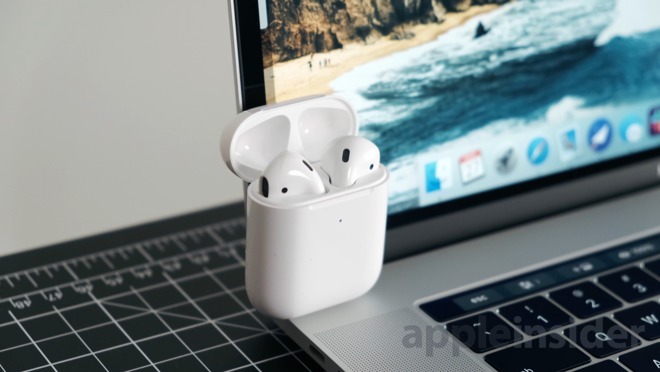 A delve into the first iOS 13.2 beta release has found an icon, suggesting that Apple's noise cancelling AirPods are coming sooner rather than later.
The discovery comes following rumors that have come with more frequency in the last year about an AirPods refresh with noise cancellation. The most recent in April, suggested that "AirPods 3" were moving up from an expected 2020 date, to late 2019 — in line with the expected release of iOS 13.2
Other items in the beta code rummaged by 9to5Mac are calling noise cancellation activation a "focus mode." Additionally, the AirPods are said to have model B298.
The icon bears a resemblance to an image published by SlashLeaks in September purporting to be new AirPods. The provenance of the image is still unknown — and the units pictured do bear a striking resemblance to any number of AirPods knockoffs.
At present, beyond noise cancellation, it's unclear what else may be included in any new AirPods update. Rumors of noise cancellation do not preclude the previously rumored extra health features coming to AirPods 3, however they may be planned for some later generation.
More than two years ago, Apple filed for three patents titled "Earbuds with biometric sensing." A more recent revelation is a patent that describes ways to allow an earbud to fit more securely within the ear canal, allowing it to have better contact with the skin.
Given the existing patents, we can expect the integration of a photoplethysmogram (PPG) sensor, the same used in the Apple Watch to measure a user's heart rate.
Interestingly, the patents talked about a temperature sensor which can possibly detect both the core temperature of the user and ambient temperature as well. The patents also mentioned a sensor to measure blood oxygen levels, which can be useful for things such as keeping track of your aerobic endurance.
Also alluded to was the use of electrodes that can cooperatively measure a number of different biometric parameters, like galvanic skin response or electrical activity of the heart, which is a different implementation of the same core technology that's used in the Apple Watch Series 4 to perform an electrocardiogram (ECG).
Apple's AirPods were last updated on March 20, 2019. The update included longer talk time, and the addition of "Hey Siri" support.