OWC Mercury Elite Pro Thunderbolt dock offers up to 28TB drive capacity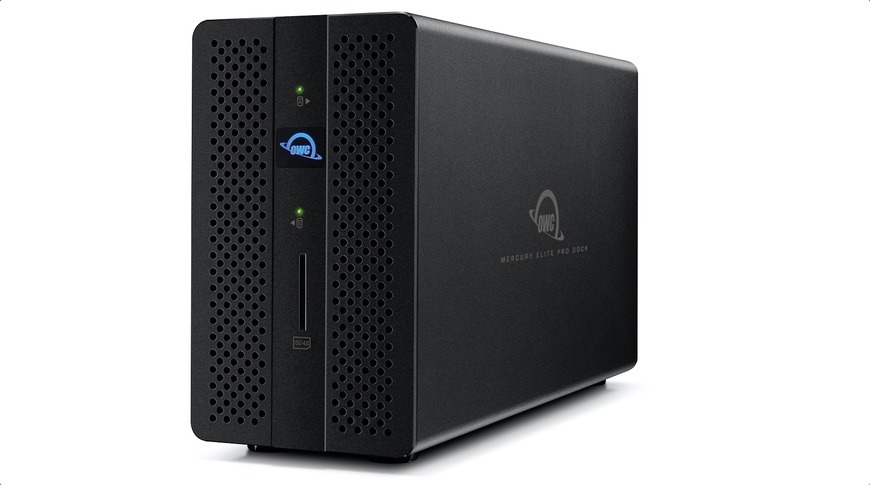 Peripheral and Mac upgrade specialist OWC has introduced the Mercury Elite Pro Dock, a Thunderbolt 3 dock that also offers external drive storage with up to 28 terabytes of capacity alongside expanding the variety of a connected Mac's ports.
Connecting to the host Mac via one of its dual Thunderbolt 3 ports, with support for being used to daisy-chain other Thunderbolt 3 devices and displays, the Mercury Elite Pro Dock includes connections for DisplayPort 1.2, two USB 3.1 Type-A ports, and gigabit networking on the back. On the front is an SD 4.0 UHS-II card reader to make it easy to pull images or video from memory cards.
Capable of supporting a 4K monitor, the dock also includes two drive slots to host up to two 2.5-inch or 3.5-inch SATA hard drives or solid state drives, with up to 28 terabytes of combined capacity across both drives.
The drives can be set up to operate in four different built-in hardware RAID configurations, including RAID 1 for mirroring, RAID 0 for striping data for speed and performance, and to span the drives into one large volume. It is also possible to set the drives in JBOD, keeping the drives as independent volumes.
OWC confirmed to AppleInsider power delivery is at 27 Watts, which isn't enough to recharge a MacBook Pro while it is running, but is more than enough to provide power to a connected iPhone or other devices.
Supporting macOS 10.14 and later, as well as PCs running Windows 10, OWC is selling the Mercury Elite Pro Dock for $319.99 without drives. Options are also available to include drives preconfigured for RAID 0, starting from $519.99 for 4 terabytes, rising to $1,399.99 for 28 terabytes.