Editorial: Nikkei reported good news from iPhone channel checks, but they're still not reliable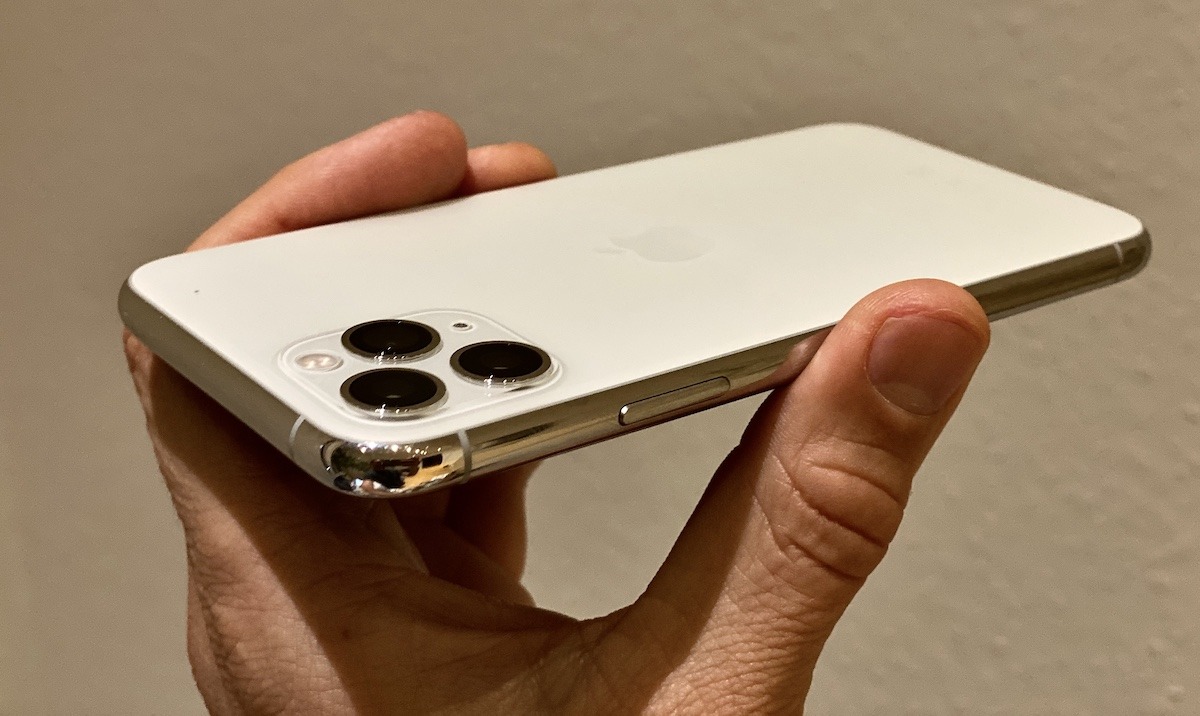 For at least the last six years, Japanese financial newspaper Nikkei has reported unreliable stories about iPhone production orders. This month, its channel check "news" sounded positive — but that doesn't mean that bits of data shaken from some branch of the supply chain is suddenly now reliable or can be correctly interpreted by outsiders.
False predictions based on incorrect understanding of Apple
Lots of predictions about what Apple is about to do next are attributed to "people familiar with the situation" merely to make them sound more reliable, such as Mark Gurman's confident reports that Apple would add a camera and video FaceTime to the second-generation Apple Watch in 2015, or that it would cannibalize headphone sales of its own Beats subsidiary in 2018 by selling new over-ear noise-canceling headphones under the Apple brand.
But the most tantalizing of "insider" reports relate to how well a product is supposedly selling. These are often sourced from some portion of Apple's supply chain, including the company's primary factory partners, their component suppliers, and even those suppliers' suppliers, or from third parties trying to deduce how many units Apple has sold.
These have almost invariably suggested that doom is right around the corner for whatever Apple is trying to sell, from iPhone to iPads to Apple Watch and most recently, HomePod.
Since at least 2013, Nikkei has reported incredible iPhone production cuts expressed as a percentage of some unknown original number, without any context of how unreliable its rotting fruit data gathered from the floors of factories has been and continues to be. Reports that Apple had "cut production" by as much as 50% in certain factories caused huge short term fluctuations in Apple's stock price but didn't observably materialize in actual sales or revenue numbers.
Fruit laying on the ground isn't low hanging fruit
Back in 2013, after Nikkei claimed that Apple was "slashing iPhone production," Apple's chief executive Tim Cook stated in an earnings call with analysts, "I don't want to comment on any particular rumor, because I would spend my life doing that, but I would suggest it's good to question the accuracy of any kind of rumor about build plans."
Cook added, "I'd also stress that even if a particular data point were factual, it would be impossible to accurately interpret the data point as to what it meant for our overall business, because the supply chain is very complex, and we obviously have multiple sources for things. Yields might vary, supplier performance can vary, the beginning inventory positions can vary, I mean there's just an inordinately long list of things that would make any single data point not a great proxy for what's going on."
That certainly didn't stop Nikkei, the Wall Street Journal, or Bloomberg from continuing to publish supply chain reports that asserted broad generalizations and incredible claims about Apple's future prospects. Being consistently wrong hasn't stopped them either.
Good news from bad data still isn't reliable
Earlier this month, however, Nikkei reported that "Apple has told suppliers to increase their production of its latest iPhone 11 range by up to 10%, or 8 million units," again without actually providing any specifics on product mix. It was quick to state, however, that "nonetheless, suppliers remain cautious and said they were concerned that the higher level of orders would not be sustained."
And instead of explaining why Apple's premium-priced iPhone 11 models were suddenly needing a production increase after years of complaining that Apple's phones were too expensive to sell in the competitive smartphone market, the Nikkei ridiculously suggested that Apple was now chasing a "new budget-conscious strategy."
The story, authored by Cheng Ting-Fang, Lauly Li, and Kensaku Ihara, stated that Apple "for the first time in its history reduced the starting price of the model upgrade," citing the iPhone 11's $700 price compared to last year's iPhone XR at $750. The story referred to this "Tim Cook's new strategy of enticing budget-conscious consumers with cheaper models amid the weakening world economy."
But really, this supposed "historic price reduction" occurred only because Apple didn't refresh a new version of the iPhone 8 last year or this year. Apple has typically reduced the previous year's models by $100, so the missing "iPhone 9" is being replaced by a new entry-level model $50 higher than history might predict. Prices are now inline with where they were at the debut of the iPhone 8. That's hardly evidence that Apple is significantly reducing its prices or following a new "budget pricing" strategy.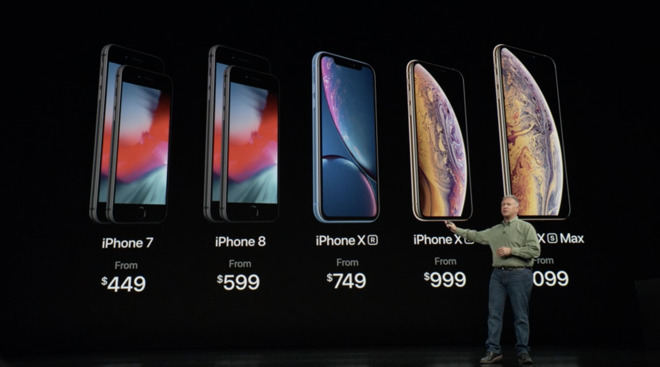 And only looking at Apple's modern Face ID iPhones, Apple last year dramatically reduced its starting price, replacing the $999 iPhone X with the $750 iPhone XR. This year, iPhone 11 sells at the same $700 price that iPhone 8 debuted at, which is $50 higher than iPhone 7 and early models that started at $650. iPhone XR is still on sale, now for $600. That's also a larger than usual price reduction.
In both cases, Apple itself explained that it had simply reduced its manufacturing costs to where it was now possible to build an LCD iPhone with Face ID for a lower price. That explains why both "value models" dropped in price by $50 more than is typical. That's hardly a dramatic shift in pricing policy.
Apple is not competing in price with Androids
The idea that Apple is crushed in its ability to sell "expensive" iPhones is ridiculous on its face. The company has incrementally increased to its current sales volumes despite continually introducing new premium-priced iPhones. The largest surge in new iPhone sales came when Apple introduced its first increase in iPhone pricing with the larger new iPhone 6 Plus, while cheaper models, including iPhone 5c and iPhone SE, were slower sellers.
Yet the prospect of a cheap iPhone has been the forbidden fruit tantalizing analysts and reporters for years. Analysts have been insisting that Apple desperately needed to sell a new iPhone priced below $300 since 2008. In 2011, the Wall Street Journal and Bloomberg confidently reported that Apple was about to release a phone "about half the price" and "about half the size of iPhone 4."
That thinking has also fueled the idea that Android makers could knock Apple out of its position by simply selling cheap commodity devices. After so many years of such faulty predictions, It's particularly laughable to imply that Apple is suddenly attempting to compete in price with Androids that sell on average for $250. Even "Premium Androids" start at $400, and Android sales volumes above $600 are scarce; all of the world collective sales are lower than iPhones.
In between the demands that Apple desperately needs to sell cheap iPhones and the insistence that the $999 iPhone X couldn't possibly sell, the same sources began suggest that Huawei's $1,000 phones are a bargain and that $2,000 folding Android prototypes from Huawei and Samsung might actually sell in commercially relevant volumes, and then demanded to know why Apple isn't selling a folding phone regardless of how high the price would be.
None of this thinking is grounded in facts or reality. It's all just gut feelings from people who have a history of throwing up farcical ideas. And nothing fuels such binge-and-purge indigestion than the rotting fruit supposedly picked up near the roots of Apple's supply chain.
A better explanation without any supply chain numerology
The Nikkei report went on to claim that "in January, Cook acknowledged that 'price is a factor' behind Apple's slowing sales, especially in emerging markets."
But that's not what Cook stated in his January letter to investors. In fact, the idea Cook attributed slower sales to "price" instead appears to come from a false quote invented by Gurman at Bloomberg, who casually stated in mid January that Apple "said" iPhones were not selling as well as expected due to "higher prices."
Incredibly, that same Bloomberg writer, just two weeks prior, had addressed that same letter to investors saying that "Cook said a number of factors contributed to the revised outlook for the holiday period," but specifically stated that Cook "didn't mention that Apple had priced its new models at stratospheric levels."
Within two weeks, the same person had shifted the Bloomberg narrative of high priced iPhones from something Apple had supposedly refused to acknowledge, to an idea Gurman claimed Apple itself had made in explaining why iPhone sales were lower than expected. Both things can't be true.

What Cook gave as the primary reason for the drop in expected sales and revenues was plainly stated in Apple's January "letter to investors." It stated, "Lower than anticipated iPhone revenue, primarily in Greater China, accounts for all of our revenue shortfall to our guidance and for much more than our entire year-over-year revenue decline. In fact, categories outside of iPhone (Services, Mac, iPad, Wearables/Home/Accessories) combined to grow almost 19 percent year-over-year."
Cook added that "while Greater China and other emerging markets accounted for the vast majority of the year-over-year iPhone revenue decline, in some developed markets, iPhone upgrades also were not as strong as we thought they would be. While macroeconomic challenges in some markets were a key contributor to this trend, we believe there are other factors broadly impacting our iPhone performance, including consumers adapting to a world with fewer carrier subsidies, US dollar strength-related price increases, and some customers taking advantage of significantly reduced pricing for iPhone battery replacements."
Gurman could imply that Cook was withholding the truth, but misleading investors is a serious matter. Misleading Bloomberg readers is commonplace. The paper still hasn't substantiated or corrected its farcical story that China had hacked servers at Apple's iCloud installations by embedding a chip, an assertion that Apple, other companies, and other journalists investigated and determined was not accurate.
Rather than blaming Apple's pricing, Cook cited three other factors: a challenging economic situation, fewer subsidies from carriers, currency fluctuations, and the "significantly reduced pricing" of the battery replacements Apple offered last year. Cook didn't quantify the relative impact of those factors— and in some cases could probably only guess, despite having tremendous amounts of private data on actual sales in each territory.
But Apple's $29 battery replacements, offered through the end of last year, clearly did have a big, unanticipated impact. After Apple published its January letter to investors, Bloomberg reported that "Cook plans to address Apple staff about the situation on Thursday at an all-hands meeting where he will take questions from workers," but didn't report on any of the details of that meeting.
John Gruber of the Daring Fireball did: "During Apple's all-hands meeting January 3," Gruber wrote, "Tim Cook said Apple replaced 11 million batteries under the $29 replacement program, and they'd have only anticipated about 1-2 million battery replacements normally."
That battery replacement program, which covered owners of an iPhone 6 or newer, ran through all of 2018. Apple hasn't publicly detailed anything about when it replaced those batteries. But it is logical that the majority of those replacements occurred towards the end of program, in part because that's when Apple was promoting its new iPhone upgrades, causing buyers to think about their options, and in part because of widespread reports the replacement program was about to end in December and that consumers should run out and take advantage of the deal before it ended.
The last quarter of 2018 was undoubtedly a crunch of battery upgrades seeking to get in on the $50 subsidy Apple was offering. Those replacements kept millions of users from upgrading their phones, adding to the existing issue of "lower than anticipated iPhone revenue" in China related to the Trade War and economic uncertainty that also delayed upgrades elsewhere. Those factors would all have been difficult for Apple to predict as its impact intensified, causing Apple to restate its earning expectations mid-quarter.
If customers simply weren't buying iPhones because they were "priced too high," the company would have seen that earlier.
Blind to battery replacements, but focused on supply chain rumors
Rather than predicting that cheap battery replacements would ding Apple's iPhone sales towards the end of the year, Gurman instead had claimed— right before Apple released its quarterly results— that the company's "earnings this week will confirm" that iPhone X sales were "lackluster" and had failed to "live up to the hype" because "some" couldn't afford it.
Gurman's confidence that iPhone X was going to be a "disappointment" was likely fueled by Nikkei earlier claiming that Apple was slashing production orders for iPhone X "in half" due to "slower than expected holiday sales" in the U.S., China, and Europe.
The blind insistence that iPhone X couldn't possibly be selling because of its price also appeared to distort Gurman's ability to read a report from Samsung, causing him to selective pick out lines to craft a story that "weak" sales iPhone X were also supported elsewhere in the supply chain, simply because Samsung's Display Panel business had reported that its earnings "were affected by slow demand for flexible OLED panels."
Gurman was instead forced to concede that Apple's earnings had beat estimates and that "what's good for Apple isn't always best for iPhone suppliers," a rather convoluted way of saying that his interpretations of rumors from Apple's supply chain had been wrong.
Expensive iPhones bad, expensive Androids wonderful
After spending months insisting that iPhone X was too expensive to sell in any quantity, Gurman radically reversed direction and began cheered on the introduction of expensive new Androids, painting out the rising asking prices of Google, Samsung, Huawei (below) without ever pointing to any data showing that none of these were actually selling in volumes in any way comparable to Apple.
Gurman wrote for Bloomberg that "Apple's rivals have co-opted the company's strategy of trying to squeeze more cash out of stagnating unit sales," adding that "the move seems to have hurt Apple," comparing Apple's past revenues with sales of expensive phones that hadn't even shipped yet.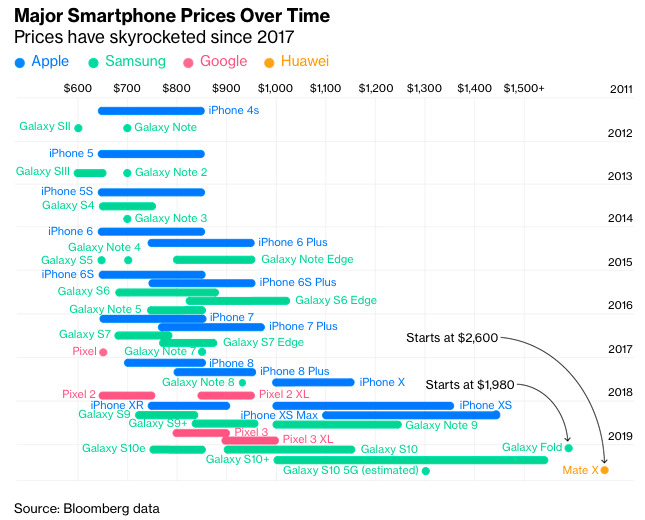 The tantalizing fruit of supply chain rumors
A year ago, Sara Salinas wrote a piece for CNBC stating, "Apple analysts have a long history of misreading weak iPhone demand based on supplier rumors," then detailed a history of how analysts and journalists have been consistently wrong in trying to interpret data from Apple's supply chain.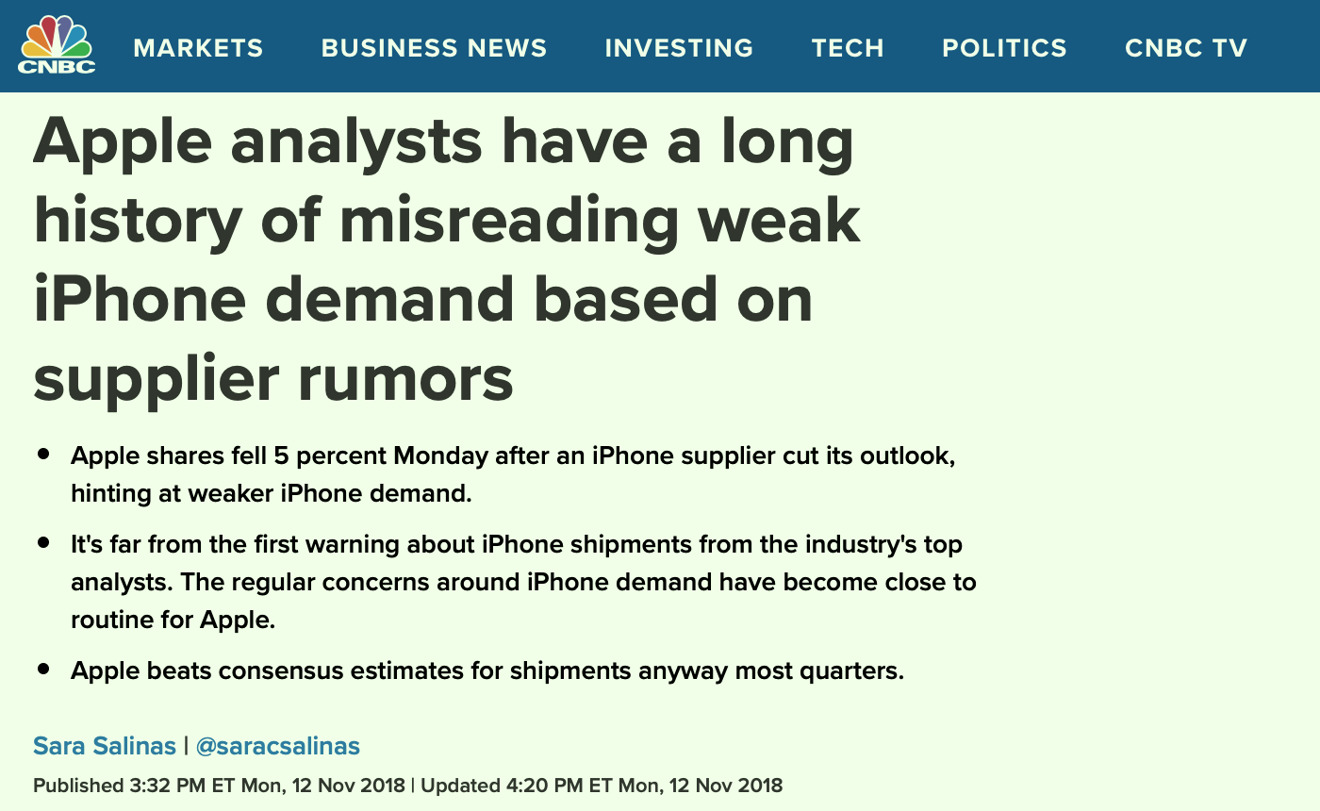 Just a few days later, Salinas relapsed, writing up those very same addictive clickbait rumors for CNBC. "Rumors of weak iPhone demand heat up as at least four Apple suppliers cut revenue forecasts," she wrote as if she hadn't just warned a few days earlier that "Apple's network of suppliers is deep and complicated. One supplier cutting its outlook doesn't necessarily mean iPhone demand is down. If history is any guide, analysts and investors tend to get unnecessarily spooked over one-off iPhone supplier rumors."
Despite being proven wrong about iPhone X and his own ability to parse supply chain data throughout the year, Gurman similarly started erecting a new narrative at Bloomberg that "bad news keeps piling up for Apple," again compiling the same supply chain rumors he had been so bad at interpreting across the last few years.
He stated that Apple was the "largest customer and biggest revenue driver" for a series of suppliers that had just reported lower than expected revenues: AMS Qorvo, Lumentum, and Japan Display, carefully noting that their percentages of business derived from Apple "according to data compiled by Bloomberg."
But that data was from 2017, and each of those suppliers had lots of other reasons for their performance problems, including even broader exposure to Samsung and other smartphone makers that were known to be struggling with weak phone sales of their own.
Gurman gravely warned Bloomberg readers that the "once-red-hot global smartphone market has flat-lined as economic uncertainty spreads, and a persistent lack of new or innovative devices discourages buyers," but his depiction of Apple's situation again turned out to be incorrect.
Since that channel check article-of-doom was published, Apple's stock has appreciated by over 22%, turning in a better performance than Google or Samsung.