Samsung T5 Review: Two years after release, it's still a great portable SSD for Mac or iPad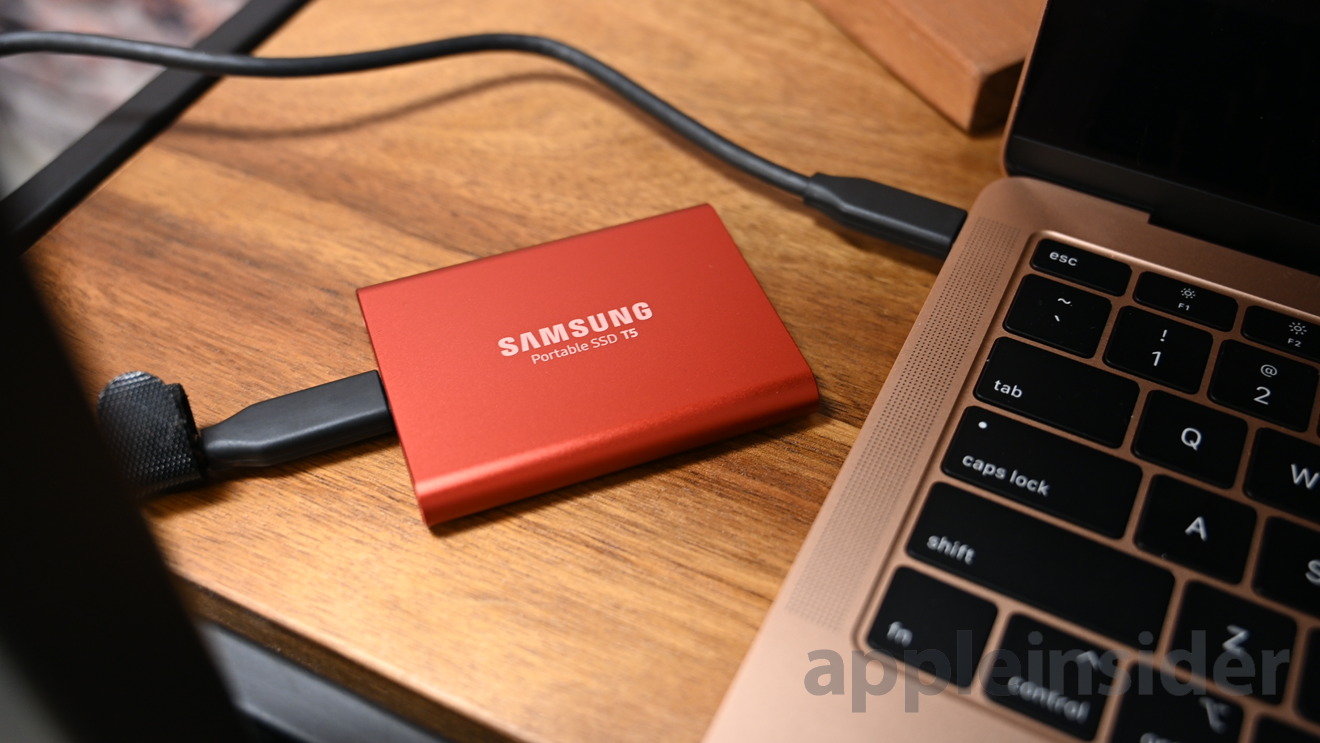 AppleInsider is supported by its audience and may earn commission as an Amazon Associate and affiliate partner on qualifying purchases. These affiliate partnerships do not influence our editorial content.
The Samsung T5 portable SSD isn't a new release, but is still a great compact drive that pairs very well not only with a Mac, but with an iPad Pro as well.
With iPadOS and external storage support just landing for our iPad Pros as well, it seemed a good time to revisit and re-review the miniature drive.
Still a great portable SSD
Samsung's T5 is a small NVMe-based SSD that is incredibly tiny. Nearly the same size as the T3, but just a hair smaller.
Included in the box is not only a USB-C to USB-C cable, but a second USB-C to USB-A cable for anyone who isn't on the latest hardware.
It is made of an anodized aluminum body with black plastic caps on either end.
One of those ends is the sole USB-C port which supports USB 3.1 Gen 2 — up from USB 3.1 Gen 1 on the T3. It is also entirely bus-powered, making it great for on-the-go work.
Thanks to support for USB 3.1 Gen 2, speeds are now advertised to reach up to 540MB/s, an upgrade from the 450MB/s of the T3. But, those are advertised values.
We tested the speeds of the drive with the Blackmagic Disk Speed Test on our Mac over USB-C and saw speeds near the promised values. Our write speeds averaged around 445MB/s and our read speeds hit about 515MB/s. Longer timed tests of mixed file sizes saw about the same, so it also appears that heat isn't a problem.
As an optional bonus, Samsung includes its software with the disk that can be used for encrypting your data. The software also allows you to rename the drive and check for updates — most of which can be done through Disk Utility. So, frankly, we don't think Mac users need to even consider it.
Since this is designed to be taken outside the office, there is drop protection built-in with two meters of shock absorption promised. And, as we mentioned, Samsung has recently released new red and gold colors for the T5, of which the former we were particularly fond of.
USB-C cross-platform
The T5 dovetails nicely with iPadOS for the iPad Pros which finally brought support for external storage over USB-C.
Now a USB-C drive can be connected to the iPad Pro and accessed via the Files app or any app that supports external storage. The stylish design, fast speeds, and small footprint of the T5 made it out go-to for on-the-go work on our iPads.
They pair quite well together and it was no problem for us to use it connected directly to our iPad Pro or when we used our Kanex USB-C iPad Pro hub.
Speed, price, and other factors
We've build an assortment of external SSD storage devices with some external cases we like, and a SATA drive. More recently, we've done some with M.2 drives. But, there's something to be said about just buying something at retail, and going.
It isn't some gold standard for external SSDs, and it isn't Thunderbolt 3 — but not everybody needs the fastest drive or the generally highest prices for the faster connectivity, and it is one of the best. We like the T5 very much for that general use case, and since it's USB 3.2 type C and not Thunderbolt, we can use it with our iPad Pro.
Compact size
Vivid colors
Aluminum body
Fast speeds
USB-C
Shock resistant
Soft case material can be scratched
No water or dust resistance
No storage pouch or case
Where to buy