Review: Jabra Elite 85h ANC headphones pack serious smarts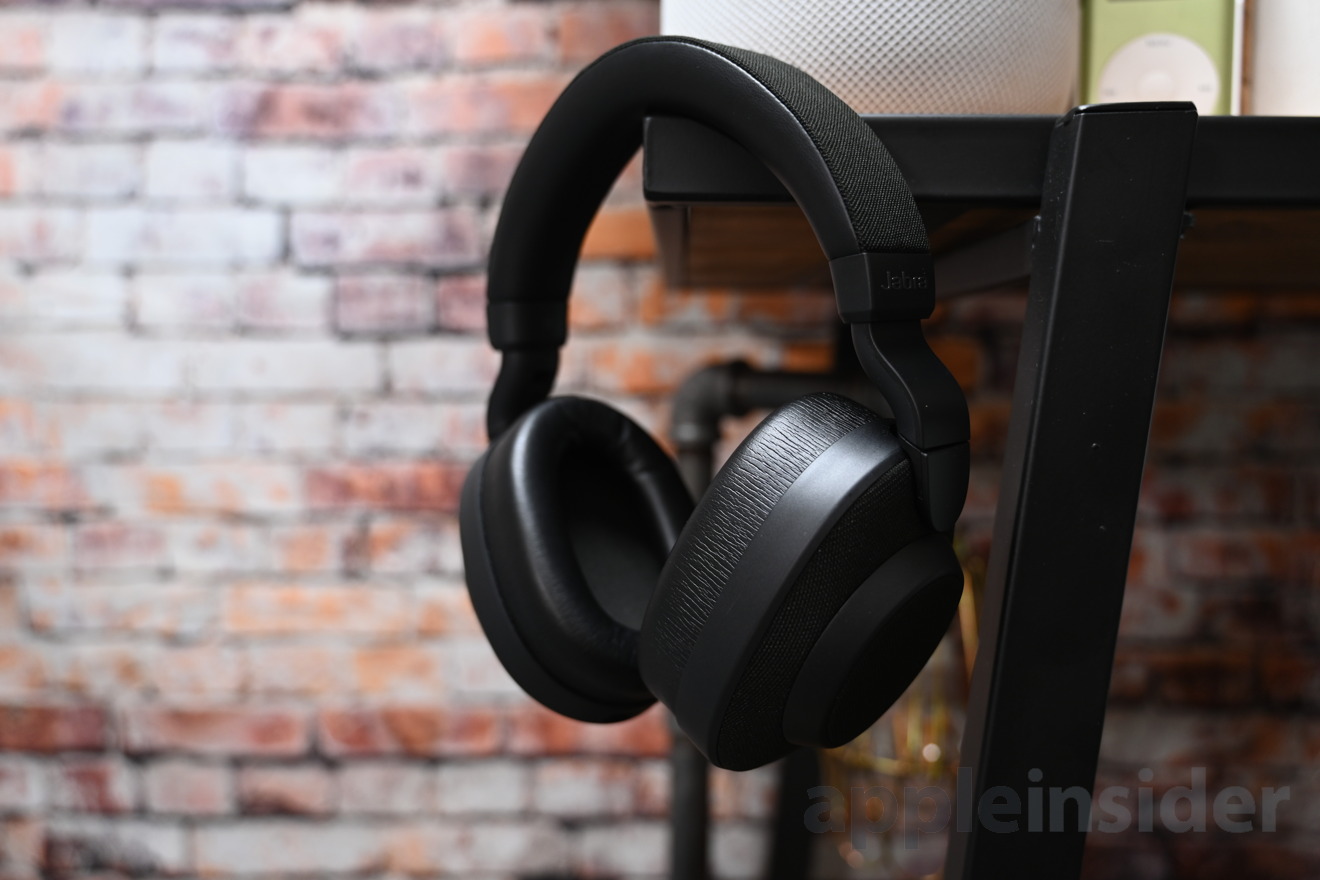 AppleInsider is supported by its audience and may earn commission as an Amazon Associate and affiliate partner on qualifying purchases. These affiliate partnerships do not influence our editorial content.
The Jabra Elite 85h ANC headphones are subtly designed and hide some seriously smart features, such as automatically pausing playback when removed, as well as having a dedicated button to call for a digital assistant.
A lot of headphones come through the office and it usually takes something special to make them stand out. Whether it be unique features or outstanding build quality, the search for our next favorite set of cans is always ongoing.
After trying out the Jabra Elite 85h — first for a day, then for a month — we may have a new favorite when it comes to over-the-ear headphones.
The Jabra Elite 85h come to the party with not only a subtle design aesthetic but great sound and some of the best "smart" features we've tried yet that can't be overstated.
Digging into the box
In the box, Jabra includes the necessities — and a little more.
You have the headphones themselves, inside a nice carrying case. The case is solid and has a wonderful soft feel to the outside, but there are no extra pockets for extra storage. Even tucking in a power adapter would be difficult.
There is also a basic 3.5mm audio cable, a USB-C to USB-A charging cable, and a standard airplane adapter.
It's nice Jabra includes accessories such as the audio cable and airplane adapter, but we wish the USB cable was Type-C on both ends, rather than one being USB-A. It is forward-thinking enough to add Type-C to the headphones, but not enough to include an all Type-C cable.
Checking out the cans
The headphones have a handsome, simple design that melds with much of the current style.
The model tested has a matte black plastic exterior with a fabric cover around the back of each ear cup. There are also copper/black, gold/beige, titanium/black, and navy colorways available as well.
Several other tech products on the market have adopted the fabric motif from battery packs, to phone cases, to wireless chargers. It's an "in" look at the moment and we dig it here on headphones as well. It elevates an otherwise plastic construction to something that doesn't feel, or look cheap.
On the right ear cup, there is a set of physical volume buttons on the outside, identified by small rubber dots that are easy to find while the headphones are worn but don't grab attention from the outside. A multi-function play/pause button sits between them.
The assistant button also lives on the bottom of the right ear cup, next to the USB-C port for charging and the 3.5mm jack for wired listening.
A function button resides on the left headphone, used for switching between the different audio modes.
Serious smarts
As alluded to at the inset, the Jabra Elite 85h has some serious smarts.
It's adapted features traditionally found in in-ear earbuds such as AirPods. Such as automatically pausing the audio whenever you take the headphones off your head. Each ear cup has its own proximity sensor to aid this.
Similarly, there is no on or off button on these headphones. They simply turn on or off whenever you open them up. Take them off your head and they pause, collapse them and they turn off. In our experience, this has worked reliably and likely aids battery life.
It connects to our iPhone over Bluetooth 5 fast, and a friendly-sounding assistant in the headphones lets you know if they were connected or disconnected as well as other information. For example, when we unfold them and put them on, we hear what level the battery is at and that they have successfully reconnected with our iPhone. It is all very implemented and polished.
Much of the smarts are also based on the eight — eight — microphones onboard. These allow for noise-canceling during phone calls, ANC for listening, and HearThrough audio passthrough modes.
Those modes can be cycled through with the mode button on the headphones, or they can be changed automatically via SmartSound.
SmartSound is Jabra's adaptive mode that will adjust the level and type of ANC based on where you are. It uses the microphones to sample the audio in the environment, then adjusts between turning the ANC on, turning on HearThrough when in public, or turning off when in a quiet room for "private mode."
We tested SmartSound a decent amount, and it was largely spot on though it did alternate a bit too much when in mixed environments between ANC and HearThrough.
Speaking of HearThrough, we adore this feature. It is why half the time we only have one AirPod in so we can be more aware of our surroundings. When listening to over-ear headphones, it is even more important and more external noise is blocked. This is one of the most natural sounding of all the passthrough audio modes we've tried.
All of these settings can be further tuned within the Jabra Sound+ app. In the app, you can change the audio mode, perform firmware updates, change the music preset, and more.
You can even go as far as tuning the audio to your own tastes with a built-in equalizer. If you are particular about your sound, this can be useful to hone in on your preference.
Another unique feature of the Jabra Elite 85h is Find My Jabra. Similar to Apple's own Find My app for AirPods, it shows the last known location of your headphones. It doesn't allow the headphones to emit any noise, but it stores their location every time they disconnect.
The last "smart feature" we wanted to highlight is the support for not only Siri but Amazon Alexa. The assistant button is able to toggle Siri on iOS devices or Google Assistant if you happen to be using an Android handset.
When the assistant is invoked, the headphones automatically switch to HearThrough mode so you can hear yourself talking which is absolutely a huge deal. It is awkward talking if you can't hear yourself and such a smart idea to enable that passthrough audio mode when using Siri or the others.
Alexa is particularly unique because you can ask Amazon's virtual assistant on either device. Enable it and log in to your Amazon account in the Sound+ app to utilize Alexa rather than your device's assistant. We prefer Siri, but if you are built into the Alexa ecosystem this is a wonderful, seamless benefit. Control your smart home, ask questions, and much more.
Audio prowess
This all brings us to audio quality, which while outstanding, isn't completely up to the standards of the other best-in-class wireless ANC headphones.
The biggest competition to the Jabra Elite 85h include the Bose QC35 II and the Sony WH-1000XM3, both of which clock in at a higher price tag.
First, looking at the ANC of the 85h. We found that the active noise canceling was strong, and powerful enough without distorting our audio in any way. Four of the microphones are used in ANC and It is one of the best we've tried but fell just short of the high bar set by the above two sets of headphones. That said, it is a close third.
The ANC during phone calls was hands-down outstanding. It took out wind, traffic, and commuter noise using six of the microphones. Jabra is known for making headsets so it isn't a shock how blown away we were by the phone call quality. In this area, the Jabra Elite 85h won out over the competition.
Specifically focusing in on the audio quality, the Jabra's came off very smooth and balanced. Bass was substantial, but not too heavy. If we did, using the equalizer or music presets, boost the bass, it did get a little sloppy during bass-heavy songs at louder volumes.
While coming across smooth, the sound almost borderlines on flat. It lacks just a bit of the middle detail and punch we were looking for that we find in slightly higher-end headphones.
Listening to the newly released The Great Pretender track off Freddie Mercury's Never Boring album, the sound was clear, melodic, and bass-sufficient but didn't pull his vocals through as they should. Just a bit overly-mellowed, even as we tinkered with the EQ to boost the treble and mids.
Should you buy the Jabra Elite 85h?
There are two clear camps for users that will largely decide whether the Jabra Elite 85h are right for you.
If audio quality — and solely that — is of the utmost importance, you will find better in other headphones. Go check out the previously mentioned Bose or Sony sets above.
On the other hand, if you don't mind dropping the bar down slightly on audio quality for the bevy of smart features, then the Jabra Elite 85h are it.
They excel in not only those smart features but have best in class call quality and battery life. If you take a lot of phone calls on the go, spring for this set of cans. The same goes if you want great battery life. At up to 36 hours of usage with ANC enabled, this is the best we've used in a pair of over-ear headphones.
They've also stuck the landing on durability. The internal components are protected with a nano-coating to prevent water damage and are protected against dust as well. This is backed up with a two-year warranty when registered in-app.
Hands down, the smart features, battery life, water/dust resistance, competent ANC, and lower price are absolutely worth the trade-off compared to the other popular ANC headphones offered by Bose and Sony.
Reliable ANC
Great battery life
Modern design
Comfortable
Fantastic call quality
Water and dust resistant
Moderately priced
Unique smart features
Audio quality falls behind competition
Plastic build
Could be tight on large heads
Rating: 4 out of 5
Where to buy