Apple allegedly revealing 'AirPods Pro' to media now, ahead of official launch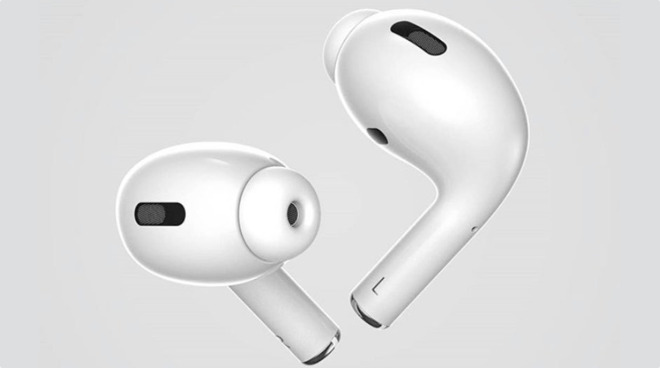 AppleInsider may earn an affiliate commission on purchases made through links on our site.
Apple is allegedly informing members of the media of the 'AirPods Pro' in pre-launch meetings, with the supposed next-generation models to be shown to journalists at local offices over the next week.
Current rumors and alleged leaks has Apple preparing to launch an updated version of the AirPods dubbed the "AirPods Pro." The expectation of having the new model out in time for the lucrative holiday shopping period led to the suggestion of an October launch, and according to one source, Apple is getting ready for its announcement.
Benjamin Geskin, a usually reliable source of data on the smartphone industry, posted to Twitter late on Sunday that Apple would be showing off the audio accessories on Tuesday or Wednesday "next week" to journalists at Apple's local offices. A further post early on Mondy claimed Apple's "AirPods Pro media meeting has already been completed in Shanghai."
Geskin's post is the latest in a series of claims on the new model in reports and rumors, with some indicating the model will sell for at least $260 at retail. Photographs have also leaked of a squat, partially disassembled AirPods charging case, which is thought to be for the new model, if legitimate.
Not long after Geskin's posts made traction, Jon Prosser added to the claim to confirm a meeting happened "in the last 24 hours in an Apple location," but couldn't confirm if they were for AirPods or for another purpose. Prosser adds more information will apparently be made available on October 30.
Apple itself has also inadvertently provided a hint a new model was on the way, with the first iOS 13.2 beta including an icon strongly suggesting the addition of noise cancellation activation as a "focus mode." the new AirPods are also supposedly given the model number B298.
While the presence of rumors and leaks alone do not guarantee the existence of a product, Apple's own software slip lends considerable weight to the idea of an imminent product launch and its noise cancellation feature.
Stories about the "AirPods Pro" have ratcheted up in tempo recently, but have been rumored for some time. In April, famed analyst Ming-Chi Kuo forecast there would be two new AirPods models, shipping at the end of 2019 and the start of 2020, with the first using a new design and sold at a higher price while the second is expected to be similar in cost and design to the current version.
AppleInsider could not verify the claims that one briefing has already taken place.