Editorial: Apple Pay passes PayPal, tramples Google Pay & Samsung Pay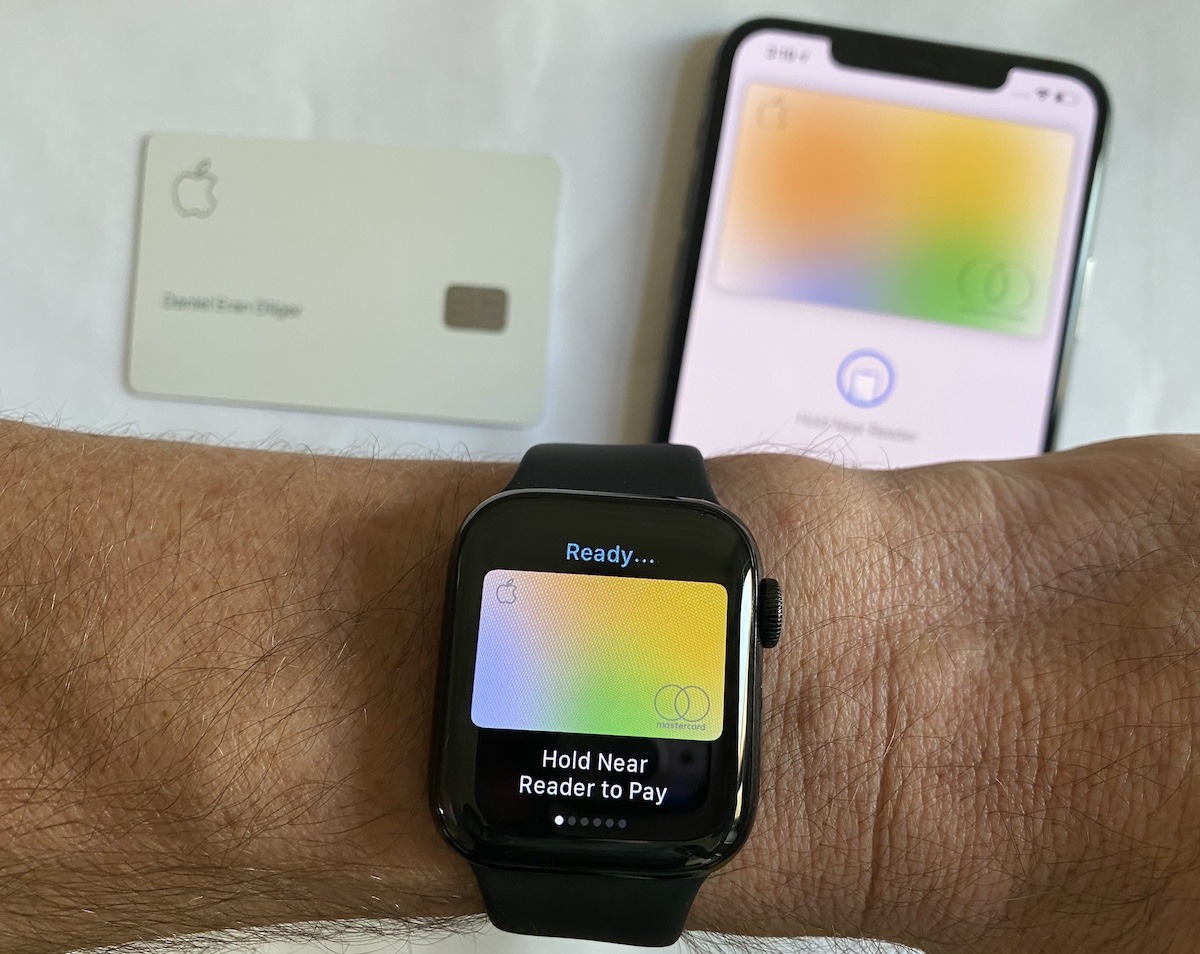 Apple Pay transactions reached above three billion in the September quarter, enough to surpass PayPal. Apple Pay growth is also leaving behind far less popular Android NFC payment alternatives promoted by Google and Samsung.
During the company's Q4 earnings call yesterday, Apple's chief executive Tim Cook hailed the launch of its new credit card and noted record revenues from payment services, stating that Apple Pay revenue and transactions had "more than doubled" over last year.
Cook reported that Apple Pay transactions are growing four times as fast as PayPal, adding that Apple Pay is now "live" in 49 markets internationally, "with over 6000 issuers on the platform."
Being "live" in a market means that domestic banks have adopted Apple Pay and are offering it to their customers. For users who have already opened an Apple Pay account, the service works virtually anywhere NFC payments are processed, regardless of whether Apple Pay is actually "live" in a given market.
"We believe that Apple Pay offers the best possible mobile payment experience and the safest, most secure solution on the market," Cook said. "We're glad that thousands of banks around the world participate."
Even fake data couldn't keep Apple Pay down
Last week, a U.S. study by eMarketer claimed Apple Pay had just overtaken the Starbucks apps in monthly users, based on its survey asking if participants had made "at least one proximity mobile payment transaction in the last six months using a smartphone."
That bizarre metric was initially created to make the claim in May 2018 that Apple Pay would still be trailing Starbucks in users by the end of 2018, while also reminding people that Samsung Pay was accepted in more places, thanks to its mag stripe emulation that allows it to work on terminals that don't support NFC.
The only reason for including the Starbucks app in a conversation of mobile payment systems would be to suggest Apple was behind in something. It also distracted attention from any direct comparisons with Google Pay and Samsung Pay, which had only about half the users of Apple Pay despite their having been around longer. Starbucks app doesn't even use NFC; it uses barcodes. And most Starbucks locations also accept NFC payments.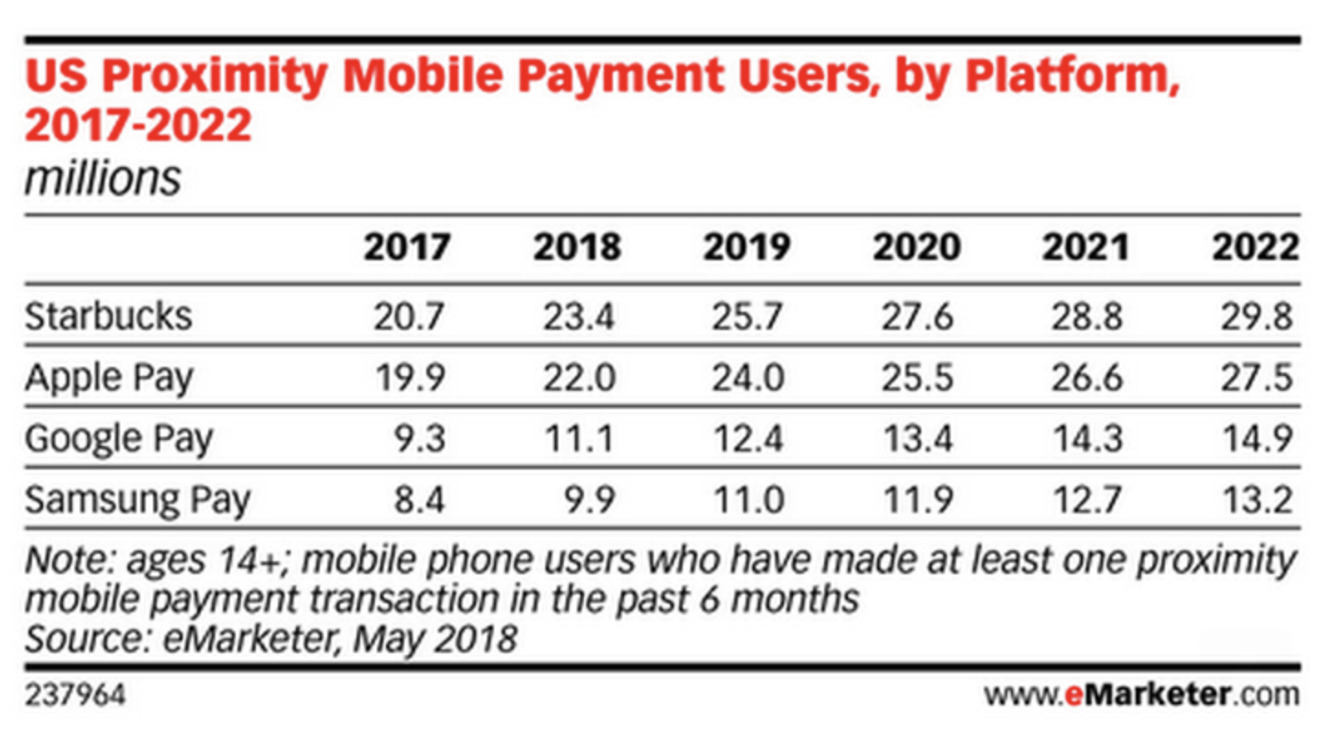 According to the marketing group's data, its forward-looking estimates from last spring (above) guessing at payment adoption by the end of the year — and extrapolating the market out to 2022 — were not even remotely correct. Apple Pay had exceeded Starbucks transactions by the end of 2018 in the U.S. by a margin of more than four million people.
And more significantly, Google Pay and Samsung Pay had fallen further behind Apple. Apple Pay reached a level of adoption in one year that the firm hadn't predicted to occur until some point after 2022.
The firm's most recent data now states that Apple Pay users in the U.S. have grown by 8.3 million users, or more than 37.7% since its estimate last year, while Google Pay users had only increased by 1.1 million, or 9.9% and Samsung Pay users had increased by just 9%, by 900,000 users. The fact that Apple Pay has been seeing its NFC user growth increase 7 to 9 times faster than Google and Samsung is certainly more noteworthy than comparing Apple Pay use to a coffee shop barcode app.
"Apple Pay has benefited from the spread of new point-of-sale (POS) systems that work with the NFC signals Apple Pay runs on," eMarketer analyst Yory Wurmser stated. "The same trend should also help Google Pay and Samsung Pay, but they will continue to split the Android market."
The marketing survey counted any user who said they'd used a proximity payment service at least once in six months, but Cook's data showing that Apple Pay transactions and revenues had "more than doubled" is far more significant because it indicates continued use by a large installed base, not just some occasional curiosity use.
Apple Card pays you to use card for Apple Pay
Beyond an incremental increase in NFC terminals — that is somehow helping Apple Pay without much discernible impact on Android NFC user growth or adoption at al l— another new strategic driver of Apple Pay is the company's own new Apple Card, which it just launched in the U.S. in August.
Apple first unveiled the new credit card, issued by Goldman Sachs as a MasterCard paired with new security features, at its Services Event in March. Yesterday, Cook stated that "we believe this has been the most successful launch of a credit card in the United States ever."
In addition to promoting NFC Apple Pay transactions from iPhone and Apple Watch simply by offering centralized, secure reporting of a users' transactions on their devices, Apple Card also incentivizes electronic payments by offering users additional "Daily Cash" back payments of up to 3% when used to buy products from Apple, or partners including Uber, Uber Eats, Walgreens, Duane Reade and T-Mobile.
Apple credits users' Daily Cash to their parallel Apple Pay Cash account, which can be used to make free transfers to other iOS users via iMessage. Daily Cash can also be used to make a payment to the user's Apple Card balance. Beyond just serving as a perk, Daily Cash incentivizes the routine use of Apple Pay via Apple Card and Cash payments.
Apple has also worked to help third party developers support Apple Pay in their apps and on the web, simplifying transactions so that buyers complete the sale rather than giving up before creating an account and typing in their card number.
Cook also outlined a new program to support interest-free financing for new iPhones, while also awarding buyers with the usual 3% Daily Cashback on the purchase.
"Customers will be able to purchase their new iPhone and pay for it over 24 months with zero interest," Cook stated. "And they will continue to enjoy all the benefits of Apple Card, including 3 percent cash back on the total cost of their new iPhone with absolutely no fees and the ability to simply manage their payments right in the Apple Wallet app on iPhone."