Apple TV+ launches with original series and movies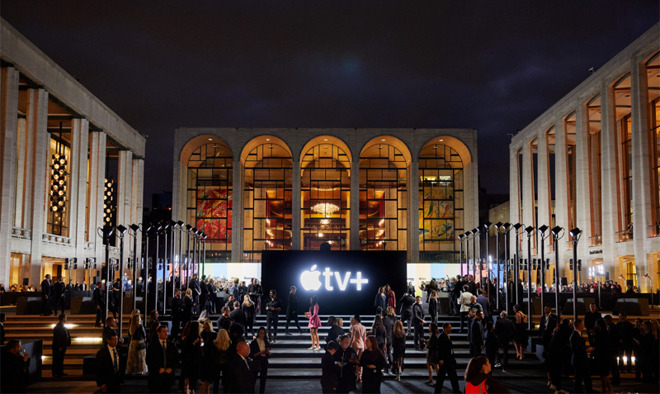 After months of rumor, speculation and fanfare, Apple's first foray into video streaming, Apple TV+, launched on Friday at midnight Pacific, offering customers and media a first look at what the tech company brings to an already crowded table.
As promised, the service went live on Nov. 1 in the TV app on iOS, iPadOS, macOS, tvOS, the web and third-party platforms including Roku and Amazon's Fire TV Stick, offering long-awaited access to Apple's original content library. Subscriptions are priced at $4.99 a month.
Also debuting today are episodes of "Helpsters," "Ghost Writer" and "Snoopy in Space."
Customers who purchased an iPhone, iPad, Mac, Apple TV and iPod touch after Sept. 10, 2019, are for a limited time eligible for a year of free Apple TV+. Signing up is as simple as opening the TV app on the latest version of iOS, iPadOS, macOS or tvOS, and agreeing to Apple's terms and conditions. The app might request a valid Apple ID for redemption and initiation.
Apple details the process:
1. Turn on your new iPhone, iPad, iPod touch, Apple TV 4K or Apple TV HD, or Mac and sign in with your Apple ID.
2. Open the Apple TV app on November 1 or later. Make sure your eligible device is running the latest version of iOS, iPadOS, tvOS, or macOS.
3. The offer should be presented immediately after launching the app. If not, scroll down in Watch Now until the offer appears.
4. Tap "Enjoy 1 Year Free." You might be asked to enter your Apple ID password, confirm your billing information, or add a valid payment method. You will not be charged during the 1 year free trial.
Following the year of free service, the trial automatically converts into a paying subscription. Those who do not wish to continue can opt out in Settings, but doing so results in immediate termination of the offer, meaning users lose access to Apple TV+. The trial cannot be reactivated once it is cancelled.
Alternatively, owners without trial-eligible devices can sign up for seven days of free access, which auto-renews into a monthly subscription.
Alongside full episodes of shows like "The Morning Show" and "For All Mankind," users can view trailers for current and upcoming series and specials directly in the TV app or at tv.apple.com. Subscribers can watch Apple TV+ on iPhone, iPod touch, iPad, Mac, Apple TV 4K, Apple TV HD, Apple TV (3rd generation), and compatible smart TVs and streaming boxes. The web portal is supported by Safari, Firefox and Chrome.
Apple TV+ is available in more than 100 countries and regions, with originals subtitled or dubbed in nearly 40 languages, including Subtitles for the Deaf and Hard-of-Hearing (SDH) or closed captions, Apple says. Audio descriptions for select series and movies will be available in eight languages.