Apple TV+ reportedly attracts 'millions' of users in first week as Apple renews four shows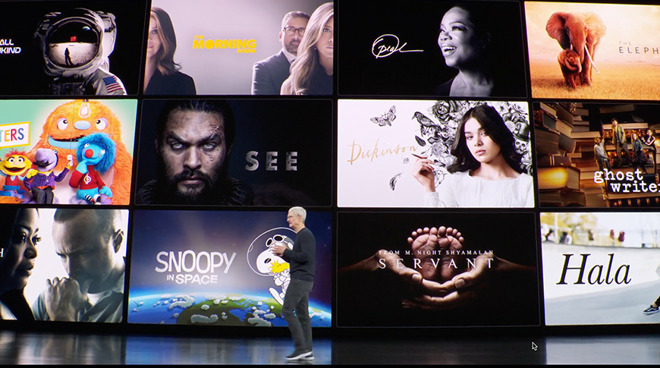 Millions of users are watching Apple TV+ content in the week since the video streaming service debuted, according to a report on Thursday, though it is unclear how many are paying subscribers.
Citing unnamed sources familiar with the matter, Variety reports Apple TV+ has drawn "millions" of users who on average spend more than an hour on the service.
How many are paying for the service remains unknown. A large chunk of users are likely taking advantage of Apple's current trial offers, which includes a seven-day free sample for all comers. Customers who purchased an iPhone, iPad, Mac or iPod touch after Sept. 10, 2019, have the option of activating a year of free Apple TV+ service on their new device.
The report notes insiders "were impressed" by activity on the Apple TV+ platform, which grew on the order of triple digits over this past weekend. Further, early statistics show viewer engagement is high, with most viewers of the service's four core series — "Dickinson," "For All Mankind," "The Morning Show" and "See" — watching at least two episodes. Some went on to watch all three episodes of a given series.
Apple is windowing access to most original shows, offering only three episodes each of "For All Mankind," "The Morning Show" and "See" at launch. "Dickinson," the lone outlier, saw its entire first season released on day one.
Coming off the strong debut, Apple is renewing the four marquee shows for second seasons, Variety says, echoing earlier reports from other publications including Deadline. Weeks before Apple TV+ launched on Nov. 1, industry insiders confirmed sophomore seasons of "The Morning Show," Dickinson," "For All Mankind," "Little America" and "Home Before Dark." Today's report is the first to deliver word of a second season for Jason Momoa vehicle "See."