Qualcomm hints 5G iPhone coming in 2020, analysts say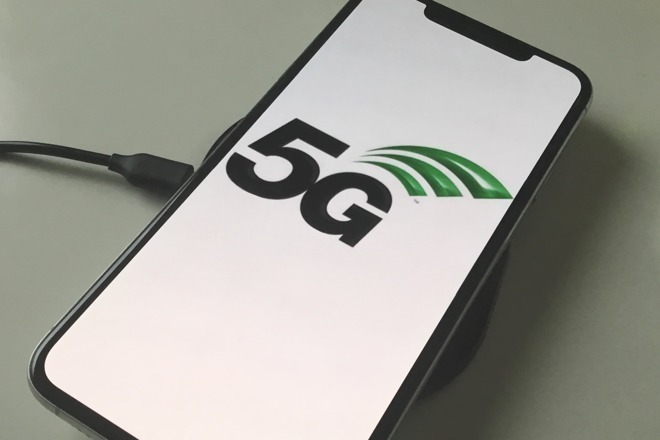 AppleInsider is supported by its audience and may earn commission as an Amazon Associate and affiliate partner on qualifying purchases. These affiliate partnerships do not influence our editorial content.
Qualcomm issued rosy predictions for the wider 5G market on Wednesday, saying it expects some 200 million smartphones will rely on the speedy wireless technology in 2020. Analysts reading into the statement believe the chipmaker is dropping a hint about Apple's iPhone.
During an investor conference call following Qualcomm's earnings reveal, CFO Akash Palkhiwala said 2020 will hold "two inflection points" for 5G chips, reports Reuters.
The first major development for 5G will be the spring launch of handsets from the likes of Samsung and miscellaneous Chinese manufacturers, firms known to have existing contracts and licensing deals with Qualcomm. A second inflection point while arrive "in the fall time frame when another set of flagship devices will adopt 5G," Palkhiwala said.
While the executive failed to name the flagship devices in question, analysts are guessing the market estimate includes iPhone. As noted in the report, Apple and Google typically introduce new smartphones in fall in lockstep with an annual release cycle. Apple, for example, has for the past seven years unveiled a new iPhone every September.
Bernstein analyst Stacy Rasgon and Summit Insights Group analyst Kinngai Chan both expect Apple to integrate 5G hardware in iPhone next year. Rasgon noted the chipmaker's 200 million unit estimate was not "hugely surprising" as it likely accounts for Apple orders, the report said.
Further, Qualcomm CEO Steve Mollenkopf in an interview said his company has been tapped to provide 5G silicon to 230 device designs. That figure is up dramatically from 150 devices last quarter.
"We're continuing to see strength in the licensing business, particularly after we've added in the deal we signed this year with Apple, and we're on the front end of the 5G transition, which will impact our product business," Mollenkopf said. "We're closer to that and we're really seeing the signs that we should be confident."
After using Intel modems to power its iPhone and iPad lines for two years, Apple is widely expected to return to former baseband chip supplier Qualcomm in 2020.
Apple and Qualcomm in April settled a worldwide legal fight over licensing and alleged anticompetitive practices. With 5G on the horizon, industry watchers anticipate Apple to leverage the new arrangement, which involves a six-year licensing and supply deal, to build the next-generation wireless tech into its portables as early as next year.
Looking ahead, Apple is rumored to be working on its own 5G modem for iPhone by 2022, with an eye on integration in its A-series system-on-chip designs by 2023. Intel's now-defunct smartphone modem arm, which Apple purchased in July for an estimated $1 billion, will likely play a key role in the project.