AMD details the 16-inch MacBook Pro's Radeon Pro 5000M-series GPUs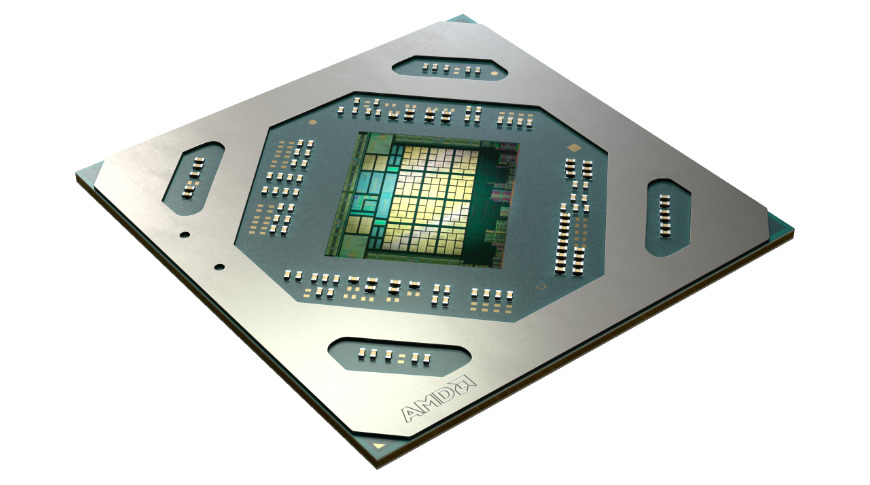 AMD has revealed the specifications of the new Radeon Pro 5000M-series GPU options available in the just-launched 16-inch MacBook Pro, with the Radeon Pro 5300M and 5500M offering better graphics performance and an option for up to 8GB of GDDR6 VRAM.
Introduced as part of Apple's launch of the 16-inch MacBook Pro, the Radeon Pro 5000M-series graphics processing units offer a significant bump in performance compared to the previous options available for the 15-inch MacBook Pro.
Alongside the integrated Intel graphics, the new MacBook Pro models are equipped with a Radeon Pro 5300M with 4GB of GDDR6 memory in the base model, while the second base option includes a Radeon Pro 5500M, again with 4GB of GDDR6 memory. Upgrades are available in both cases, from the 5300M to the 5500M, as well as from the 5500M with 4GB of VRAM to the same GPU but with 8GB of VRAM.
Radeon Pro 5500M
Radeon Pro 5300M
Radeon Pro Vega 20
Radeon Pro Vega 16
Radeon Pro 560X
Radeon Pro 555X
MacBook Pro Model
16-inch Late 2019
16-inch Late 2019
15-inch Mid 2019
15-inch Mid 2019
15-inch Mid 2019
15-inch Mid 2019
VRAM
4GB or 8GB GDDR6
4GB GDDR6
4GB HBM2
4GB HBM2
4GB GDDR5
4GB GDDR5
Compute Units
24
20
20
16
16
12
Stream Processors ("Shaders")
1,536
1,280
1280
1024
1024
768
Max Performance (FP32 in TFlops)
4.0
3.2
3.2
2.4
2.0
1.4
Peak Engine Clock
1,300MHz
1,250MHz
1,283MHz
1,190MHz
1,004MHz
907MHz
GPU Process Size
7nm
7nm
14nm
14nm
14nm
14nm
The Radeon Pro 5000M series is made using AMD's new RDNA architecture, as seen in its graphics cards, and are billed as the first discrete mobile GPUs that are made using a 7-nanometer process. The use of GDDR6 enables up to 192 gigabytes per second of memory bandwidth, twice that of GDDR5, though only the 5500M can use 8GB of the memory while the 5300M is limited to 4GB.
The Radeon Pro 5500M GPU is equipped with 24 compute units, 1,536 stream processors, a peak engine clock of 1,300MHz, and can provide up to 4 teraflops of single-precision floating-point performance. The Radeon Pro 5300M GPU has 20 compute units and 1,280 stream processors, along with a peak engine clock of 1,250MHz, giving it up to 3.2 teraflops of performance.
Based on the standard configurations, Apple claims consumers will enjoy 2.1 times faster graphics performance than the GPUs used in the previous standard configuration. In the 15-inch MacBook Pro, this would have consisted of a Radeon Pro 555X or a Radeon Pro 560X, both with 4GB of VRAM.
In a comparison of the highest-performing GPUs for each, consisting of the Vega 20 with 4GB of VRAM against the 8GB Radeon Pro 5500M, Apple claims there is an 80-percent increase of graphical performance for the 16-inch MacBook Pro's GPU. Effects rendering for color grading in DaVinci Resolve is 1.8 times faster in the new model over the previous one, while 1.6-times faster performance is touted for "Fortnite."