Apple Music Replay aggregates users' top-played songs of the year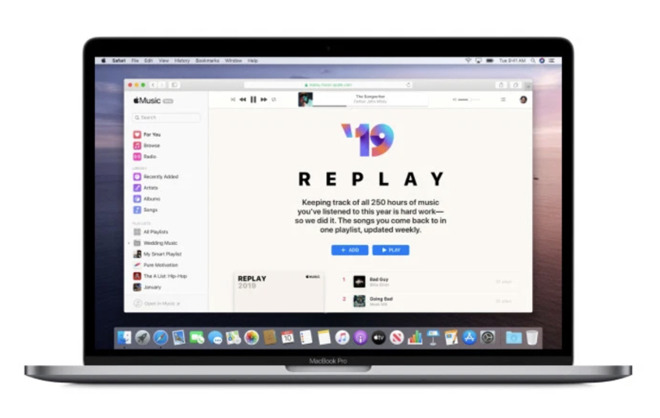 AppleInsider may earn an affiliate commission on purchases made through links on our site.
Apple on Wednesday updated Apple Music with a new feature called Replay, providing listeners a dynamically refreshed, dedicated hub for their top-played tracks of 2019 and beyond.
Available now, Apple Music Replay is similar to Spotify's "Wrapped," a popular year-in-review feature that presents subscribers a list of their most-played songs.
Unlike Wrapped, however, Apple's take is constantly refreshed and updated throughout the year, meaning the playlist changes to reflect evolving user tastes, TechCrunch reports. Playlists and metadata used to create the dynamic Apple Music Replay are updated on Sundays, according to Apple.
While the company is rolling out Replay for 2019, Apple Music subscribers will also find playlists for past years, which have been retroactively generated using listening data. Users who started with the service when it launched in 2015, and continued their subscription into 2019, should have five playlists available in a new section in the Apple Music app or online.
Some users might be forced to visit and sign in to the dedicated Apple Music Replay website to generate an initial playlist.
Along with insights and information about listening trends like the number of artists and albums listened to over the year, Replay breaks down top content by hours, number of times played and other learned metrics. Past years are likewise divided into distinct listening categories for easy consumption.
Like other Apple Music playlists, Replay tracks can be shared with friends, downloaded, saved and more.
Apple Music continues to add features as it competes against streaming industry stalwart Spotify. In October, Spotify said its paying subscriber base hit 113 million people with growth supposedly doubling that of Apple's service. Apple Music reached 60 million subscribers in June.