Teardown shows 16-inch MacBook Pro keyboard's revised mechanism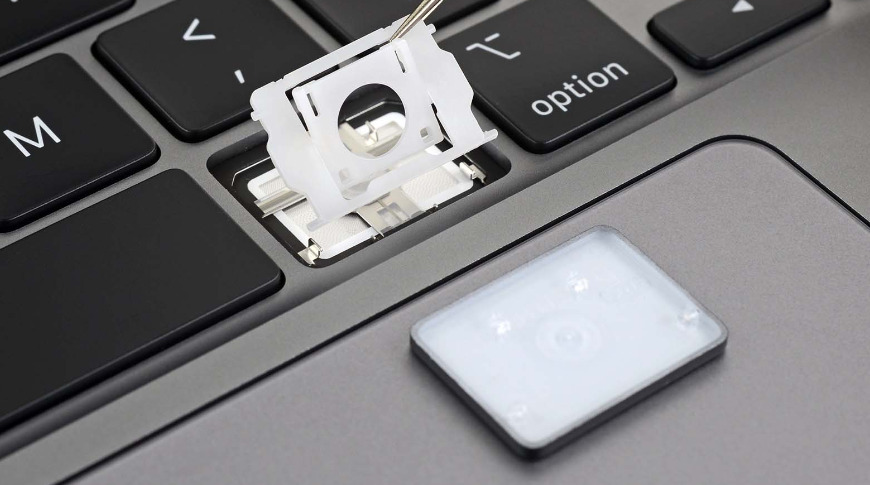 An initial teardown of the 16-inch MacBook Pro offers a close examination of the new keyboard mechanism used in the model, with the scissor mechanism deemed to be a massive improvement over the prior butterfly mechanism.
Over the last few years, Apple has taken criticism for the butterfly mechanism it employed in its MacBook and MacBook Pro lineup, with repeated reports claiming the three generations of mechanism were not up to scratch. The ingress of debris, even with the added protection of a silicone membrane around the mechanism, was a common issue for complaints, prompting calls for Apple to change it for something else.
In the 16-inch MacBook Pro, Apple made the switch from the butterfly for a scissor-switch style it uses in the Magic Keyboard. Initial analysis of the keyboard on the 16-inch MacBook Pro reveals it has a much larger key travel than in models released in recent years, while at the same time generally being quieter than the mid-2019 keyboard.
The first part of a customary teardown by iFixit gives a closer look at the mechanism under the keycaps, confirming a shift away from butterfly. The version used in the new Mac Pro is claimed by the repair outfit to be "almost identical" to the switches used in the desktop Magic Keyboard, as well as pre-butterfly MacBooks.
The similarity with the desktop Magic Keyboard extends to a point that keycaps from the desktop keyboard could be used on the switches in the MacBook Pro.
Made from two plastic pieces that are crossed with a central pivot, the mechanism is considered to be more robust than the butterfly equivalent, with 0.5mm more travel in the key to enable it to handle debris more gracefully. Unlike later butterfly keyboards, Apple has not included a membrane, suggesting Apple is confident about its durability.
There is further strength in the way the keycaps connect to the switches. While 0.2mm thicker than previous versions, the clips attaching the keycaps to the switches are seemingly reinforced, reducing the chance of damage in heavy-duty usage or for disassembly for repair.
Aside from improving the mechanism, Apple also updated the design to include a physical escape key, and altered the arrow keys to form an inverted-T, creating more space around the four keys.
The changes to the keyboard were part of a multi-year development process, Apple VP of Worldwide Marketing Phil Schiller revealed on Wednesday, with criticism from "Pro customers" prompting a rethink of the MacBook Pro keyboard. Schiller did not advise on whether the switch mechanism will spread to other models, stating "We are continuing both keyboard designs."
The iFixit team anticipates revealing its full teardown of the 16-inch MacBook Pro on Monday.