16-inch MacBook Pro review: The keyboard is probably enough to convince those waiting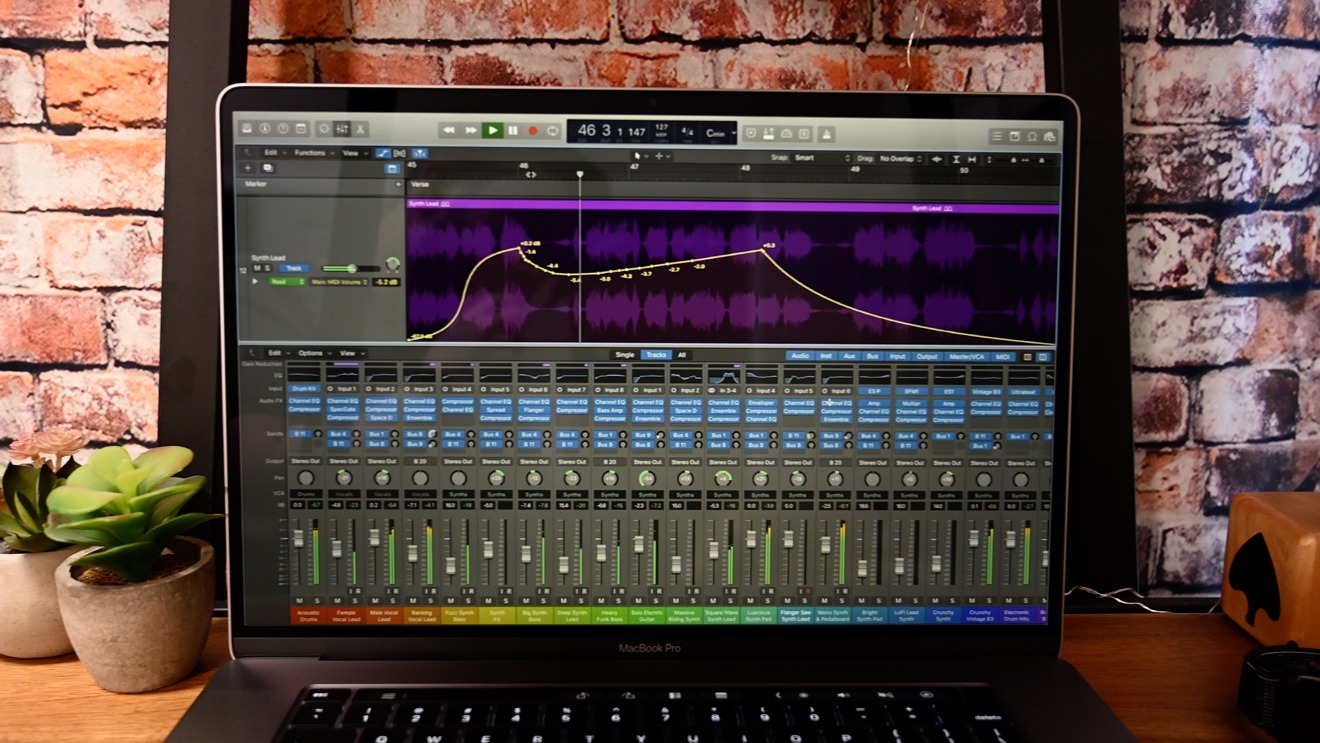 Welcome to the new 16-inch MacBook Pro. While it looks quite familiar, Apple's new flagship laptop moves the needle forward in a big way. We've spent the last several days taking the new Pro for a spin and can say that Apple has dutifully listened to users' feedback this time around. Let's talk about it.
We're not certain when Apple last issued four updates to the MacBook Pro within 18 months, or to any laptop it has ever produced. But, here we are.
Just months after the last i9 MacBook Pro was released, Apple has unveiled its 16-inch MacBook Pro. The surface changes aren't even obvious — the monitor is about a half an inch larger on the diagonal, and you can't even tell that the machine is larger than the 15-inch 2016 MacBook Pro design.
Interestingly, it is actually smaller and thinner than the 2012 through 2015 model. You also can't tell unless you're looking at the three together.
There are three main configurations of the 15-inch MacBook Pro, one with a 2.6GHz Intel Core i7 processor, a 2.3GHz i9 model, and a 2.4GHz i9 configuration — effectively the same options as the 15-inch MacBook Pro from earlier in 2019. Depending on model, there are options for a AMD Radeon Pro 5300M or 5500M. For this review, we're examining the 2.4GHz 16-inch MacBook Pro, with 512GB of flash storage, 32GB of RAM, and the Radeon Pro 5500M. The retail price on this configuration is $3,299.
16-inches instead of 15.4
This will matter to you a great deal, or it won't, and even before you started reading this, you already knew if it mattered to you or not. In our eyes, there are more important aspects to the 16-inch MacBook Pro redesign than the screen, though.
What we will say, is if you are staring at a 15-inch MacBook Pro right next to the 16-inch MacBook Pro you will notice a difference. The updated design looks better with slimmer bezels and an ever-so-slightly elevated pixel density going from 220 to 226ppi. That likely won't be a huge reason for users to upgrade though.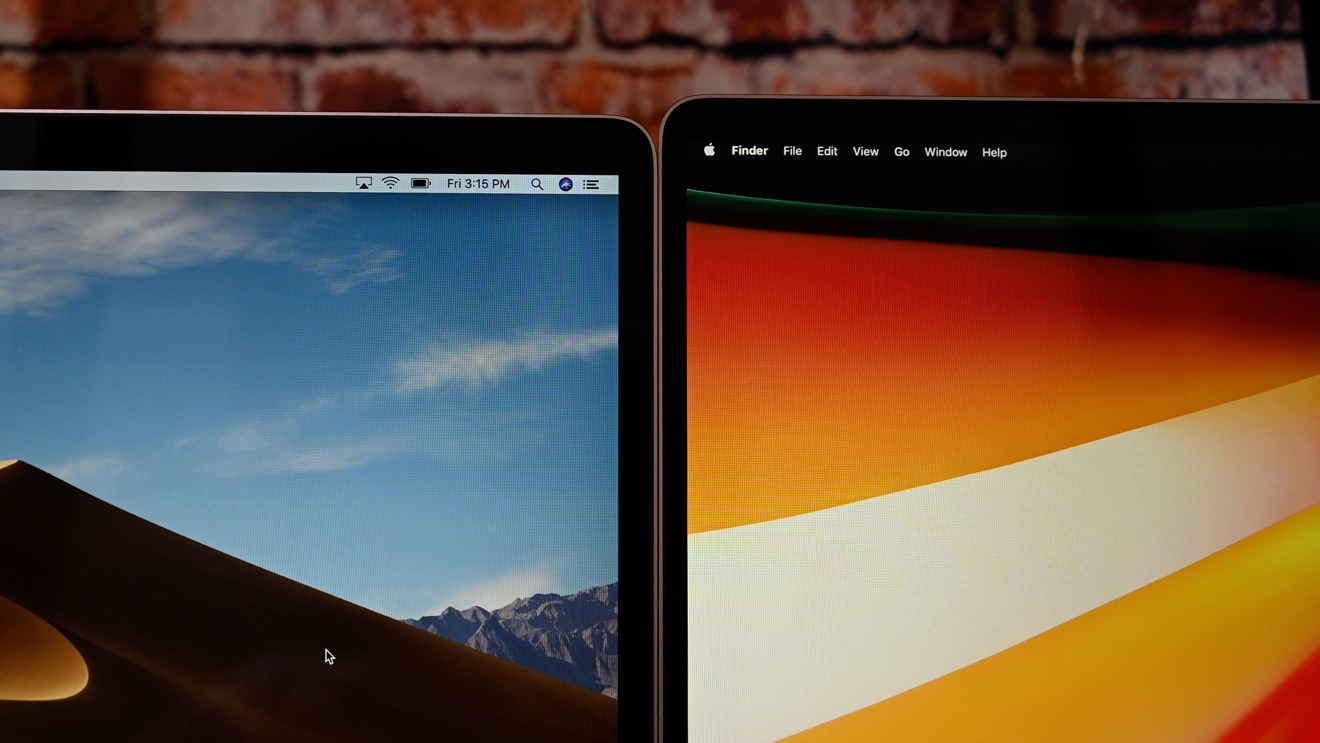 Pros out there who are well-versed in the video space will appreciate one change to the display though, which is the ability to specifically choose your refresh rate. Heading to System Preferences, multiple options can be chosen from to best align with your work.
Keyboard
Keyboards are highly subjective. So highly subjective, in fact, that even if you like a mechanical keyboard, there are dozens of different iterations, with different key feels because assorted manufacturers believe that there is that much granularity in demand.
So, a little context is important. We're not giant fans of typing on glass, like the iPad. We didn't have a problem with the butterfly keyboard that was introduced with the 2016 MacBook Pro — but it wasn't a favorite of ours.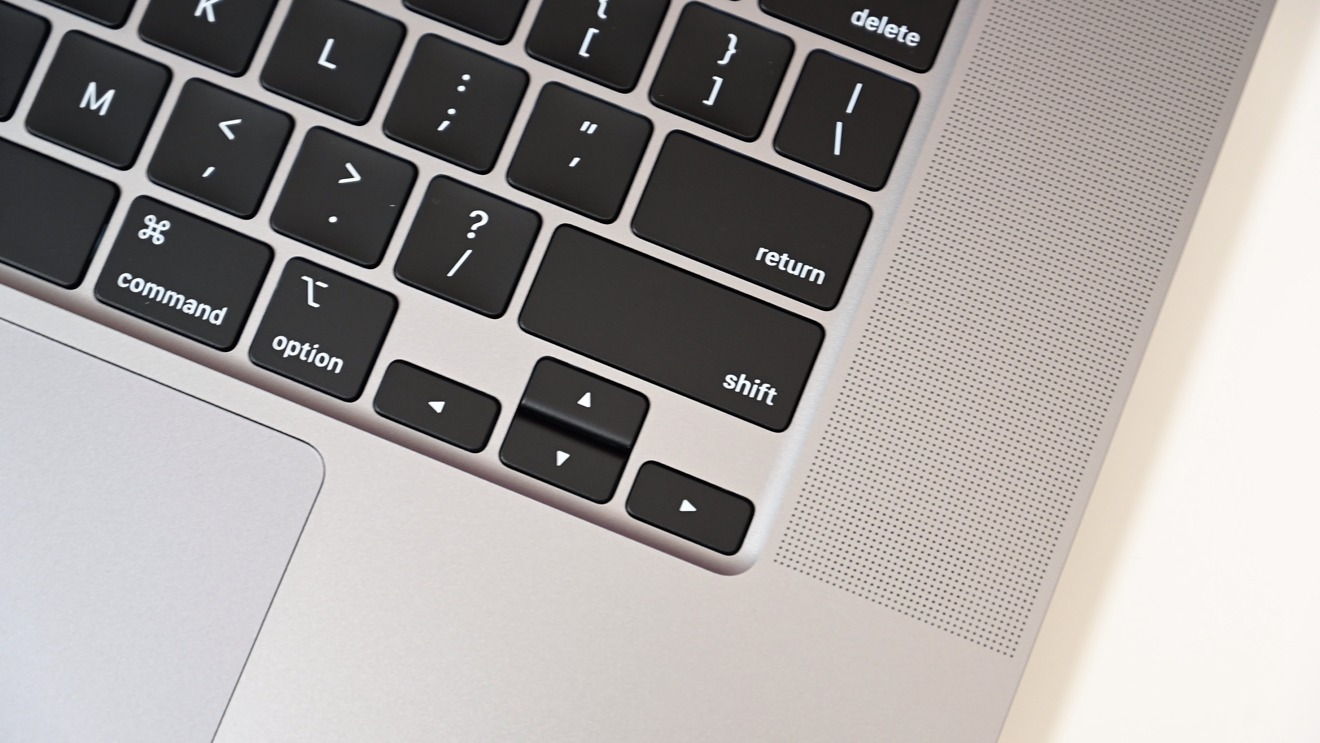 We get that the 2016 MacBook Pro keyboard design, and iterations, are polarizing. Where the 2012 through 2015 design had the entire expression of keyboard like and hate, the 2016 through 2019 weighed more heavily on the "it'll do" to "this is terrible" range, with very, very few folks in the "this is great" zone.
In regards to reliability, across the entire AppleInsider staff, exactly one unit had to be replaced. We had the same failure rate with the 2012 through 2015 keyboard. And, the data we've been collecting on the 2018 model and the mid-2019 refresh suggests that whatever Apple did for reliability is working, with it having an equivalent failure rate in the first year to the 2012 through 2015 design.
Beyond looking back, the key actuation on the 16-inch MacBook Pro is punctuated by a soft click, most similar to the mid-2019 noise versus any other, if a bit quieter. Where the 2015 design noise was more from the key bottoming out the switch, if you press slowly, you can feel where the click is on the new computer, before hitting the bottom of the chamber. Gone is the clackety-clack of the original 2016 MacBook Pro keyboard, and you'll never mistake this keyboard for a desktop mechanical model.
There's more sensory data on the keys in the video that accompanies this piece. But, here are the numbers: the key travel on the 16-inch MacBook Pro keyboard is one millimeter. This is in comparison to between 0.6 and 0.7 millimeters on the 2016-style keyboard, and between 1.2 and 1.5 millimeters on the 2012 through 2015 style.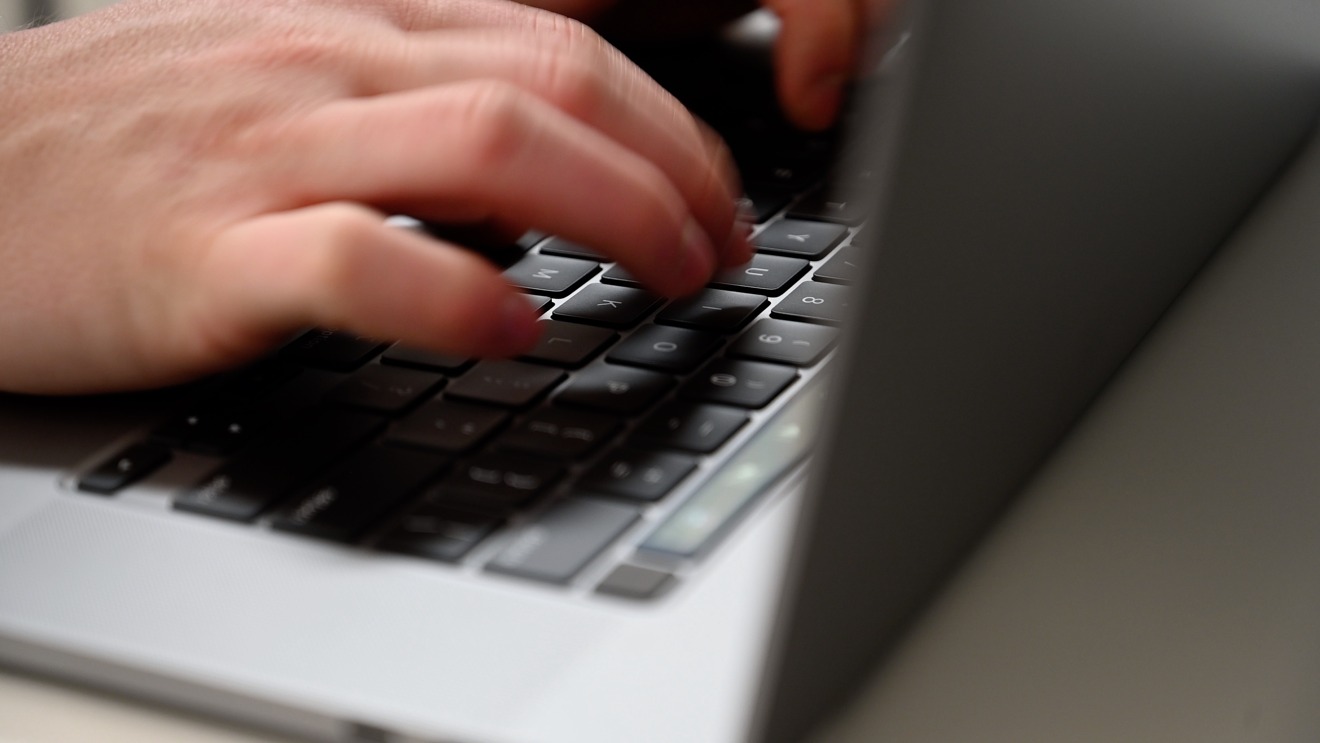 In our testing, we had a baseline of 38 dBa of ambient noise measured with a Kanomax model 4431 audiometer, with the test gear at head height and distance. Typing on the 2016 MacBook Pro with no other CPU load brought that up to about 43 dBa. The highest we could manage on the 16-inch MacBook pro with a particularly angry bout of random key-mashing was 41 dBa. Quieter indeed.
With that 2016 redesign, Apple made a big deal about key stability being an underpinning of the design. In short, the new keyboard is more key travel than the 2016, but less than the 2012. Whatever Apple did for key stability in the 2016 was moved to the 16-inch MacBook pro — and this is a good thing.
And, Apple tells us that individual keys can be replaced. We didn't get any information on what this entails, but at this juncture, it still looks like a complete disassembly is required to do so.
Touch Bar and Escape Key
The new keyboard on the 16-inch MacBook Pro has a physical escape key, and instead of the Touch ID sensor being connected to the Touch Bar, it is in its own little well. Coders have been clamoring for the former, and we think that Apple did the latter to ease repair, if that sensor needs to be replaced.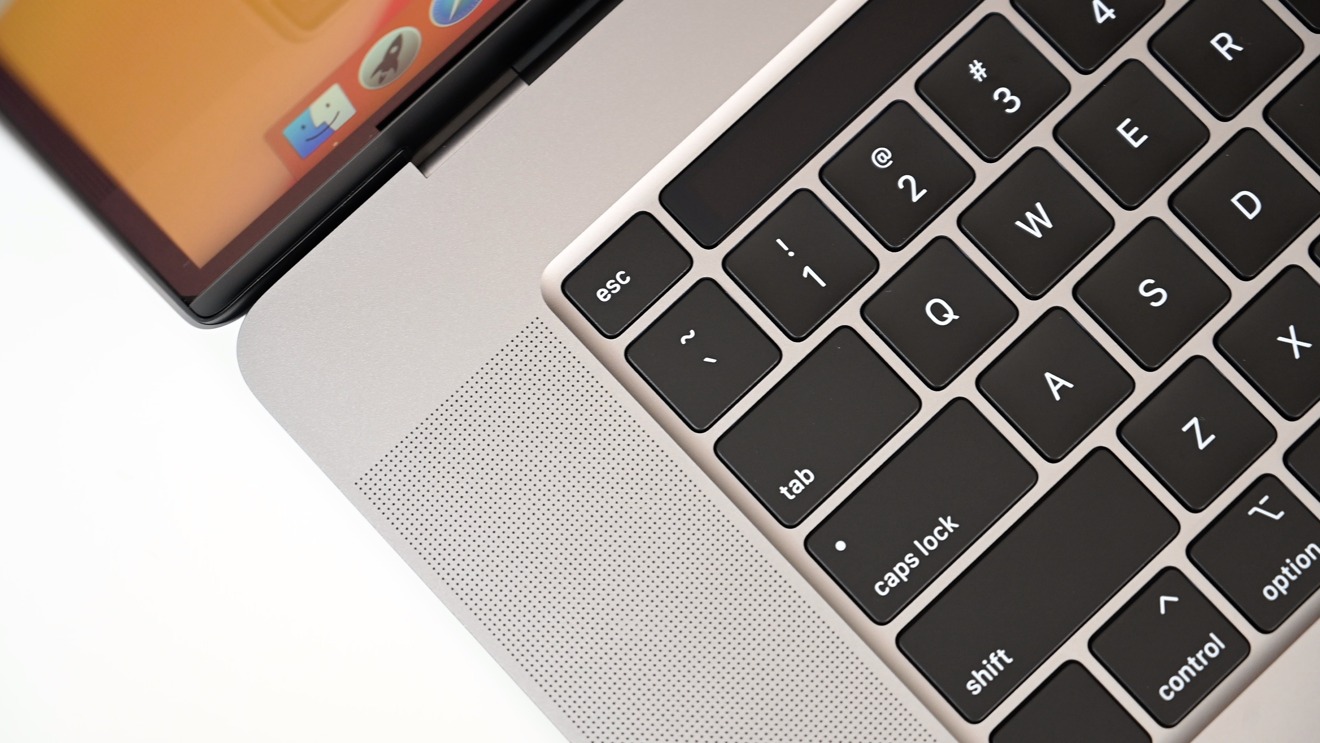 In our use, a physical escape key makes little difference — but for coders, it's an entirely different story. We've been told about times where things have gone completely awry, and the virtual escape key on the Touch Bar doesn't work at all, forcing a hard reboot.
As a general rule, we like what the Touch Bar brings. After a lukewarm initial impression. we've adopted it into our workflows. We're not going to say that everybody is going to like it, but utilities like Better Touch Tool open up a frontier of customization options, and we recommend it to anybody that has a Touch Bar and wants to use it beyond the Apple-sanctioned or developer-mandated uses.
Testing the silicon
Apple did include the same CPU options as the mid-2019 predecessors but thanks to its new internals, it is able to get slightly better performance out of the chips. When we compared the 16-inch base to the previous 15-inch base, we saw that single-core scores increased from 1061 to 1128 and multi-core scores increased from 5425 to 5641 on Geekbench 5.
In Cinebench R20, scores jumped as well from 2395 to 2623. This is due to the machine being able to keep those cores cooler for longer.
Running the Browserbench.org Speedometer test that measures web app performance on each machine, the new machine scored a 129 while the previous generation clocked in at a 126.8.
GPU
For the GPU, we turned once more to our usual Unigine Heaven benchmark. Running at full screen, with tesselation and stereo turned off, at medium quality (our standard settings), the new machine earned an average of 86.6 frames per second and a 2182 score. It maxed out at an impressive 162.1 frames per second.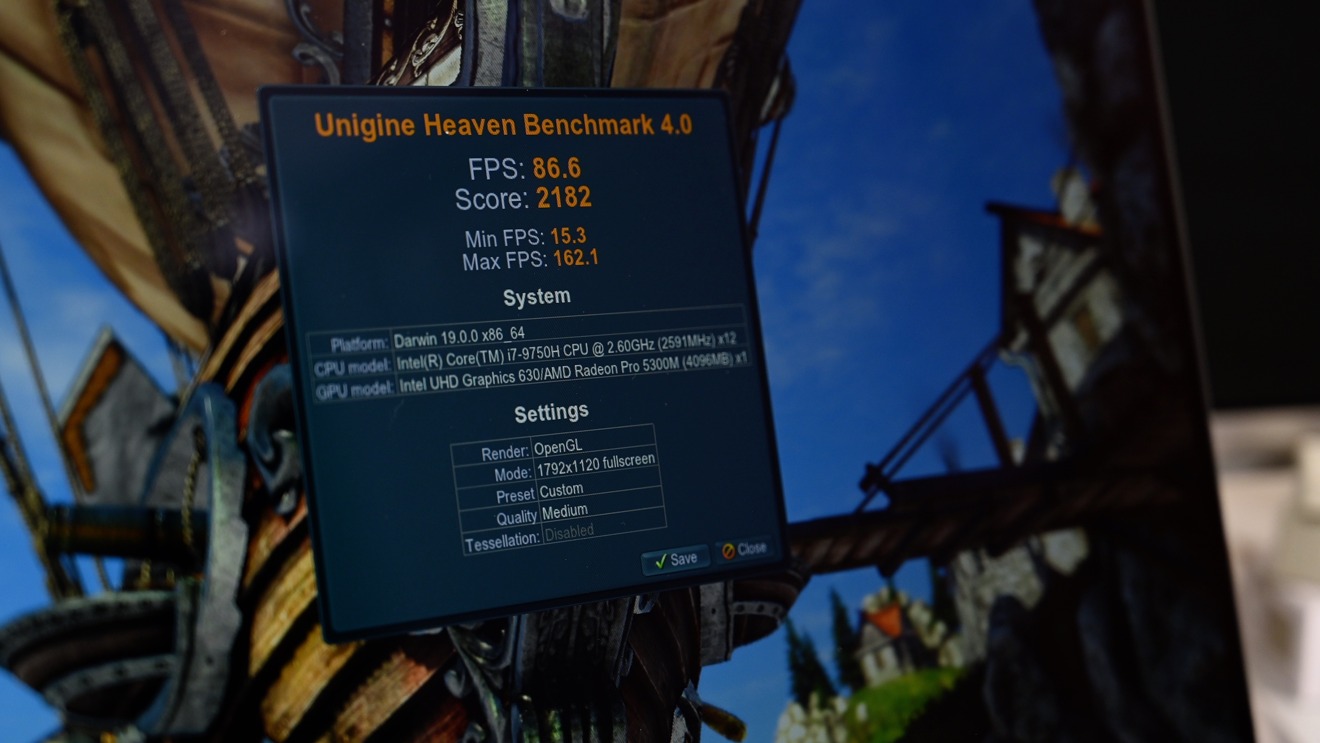 Impressively, that beats the VEGA 20 graphics from the previous design which earned a total score of 2072 and a max FPS of 147.4. It also won on average FPS over the previous 82.3. Again, that is our base model compared to the previous high-end selection.
In another benchmark to test the performance of Metal, we ran the Geekbench 5 Compute test. The new base machine managed a 21757 while the previous base garnered only a 13919.
Lastly, we performed an export test. Exporting the same 4K 24FPS Final Cut Pro X project from both base units with the same settings. Final Cut was updated The previous generation took 4 minutes and 15 seconds while the updated machine did the export in only 2 minutes and 38 seconds.
Thermals
The 2018 15-inch i9 MacBook Pro was a very hot machine. While it still holds up, Apple has improved the situation greatly with the 16-inch MacBook pro.
Eight cores are hot. The 5500M chipset is toasty, and the RAM is too.
In our use, when the 2018 i9 MacBook Pro was under load, the keyboard's metal surface routinely hit 107 degrees Fahrenheit around the G, H, and J keys. That's still usable, but it is very, very warm. On the new 16-inch MacBook Pro, that area is still the hotspot, but it hit a maximum of 89 degrees while running under load.
There are still a large number of picky details to examine with the 16-inch MacBook Pro in regards to the thermal environment. We'll be looking a lot more at varying work environments including ambient temperature effects, and machine orientations as the weeks and months wear on to see if they make any difference at all to performance.
But, we're not expecting to see much difference this time around.
In regards to the revamped cooling system. Apple says that the 16-inch MacBook Pro has different fan blades and more surface area on all heat exchanging surfaces. This means that the computer sounds different under load.
Strictly from a noise standpoint, in the same 38 dBA room, the 2016 MacBook Pro under heavy load is about 45 dBa at the same range that we did the keyboard testing. The 16-inch MacBook Pro hit a maximum of 44 dBa, with equivalent fan speeds to the 2016 model.
The MacBook Pro for the last seven years has sounded about the same. It's hard to describe how it sounds now, but there's a lower pitch and a different warble to the fans now, likely because of the new blade shape. You'll notice the difference if you're a long-time user, but it isn't distracting, and you'll forget the old sound pretty quickly.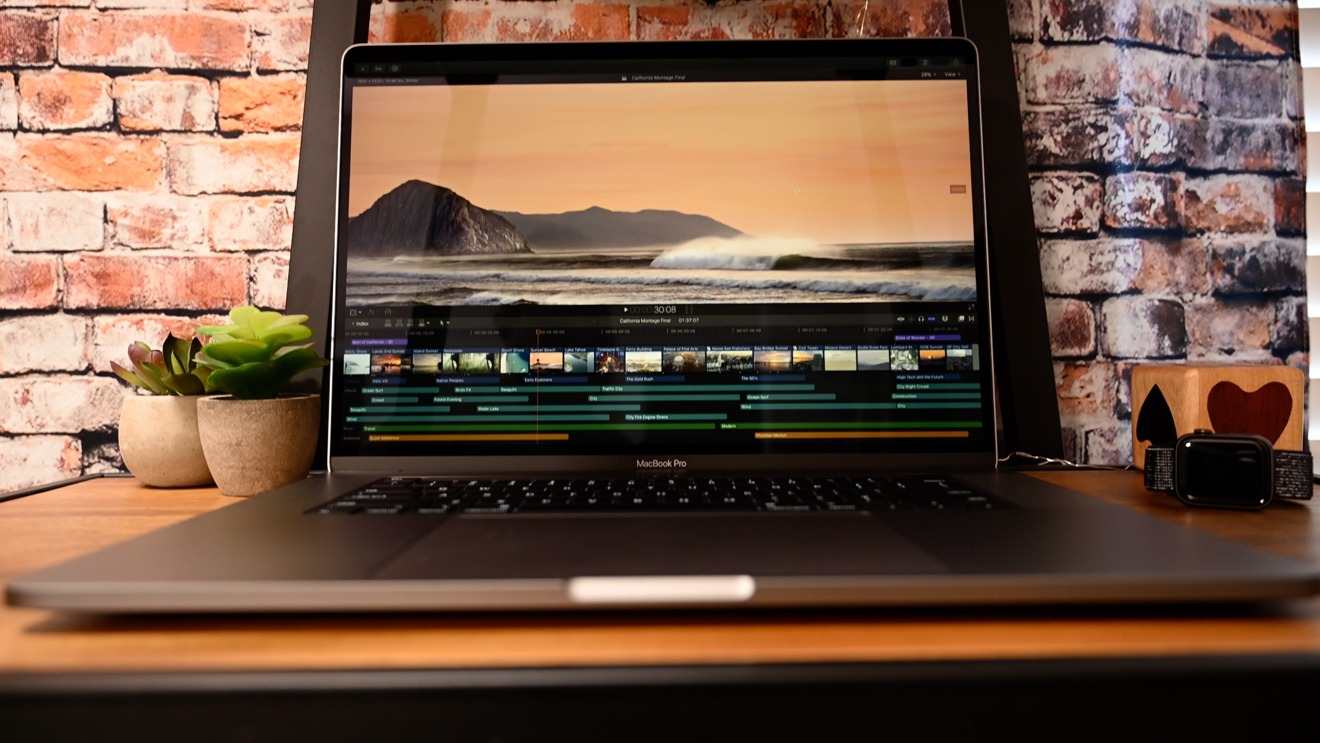 We've only just started testing and thermal performance. Our initial testing suggests that the 16-inch MacBook Pro can maintain a higher clock speed for longer — which isn't well-reflected in benchmark testing to date.
The fans on the new MacBook Pro start to get audible in that 38 dBa office environment at about 83 degrees Celsius processor temperature. Based on observation, they start to pick up speed at about 75C — earlier than the 80C that the 2016 through 2019 MacBook Pro start to ramp up. We'll be testing this more in the future.
The efficacy of this thermal redesign in regards to your own workflow will vary very much depending on your individual workload. But, using a utility that turns off the boost feature on the processor essentially guarantees a silent machine with next to no fan noise, at a cost of taking about one and a half times longer to complete your job. We'll be talking about this in the future too.
Flash speeds are still blistering
The drive is absolutely no slouch. Running the BlackMagic disk speed test after the machine had been indexing for two days, we saw a write speed of 2890 megabytes per second, and a read speed of 3150 megabytes per second on both a 512GB and 1TB model.
This is a bit faster than the i9 MacBook Pro from earlier in 2019, and about 350MB per second faster than the 2018 MacBook Pro with 512GB of storage or more.
Battery life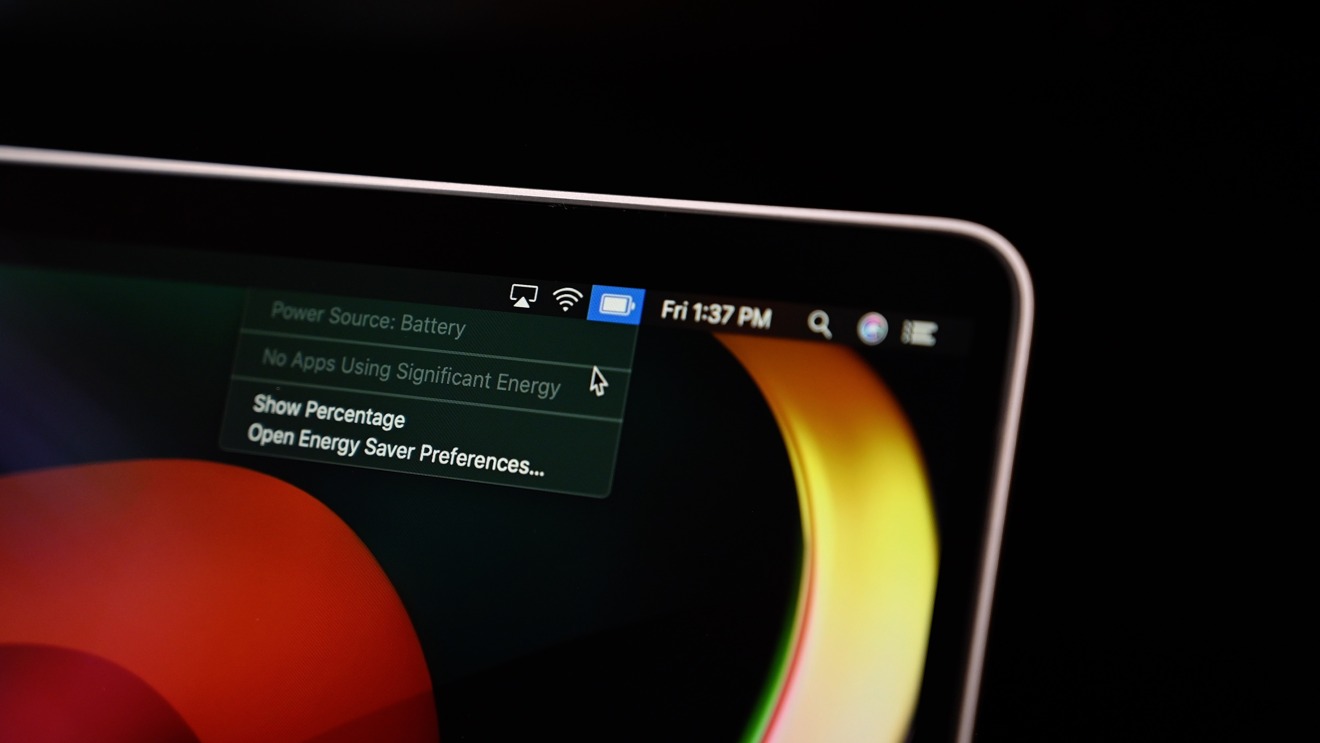 This time Apple baked in a new 100Wh battery that is necessary for the beefed-up internals. That new battery doesn't just match the last model's performance, it extends it. While we didn't have too much of a chance to surf the web for 11 hours on end, Apple says that is what you can expect — which is one hour more than the 15-inch offered.
Speakers
We didn't expect much change when it came to speakers, but after trying them out we were wowed.
Moving between listening to our above test playlist reserved for speakers and headphones as well as Apple TV+ content with Dolby Atmos, it makes listening to content on a portable machine far more enjoyable.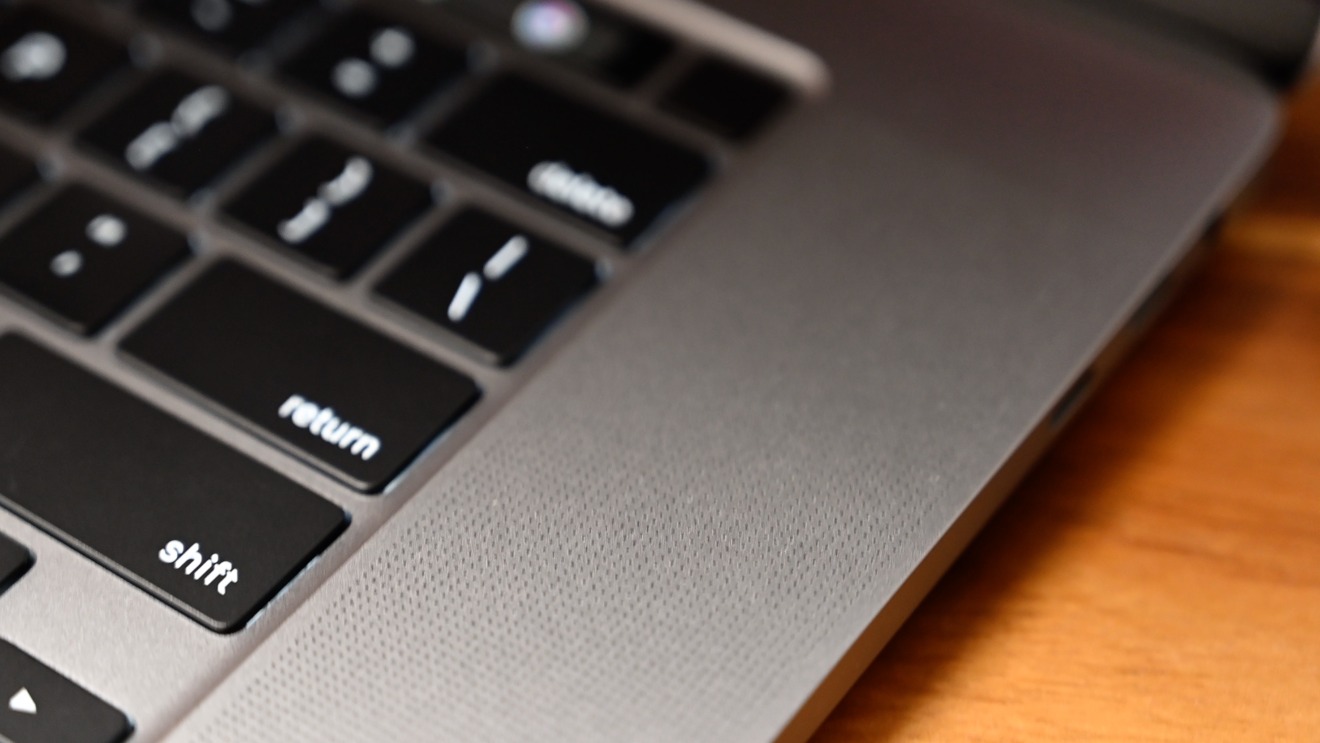 Bass was substantial, but thanks to the dual force-canceling drivers, it doesn't cause the machine to shake or feel uncomfortable at loud volumes.
The biggest note was how much larger and fuller the soundstage appeared as we listening to content from one machine to the other.
Wi-Fi 6
Oddly, Apple has a few omissions with the pro machine. The FaceTime camera is still capped at a meager 720p. But more frustrating, Apple has felt the need to hold back with 801.11ac Wi-Fi rather than jump to Wi-Fi 6 ax as we saw with the most recent iPhone launch.
Considering a Mac is intended to be a portable machine, the lack of the latest Wi-Fi tech is frustrating. Users rightly expect to pick up a Mac and use it for several years and investing in a new machine shouldn't be capped by previous standards. Especially one Apple has already adopted en masse with millions of iPhones.
Wi-Fi 6 is still launching and there is only a smattering of ax routers on the market so looking at today's landscape users aren't missing out, but they will when they have this machine in two-three years and Wi-Fi 6 has been more widely adopted.
There will certainly be some iPhone 11 Pro users who will jump on board with Wi-Fi 6 early to take advantage of it on their phones that will be left behind with the new MacBook Pro in that regard.
Still four Thunderbolt 3
Apple has now redesigned the MacBook Pro, listening to pro users, and the HDMI port has not returned. Thunderbolt 3 is staying. It's past time to come to terms and deal with it.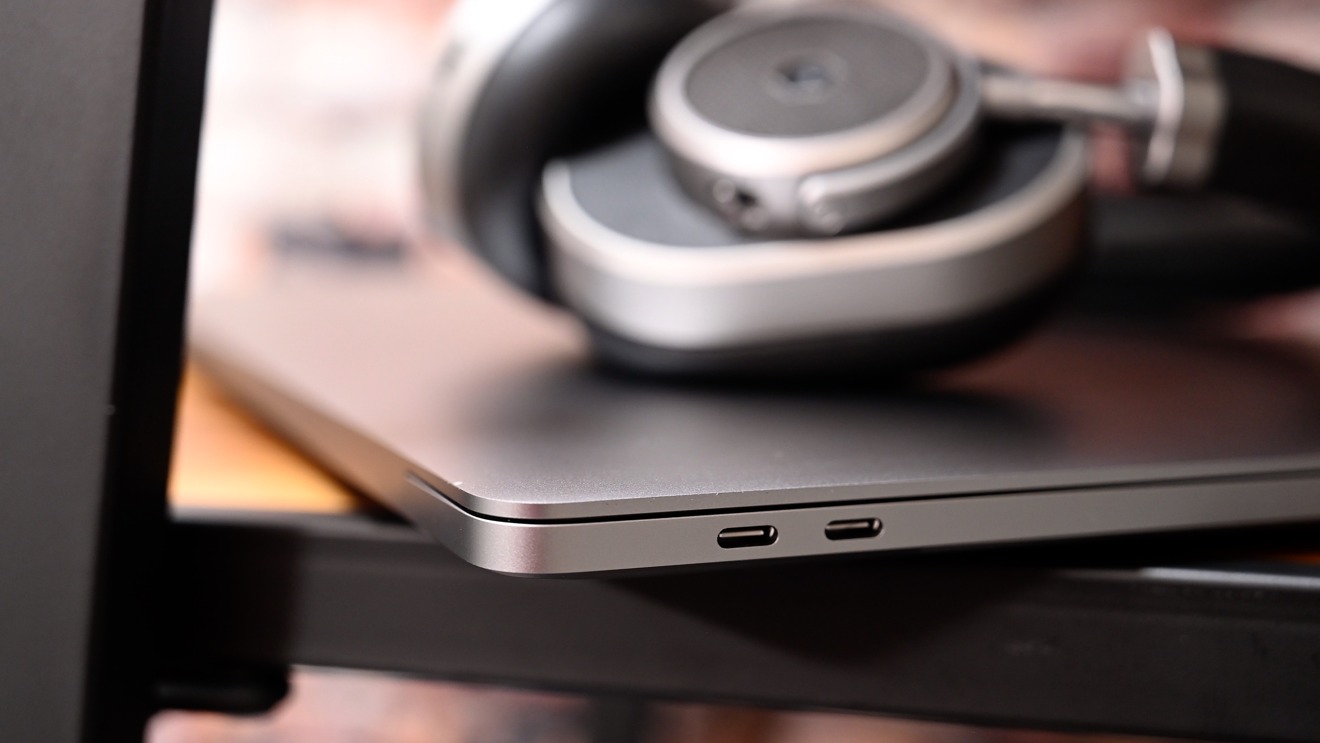 The USB-C physical connector on Thunderbolt 3 is not the end of the world, but it is an adjustment for users, if you're coming from a 2015 or older MacBook Pro. Complaints that there are multiple flavors of USB-C are correct, but this is more of an issue with cable labeling than anything else. That adjustment is better made, than tolerated using half-baked solutions.
We've said this before, many times: there is no special hardware required to connect a HDMI or DVI monitor. Given that the Thunderbolt 3 protocol explicitly contains the HDMI protocol, a cable will do, or a dongle if you prefer. There is no breakout box needed for USB-A connectors, and a peripheral cable or dongle there can be had too, depending on what you need.
Fortunately, since you have Thunderbolt 3, and not the other varieties of USB-C, cables are cheap, and plentiful. You can get there from here, and it isn't expensive to do so.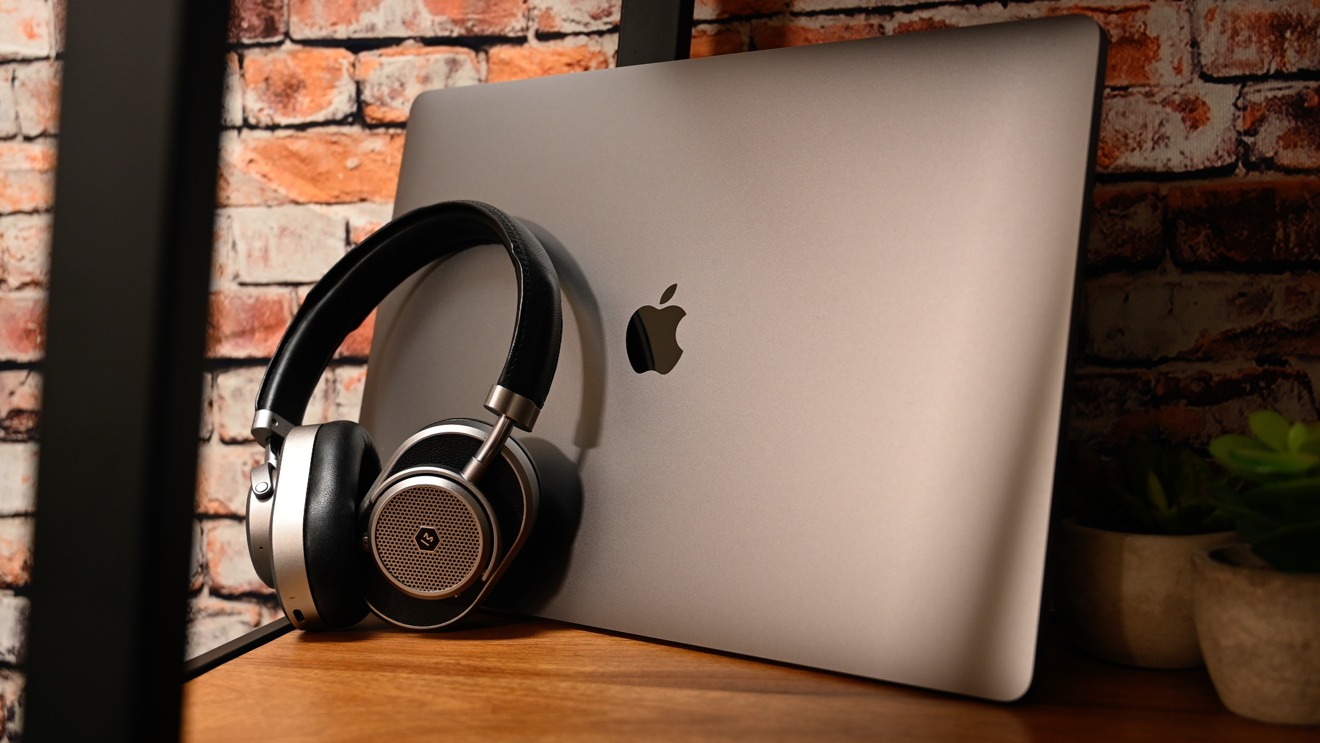 Like we've been saying for nearly four years now, if you're hell-bent on sticking with your existing cabling instead of adopting cables with a USB-C end is choosing from one of many a Thunderbolt dock. Thunderbolt 3 docks start at $199 retail, and USB 3.2 type C ones can be had for cheaper than that, if you don't need the full 40 gigabits per second that the faster protocol allows.
In our testing, with a two-hour load on the MacBook Pro using both the CPU and GPU, an 87W Thunderbolt 3 dock or power adapter still drained the battery to the tune of about 4% per hour. Under "normal" office use or similar work there was no drain at all.
If you have an older Thunderbolt dock from your 2012 or later Retina MacBook Pro, the $49 Apple Thunderbolt 2 to Thunderbolt 3 adapter will connect that unit to the new machine. It won't supply power, but, fortunately, the 96W adapter that your machine came with will.
Furthermore, if you're considering an external GPU, many of the enclosures have USB-A and Ethernet ports, in an accessory that costs not much more than a dock does. If all you need are a few USB-A ports, get a USB 3.0 dock, along with a USB-C to USB-B cable for around $8. Problem solved. Nothing that we've seen presently for eGPU enclosures provides 96W, but that will likely be rectified very soon.
Regarding MagSafe, we've been testing USB-C for a very, very long time at this point, and our results are unchanged. On a melamine, Corian, or finished wood desk surface, the force required to pull out Apple's USB-C charging cable is about three-quarters of what it takes to break a MagSafe 2 connection, when the cable is pulled from less than a 40-degree angle from center on the horizontal plane, and less than 30 degrees from center on the vertical.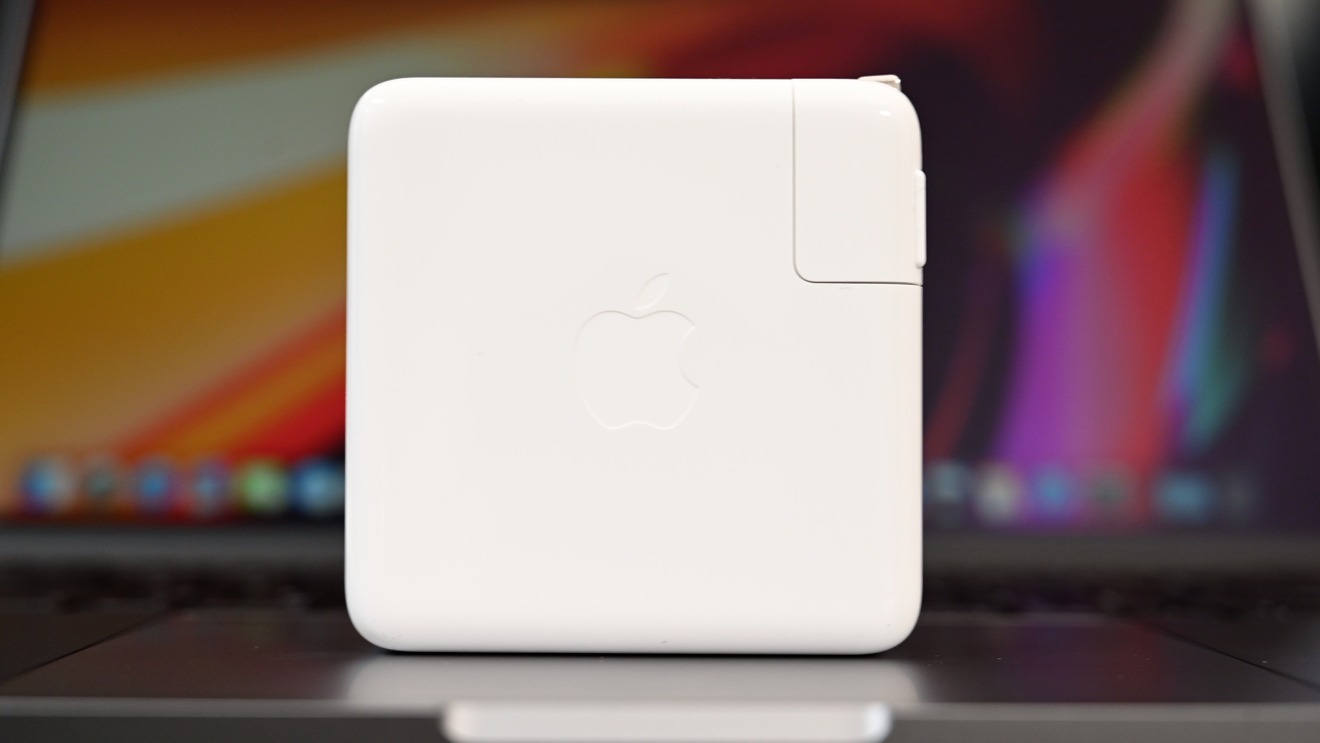 And, the AC adapter also has a USB-C connector with the same disconnect force, so now there are two rapid breakpoints in the case of an accident or inadvertent pull.
Apple's service numbers that we've collated bear out that the removal of official MagSafe hasn't caused any notable increase in incidents. MagSafe's introduction in January 2006 halved accidental damage service calls by 2009. There was no change in those numbers for MagSafe 2. But, in the three years since the MacBook Pro was released, there has been no increase in the accidental damage rate from a reported cable snag at all.
With a 11-hour battery, we're not sure why you'd want to string a power cord along a transit route anyway. If you're that concerned about it, buy a USB-PD battery and keep it next to your computer.
If you're still not happy that MagSafe is gone, there are inexpensive options on Amazon.
The MacBook Pro is a workhorse, but is not a desktop
The MacBook Pro is not going to be the same maximum speed as the Mac Pro. It isn't even going to top the iMac Pro in every regard. But, it is portable, and it is very, very fast.
If you're doing long runs of rendering or the like, the iMac Pro will work better for you. Despite some social media posts to the contrary, the iMac Pro is in no way a portable machine. While the new Mac Pro doesn't have those seemingly sharpened handles that the old-school Mac Pro did, it isn't really portable either, even if you spring for the wheels.
As the last two i9 MacBook Pro were, the 16-inch MacBook Pro is a solid machine, one that is faster than literally every other MacBook Pro ever made, if not by a lot.
No matter how much of a Pro you are, not everything is a long processing job, constantly slamming the processor. Even most editing tasks aren't constantly pushing your CPU and GPU to the absolute limits. As we've said time and time again, considering your own workflow in regards to what you do most of the time is crucial in making this decision.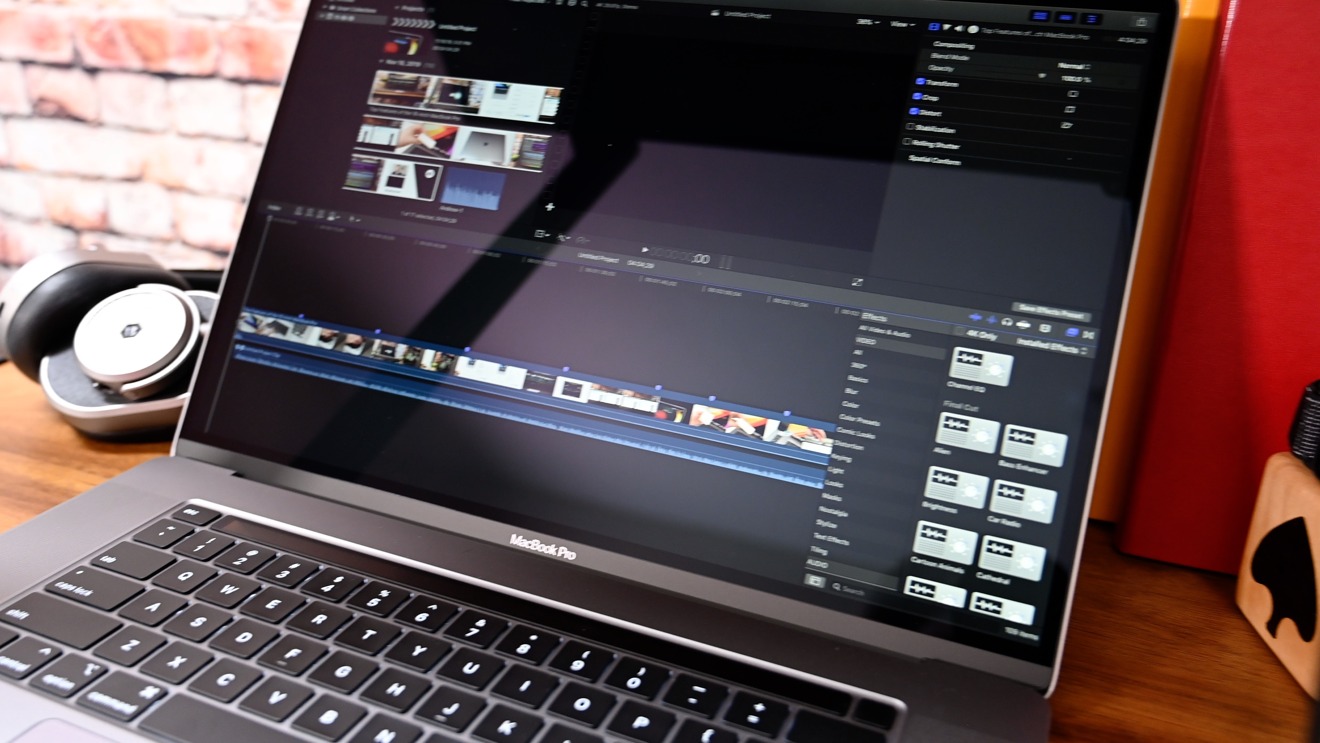 If you're coming from a 2018 or earlier MacBook Pro, including the i9 2018 MacBook Pro, the 16-inch MacBook Pro with either flavor of i9 processor is unquestionably a great choice. However, the real-world performance for nearly every task that you will do, minus those blue-moon processor-crushing ones, the i9 performance isn't supremely higher than that of the i7 "baseline" model.
As with every other i9 MacBook Pro, the 16-inch MacBook Pro is a lot of computer, with a lot of power, for a lot of money. There are cheaper machines with the i9, dealing with many of the same thermal constraints, running Windows.
How much is macOS worth to you? You can say all you want that there are cheaper Windows options, and you'll be right. But, none of them bring macOS to the table.
As it was before, and as it remains, a 16-inch MacBook Pro with an i9 processor is the right tool for macOS jobs that demand portability. It is not the ultimate solution to every macOS-centric computing problem, and those people that need that solution probably already know that they need to wait for the Mac Pro tower.
Score 4.5 out of 5
Save hundreds on the 16-inch MacBook Pro
Apple resellers are accepting orders for the new 16-inch MacBook Pro with a variety of incentives. Expercom is knocking up to $438 off select new configurations with coupon code appleinsider, while Adorama is taking up to $250 off retail models with promo code APINSIDER (prices start at just $2,199 with code). Details can be found in this 16-inch MacBook Pro deal roundup.
Meanwhile, at B&H, shoppers can save $100 on the retail systems and select between no interest financing when paid in full within 12 months with the B&H Financing Card or a sales tax refund in eligible states with its Payboo Credit Card. The latter can save many shoppers anywhere from $200 to $500 on average.