The best Thunderbolt 3 docks for Apple's 2019 13-inch MacBook Pro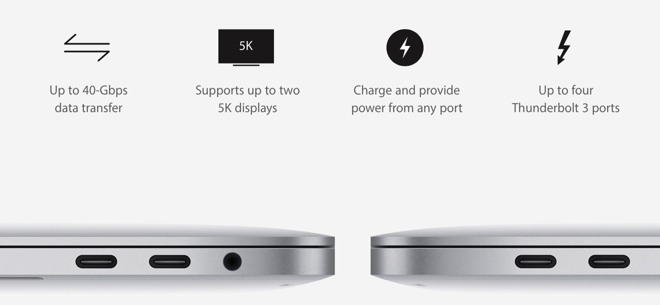 The inclusion of Thunderbolt 3 on the MacBook Pro and iMac has created an entire industry of docks and other accessories that take advantage of Thunderbolt 3's high bandwidth and power delivery capabilities, by providing more ports that can expand a Mac's connectivity. AppleInsider compares some of the best options on the market.
Update July 12, 2019: The chart listing dock features has been refreshed to include new releases since this article's original publication.
There are a large number of Thunderbolt 3 docking stations to choose from, but with choices comes consumer confusion. As the market for the docks has grown yet again with the release of the new 13-inch MacBook Pro that replaced the Function Keys model and the refreshed MacBook Air, it has become harder to decide which dock is the best one to buy. Tradeoffs abound, between the number of extra ports they add, the additional features that are nice to have, and the price of the unit itself.
Ultimately, the kind of dock required for the job depends entirely on the user's current needs, as well as planning for any future changes to their computing environment so there's no need to get another one any time soon.
Why get a dock?
Ultimately, the aim of the dock is to connect more of a user's equipment to a Mac. The dock adds more ports at the expense of one existing Thunderbolt 3 connection, while also increasing the usefulness of the Mac at the same time, such as by adding a memory card reader, a secondary audio connection, or more displays.
For example, an iMac owner may want to add multiple external drives to expand their storage capabilities, but do not wish to have all of the drives clogging up all of the available ports on the rear. They may also wish to have the extra components connected away from their workspace, so a single cable to connect multiple devices in that way may be a better option.

For MacBook Pro or MacBook Air users, a dock can be used as a way to connect power, all of their peripherals, accessories, and other hardware to their system while at a desk through a single Thunderbolt 3 connection, rather than multiple cables. If they wish to work away from the desk, it's a single cable to disconnect everything, saving time when they have to move.
What to look for
Of the docks compiled by AppleInsider into the chart, the majority offer two Thunderbolt 3 ports, allowing one to be connected to the host system, while another is free to connect another Thunderbolt 3 device, effectively preventing the user from "losing" a Thunderbolt 3 port.
While many offer USB 3.1 Type-C connections, a few of the docks highlighted rely on it to connect to the host Mac instead of Thunderbolt 3. For the most part, these docks will work relatively fine, but the maximum bandwidth between the dock and the Mac will be reduced from 40Gbps to 10Gbps, making them less desirable for those wanting to push high amounts of data.
The ability to deliver power over the Thunderbolt 3 connection is extremely useful to MacBook Pro owners, allowing for charging through the same cable without running a second purely for power. Though all offer power delivery in varying levels, owners of the 15-inch MacBook Pro will want to look at docks with at least 87 Watts of power delivery through a single connection in order to properly charge their Mac.
Again, most docks offer some sort of display connectivity, so users can add multiple monitors to their setup. Depending on the dock, this can take the form of one or more connections, including HDMI, DisplayPort, and Mini DisplayPort, most some including support for dual 4K monitors at 60Hz, assuming you're willing to use your downstream Thunderbolt 3 port to do so.
All of the docks offer USB 3.0 Type-A connections, allowing for the connection of hardware that has yet to graduate to Type-C. The majority also include audio connections, as well as Gigabit Ethernet ports for connecting to wired networks, a feature likely to be welcomed by MacBook Pro users.
In quite a few cases, the manufacturers included an SD card reader, though some also incorporate a microSD card slot into the design. Considering the plethora of microSD-to-SD adapters on the market, the latter isn't an essential feature for the vast majority of users.
A few of the docks do differentiate themselves by including some lesser-used or older connectivity options, such as eSATA, VGA, and FireWire 800. It could be argued that there could be adapters and dongles on the market that can replicate these depreciated connections, so potential users having an urgent need to use those connection types may still want to look at others in the range — but we'll talk about some older connectors in a bit.
That being said, as a dock is bought for its ports, it may be worth concentrating on those offering these extra ports to avoid the need of acquiring said adapters. Though there is probably no perfect solution to each use case, minimizing any extra purchases may be an idea worth pursuing.
What do you need?
We've summarized nearly all the shipping, fully Mac-compatible options below. Note that most of these are Thunderbolt 3 docks, with a few USB 3.1 type C docks includes. As such, this list is mostly for MacBook Pro and future MacBook Air owners right now.
If there's a port you need, like FireWire, or optical audio — then you've got fewer choices. If you need full charging power for a 15-inch MacBook Pro, even fewer.
The list was updated on July 10, 2019 to include new docks that have launched since the February version of this report was released.
A note on FireWire and eSATA
We here at AppleInsider get it. FireWire is an older technology, and you may still have gear around that demands it. Back in the day, we loved FireWire 400 and 800.
But here, looking back from our Thunderbolt 3 USB-C hardware, our recommendation is that it's time to move on — unless you have a piece of legacy audio gear that demands it. Even then, it might be time to look at upgrades, since a lot of the audio gear's driver support is iffy at best.
FireWire 800 is capable of 100 megabytes per second maximum. The last Apple computer that debuted with the technology was in 2012. Yes, they sold it alongside the Retina MacBook Pro for many years — but that doesn't mean the technology is new.
In all likelihood, you've got a RAID case with a pair of PATA drives that you've clung on to. If that's the case, those drives are very, very old and it's time to replace them anyway assuming you value your data.
When you buy a new mac, your old stuff doesn't light on fire. Hook up your old gear, and move your data across your network to your new MacBook Pro or iMac. If you simply must keep the drive online, then connect it as a server — and really consider getting the data off.
As far as eSATA goes, it is also a deprecated technology, and has been mostly supplanted by UASP support in USB 3. The days of eSATA are numbered — and it was never adopted in any great quantities.
If you've got an eSATA enclosure, it probably has USB 3.0 also. Just use that, instead. If it's a USB 2.0 enclosure, consider pulling the drives out and putting them in a more modern enclosure — or like we advised the FireWire people, transfer it across a network to your new hardware.
If you don't want to do that, AppleInsider can confirm that there is a USB 3.0 to eSATA adapter that supports port multiplying cases that works fairly well if not with all chipsets — and it is only around $33.
As good as they were, the days for both FireWire and eSATA are behind us. Unless you absolutely have to, don't spend good money after bad.
An Alternative - eGPU Enclosures
If the user simply wants to add more USB 3.0 Type-A ports, simply acquiring a standard USB Hub with a USB-C to USB-B peripheral cable would most likely solve their expansion needs. For those wanting such expansion through Thunderbolt 3, there is another left-field option: eGPU enclosures.
A relatively new product category, eGPU enclosures are used to add a graphics card to a Thunderbolt 3-equipped Mac, with the intention of considerably boosting their graphical performance. These enclosures also include power delivery at various levels, with some capable of charging a 15-inch MacBook Pro, and some models also add in extra connections on the rear to fully take advantage of Thunderbolt 3's massive bandwidth.
At $349 and up minus the cost of a graphics card, they can be cost-effective — assuming you're looking at boosting the graphics capability of your host machine as well.
Where to buy
The docks highlighted above are available for purchase from a variety of retailers with instant discounts and free shipping.