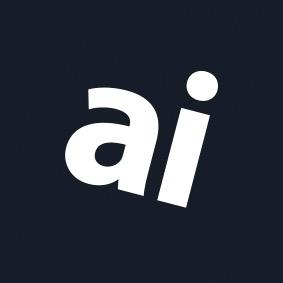 Why you can trust AppleInsider
Review: Mantiz MZ-02 enclosure is a stylish Thunderbolt 3 dock and eGPU enclosure in one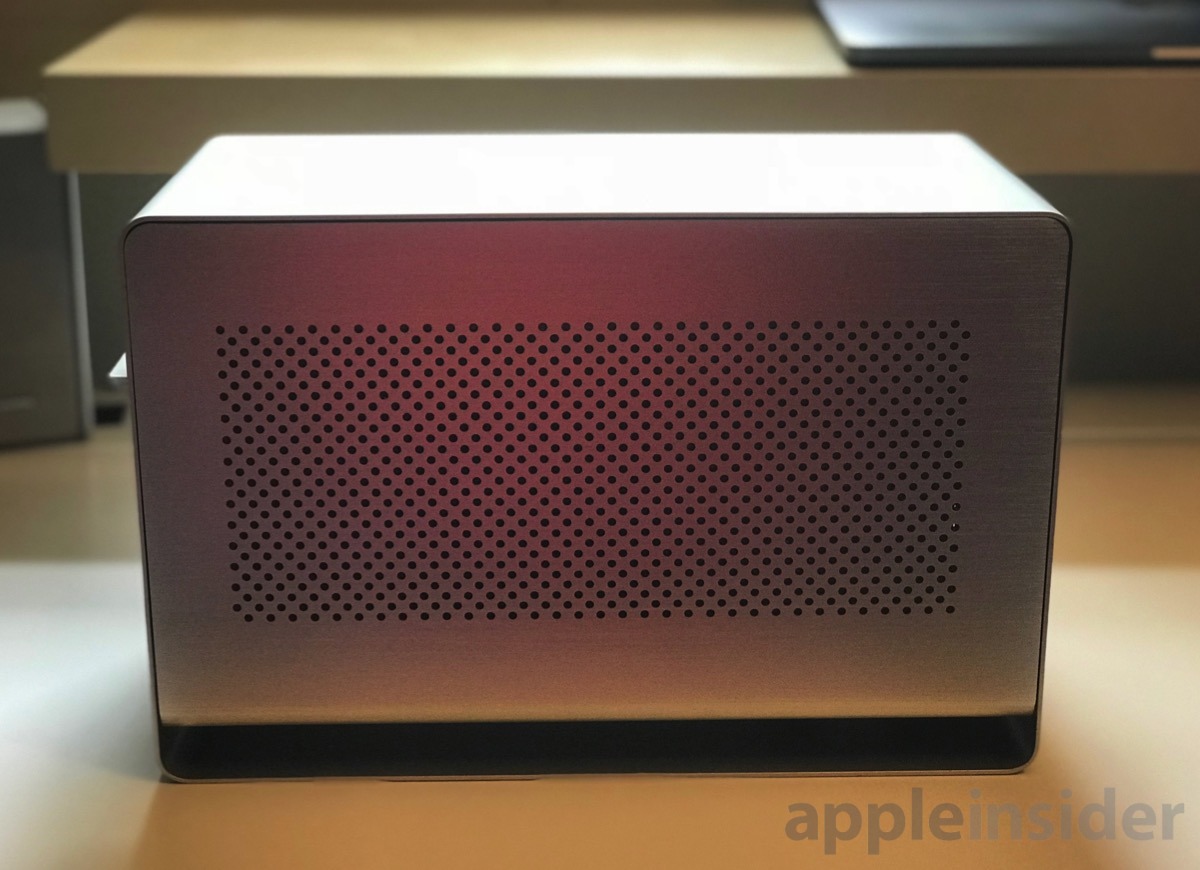 ---
A few of the external GPU solutions are aimed at the gamer crowd — and look like it too. The Mantiz MZ-02 is one of a new generation of enclosures, aimed at boosting graphics performance with the addition of a PCI-E GPU to a Thunderbolt 3-equipped machine and eschewing any stereotypical gamer branding.
The $379 Mantiz MZ-02 eGPU enclosure has five USB 3.0 type A ports, a Gigabit Ethernet port, and a 2.5-inch mounting plate for a SATA drive. It can accommodate PCI-E cards needing up to 375W, and provides a full 87W of charging power back to the connecting computer, assuming it hasn't been adapted to an older version of Thunderbolt.
PCI-E GPU Cards up to 310mm long, 140mm high, and 50mm deep can be installed behind the access door that requires no tools to open at all. But, we found that the measurements are conservative, and give a little room so if you're off by a millimeter here or there, you should still be fine.
The entire eGPU concept is still in infancy with a wide array of teething pains — and a lot of development is still needed for it to be a fully functional member of society.
As with the rest of the eGPU enclosures we've examined, plan on spending $50 for a full-speed longer Thunderbolt 3 cable. Short, 18-inch ones like the one included with the enclosure don't cut it.
It is the most stylish of all of the enclosures we've reviewed, and fits right in to a professional environment. The aluminum enclosure is well fit, and finished precisely.
It does retain fingerprints well, but that's to be expected given the material.
Setup
On macOS Sierra, the installation process still requires disabling of system integrity protection for the relatively lightweight hack to be installed. Using the card in the High Sierra developer's kit, the Radeon RX 580, it works without complaint.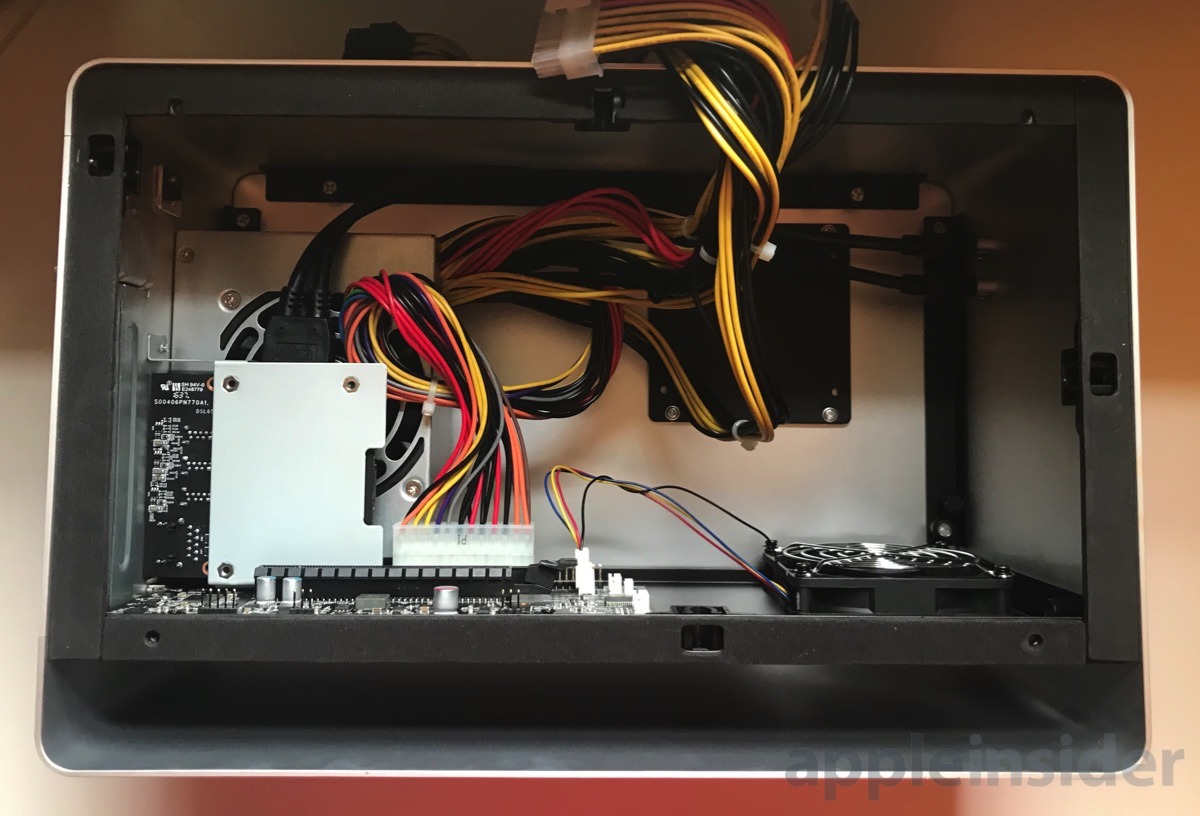 If all you're going to do is game in Windows, then there's no need to install anything in macOS — but this is a bit more complicated with High Sierra, and at this juncture it's not recommended to dual-boot the eGPU with BootCamp.
Out of the box, with no drivers, the USB 3.0 type A ports work, as does the Gigabit Ethernet port on both Sierra and High Sierra.
We've run an assortment of benchmarks, but they're all the same as the rest of the eGPU enclosures we've tested. Expect a bit better performance in Windows because of more mature drivers, if that's your plan.
Not as quiet or as loud as some we've tested
The Mantiz MZ-02 is about in the middle of the pack. Idle under little load at three feet away, the enclosure peaks at 45 dBA. Under full load with the Radeon RX 580, it hits 66 dBA.
For comparison, fully stressed and at the same three feet away., the Sonnet eGFX Breakaway Box in Apple's developer's kit hit 51 dBA at three feet from the case, versus 71 on the Razer Core and 64 dBA on the PowerColor Devil Box. Idle, the Sonnet enclosure is 40 dBA, with the the Devil Box peaking at 44dBA, and the Razer Core maxing out at 49dBA.
A 2016 MacBook Pro under load is about 36dBA and 31dBA idle or under light load.
Practical considerations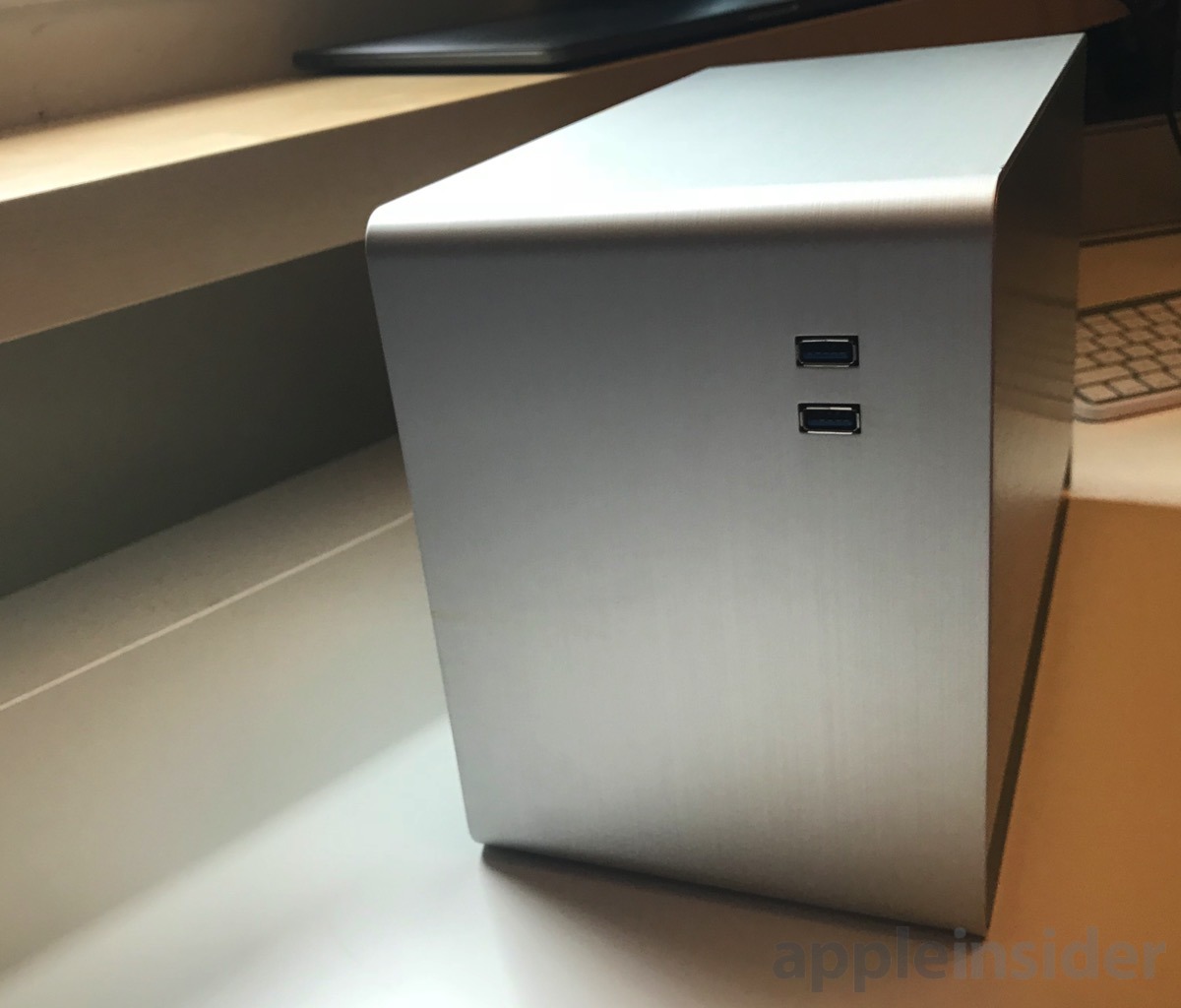 During the course of our testing, we connected the Sonnet eGFX Breakaway Box 350 connected to a Acer CB281HK 4K display by DisplayPort downstream of a series of Thunderbolt 3 docks with a 512GB Crucial BX100 SSD installed in the enclosure and still had no performance issues or bandwidth limitations seen, even when assaulting the enclosure and dock with network and mass storage calls.
Performance dipped a very little bit with a second Acer B286HK 4K display attached to the dock, and even further when we started torturing a SSD installed inside the Mantiz MZ-02.
If this is a use-case you're considering, plug in the 4K display not to a dock in-line with the eGPU, but to the computer directly — all performance hits evaporate on a 15-inch 2016 MacBook Pro.
Older gear, and external GPUs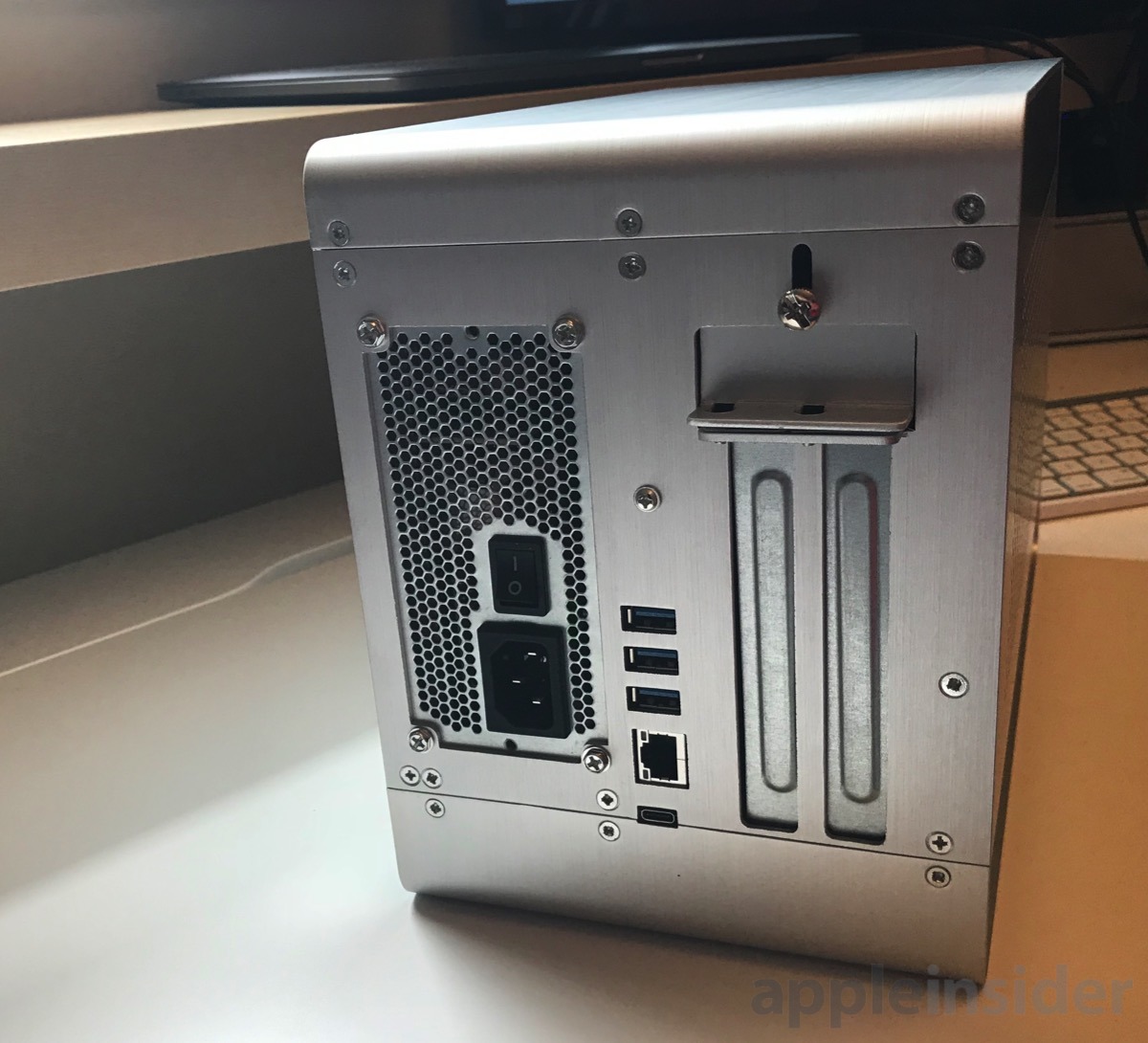 Apple faced a lot of criticism for its CPU and GPU choices in the 2016 MacBook Pro. Many users have elected to stay with their older Retina MacBook Pro models because there isn't a giant difference in real-world performance.
As we've mentioned, using an external GPU through Thunderbolt 3 will assess about a 10 percent penalty to any given card's maximum potential performance-wise. Connecting through Apple's $59 bi-directional Thunderbolt 3 to Thunderbolt 2 adapter, Thunderbolt 2 will chop off about 20 percent, and Thunderbolt 1 will kill nearly 50 percent.
While you can loop back to a MacBook Pro's internal display, we don't recommend it. If you do, that's about another 50 percent, in addition to the overhead from the Thunderbolt connection.
Worthwhile now for performance, maybe even better in High Sierra
It's easy to look at a $389 enclosure plus a video card on top of that, and say that it's not worth the expense. But, if you're in the market for a Thunderbolt 3 dock with full charging power, you're looking at a minimum of $299 anyway, and possibly more.
So, for a premium of $90, you get not only the capability of plugging in an eGPU, but also a bridge to 2.5-inch storage.
We're not sure how the financial equation will shake out, given Intel's stated goal of opening up the licensing in 2018 for Thunderbolt 3. We're also not sure if Apple will keep the open nature of the eGPU concept that it currently uses for testing in High Sierra — but we're not seeing any signs of an "anointed" combination at this moment. Time will tell.
But, if you're slightly daring now, the Mantiz MZ-02 can alleviate many of the concerns with the new 15-inch MacBook Pro, add a bunch of USB type A ports, as well as a 2.5-inch drive for mass-storage. So, for about $700, you can quadruple your GPU performance when at your desk, and still be able to take your main workstation with you.
We've got two ratings right now. The Mantiz MZ-02 itself is a 4.5 out of 5. It is an attractive, professional case that brings a lot of connectivity to Thunderbolt 3 users, not even including all the so-called legacy ports it includes.
Preorders for the enclosure are available at at the Mantiz website. Mantiz has informed AppleInsider that they are planning on shipping in the fourth week of August.
Score: 4.5 out of 5

External GPU technology itself, though is a 2.5 out of 5. It is still in infancy with a wide array of teething pains — and a lot of development is still needed for it to be a fully functional member of society.