Observers stew as Apple leaves Trump's claims on 'opening' Mac Pro factory unchallenged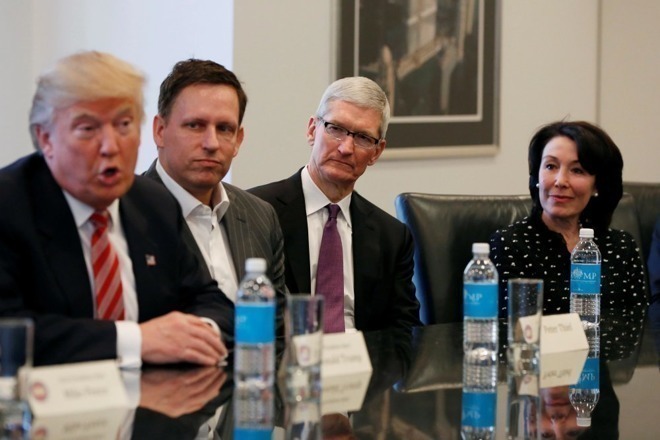 From frequent meetings to "Tim Apple," Apple CEO Tim Cook and President Donald Trump have had a cordial relationship. The events at yesterday's plant in Texas are leading many to ask questions about whether that's still tenable.
Throughout Donald Trump's often tumultuous administration, the president has enjoyed a close, public business relationship with Apple CEO Tim Cook. As some business leaders have fled the president's business councils in reaction to various controversies, while others have found themselves in bitter public feuds with Trump, that hasn't been the case with Cook.
Trump, famously, once referred to Cook as "Tim Apple" following one of those White House meetings, leading Cook, for a time, to change his Twitter display name to Tim, followed by the Apple symbol.
The CEO, who raised funds for Democratic nominee Hillary Clinton in 2016, has on occasion criticized the Trump Administration, most notably concerning immigration policy. But it hasn't ever lead to the president directing Twitter invective at the CEO, the way he has towards Amazon's Jeff Bezos and others.
It would appear that Cook and Apple have made a calculation to cultivate a constructive relationship with the president in order to pursue policy goals, on trade and other issues, advantageous to the company. This strategy has also allowed Apple to avoid the sort of Twitter feuds that keep some CEOs up at night, while also leaving room for Cook to criticize the president when he deems doing so appropriate.
Also, while it may be a correlation more than causation, Apple's stock has more than doubled in value since the day of Trump's inauguration.
However, the events of Wednesday in Texas are starting to make Cook's posture towards Trump look untenable.
Not an Apple plant
History will likely remember November 20, 2019, as the day Ambassador Gordon Sondland testified before the House impeachment inquiry that the president had directed a quid pro quo in regards to Ukraine, and that "everyone was in the loop" in regards to that plan. The president then appeared outside the White House, with a visible piece of paper showing his talking points, including the phrase "I WANT NOTHING," scrawled repeatedly.
But after that White House appearance, Trump flew on Air Force One to an electronics plant near Austin, Tex. And in speaking to the press with Cook by his side, he said several things that weren't true.
"We're seeing the beginning of a very powerful and important plant. Anybody that followed my campaign, I would always talk about Apple — that I want to see Apple building plants in the United States. And that's what's happening," Trump said, according to a White House transcript of his remarks. Trump later addressed the Sondland testimony, and ripped both Congressional Democrats and the press as Cook stood near him.
Later, the president sent a tweet, accompanied by a video from Austin, stating that "today I opened a major Apple Manufacturing plant in Texas that will bring high paying jobs back to America," while also taking a shot at House Speaker Nancy Pelosi.
In another tweet, Trump mentioned he entered a "discussion of a new one $billion campus" and the "startup of the new Mac Pro," which also involved him asking Cook to get Apple involved in developing the 5G cellular infrastructure of the United States. "They have it all - Money, Technology, Vision & Cook!" Trump proclaimed in the message.
The problem? While Mac Pro computers are made there, the plant is not an Apple plant- it's owned by Flex (formerly known as Flextronics), an Apple supplier. Also, the plant is not new — it opened in 2013 — and it did not open as a result of any Trump policies.
In fact, the factory predates his presidency by almost four years.
It's not even the first time Trump has said such a thing — he claimed in a 2017 Wall Street Journal interview that Cook had told him Apple was building "three big plants" in the U.S. No such "big plants" were ever built, and there's little evidence Cook ever made that promise.
Cook, for his part, did not correct Trump on Wednesday, instead taking the occasion of his remarks to thank the president and talk up the new Mac Pro. However, his lack of a correction has been heavily criticized from various quarters.
"A fake campaign ad"
Many commentators had negative things to say about the day's events in Austin, and specifically Cook's lack of reaction or correction to the president's false statements.
"This is completely false," the veteran tech journalist Kara Swisher tweeted Wednesday about Trump's statement on the facility being new. "I get that [Tim Cook] did not correct the Tim Apple thing (pointing out someone being addled is awkward), but this is different. It's a plant run by a company called Flex that has been [manufacturing] since 2013. If Apple is not going to say so, I will."
Swisher added that while she understands the need for tech executives to meet with the president, "being part of what will doubtlessly be a fake campaign ad is just unfortunate and disappointing for Apple." Swisher also addressed the matter in a CNBC appearance Thursday.
"Cook did not interrupt during Trump's rapid-fire series of insults, boasts and false claims," CNN factchecker Daniel Dale tweeted. The Associated Press fact-check column agreed, stating that nothing said at the event "equates to Trump's false claim to have opened an Apple plant Wednesday."
"Hey [Tim Cook], if you despise polarization, then don't participate in campaign events like today's, and especially don't go along with lies like Trump pretending that the long-running Flextronics factory toured today is a new Apple facility," tech entrepreneur Anil Dash tweeted. "Don't be party to lies & propaganda."
"I say this as a silly Apple fan and as a shareholder: it's mortifying that Cook plays along with being used like this and it needs to stop," Scott Schuhart, an activist, tweeted.
What will Tim do?
Tim Cook has not responded to the controversy, and in doing so, his options are now limited.
He could say nothing and wait for it to blow over. He could tweet something or issue a statement acknowledging Flex, and their work making Mac Pro computers at that facility since 2013, or address the situation with humor. Or, Cook could radically change his overall posture when it comes to dealing with Trump and his administration.
It likely wouldn't be Cook's style to go scorched-earth against the president, or even to significantly change a strategy that, despite some embarrassments, has been mostly good for Apple. What appears most likely is that Cook will continue to try to keep up a good relationship with the Administration, while also doing what he can to avoid events with embarrassing optics like the one in Austin.
Editor's Note: Due to its political nature, comments for this article have been disabled.