President Trump to dine with Tim Cook, says Apple spending 'vast sums of money' in US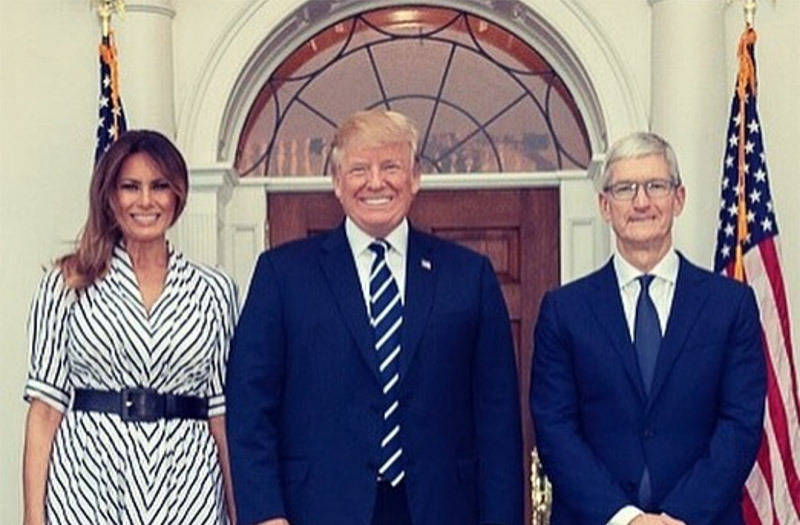 AppleInsider is supported by its audience and may earn commission as an Amazon Associate and affiliate partner on qualifying purchases. These affiliate partnerships do not influence our editorial content.
President Donald Trump in a tweet on Friday said he plans to have dinner with Apple CEO Tim Cook. The pair have met on multiple occasions to discuss topics ranging business to human rights.
Trump took the opportunity to note Apple's recent announcement regarding job creation in the U.S., saying the company is infusing "vast sums of money" into the country's economy.
"Having dinner tonight with Tim Cook of Apple. They will be spending vast sums of money in the U.S. Great! " Trump said in a tweet.
Apple on Thursday issued a press release touting the creation of 2.4 million jobs across the country, up four fold from 2011. The number includes company employees and staff working at contractor facilities. App developers make up a majority of the claimed job creation, with Apple estimating some 1.9 million people are currently coding apps for iOS and the company's other operating systems.
Referencing supply contracts, Apple said it contributed $60 billion to the U.S. economy in 2018, adding that it is on track to hit a previously stated goal of $350 billion in investments by 2023.
Trump did not reveal what the pair will discuss during the dinner on Friday, though Apple's current and future plans for American manufacturing are sure to come up.
The summer dinner is becoming something of a tradition for the pair, as Cook dined with Trump in New Jersey last August. At the time, Trump trumpeted Apple's contributions to the economy, saying Cook "is investing big dollars in U.S.A."
Trump also held a closed-door meeting with Cook in April 2018, nearly two months after the tech CEO lobbied for coding in education at a White House American Workforce Policy Advisory Board session. It was at the March conference that Trump infamously called Cook "Tim Apple" in an apparent gaffe.
Unlike fellow tech industry executives who distance themselves from the Trump administration, Cook has been more than willing to engage the White House and, more importantly, the president himself. A report in March delved into Cook's lobbying efforts, saying the overtures helped Apple initially avoid fallout from the ongoing trade war with China.
Most recently, however, Trump imposed another round of tariffs that, while sparing major products like iPhone and Mac, impacts AirPods, Apple Watch and HomePod.