AirPods, Apple Watch, HomePod not getting tariff reprieve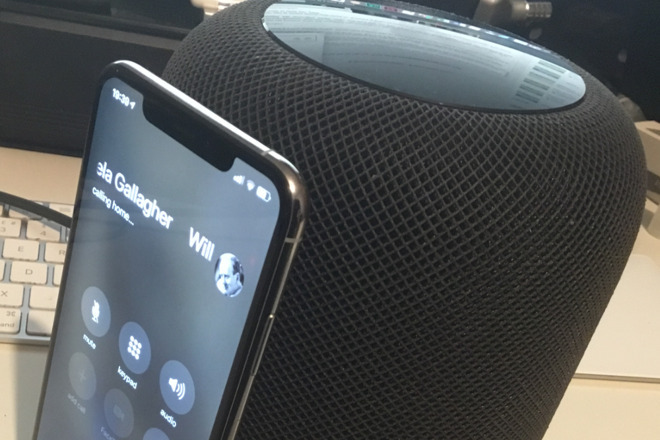 While the Mac, iPhone, and iPad will escape the September 1 application of a 10% tariff, Apple's "Wearables, Home and Accessories" division will not.
Following a morning declaration of an alteration of the tariff schedule, the United States Trade Representative (USTR) has published its list of what will be impacted and what won't. While the iPhone and Apple's stable of computing devices won't be levied come September 1, Apple's breakout AirPods, Beats headphones, and HomePod aren't spared, nor is the Apple Watch.
All of the devices that will be hit on Sept. 1 are contained within Apple's "Wearables, Home and Accessories" business segment.
Specifically, from a broader business segment perspective, the USTR is applying the tariffs to fitness trackers, smart speakers, Bluetooth headphones, smart watches, and similar devices. No vendors are spared, and Apple has no specific carve-out by the administration.
The Office of the United States Trade Representative negotiates directly with foreign governments to create trade agreements, to resolve disputes, and to participate in global trade policy organizations. The group also solicits comments and meets with governments, business groups, legislators, and with public interest groups to gather input on trade issues and to discuss the President's trade policy positions.
Earlier on Tuesday, The USTR said in a brief statement on Tuesday that "Certain products are being removed from the tariff list based on health, safety, national security and other factors and will not face additional tariffs of 10 percent." Specifically named at the time as escaping the September 1 tariffs were cell phones, laptop computers, video game consoles, certain toys, and computer monitors.
As of 1:45 P.M. Eastern Time, Apple stock has not been significantly impacted by the segment getting hit by the tariffs. Following the news of a tariff reprieve until Dec. 15, Apple stock rose nearly $10 instantaneously, and has slid about $1 since.
With a wide smartphone industry slowdown in full swing, Apple is relying more on other segments of its business to make up any revenue shortfall. Sales from Apple's "Wearables, Home and Accessories" segment jumped substantially year-over-year in the June quarter to $5.53 billion, up from $3.73 billion in the year-ago quarter.
In the conference call following the quarterly earnings, Apple CEO Tim Cook touted record-breaking Apple Watch adoption and noted that over the last four quarters, the overall wearables business is bigger than 60% of companies in the Fortune 500. Apple's wearables category as a whole enjoyed a 50% growth rate from 2018, fueled in large part by new AirPods, the wireless charging case, and new users.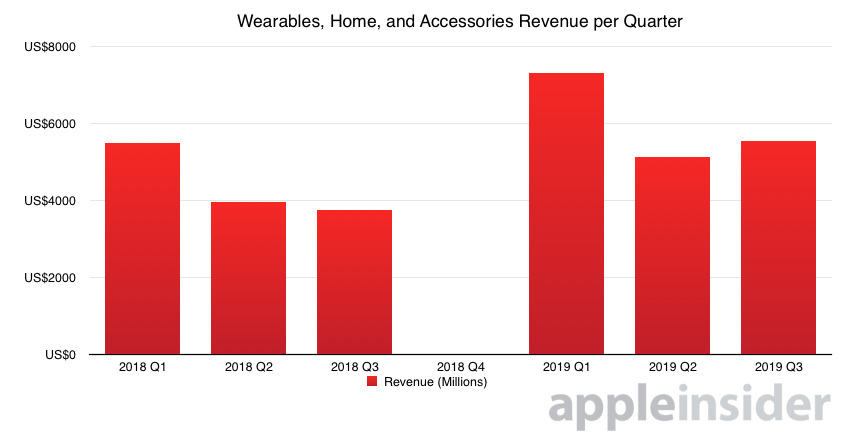 Apple claimed $53.8 billion in overall revenue during its third fiscal quarter, up 1% year-over-year despite iPhone sale revenue lower than the year-ago quarter. Aside from wearables, the company was also helped by higher Mac, iPad, and services income — all not subject to tariff application on Sept. 1.
Apple's rumored AR headset is expected to be in the wearables category as well. That could ship as soon as 2020, though some rumors have claimed 2021 or later. At present, assuming nothing else changes, it would also be subject to the 10% import tariffs.
Companies impacted by these tariffs, including Wal-mart, have historically increased good pricing at retail to offset the impact. Apple analyst Ming-Chi Kuo believes that Apple will choose to absorb any tariffs to prevent a price hike for the consumer — but it isn't clear how he has come to that conclusion.