Review: Apple's iPhone 11 Smart Battery Case caters to shutterbugs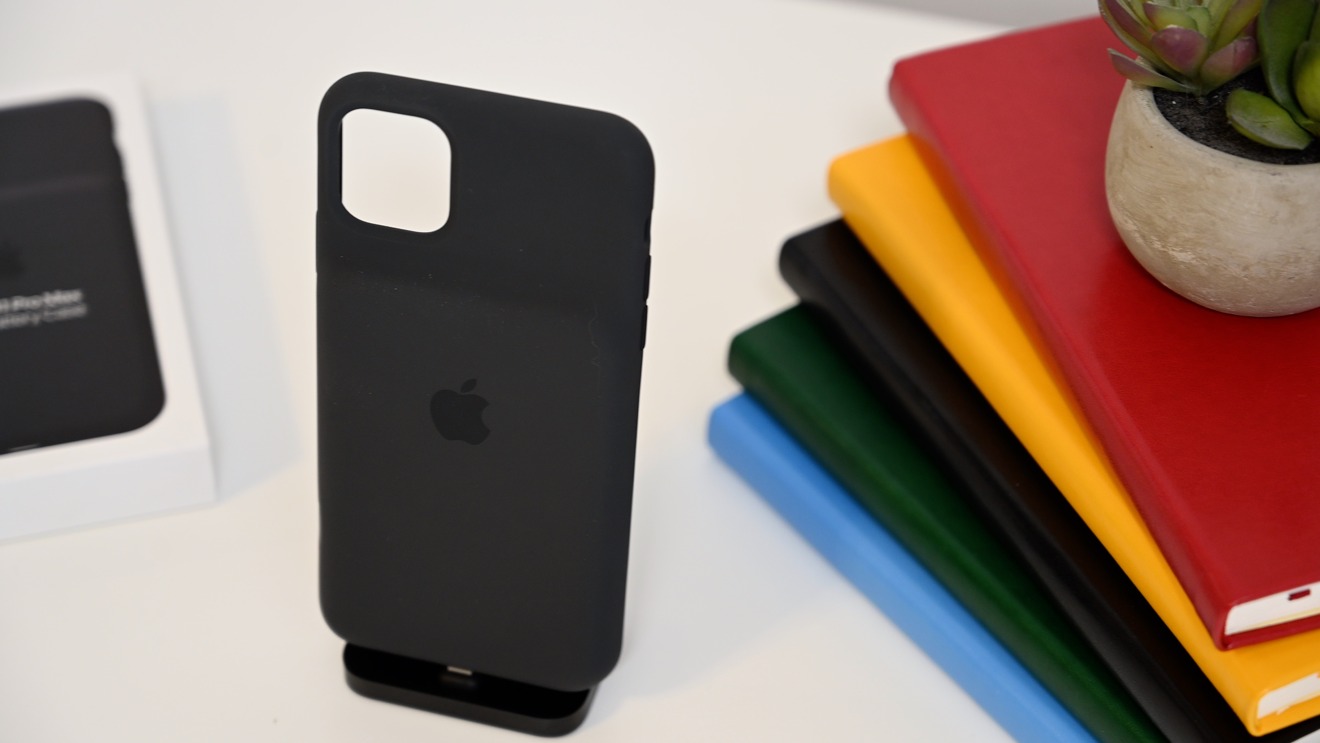 AppleInsider is supported by its audience and may earn commission as an Amazon Associate and affiliate partner on qualifying purchases. These affiliate partnerships do not influence our editorial content.
Apple has dropped its annual update to the Smart Battery Case to support the latest crop of iPhones, but this time it wasn't just the camera cutout that changed — Apple also integrated a hardware shutter button.
More battery life for your iPhone
Made from the elastomer as Apple's silicone case, the Smart Battery Case has a soft, but grippy external texture. The inside is lined with microfiber to coddle your iPhone and prevent scratches and soften inadvertent drops.
To adorn the case, the top, flexible portion bends backward where the iPhone can be slid into place into the hardened lower portion. At the bottom of the case is a Lightning connector that fits perfectly into the bottom of the iPhone.
This differs from some third-party battery cases such as that from Mophie that connects to your iPhone wirelessly rather than through the Lightning connector.
This is a large differentiator that many don't realize. When a case such as the Mophie Access is turned on and starts to charge the phone, the phone thinks it is connected to stable, wall power and not a mobile case. That causes more power-intensive tasks to kick in.
With Apple developing the case, phone, and software, it is able to properly optimize all three to get the most battery life possible. When the case is connected, the phone understands that it is a battery case and not wall power so it holds off on power-intensive tasks.
That's why Apple is able to get a good amount of battery life out of such a compact case. Apple says users should expect up to 50% longer battery life when using the Smart Battery Case with their iPhone 11, iPhone 11 Pro, or iPhone 11 Pro Max. That's excellent considering the already stellar battery life the iPhone 11 line achieves.
There have been a few battery cases in the past that connected over Lightning instead of just wirelessly charging the phone, but in doing so they prevent any data from working over the port due to strict MFi restrictions. Apple doesn't have these hurdles and allows you to use the Lightning port as normal — including utilizing CarPlay or Lightning headphones.
Of course, the case can also be charged wirelessly on a Qi charging pad or fast-charged with a USB-C to Lightning cable. Battery life can be ascertained any time charging commences, or by heading into the Battery widget of Notification Center. Or, ask Siri.
New functionality
What is most notable this time around, is Apple has also added a new dedicated hardware camera button. This new button will not only launch the camera app whenever pressed but also acts as a shutter button.
In our testing, it is quite a bit faster than waking the phone and using Haptic Touch (or a swipe) to enable the camera. Precious moments saved could be crucial to catching your precious moment.
The button is well-positioned so that when the phone is held horizontally with the cameras on the top, the shutter button is just below your right index finger — as it would be on a traditional point-and-shoot camera.
Should you buy it?
This year, iPhones have the longest rated battery lives to date. This makes the prospect of a dedicated battery case a tougher sell than in years past.
That's why Apple needed to go further with the addition of the camera button. To some, it may come off as a non-consequential addition, but for many — likely the same ones who saw the camera on the iPhone 11 line as a worthwhile reason to upgrade — it will be a well-received update.
If you find yourself regularly needing additional battery life to make it through the day or through a weekend, Apple's own Smart Battery Case is the best available.
Well-optimized battery and software
Up to an additional 50% battery life
Durable design
Dedicated camera button
Strong iOS integration
Full Lightning port access
Expensive
Silicone is the only exterior material option
Limited colorways
Rating: 4 out of 5
Where to buy
You can grab the new Apple Smart Battery Case for the iPhone 11, iPhone 11 Pro, and iPhone 11 Pro Max now from B&H Photo in pink sand, black, or white.