T-Mobile 5G service launches across US, minus high-speed mmWave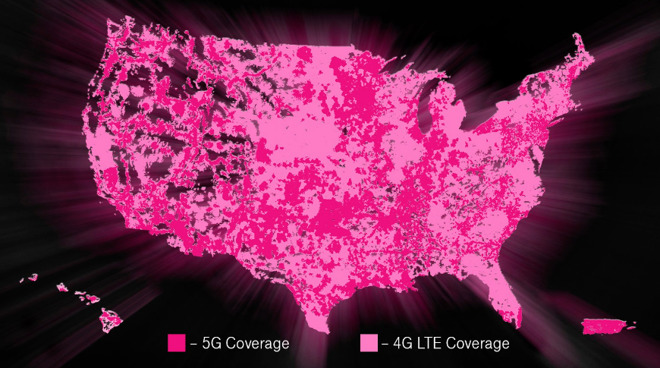 AppleInsider may earn an affiliate commission on purchases made through links on our site.
T-Mobile launched its nationwide 5G network on Monday, one that covers more than 200 million people across the United States. But, customers expecting high-speed connections may be disappointed by the promotion of the carrier's 600MHz spectrum and nearly no mmWave rollout.
Announced with a press release on Monday, T-Mobile declared it has launched the "first nationwide 5G network" in the United States, with its signal providing service in more than 5,000 cities and towns, and more than 1 million square miles. It claims the network covers more than 60% of the population, with an emphasis on providing coverage in rural locations.
The carrier also takes time to call out its competitors, including Verizon and AT&T, with the former said to have enabled its 5G network to work in "parts of outdoor areas of 18 cities and in a few stadiums," while the latter's apparently works only for businesses in 21 cities and for consumers in "parts of 5 cities later this year." There is also mention of how Verizon's 5G networks are blocked by "walls, windows, and leaves," while T-Mobile's works through walls.
Further attacks are made on cost, with T-Mobile offering 5G access at the same cost as LTE, while simultaneously pointing out Verizon requires a monthly fee on top or the use of an expensive price plan, while AT&T makes it available in the most expensive plans.
At the same time, T-Mobile has announced it has started taking preorders for the Samsung Galaxy Note 10 5G and the OnePlus 7T Pro 5G McLaren, shipping December 6. The carrier is also launching its first prepaid 5G service on December 6 under the Metro brand.
T-Mobile's network is only part of the 5G package
While this does try to paint T-Mobile in a favorable light and working for regular users instead of richer customers who can afford the more expensive plans, the carrier is disingenuous with its marketing.
What is known as 5G is actually the use of two different types of connections — standard 5G and mmWave. While the first is relatively similar to 4G LTE in terms of robustness and reach, it is also quite similar in terms of speed, with relatively little boosts in connectivity anticipated.
By contrast, mmWave is the higher-frequency bands above 6GHz, which offer potential gigabit speeds to users. However, mmWave cannot travel as far and can be easily interfered with by a wide assortment of materials, with carriers so far electing to use the technology in cities and other high population density locations. The mmWave network is what T-Mobile is addressing in Verizon's 5G implementation in regards to lack of penetration.
T-Mobile's network functions on 600MHz bands, which it claims it has reserved for 5G only, with its network to be enhanced with Sprint's 2.5GHz spectrum once the merger of the two carriers closes. This all relates to the lower-frequency and robust 5G connection, not the high-speed mmWave.
The attacks on the other carriers for limited deployments of their own 5G networks is effectively comparing T-Mobile's 5G network against mmWave. The other carriers are also anticipated to roll out general 5G coverage across the United States in the future, which will bring them in line with T-Mobile.
T-Mobile has been working on mmWave — but is not rolling it out to a wide audience at this time. It has made similar small-scale deployments of the technology as the other carriers have over the last year.
Apple is currently anticipated to ship 5G-enabled iPhones in fall 2020, though recent analyst speculation suggests that while 5G will be offered across the board, mmWave support may only be available on a few of the new models, not all of the handsets.