Comparing Apple's 2019 16-inch MacBook Pro versus the 17-inch MacBook Pro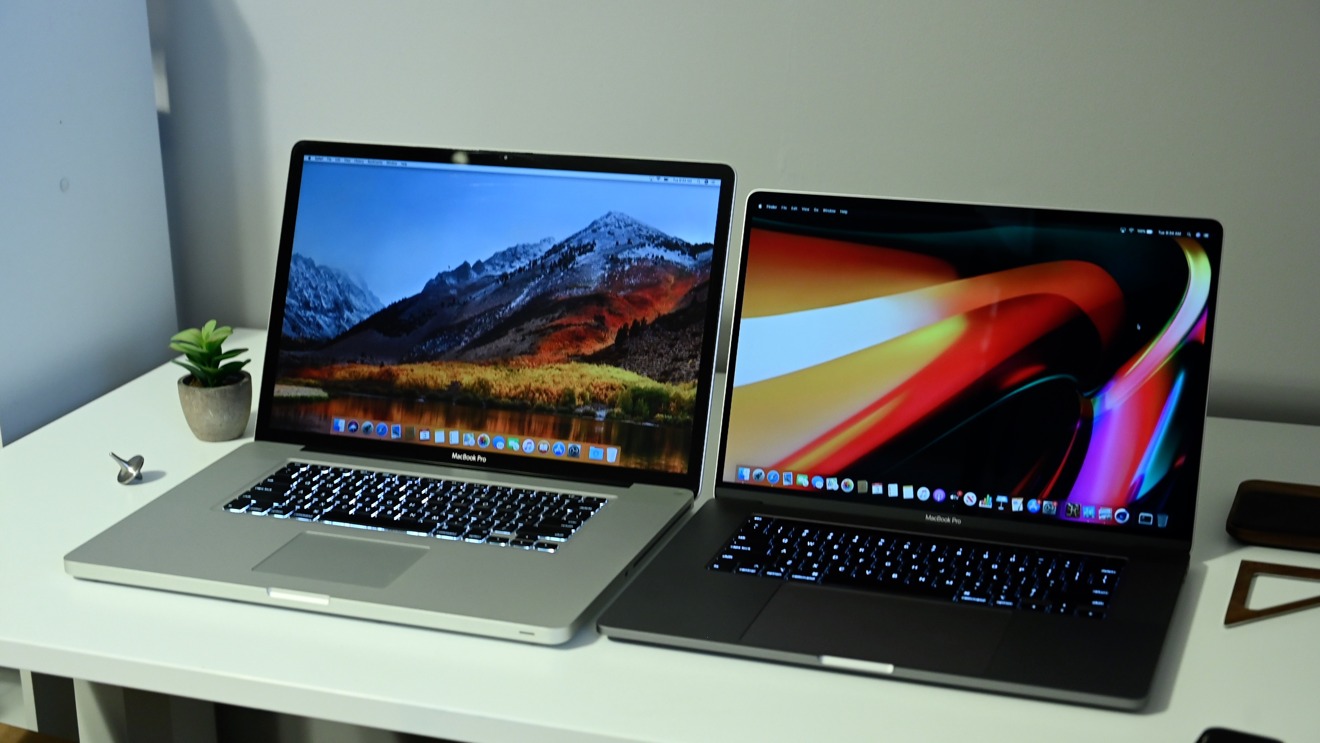 Apple has loudly championed the new 16-inch MacBook Pro, but a decade ago it had a similar machine in the 17-inch MacBook Pro. Here's how the two compare.
The now-discontinued, yet still much beloved, 17-inch MacBook Pro was last updated in late 2011 and was discontinued by mid 2012. Eight years have passed, with all that entails technologically, between the end of the 17-inch MacBook Pro availability and the launch of the 16-inch MacBook Pro.
While these machines aren't even remotely comparable in terms of performance or data transfer speeds today, it is still interesting to see how these two, large, portable Macs compare.
The extinct 17-inch MacBook Pro
The last time we saw Apple's 17-inch MacBook Pro, it weighed over 6.5 pounds and measured in at almost an inch thick, 10.5 inches wide, and almost 15.5 inches tall.
There was still the MagSafe power port, Gigabit Ethernet, FireWire 800, three USB 2.0 ports, a first-generation Thunderbolt port, audio line-in and audio line out, an ExpressCard/34 slot and finally a Kensington lock slot.
It was also outfitted with Bluetooth 2.1, stereo speakers with subs, a single omnidirectional mic located under the left speaker, and had a resolution of 1920 by 1200.
Back then, it could be configured with an optical drive, and a 750GB 7200RPM hard drive or a 512GB 2.5-inch SSD.
The 17-inch MacBook Pro had an optical SuperDrive for physical media and could go up to 7 hours on the built-in battery — but in reality, a bit less. And, that 17-inch MacBook Pro had user upgradeability — users can and did replace the optical drive with another 2.5-inch drive.
The new 16-inch MacBook Pro
Conversely, Apple has just released the 16-inch MacBook Pro, replacing the 15-inch model in the lineup, and splitting the difference between that and the 17-inch screen size.
The 16-inch MacBook Pro weighs less than 4.5 pounds, is only .64 inches thick, 14 inches wide, and just over 9.5 inches tall when opened.
Apple has, of course, transitioned to USB-C power delivery in place of MagSafe for charging. Charging can be done through any of the four Thunderbolt 3 ports that are equally distributed on the left and right sides.
Though many ports have disappeared over the years, the headphone jack is still available on the new 16-inch MacBook Pro.
The new MacBook Pro is setup with Bluetooth 5, a six-speaker sound system with dual force-canceling woofers and support for Dolby Atmos as well as a studio-quality three-mic array. The resolution is a massive 3072 by 1920.
During the ordering process through Apple, buyers can include up to an 8TB SSD — which are about seven times faster than the best speed that SATA SSDs delivered in 2011 — and work for up to 11 hours with the new, higher-capacity battery.
There are also Apple's latest new features incorporated into the 16-inch MacBook Pro, such as Touch ID, the T2 chip, the divisive Touch Bar, the updated keyboard with physical escape key, and of course macOS Catalina.
16-inch MacBook Pro versus 17-inch MacBook Pro performance
In performance, the late-2011 machine with a four-core 2.5GHz i7 earned 723 single-core and 2658 multi-core scores. Those are vastly eclipsed by the 1128 and 5641 that the 16-inch MacBook Pro outfitted with the 2.4GHz i9 processor earned on Geekbench 5.
When using both machines, the keyboard is distinctly different. The 17-inch MacBook Pro utilizes a scissor-switch design but the keys are far thicker and have more travel than they do on the 16-inch MacBook Pro. As a reminder, the keyboard on the 17-inch MacBook Pro isn't even the keyboard that Apple used on the 2012 Retina MacBook Pro, and is far clunkier.
For us, what that meant was that the 17-inch keyboard felt slower to type on and occasionally would trip our fingers as we traveled between keys. This is, of course, a muscle training issue at this point, as we've grown accustomed to the new keyboard, and the one introduced on the 2012 Retina MacBook Pro.
For pros, there is also a use discrepancy in external data transfer speeds. The 17-inch still relies on USB 2.0 at up to 480Mbps while the new MacBook Pro supports USB 3.2 type C speeds of up to 10Gbps. Original Thunderbolt on the 17-inch was capable of two channels of data transfer at up to 10Gbps per channel — but realistically, only the one. The new 16-inch MacBook Pro with Thunderbolt 3 supports transfers up to 40Gbps.
The new 16-inch MacBook Pro supports up to four 4096 by 2304 monitors or two 6016 by 3384 monitors at the same time as the internal display. The 17-inch MacBook Pro can only support a single 2560 by 1600 display.
And, the price. While a 17-inch MacBook Pro can be had relatively inexpensively these days, at the 2011 discontinuation of the model, it retailed for $2499 — the equivalent of about $2850 today. That same $2499 price has been retained in the 16-inch MacBook Pro.
Clearly, these two have a vast chasm separating the two when it comes to performance, but this was never about seeing if the new 16-inch MacBook Pro was as powerful as the long-gone 17-inch. It is curious to see how Apple's design has — and hasn't — changed over the years and how much more they can pack into a compact body.
Snag yours
Apple's 17-inch MacBook Pro is — obviously — no longer available to order. But, you can currently get several great deals on the new 16-inch machine.
Expercom is knocking up to $438 off select new configurations with coupon code appleinsider, while Adorama is taking up to $300 off every model with promo code APINSIDER (prices start at just $2,199 with code). Details can be found in our 16-inch MacBook Pro Price Guide.
Meanwhile, at B&H, shoppers can save up to $250 on select systems, with the option of no interest financing when paid in full within 12 months with the B&H Financing Card or a sales tax refund in eligible states with its Payboo Credit Card. The latter can save many shoppers anywhere from $200 to $500 on average.
Those looking for the steepest discounts on earlier generations of Apple products can find deals at eBay and even at buyback providers, such as Gazelle.
Be sure to check out the AppleInsider Apple Price Guide for the latest deals and product availability on Apple hardware and accessories.