A maxed-out Mac Pro will cost you $53,000 — without display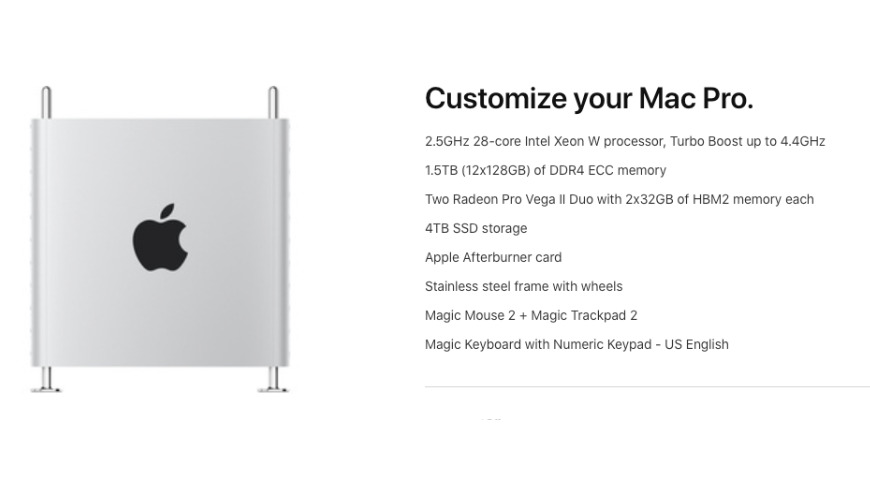 Apple has still to release certain higher-storage and graphics options, but on pre-order day, the maximum specification 2019 Mac Pro you can buy costs $52,748. Without the screen, or the separate stands for that display. But you can get cash back if you buy with Apple Card.
If you do this, you also guarantee that you won't get the 2019 Mac Pro until January 28, 2020.
What you'll get then, though, is a 2.5GHz 28-core Intel Xeon W processor, up from the base model's 3.5Ghz 8-Core one. That alone costs adds $7,000 to the price.
RAM can be upgraded from a comparatively miserly 32GB up to 1.5TB for just $25,000 extra. The RAM is DDR4 EEC in all cases, all configurations, but the 1.5TB option comes as a dozen 128GB modules.
This is one of the more complex Build to Order pages Apple has, however, as certain options are only available in combination with each other. If you do want 1.5TB of RAM, you have to either the 24- or 28-core processor.
There are currently four SSD storage options, ranging from the base 256GB to 4TB for what almost seems a reasonable $1,400. The promised 8TB version is not yet available and no pricing is listed.
Similarly, there are two further graphics card configurations listed as "coming soon." Those are a single Radeon Pro W5700X with 16GB of GDDR6 memory or a pair of them. Again, no pricing is available yet.
However, the current highest-specification graphics configuration you can order is a pair of Radeon Pro Vega II Duo with 2x32GB of HBM2 memory each. That adds $10,800 to the base price.
If you're buying a top-end graphics processor, you're going to also want Apple's Afterburner, which sees another $2,000 on the bill. To get that Afterburner, you might be able to save a little on the frame, which sees the set of four wheels coming at an extra cost of $400.
The maximum Build to Order specification does also include your getting both a Magic Mouse 2 and a Magic Trackpad 2 where you could elect to get just one or the other. But that would only save you $149.00 off the total price.
However, Apple is offering 6% Daily Cash Back if you order before December 31 and pay with Apple Card. That amounts to $3,164.88. Alternatively, you could use that Cash Back and buy a well-equipped 16-inch MacBook Pro too.