Apple, Ellen DeGeneres outfit D.C. school with new Macs, every student gets an iPad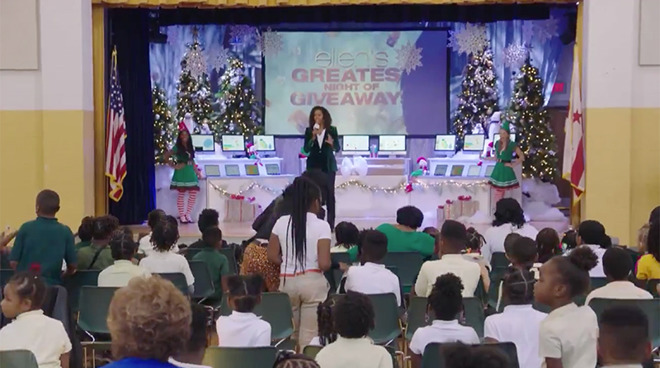 AppleInsider may earn an affiliate commission on purchases made through links on our site.
Continuing corporate efforts to support at-risk youth, Apple this week joined forces with talk show host Ellen DeGeneres and former first lady Michelle Obama to hand out new Macs and iPads to students and teachers at Randle Highlands Elementary School in Washington, D.C.
Part of Degeneres' "Ellen's Greatest Night of Giveaways," Apple's contribution included communal iMac desktops and iPads with Logitech Crayons, MacBooks for teachers and an iPad for every current student.
Obama visited Randle on Tuesday, where Principle Kristie Edwards offered a campus tour and detailed the school's needs. Located in what is considered one of the roughest neighborhoods of D.C., 65% of Randle's student body are either in foster care or homeless, Edwards said. According to demographics provided on the Randle Elementary website, all students in attendance are considered economically disadvantaged.
While the grounds are clean and classrooms well kept, Randle, like many other schools in the U.S., is unable to equip its students with the latest in learning technology. With only a handful of laptops and PCs, Randle's computer lab is small and students are forced to work in groups due to an obvious lack of equipment. Many teachers reportedly dip into their own pockets to buy tools and other items not furnished by the District of Columbia Public Schools system.
It was at the computer lab that Obama surprised Edwards and a group of children with $100,000 in cash, a gift from DeGeneres to cover institutional expenses.
Later in the day, students gathered for an impromptu assembly where Obama announced Randle would receive a new basketball court and a massive update to its computer lab, which will soon be full of Apple products.
Channeling late Apple co-founder Steve Jobs, Obama announced "one more thing," saying, "This one is for the students. We want to make sure you all can learn and explore on your own, too. So we're giving the school enough iPads for every single one of you students."
Youngsters dressed as elves carted in wagons full of brand new iPads, handing them out to outreached arms and smiling faces.
"I am so grateful to @MichelleObama and Apple for what they did at this school. Wow. Wow. Wow," DeGeneres tweeted.
"Every child deserves the opportunity to create something that can change the world. Proud to join @MichelleObama and @TheEllenShow in empowering our next generation!" Cook said.