Hands on: Apple Pro Display XDR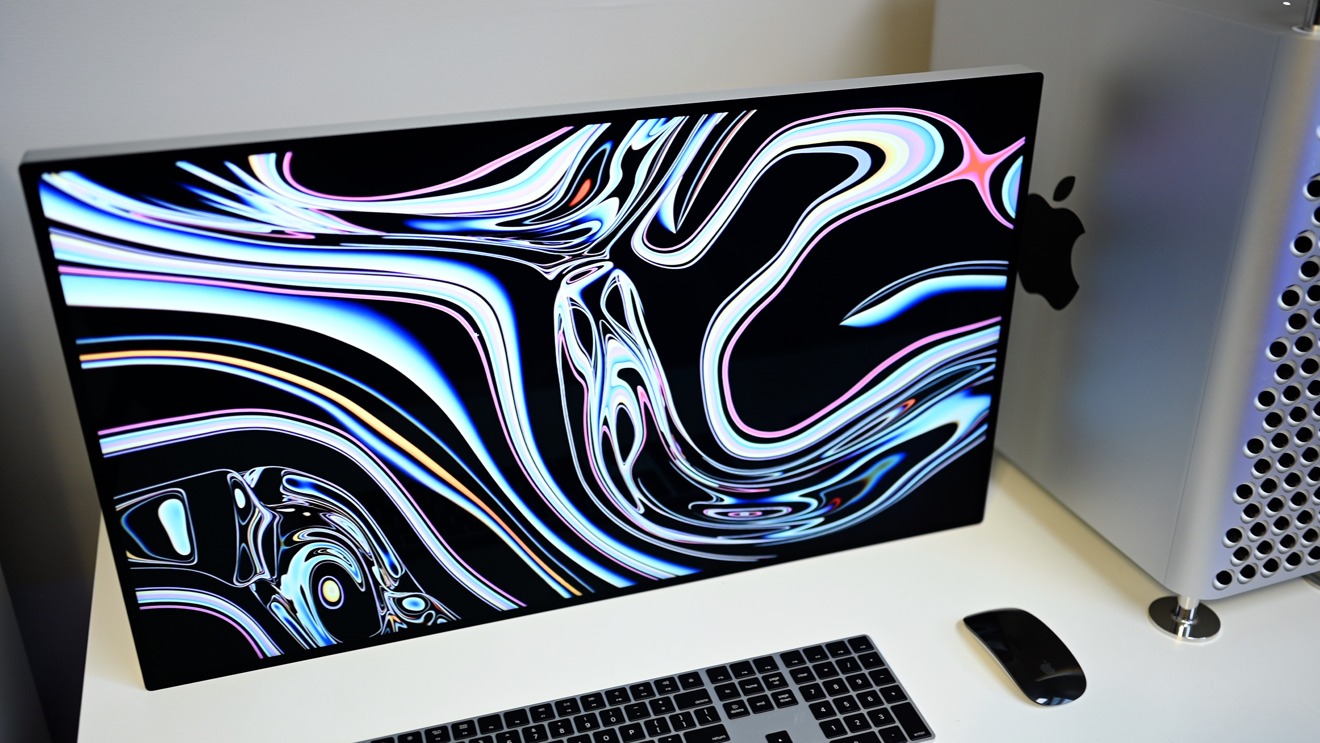 We finally have our hands on Apple's new Pro Display XDR, the company's first branded monitor since the cancellation of Thunderbolt Display in 2016. Follow along as we run through the pro-level display's design and features.
Apple's new pro-oriented display comes in at 32 inches when measured on the diagonal and sports a 6K resolution of 6,016-by-3,384 pixels for a pixel density of 218 PPI.
Unboxing and setup
The display arrives in a large — yet thin — cardboard box. Opening the box, which boasts an unusual linen-like texture, reveals the display centered above a small box of peripherals.
Included is Apple's signature polishing cloth, a power cable, and a Thunderbolt 3 cable. Both the Thunderbolt 3 cable and the power cable are black and wrapped in nylon, similar to the braided nylon USB-C to Lightning cable included with the Mac Pro itself. It's disappointing Apple doesn't sell this premium Thunderbolt 3 cable as a standalone product.
Moving on to the display itself, after removing both the soft paper shell and adhesive screen protector, we finally get a good look at the Pro Display XDR.
In-person, it feels much thinner than we had originally expected, but it is a very solid-feeling block. There are no curved or beveled edges other than the slightly rounded corners. The back is etched with the same 3D lattice pattern found on the Mac Pro.
This lattice effect is not only eye-catching, but serves a functional aspect as well. With so many openings, it allows maximum airflow for all the components needed to power such a bright and pixel-dense display.
Also on the back is a single Thunderbolt 3 port, as well as a trio of USB-C ports for connecting additional peripherals.
To use the display, simply connect the Thunderbolt 3 cable to both the monitor and your Mac Pro (or other compatible machine).
There is no configuration or setup necessary and it works in both portrait and landscape orientations. As a nice touch, the display automatically detects when it changes orientations and adjusts your resolution to match.
A phenomenal-looking display
Without going into all the specs, the new Pro Display XDR is a very impressive display. With its 6K resolution, it has a maximum sustained brightness of 1000 nits though it can top out at 1600 nits to support HDR content.
Speaking of HDR content, the Pro Display XDR can handle HDR10, Dolby Vision and HLG playback. We watched a few Dolby Vision videos on the Mac Pro and can say whether you are watching or creating high dynamic range content, you will be happy.
The display was exceptionally bright and even with our glossy model did an excellent job of reducing glare. If you prefer a glare-free option, Apple does sell a nano-etched model for an extra $1,000.
Apple's new Pro Display XDR is available to order now for $4,999. The nano-etched version clocks in at $5,999 and if you want Apple's Pro Display stand that is an extra $999 at checkout.