App Store dominates Google Play on Christmas Day app sales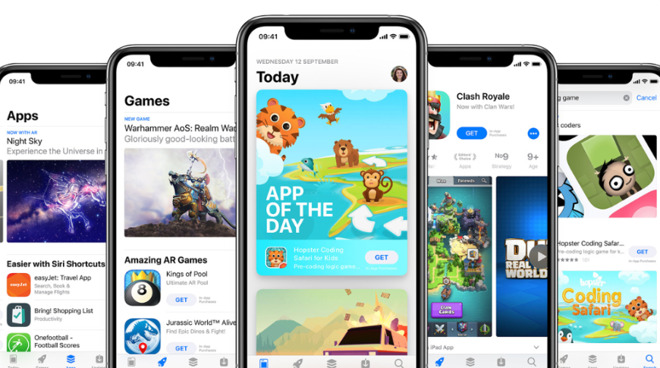 AppleInsider may earn an affiliate commission on purchases made through links on our site.
Apple's App Store enjoyed a bumper holiday season, with iPhone and iPad users spending more on Christmas 2019 than in 2018 by 16%, a rise that has also helped boost global app spending across all of December over the previous year.
Consumers are continuing to spend considerably high amounts in the iOS App Store and Google Play during Christmas, with Sensor Tower estimating there was $277 million spent on Christmas Day 2019 alone. The figure is a year-on-year increase of 11.3% from the same day in 2018.
It is believed consumer spending in apps and mobile gaming on Christmas Day accounts for 5% of revenue for the stores in the month of December. In total, December sales reached almost $5.1 billion, an 8% increase from the $4.7 billion spent in December 2018.
Sales are thought to be due to mobile devices being given as gifts, with first-time mobile users and consumers who've received cash and gift cards eager to spend money on their new hardware.
On a per-store basis, the App Store continues to account for the vast majority of revenue, bringing in approximately $193 million on Christmas Day itself. Compared to 2018, the day's spend represents year-on-year growth of about 16%.
Apple's revenue accounts for around 70% of the total spend across both platforms, with the Google Play store achieving $84 million. With the Android marketplace seeing smaller growth of 2.7%, this makes Apple's App Store the driving force for app revenue on that day alone.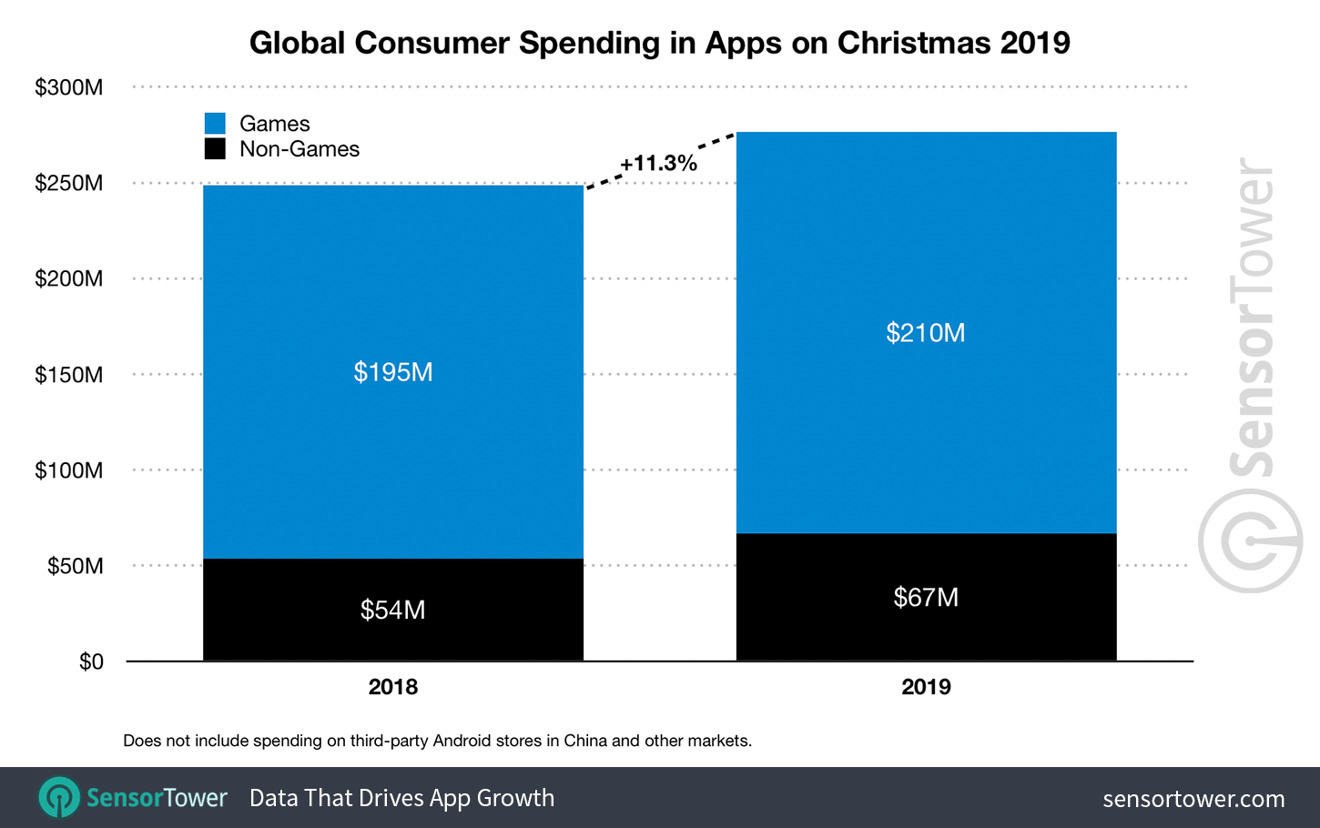 This is a continuation from earlier in the year, where one Sensor Tower report from July revealed the App Store made nearly 1.8 times the revenue of the Google Play Store over the first half of 2019.
Gaming is still the biggest category with regard to revenue, with it accounting for 76% or $210 million of revenue across both stores on Christmas Day alone, up 8% year-on-year. Non-game apps made up $67 million in sales, gaining 2% in terms of share over the year before, and with a year-on-year growth in revenue of 24%.
Of these non-gaming apps, entertainment services providing video-on-demand like Disney and Tencent Video made up the biggest amount of these purchases. Video services made up 24% of non-gaming Christmas Day revenue on the App Store.
The biggest non-game app in terms of Christmas Day spending across both platforms was Tinder, achieving nearly $2.1 million in revenue over that 24-hour period.
Sensor Tower also provided details about US-specific spending, which saw growth, albeit not at the same level as the global data. Users in the United States spent 4.8 percent more in apps on Christmas Day 2019 than in 2018, a rise of just $4 million to $80 million across both the App Store and Google Play.
Gaming continues to be the main seller, making up 73% of sales at $58 million, but grew just 2% year-on-year. Non-gaming app spending grew a higher 13% year-on-year to $22 million.