CES 2020: Best of Health and Fitness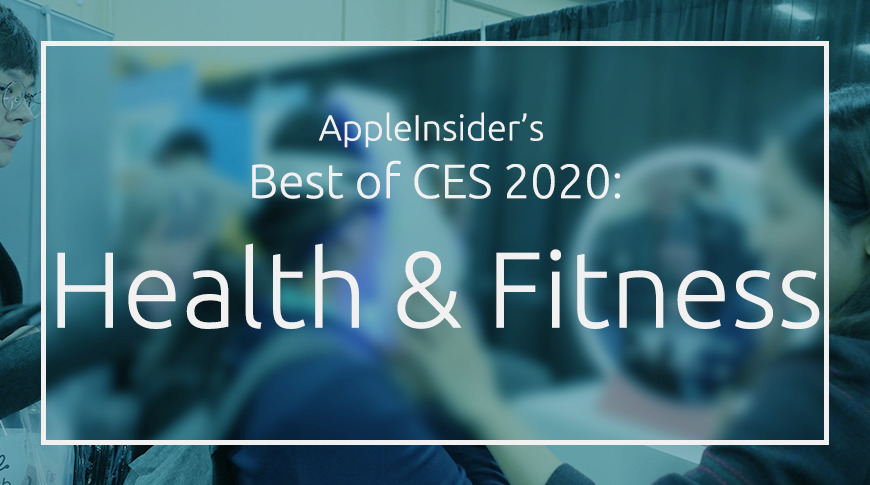 A market that is continuing to grow, providers of health and fitness devices have used CES 2020 to introduce more items to help people improve their wellbeing. AppleInsider lists off some of the new electronic devices and services that aim to make people stronger and healthier.
Withings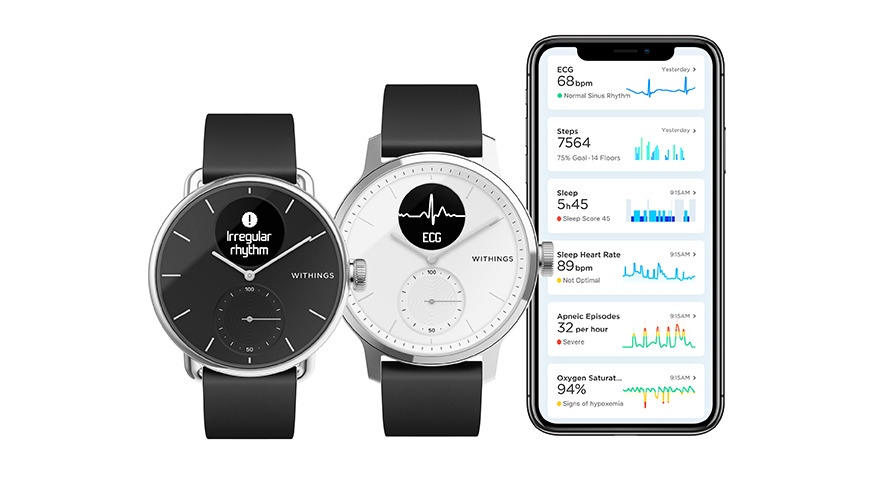 The ScanWatch is the "world's first clinically validated hybrid smartwatch" that is able to detect AFib as well as sleep apnea.
"ScanWatch is our most ambitious medical tracker and purposely designed to detect the early presence of AFib and sleep apnea - two related issues that are extremely common yet largely undiagnosed, despite their known impact on multiple health conditions," said Mathieu Letombe, CEO of Withings.
Users can take an ECG on demand as well as monitor for AFib in the background using an embedded PPG sensor that continuously monitors hear rate. When an irregular heart rate is detected, it alerts users to take an ECG.
Sleep apnea is detected by way of a SpO2 sensor that monitors the oxygen saturation levels by emitting and absorbing light passed through blood vessels throughout the night. When the oxygen levels are identified to be inadequate, it signifies a breathing disturbance, such as sleep apnea. It also packs traditional sleep tracking such as length, quality, and depth.
ScanWatch will run for 30 days on a single charge and blends a classic analog design with a new PMOLED digital display at the top that is capable of displaying various health data. It also incorporates a new crown dial, similar to Apple Watch.
Withings is targeting a launching during Q2 2020 in both the United States and Europe at $249 for the 38mm version and $299 for the 42mm version, pending CE and FDA approval.
Philips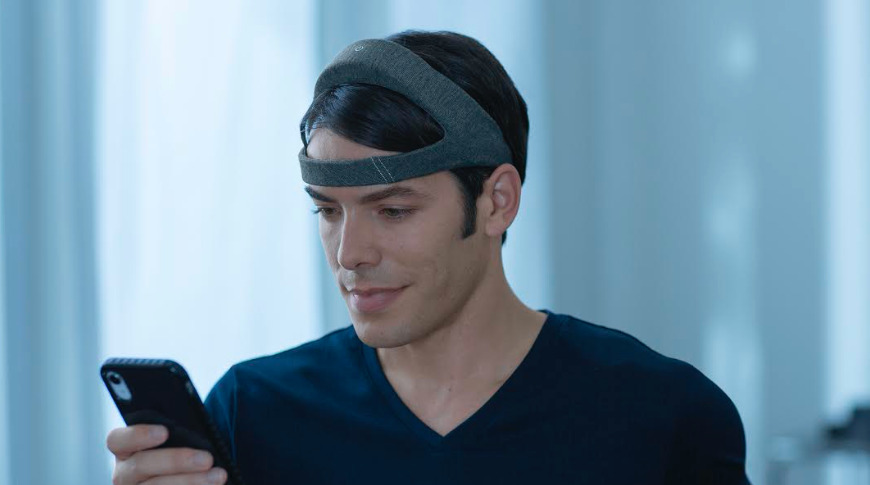 It features soothing sounds to help the user fall asleep, and SmartAlarm, a feature that wakes the user up in the lightest stage of sleep within 5-30 minutes of their alarm. The updated version of the Deep Sleep Headband is smaller and lighter and features bone conduction tones to replace the over-ear speakers.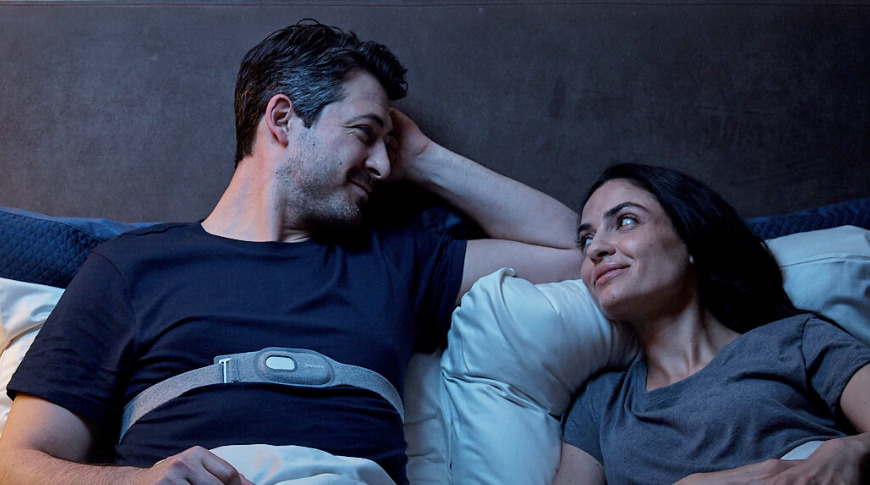 Philips' SmartSleep Snoring Relief Band trains snore-prone back-sleepers to roll onto their side. Worn around the chest, the Snoring Relief band will vibrate when a wearer is laying on their back for too long, stopping snoring before it begins. According to Philips in-house testing, 85% of wearer's partners reported less snoring and disrupted sleep.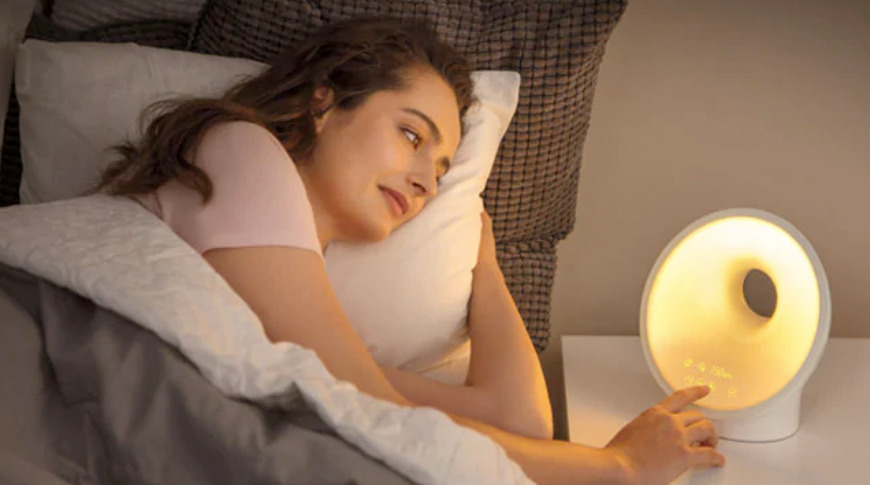 Before bed, RelaxBreathe uses rhythmic light pulsing to help you wind down and fall asleep faster. Nature sounds or ambient music can help you block out distractions in and around the home. The customizable sunrise alarm helps to wake you up naturally and easily.
For those who are especially heavy sleepers, the PowerWake feature employs flashing lights and loud alarm to rouse you from even the deepest sleep.
The Connected Sleep and Wake-Up Light is Wi-Fi enabled and boasts a multi-level touch display that can be turned off to prevent distractions while falling asleep. Philips reports that 92% of users enjoy the way Wake-Up Light wakes them, and 89% would recommend the light to others.
Colgate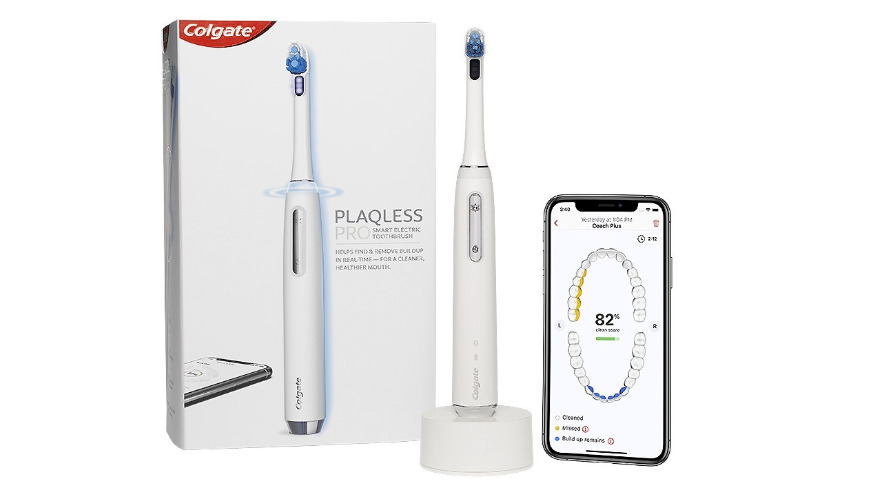 Colgate has announced a new smart toothbrush capable of detecting biofilm, helping users to target spots they miss when brushing. The Colgate Plaqless Pro features an optic sensor that detects any buildup and provides information to the Colgate Connect app.
It enables users to tell when and where they have missed spots while brushing, or when they can move to a new area. By ensuring biofilm removal, users have a better chance at avoiding cavities, plaque, and gum diseases.
A ring light around the toothbrush allows users to know when and where biofilm has been detected, and the app provides detailed information, data, and tips for optimal oral health.
The Colgate Plaquless Pro smart electric toothbrush has won an award for innovation at CES 2020.
Oral-B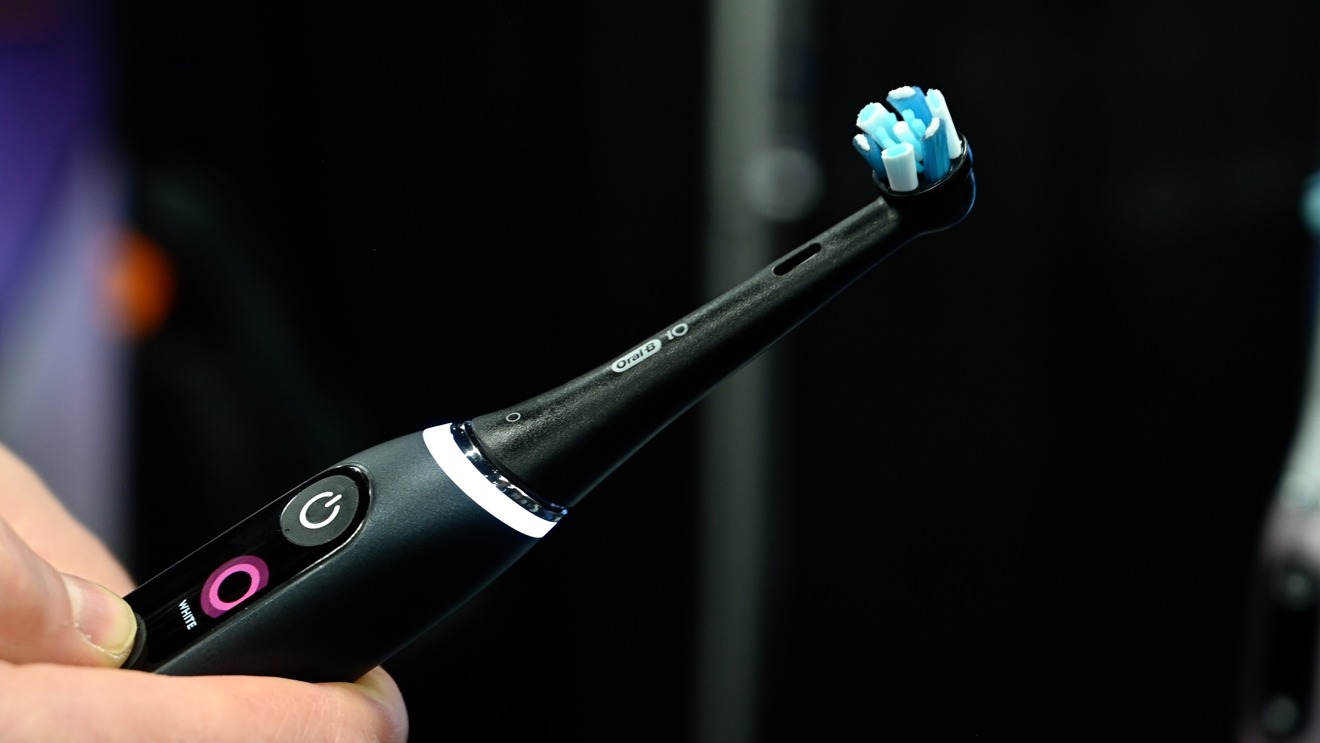 Oral-B also introduced a new toothbrush, the Oral-B IO. This new brush is a smart connected toothbrush that pairs with the corresponding app to help you monitor your brushing progress. It measures several different zones in your mouth to help ensure entire coverage while brushing.
An LED light around the neck of the toothbrush changes color depending on how hard you press while brushing, turning green when applying the correct pressure, blue if too light, and red if too hard.
A built-in display makes it easy to change modes as well as other settings and get feedback post-brushing session.
Oral-B boasts that the IO is also only the second toothbrush to support Apple's HealthKit feature for tracking brushing habits.
Aura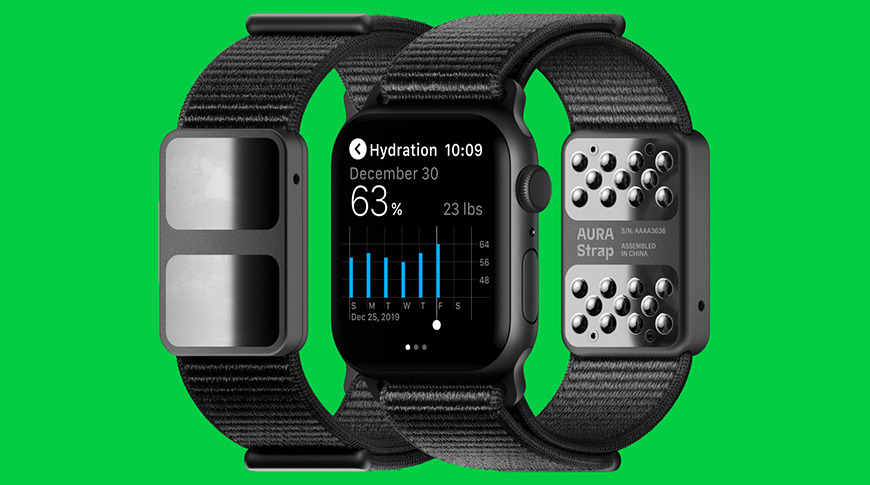 Aura has announced preorders of their intelligent Apple Watch band Aura Strap that is able to measure body composition and hydration levels with its integrated sensors.
After being announced last year at CES 2019, Aura Strap is getting ready to launch with a streamlined design. Using its bioimpedence sensor and its accompanying app, users can measure their fat-muscle percentage, hydration levels, and fitness/diet progress.
It transmits data to Apple Watch via "ultrasound interface" and can work six months on a single battery. It is water-resistant and syncs with Apple HealthKit for further analysis.
Currently at launch, only the Coal-colored strap is available though three additional colors will follow. Pre-orders run $99 and will begin delivery in March.
Welt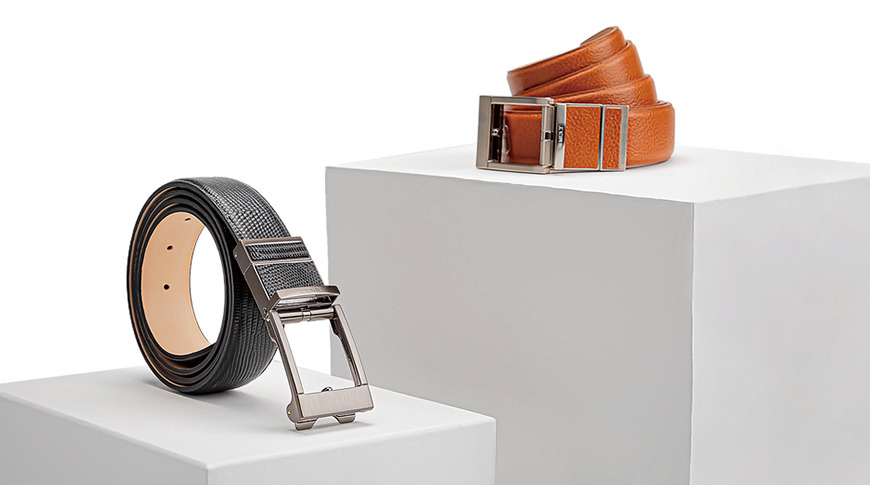 Welt, a Korean healthcare company, has won the CES 2020 Innovation Awards for it's fall-detecting Smart Belt Pro. The belt, which is the first of its kind, tracks gait patterns, sitting time, skin temperature, and tracks steps.
It is able to analyze a wearers gait for abnormal speed or poor symmetry, which then can give insight into how likely the wearer may be to fall. If a user is likely to fall, the Smart Belt Pro sends an alert to the companion app on the user's phone.
Welt's Smart Belt Pro has been designed to look like a stylish leather belt, rather than looking like a health apparatus. The strap is crafted with premium Italian leather and the automatic buckle combines style with ease of use.
The Smart Belt Pro's battery can be recharged via microUSB, and with average usage should last about 30 days per charge. It is compatible with both Android and iOS devices.
Those who are interested in Welt's Smart Pro Belt will have to wait a bit longer, as there's no information on when they plan to release. However, the company has stated that the belt will likely start at $395, depending on leather type and buckle quality.
Nurvv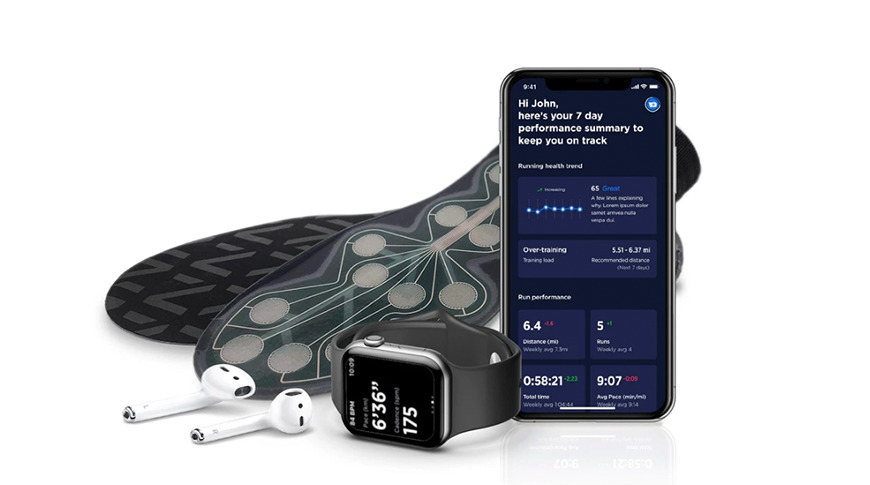 Runners looking to perfect their technique and minimize injury may want to look into Nurvv's Run smart insoles. Each insole features 32 precision sensors take measurements a thousand times per second to capture data from your run, and the companion iOS app translates the data into information you can use.
The Nurvv Run Coaching App also provides helpful tips and information that allows you to dial in your form and technique, which can help improve run times, lessen fatigue, and prevent injury.
Nurvv Run smart insoles are available for preorder now, with orders beginning to ship on January 20. Nurvv is available in a large size of women's and men's sizes and cost $299.95.
January 8 1:30 P.M. Eastern Time - Welt Smart Pro Belt and Nurvv Run smart insoles added.