Apple trims estimated payments for iPhone trade-ins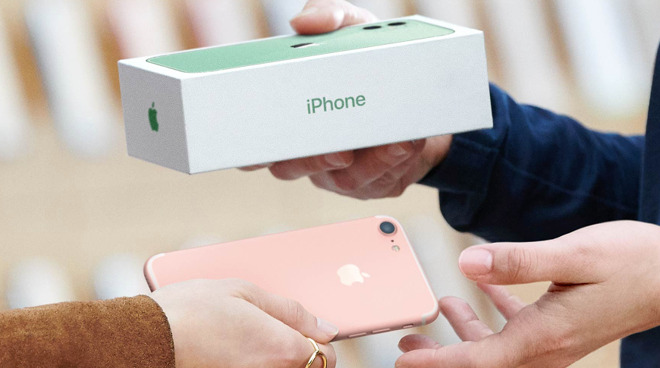 AppleInsider may earn an affiliate commission on purchases made through links on our site.
Apple has updated its trade-in program webpage with new estimated payment values for a customer's iPhone, iPad, Mac, Apple Watch, and other products, a change indicating consumers will receive less for their trade-ins now than one week ago.
The Apple Trade-In program encourages customers to hand in their older iPhones, iPads, and other Apple products, in exchange for credit towards the cost of a new device. The program gives customers a way to gain value from their old models, by using them to reduce what needs to be paid for newer models.
Spotted by BGR, Apple has recently updated the trade-in site to alter the "estimated trade-in value" for a number of products. Research by AppleInsider indicates the change took place overnight on January 9, with the updated values offered from January 10.
The main changes relate to iPhone values, with the biggest drop occurring for the iPhone XS Max, which went from $600 to $500. The iPhone XS moved from an estimate of up to $500 to one of up to $420, and the iPhone XR from $370 to $300. On the other end of the scale, the iPhone 6s and iPhone 6s Plus both were cut by $20, dropping to $80 and $100 respectively.
Changes were also made to the iPad listings, with iPad Pro owners now receiving "up to $220" for their device, down from $290. The iPad, iPad Air, and iPad mini also see reductions to their estimates, bringing them to $100, $70, and $80 respectively.
Few changes were made to Macs, with the MacBook Air seeing a drop of just $10, the MacBook by $20, the iMac by $60, and the iMac Pro by $90 to a new estimated trade-in value of $4,150. The Mac Pro and Mac mini remain at $1,700 and $230 each.
In the Apple Watch list, the Apple Watch Series 4 was the only model to be reduced, down $10 to $100, with all other models maintaining their values.
Apple's Trade-In program is one of a number of different avenues for consumers to gain value from their old devices. Depending on the outlet, it is possible to secure higher values via a third-party than from Apple directly.
AppleInsider's Price Guide lists expected values for device trade-ins from services including BuyBackWorld, Gazelle, Decluttr, and MyPhones Unlimited, as well as a collection of bonuses to enhance the value of the offers.