Gym encounter sees Tim Cook become early investor in Nebia smart shower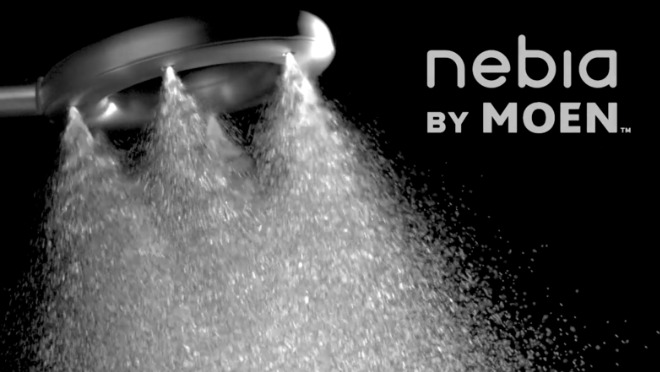 The Nebia shower head creator has recounted how a chance early morning meeting with Tim Cook in a gym led to the Apple CEO becoming an investor in the company.
Apple's Tim Cook has, as an individual, become a major backer of a shower head company whose latest product is currently raising funds on Kickstarter. The Nebia shower head, made in conjunction with Moen, atomizes water to provide cleansing steam that uses around 45% less water than regular showers.
"Six weeks after moving to the Bay Area," Nebia co-founder and president Phillip Winter told CNBC, "and early in the morning, I was coming out of the women's locker room because I'd installed a prototype there. Rounding the corner into the men's locker room, I saw [Tim Cook] on the bench press, like ten feet away. And I was like, 'Oh! He's just seen me come out of the women's locker room!'"
Winter had arranged to install prototypes in this particular Palo Alto gym with the aim of seeing how it functioned with high volumes of users throughout a busy day. Users were asked to give feedback on the shower, and Tim Cook did.
"He was one of the first people to try the prototype," continues Winter. "It was pretty basic at that point, but he got the idea and tried it for a few days, and believed in what we were doing. And fortunately became our first investor."
According to Bloomberg, Cook's feedback took the form of emails that were "very long, well crafted and detailed."
However, alongside product feedback and the a significant but unspecified personal investment in the company, Cook was also advised Nebia in issues such as raising further finance and then its partnership with Moen.
Cook's original involvement reportedly began around 2015, though he has contributed further investment since then.
Winter has revealed this investment story as his company promotes its Kickstarter campaign for "Nebia by Moen," its latest product.
"We started on Kickstarter four or five years ago and it's a community that gave us life," said Winter. "It's an amazing way to bring a new idea to the world because you get all these people who are interested in something and will go back and will give you feedback. So it's our way of [showing] gratitude."
"And frankly," he continued, "as a small company we still need the funds and the early volume to get it off the ground."
At time of writing, Nebia has exceeded its $150,000 Kickstarter goal, with current pledges at $830,000. The product is to sell for around $200, compared to around $500 for similar units.