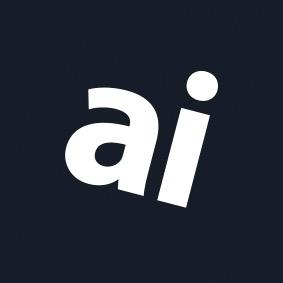 Why you can trust AppleInsider
Review: Scosche BaseLynx is a modular charging system for all your Apple devices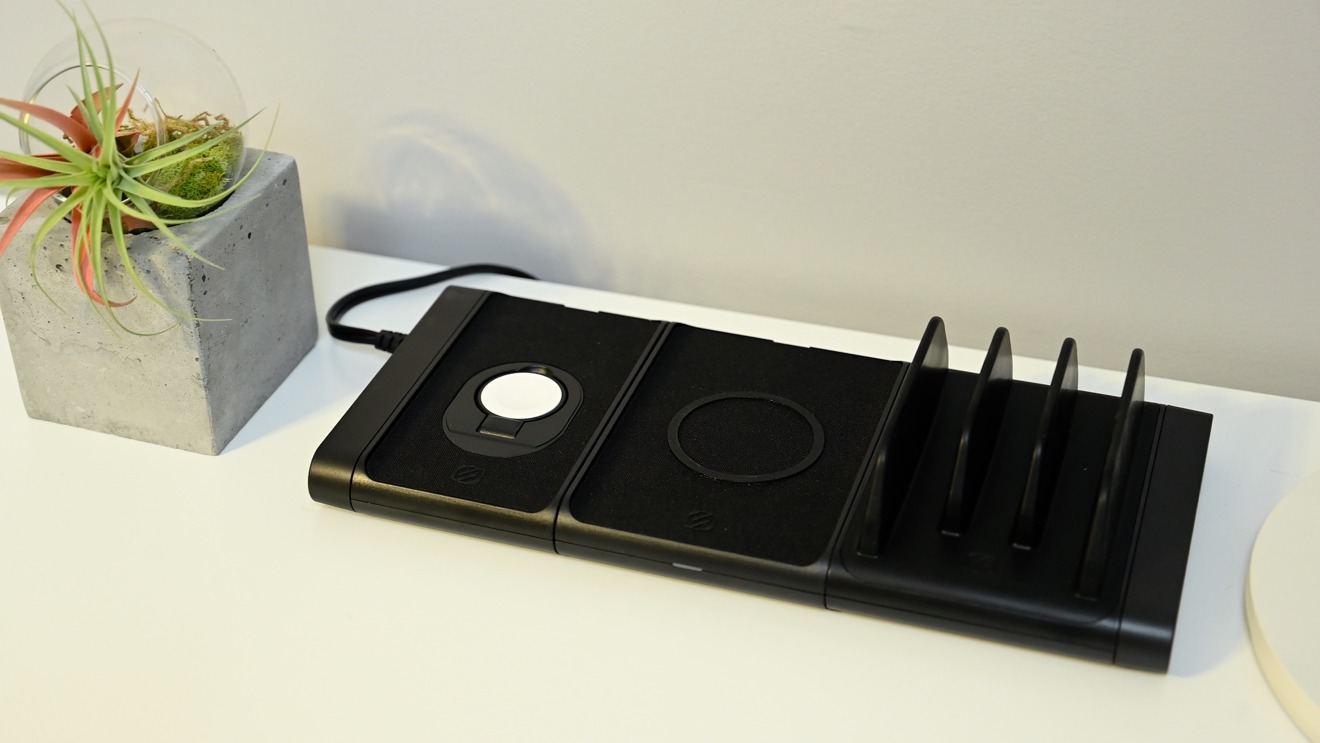 ---
The Scosche BaseLynx charging station is a modular solution to solve the problem with charging that seems to plague everyone: supplying power to many devices while keeping everything organized.
With so many devices needing to be charged and few options working for everyone, Scosche looks to lend a hand with one of its most creative products to date. BaseLnx was first unveiled at CES and since then we've been able to get our hands on one to try it out.
A modular concept
BaseLynx is an interesting prospect. Instead of having separate chargers for all of your gear or picking up a standalone multi-charger that may not exactly fit your charging needs, the Scosche BaseLynx can be customized to fit your exact charging lineup.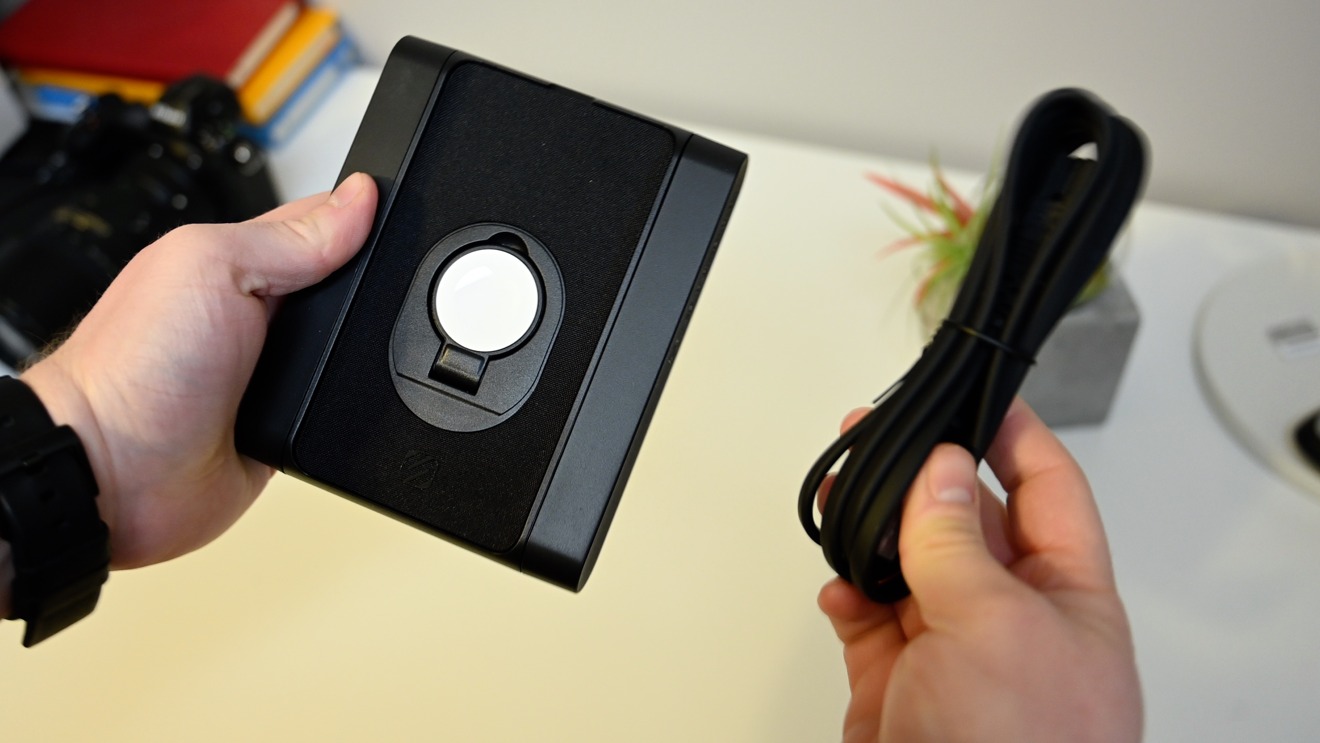 It does so by way of various modules or components. Almost all components will work on their own and come with their own power cables. However, on their own, they are quite chunky to look at. The Apple Watch charger, in particular, is massive if you were going to use it by itself.
If you use it with other BaseLynx modules, it doesn't seem so massive. This is because each side of the module can be removed to allow them to connect to one another.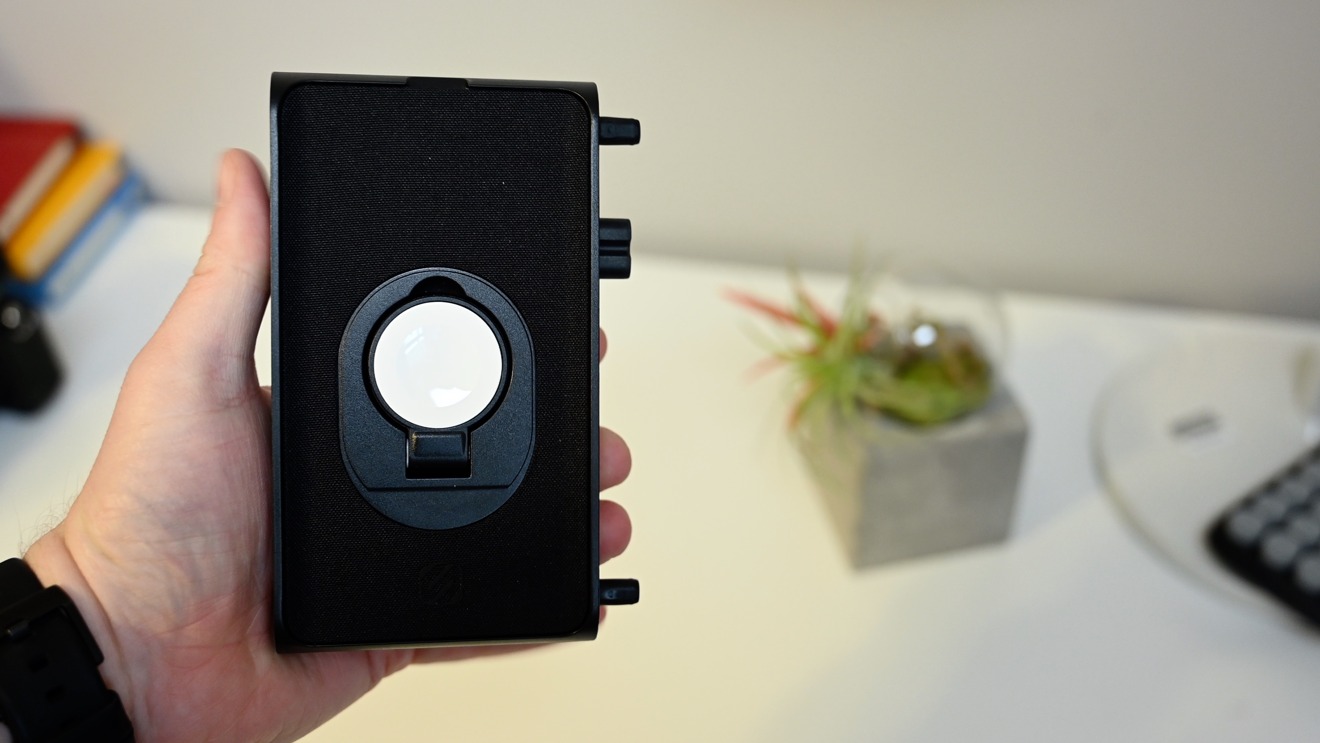 Since we had the wireless charger plus vert charger kit, we wanted to add our Apple Watch module to the others. This involves removing the left-side cover of the kit and the right side cover of the Apple Watch module, them pushing them together.
A set of pegs on either end plus the power connector are what hold the different modules tight together. When all connected, the whole system feels very secure and solid.
There are currently four different modules available. There is the Qi wireless charger, the Apple Watch charging puck, the vert charger, and the Dual-Port EndCap. Only the EndCap can't work on its own and must be connected to the larger system.
Many of these modules can fit specific needs. The vertical charger is perhaps most adaptable as it has three vertical openings where anything from a (thin) battery to a phone or a tablet can be placed. Even a MacBook or MacBook Air could be charged here, though slowly. The vertical charger has three USB ports around the back — two 12W USB-A and an 18W USB-C PD.
Build your own
There are several different configurations available as various kits, but you can also opt to go off-script to entirely build your own.
Figuring out how many components fit together is a... mildly confusing task. Scosche has essentially assigned a point value to each of the different modules based on the power that they draw at their max output.
The Apple Watch module outputs 5W of power and only counts as a single point. The wireless charging pad — which can go up to 10W — counts as two points. The Powered EndCap is three points with a total of 30W of output and the Vert Charging Station is five points with 42W of power.
Each individual BaseLynx can max out at 15 points, which gives you some ability to mix and match what you connect.
So in building your own, you could do three Vert Charging Stations, or two Vert Charging Stations with a Powered EndCap and a wireless charger, or maybe 15 Apple Watch chargers. So long as you stay under 15 total "points," you are golden. If you run over, just split it into a separate unit and use its own power cable.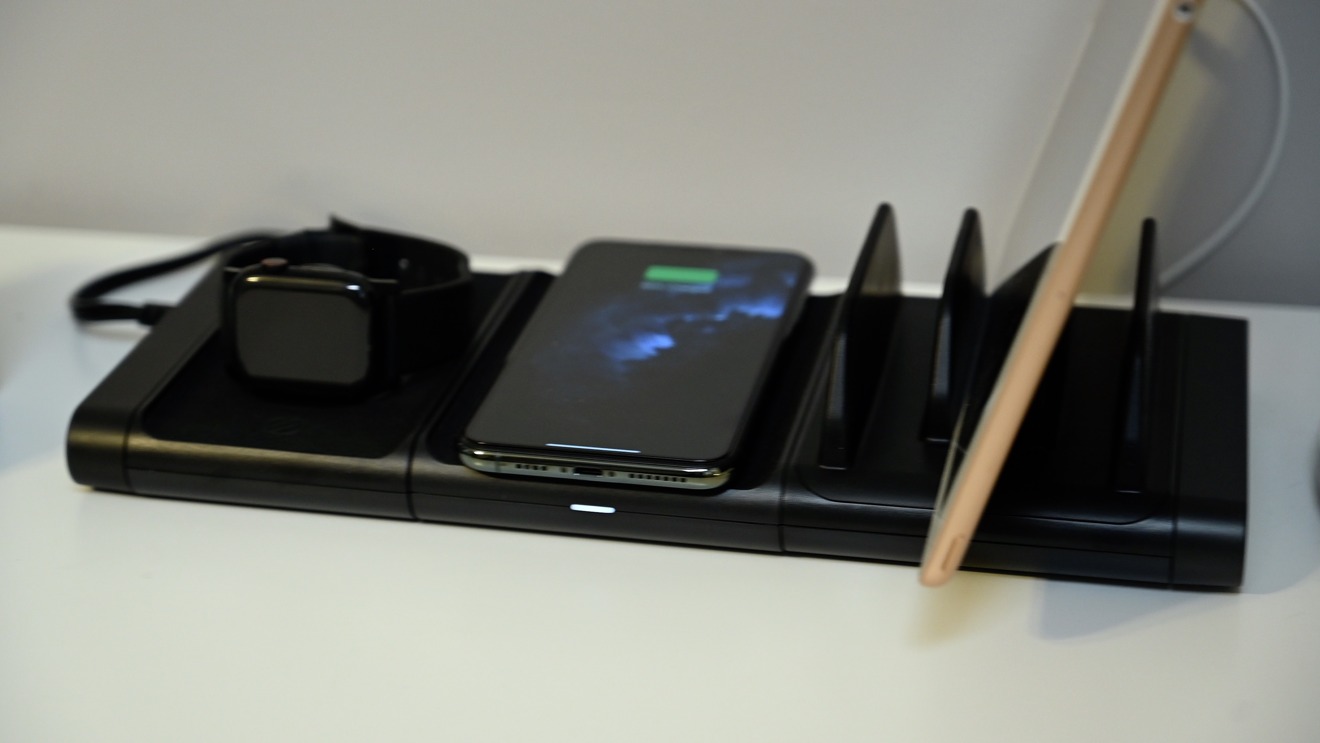 In my office, I have several tablets that I use as well as my iPhone and my Apple Watch. My ideal setup is the vertical slot charger for my iPads, the wireless charger for my iPhone, the Apple Watch charger (I charge during the day), and the Dual-Port EndCap for two additional USB outputs for more devices.
One thing that I did notice with the Vert Charger is that short USB cables are key. If you add the normal three-foot-plus cable it gets unwieldy and cluttered. We recommend Nomad's short USB cables, in either type-A or type-C, which have several adapters on the ends for a versatile combo.
Should you buy the Scosche BaseLynx?
This is such a creative solution to a common household or office problem of how to charge all the devices. I picked this up for the studio but have quickly acquired a second one for the kitchen of my home where my family and guests can also power up.
BaseLynx can get a bit big if you do add a lot of components, but I think the simplicity is worth the tradeoff in most cases.
All the outputs are quite speedy and thought out, including the Apple-certified charging puck that works both lying flat or propped up.
If you have a lot of devices to charge — and it is likely you do — this is worth looking into.
Creative, modular design
Several modules to fit most use cases
Fast and efficient outputs
Ability to add modules in the future as new ones are released
Can be equipped with a large number of modules at once
Easy to connect
Not enough USB-C
Standlone modules can be a bit large (like Aplpe Watch charger)
No higher output for Macs, though this would make it larger
Rating: 4.5 out of 5
Where to buy
The Scosche BaseLynx is available as several different starter kits as well as individual modules. There is a white bundle available as an Apple Store exclusive. The black version is available as a wireless charging pad plus vert combo or wireless charger plus Apple Watch charger combo directly from Scosche starting at $99.99 for the former and $119 for the latter.