The best apps for reading on your iPhone, iPad, or Mac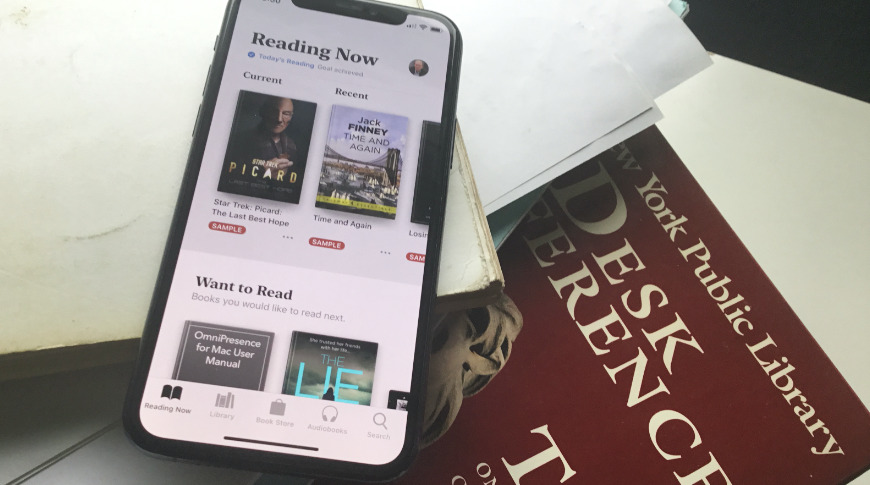 Reading for pleasure is one thing, but when you've got to read and handle business documents because you're working at home during the coronavirus outbreak, you need apps that won't get in your way, and will help you stay on top of everything.
If you're at home because of the coronavirus, you have at least saved on the commute and can put that time to more enjoyable use by just reading a good book. When that's all you need, a good book to read for pleasure, then pull up an iPad, browse the Amazon Kindle and Apple Book stores, and you're done.
However, you aren't off work, you're just working from home. That gives you the advantage that you may actually be using better technology than is in your company's office, but it also means you need to find and manage everything yourself.
When you read as part of your job, you can be trying to learn something, you can be required to comment in depth. You probably need to find excerpts quickly, too, and you certainly need to be able to manage large numbers of documents.
While your Mac and iPhone or iPad are now remarkable tools for every single aspect of reading — from finding titles to how well they are displayed — there is no one, single app that is right for everything you'll need.
Getting reading material
In every respect bar one, that Kindle app is exactly the same as it is on all of Amazon's Kindle hardware. It's arguably better, actually, as an iPhone screen is always far higher resolution than any Kindle.
The one respect where it differs is an irritation, though. As Apple would charge Amazon 30% for any purchase made through the Mac or iOS app, Amazon won't let you buy anything.
You have to go to the Amazon website in a browser, find and buy the book there, then click to have it sent to your iOS device.
It's cumbersome but it works. More irritating is that after all these years of being the market-leading ebook provider, the typography in Kindle books is still a little ugly to read.
Unsurprisingly, you will get a much more pleasing experience reading on Apple's Books app. That's both in the way that the text looks and how you buy books. Right from within the Books app, you can buy any book you want and start reading immediately.
Although when we say you can buy any book, there is a limitation. Apple's Book Store has fewer titles than Amazon's Kindle does. Plus, while this does vary, in general books cost more on the Apple store.
Non-commercial reading material
You won't be remotely fussed about how to buy books if what you've got to read is material sent by your company. In that case, they've sent it over, you've just got to get it onto your device.
In many cases, both the Kindle and Apple Books apps are still the best ones to read in. There are compatibility issues, as in if your firm sends you an Apple Books-formatted document, then you won't be able to read it in the Kindle app.
Whichever app you prefer, you're going to hit this issue with some documents from somewhere, so get both apps and switch when you need.
You'll also have to know different ways to physically get the book onto your device, and then into your app.
Check Amazon for details of your Kindle account. It will include a personal email address and anything you send to that will appear in your Kindle app — if it's compatible.
With Apple Books, you can drag the document into the Mac app and know that it will sync over to iOS too. Do check that it's arrived before you head off to a coffee shop to read it, though.
You can also leverage email to get books into your apps. If the book came as an attachment on an email, you can drag it from Mail to Kindle or Books on the Mac. On iOS, you can tap and hold to bring up the Share option and then choose Kindle or Books.
That can sometimes be more fiddly than you would hope. The Share extension will be displaying what apps it thinks you're most likely to want to use, and even when you're trying to share a book, it may not realise you need Kindle or Books.
If that's the case, when Share doesn't show you Books or Kindle, swipe along the second row of icons, the collection of apps. Tap on the final one, an icon of ellipses named More. You'll now get a long list of other possible apps and actions. Tap on Kindle or Copy to Books.
When you are being sent material by your firm, though, there is a good chance that it's in PDF. And if you're creating documents to send to colleagues, you may be making PDFs too. Both Books and Kindle will display PDFs.
For iOS, Books and the Kindle app are adequate, but not great. We highly recommend the venerable GoodReader. You could also buy apps like PDF Expert or PDFpen.
What can work best of all, though, is Preview on the Mac. This is a very good PDF reader which comes with excellent features for annotating and marking up documents, and comes on every Mac, too. It can be fussy with interactive PDFs, though — which you'll know about right away. If that's the case, then Adobe's PDF reader is the only way to go.
Then if what you need is not only to read but to redact text, you need a specialist PDF app such as the aforementioned PDFpen.
Alternatives for reading
You're working from home, it's much more up to you how you choose to read books you need to. So there's nothing stopping you getting an audiobook version, if one is available. As well as buying audiobooks from Amazon, you can also listen to Audible.
Audible is the biggest name in this field and has the greatest selection of audiobooks, but the audio quality is variable. Sometimes book narrations appear to be more compressed than others, and the pleasure of having the author or a great actor reading to you is just erased.
There is one other major option, certainly if you're reading for pleasure. Comixology is a comicbook reader which is particularly good at displaying comics. You can read these in any number of apps, but Comixology has a feature where it will automatically display each panel of a strip by itself.
So you can see the whole spread, but then as you read, you can see each panel full screen and the app will step you through the right sequence.
Annotating reading material
You can make notes on any reading material that you can get into the Kindle or Books apps. That includes highlighting passages, putting bookmarks in to help you find sections again, and so on.
Neither app is especially loaded down with annotation functions, but they are at least better than the old days of printing out a book and getting a pen.
With Apple Books, you can use different color highlights to mark sections, and you can easily write a text annotation. You can also tap to Look Up a word's definition.
Kindle has these features too, but it does more. Tap and hold on a word in a Kindle book and it will give you a series of options, plus a dictionary definition alongside them. As well as color highlighting and notes, Kindle lets you easily copy a section, or share it with other people.
When you share text from a Kindle book on iOS, you can choose to send it as that or as an image, like a poster JPG of the quote.
Most usefully of all, when you make a note in a Kindle book, you can later search for that note. In Apple Books, you have to tap the menu icon and then choose to have listed all your notes or all your bookmarks. You can't just do an overall search and get what you need.
Managing books
Every reading app includes its own library where everything you've read, or saved, or bought, is stored for you. Even if you weren't likely to end up using multiple apps, though, none of the libraries in these apps is great.
If you were only buying books from the stores, they're fine. The books are listed by author, or title, and you can scroll through them all. When you're working with reading material from your company, though, you can end up with multiple drafts of the same thing and they just fill up your library with little way of distinguishing between them.
For that reason, if you do have to read anything not bought from a store, plan to store the material outside the apps. You can just use a Finder folder, or drag documents into another app like Apple Notes, OneNote or so on.
This does add to your pile of apps for reading and it would be better if there were a single great one for everything. Since there aren't too many, though, and since they're all free, we can and do live with it.
And the advantage of being able to have your entire company's library with you on your phone wherever you are is worth the odd inconvenience. We live in a very visual world with constant videos and images, but these devices turn out to be exceptional for reading.