iPad Pro (2020) versus MacBook Air (2020): Performance & features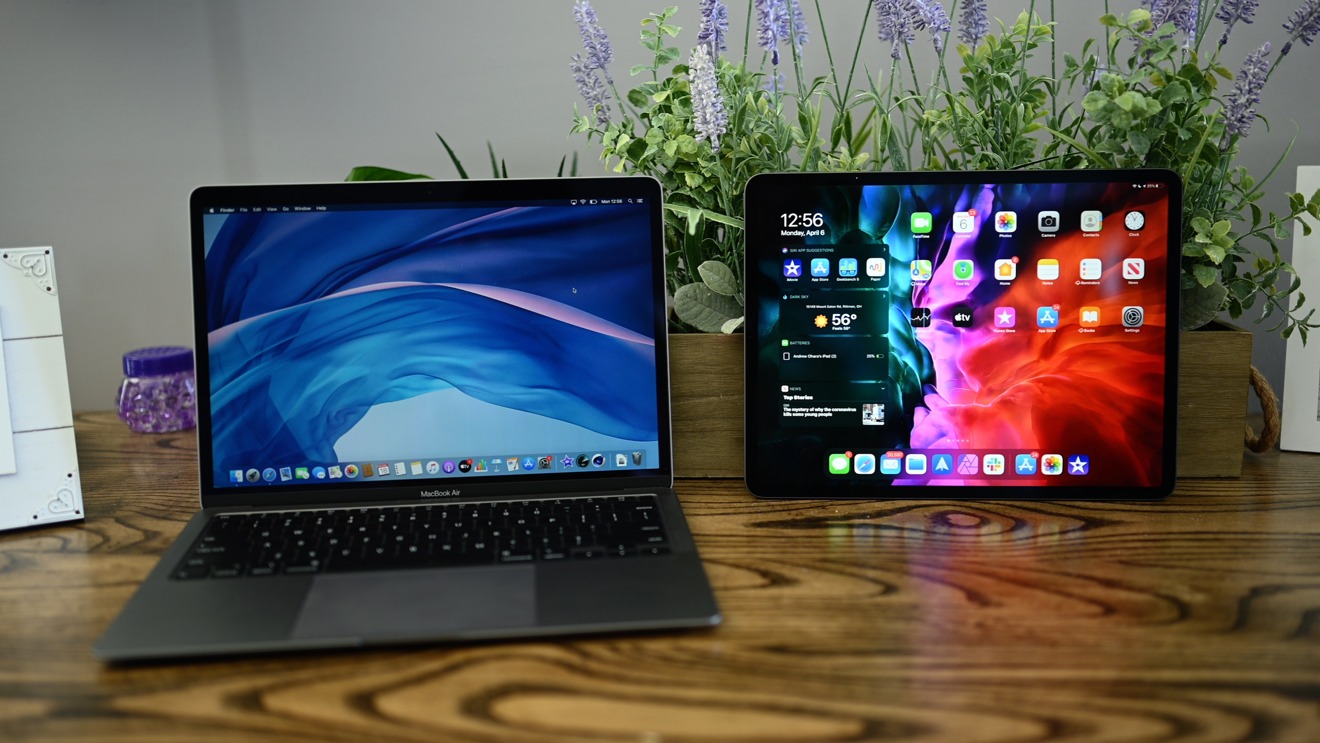 More than ever before, Apple's iPad Pro and MacBook Air are competitors as hardware and software advances. AppleInsider pits them against one another to highlight the biggest differences to see which is the better buy.
Features and differentiators
The 2020 MacBook Air has the same design as the 2018 model. It retains the two Thunderbolt 3 ports on the left side of the unit, and a headphone jack on the right. It has a 13.3-inch True Tone Retina display and a 720p FaceTime camera. It has a large glass trackpad and the updated Magic Keyboard.
Apple's iPad Pro has a single USB-C port, a gorgeous Liquid Retina display that comes in 11-inch and 12.9-inch sizes, a 7MP TrueDepth camera system, a 12MP wide-angle camera, a 10MP ultra-wide camera, a LiDAR scanner, and an incredible A12Z Bionic processor. See more of these in the full review.
The iPad is running the latest version of iPadOS, Apple's forked version of iOS designed for tablets which has truly transformed over the past few years. With the last few major updates, we got the ability to multitask, have picture-in-picture, run split-screen apps, use an external monitor, a real cursor, save to external storage, and more.
The MacBook Air has benefitted from added features in macOS too. As a more mature OS, there is less flair coming with each update. MacBook Air has been able to do almost everything that the iPad can do for many years.
Performance
The 2020 iPad Pro has the new A12Z Bionic processor. We pit that, against the 10th-generation Intel Core i3 processor in the base 2020 MacBook Air.
When we run the latest Geekbench 5.1 benchmark on the pair, it is clear the iPad Pro is powerful. iPad Pro garnered a 1117 and a 4653 in the single-core and multi-core tests respectively. That compares to a 1074 and 2412 the i3 MacBook Air earned.
Even when you shell out the $250 additional to get the quad-core i7 processor, the iPad Pro still wins. The i7 MacBook Air improved, but only to a 1294 single-core and a 3514 multi-core.
For a real-world test, we exported a 4K six-minute movie from iMovie on each device. The i3 MacBook Air took six minutes and two seconds, the i7 MacBook Air took five and a half minutes, and the iPad Pro only took three and a half minutes.
When it comes to processor-heavy or graphics-heavy tasks such as video editing, photo editing, iPad Pro is the better device to own, if you can handle doing so on iPadOS.
Closer than you'd think
If we make our best effort to bring these two in line — in terms of specs and performance, things get very close.
We'd have to outfit the 12.9-inch iPad Pro with the Magic Keyboard (let's keep things first-party instead of looking at cheaper third-party options). That brings your total to roughly $1,350 for a similar-sized screen with a trackpad, keyboard, and two USB-C ports.
On the MacBook Air side, we need to increase its performance to get closer to the iPad Pro powerhouse. That means opting for the quad-core i7 processor which runs $250 on top of the $999 entry-level i3.
That puts two machines about $100 of one another.
Which to choose...
Performance alone shows that iPad Pro is faster and more graphically capable both in terms of benchmarks and real-world video export tests. It has a touch screen, can be outfitted with the same Magic Keyboard found on the MacBook Air, can have a trackpad, works with the Apple Pencil, and can transform from a laptop-like machine to a pure tablet in an instant.
MacBook Air is stuck in its clamshell form factor, is slower than the iPad Pro even when you pay hundreds to upgrade the processor inside. There is no touch screen, no Apple Pencil support — although though there are third-party sketchpads that can be used, no rear-shooting cameras at all, and the webcam isn't nearly as good as the 7MP TrueDepth camera system of the iPad Pro.
But the hardware is never the whole story. The software that powers them can make or break the experience. In recent years, iPadOS has become powerful with support for better multitasking, cursors, external storage, and much more. But it is still iPadOS. There is software and tasks that you can't do on a tablet.
As you decide between the two, take good consideration into what you plan to use your device for. Ask yourself if there are any tasks that you can't complete on an iPad, or if there are tasks you can't complete on the Mac. If what you do is doable on both, then it seems the iPad Pro may be the more well-rounded choice.
Deals on 2020 iPad Pros and MacBook Airs
New 2020 11" iPad Pro deals
2020 12.9" iPad Pro savings
2020 MacBook Air discount