Apple, Google team on 'contact tracing' smartphone software to combat spread of COVID-19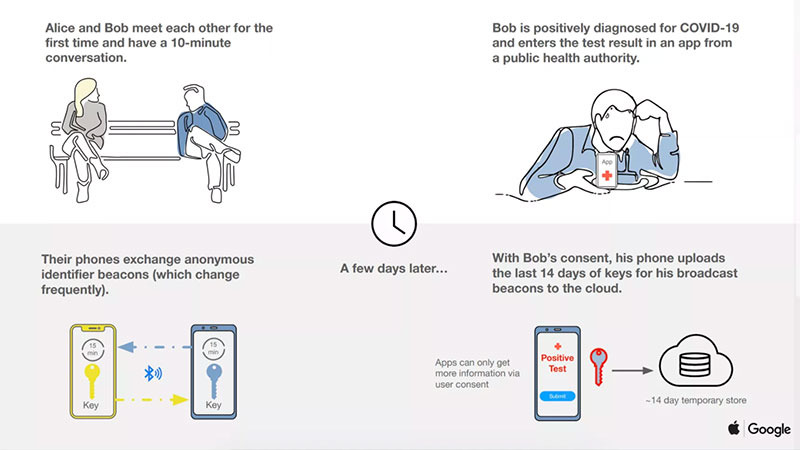 Apple and Google have announced a joint effort to utilize Bluetooth technology to help governments and health agencies reduce the spread of COVID-19 worldwide.
Starting in May, both companies will release APIs that enable interoperability between Android and iOS devices using apps from public health authorities to track the spread of COVID-19. These official apps will be available for users to download via their respective app stores.
Apple and Google will work over time to enable a broader Bluetooth-based contact tracing platform. Both companies will incorporate the functionality in Android and iOS as a whole, which allows more individuals to opt in, as well as enable interaction with a broader ecosystem of apps and government health authorities. Apple says that the deeper integration will arrive "in the coming months."
"All of us at Apple and Google believe there has never been a more important moment to work together to solve one of the world's most pressing problems," the joint statement said. "Through close cooperation and collaboration with developers, governments and public health providers, we hope to harness the power of technology to help countries around the world slow the spread of COVID-19 and accelerate the return of everyday life."
Contact tracing can help slow the spread of COVID-19 and can be done without compromising user privacy. We're working with @sundarpichai & @Google to help health officials harness Bluetooth technology in a way that also respects transparency & consent. https://t.co/94XlbmaGZV

— Tim Cook (@tim_cook) April 10, 2020
The pair have already released draft specifications of the underlying technology. Documentation available includes the Bluetooth specification that will be used to track the spread, the cryptography specification, and a framework API. Apple notes that the trio of documents are subject to modification and extension.
"Privacy, transparency, and consent are of utmost importance in this effort, and we look forward to building this functionality in consultation with interested stakeholders," Apple and Google have said. "We will openly publish information about our work for others to analyze."
Apple has already partnered with the CDC to provide a public COVID-19 iOS app, which contains advice on checking for symptoms, plus self-care tips. The app is available across the US, and the majority of its advice is for users in all states. However, Apple has also added state-specific sections which provide access to their regional health departments' coronavirus pages.
The existing app without contact tracing is available for iPhone and iPad. The same information is available separately on Apple's COVID-19 website, which is also being regularly updated.