Mac Pro can now be configured with AMD's W5700X GPU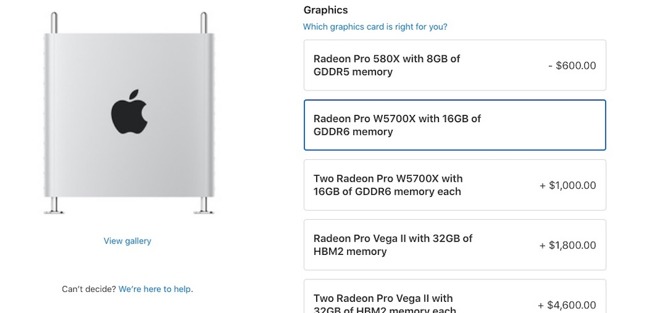 AppleInsider may earn an affiliate commission on purchases made through links on our site.
As of Wednesday, Apple's Mac Pro workstation can now be upgraded to a Radeon Pro W5700X graphics card equipped with 16GB of GDDR6 memory.
When Apple launched the redesigned Mac Pro in December, it said that the W5700X GPU would become available as an upgrade in the "near future." A few months later, buyers can now opt for the middle-tier graphics card when using Apple's build-to-order tool.
Upgrading a Mac Pro to the Radeon Pro W5700X graphics card will cost customers $600. Apple is also offering an option to add two of the graphics cards for a total of $1,600.
The W5700X is a full-sized MDX Module based on AMD's RDNA architecture. It offers 40 compute units and 2,560 stream processors, as well as up to 9.4 teraflops of single-precision performance and 18.9 teraflops for half-precision. As far as output, the W5700X can support up to six 4K displays, three 5K displays or three Pro Display XDRs, and comes with four Thunderbolt 3 ports and one HDMI port.
Mac Pro buyers now have four choices for factory GPUs, including the Radeon Pro 580X, Radeon Pro Vega II and Radeon Pro Vega II Duo options that have been available since launch.
In addition to Apple, AppleInsider affiliate Expercom is offering the W5700 GPU option for Mac Pro. Prices start at $6,125.10 with coupon code appleinsider.