Apple's $5,999 modular Mac Pro now available to order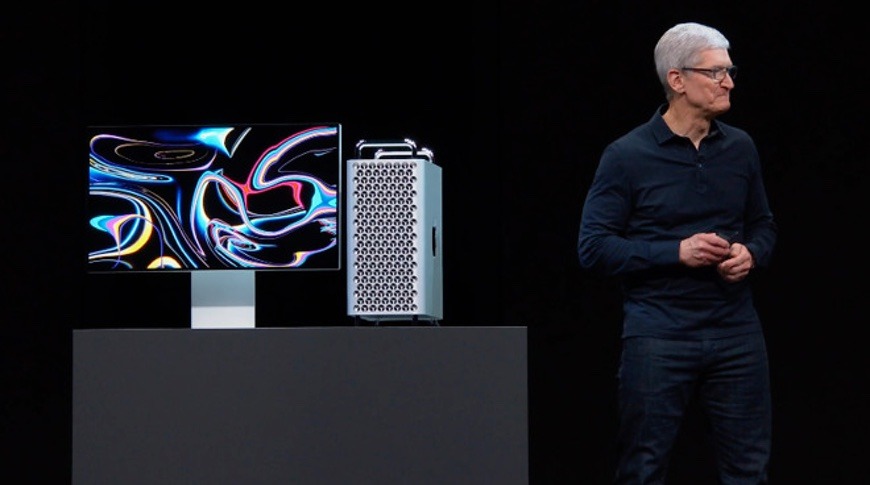 Apple has put its new Mac Pro up for order, with the redesigned and modular edition of the high-performance workstation available to buy starting from $5,999, with the first units expected to arrive in late December.
Revealed in March after years of development, the new Mac Pro is a return to form for the workstation in terms of upgradability, while also cementing its status as the most powerful desktop Mac Apple sells. Six months after launch, Apple is finally selling the updated model to customers.
Starting from $5,999, the baseline Mac Pro is equipped with an eight-core 3.5GHz Intel Xeon W with 16 threads, a Turbo Boost clock of up to 4GHz, and 24.5MB of cache. Other processor options include a 3.33GHz 12-core, 24-thread Xeon W with 31.25MB of cache, a 16-core 3.2Ghz version with 32 threads, and a 24-core 2.7Ghz chip with 48 threads and 57MB of cache.
At the top end is a 28-core Intel Xeon W clocked at 2.5Ghz, 4.4Ghz when boosted. Supporting 2933Mz memory, it offers 56 threads and 66.5MB of cache.
The 12 user-accessible DIMM slots are configurable with up to 1.5 terabytes of memory, though the 24-core or 28-core processors are required to use the full amount. It is theorized the Mac Pro will be able to support up to 2 terabytes in the 28-core version, based on the number of slots available, though it is unclear why it is limited to a maximum of 1.5 terabytes.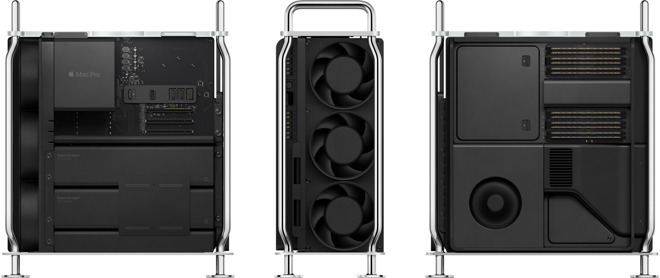 Graphics options start from an AMD Radeon Pro 580X with 36 compute units, 2304 stream processors, 8GB of GDDR5 memory, and up to 5.6 teraflops of single precision performance. The half-height MPX Module, a form factor that improves upon the existing PCI design, includes two HDMI 2.0 ports and four DisplayPort connections routed through the internal Thunderbolt 3 ports, allowing it to support up to six 4K displays, two 5K displays, or two Pro Display XDRs.
The alternatives center around the AMD Radeon Pro Vega II, a GPU with 64 compute units and 4096 stream processors, 32GB of HBM2 memory, and up to 14.2 teraflops of single precision performance. The AMD Radeon Pro Vega II Duo puts two of the GPUs onto a single full-height MPX Module, giving up to 28.4 teraflops of single precision performance.
A late addition to the GPU roster is the AMD Radeon Pro W5700X, a more powerful version of the W5700 revealed by AMD in November. The W5700X offers 40 compute units and 2,560 stream processors, 16GB of GDDR6 memory, and up to 9.4 teraflops of single-precision performance, raising to 18.9 teraflops for half-precision. Unlike the PCI card-based W5700, the W5700X is provided as a full-height MPX Module.
A key selling point for the new Mac Pro is its modularity. As the external casing for the Mac Pro can be easily removed, it allows access to the internals, which can be upgraded and replaced at the user's end.
For example, it is possible to have one 256GB SSD as T2-secured storage at the time of configuration, with options up to 4 terabytes. However, there are extra SATA connections inside allowing for more drives to be installed.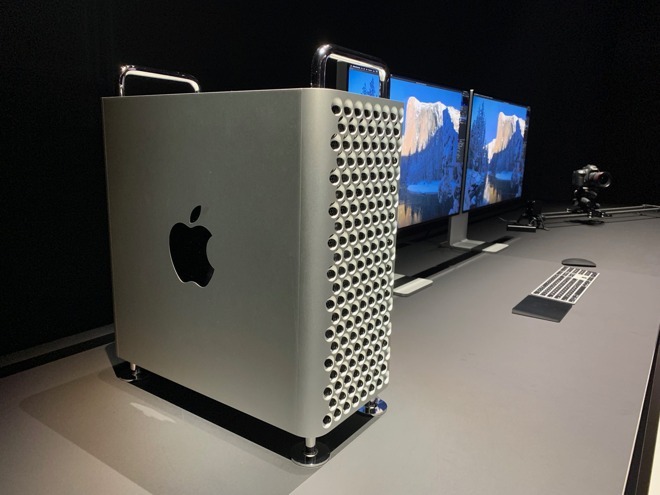 The two MPX bays, which are a new form factor providing up to 500W of power to an MPX module, also perform double duty as standard third-generation PCI Express slots. Each MPX bay can be used as two PCI Express slots, with three other full-length slots and one half-length x4 slot also available.
To help further manage the internals of the Mac Pro, the macOS About This Mac window includes tabs for PCI Cards and Memory. The former shows which PCI slots and MPX module bays are occupied, while the latter shows which memory slots are filled, along with the capacities of each memory stick.
An extra option is the Afterburner card, a custom card that can be used to decode and encode ProRes and ProRes RAW video, allowing up to 3 8K ProRes RAW or 12 4K streams in the same codec to be played back. Using a Field Programmable Gate Array, the card is made specifically for accelerating video processing tasks, making it useful for video editors working in Final Cut Pro X, though it has the option of being tweaked in the future.
Prices start at $5999 for the tower. Early orders will start arriving on December 19, with maxed-out configurations not showing up until late January.
Ordering from an Apple Authorized Reseller does have its perks, though. Shoppers in eligible states can take advantage of a sales tax refund with B&H's Payboo Card on Mac Pro pre-orders, which amounts to at least $475 in savings on average.
A rack-mount version of the Mac Pro, designed to be put into server cabinets, will be available soon, starting from $6,499.